Science and Innovation Centre Kingston-upon-Hull, Humberside Architecture News
Science and Innovation Centre Hull
14 July 2020
Science and Innovation Centre Hull Building
Building Services: HDR I Hurley Palmer Flatt
– new GMP laboratory building
– new Innovation Pathway
– Kingston Works North refurbishment
Location: Kingston-upon-Hull, England, UK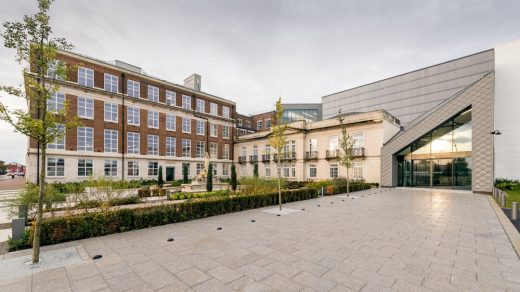 Architects: Ryder Architecture
Photos by Alex Wroe
Science and Innovation Centre ("S&I Centre"), in Hull
HDR I Hurley Palmer Flatt completes Building Services for RB plc's state-of-the-art Science and Innovation Centre, setting new workplace standards for the pharmaceutical research industry.
London, UK, 14 July 2020 – RB plc, the leading global consumer health, hygiene and home company, opens its state-of-the-art Science and Innovation Centre ("S&I Centre"), in Hull, one of six major RB R&D facilities worldwide.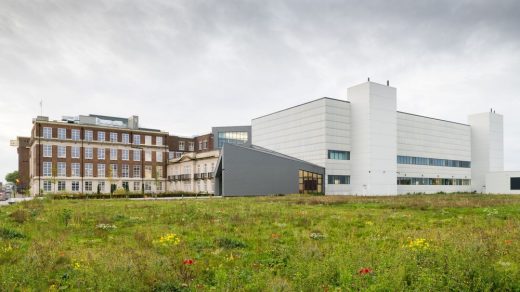 HDR I Hurley Palmer Flatt completed building services for the the S&I Centre, with brand new consumer health laboratory facilities, consisting of the refurbishment of the existing Kingston Works North, (KWN), office building, as well as creating the new GMP laboratory building and a linking atria, known as the Innovation Pathway. HDR I Hurley Palmer Flatt worked closely with architects Ryder and Scott Brownrigg to create a flexible, energy efficient scheme.
This project is the first milestone of RB's ongoing £200m investment programme in Hull city. Alongside the new Science & Innovation Centre, RB is committing £95m to significantly upgrade the manufacturing facilities on the Hull site which employs 1,400.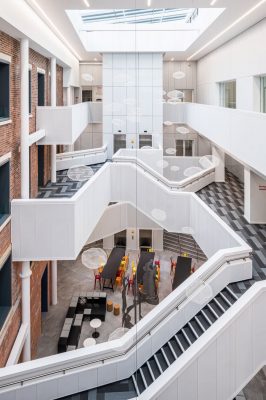 The project is a fusion of old and new, incorporating the existing KWN Building and Humber Suite, both historic office buildings dating back to the 1920s, which have been remodelled and seamlessly connected to the building by the imaginative multi-level Innovation Pathway.
A listed First World War memorial, a landmark on the site, has also been fully refurbished and is the centrepiece of a new sensory garden.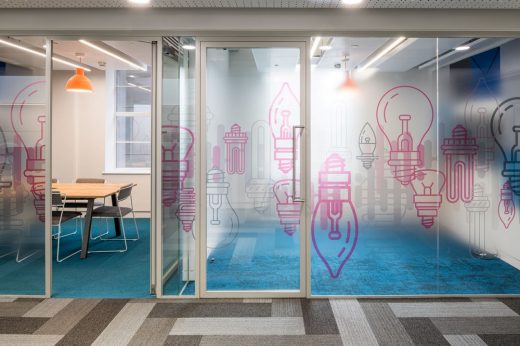 The new GMP building accommodates the research laboratories and clean rooms that had previously been residing in the Kingston Works South (KWS building) on an unplanned and evolving basis for the last 35 years.
To reflect the aspirations of the new 10,000m2 laboratory building, it was named The GMP building, and it is designed to accommodate the various user groups: scientists, experts in research and development and product testers. GMP also provides a state-of-the art clean room suite known as the Pilot Plant, where the air purity, temperature humidity and pressure are closely controlled.
In order to provide ongoing adaptability and flexibility, the large air plant is located at the end of each wing on all floors of the GMP building, rather than centrally located. This meant that any adaption of the floorplate could be achieved without affecting other floors and end-user groups. This has the added advantage of avoiding large vertical ductwork routes.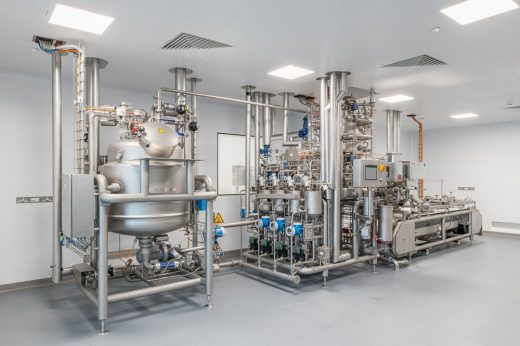 Another key feature of HDR I Hurley Palmer Flatt's approach to the GMP building services' design was to use off-site prefabrication of the large roof plant room, which houses heating and steam boilers, water tanks, pumps, a Reverse Osmosis water treatment plant, Gen Set and Uninterruptible Power Supply. This meant the construction of the plant room could progress alongside the construction programme and could be delivered to site and craned onto the roof.
The project included for the comprehensive refurbishment of the KWN building. This 4500m2 space acts as a supporting administrative building for the new GMP laboratory building, as well as accommodating a restaurant and kitchen.
The refurbishment of the KWN building consisted of a new roof membrane, replacement windows, structural reinforcement, replacement ground floor slab and remodelled core areas and a complete new building services provision. This included new heat recovery, fresh air ventilation plant, modular VRF heating/cooling systems and sprinkler protection, replacment domestic hot and cold and drainage services, and off-site packaged roof plant rooms, electrical services, lighting, CCTV, data and access security.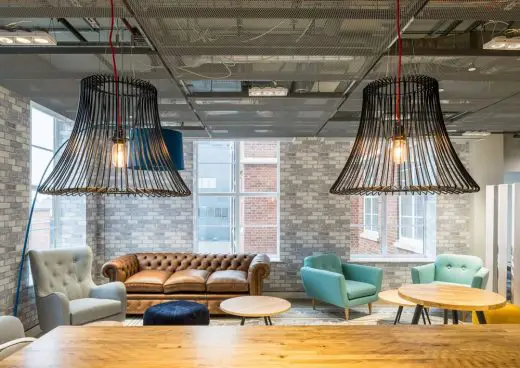 As the existing floor-to-ceiling heights were limited, the ceilings were either semi-transparent, or omitted entirely to maximise the available head room. As a consequence, the coordination and standard of the building services needed to be of a very high quality.
The refurbishment also included the historically significant Humber Suite, a Listed building, which was the first to be constructed when Isaac Reckitt started the business in the nineteenth century. Impact here had to be minimal, and a light touch was also essential to limit intrusion. A floor-mounted VRF heating/cooling system was selected for this purpose, with opening windows providing background ventilation.
The building has been designed to be sustainable and energy efficient, as part of RB's commitment to continually reduce emissions while growing the business.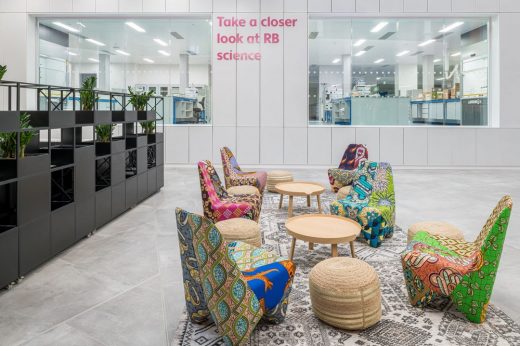 Key low energy and sustainable design features include PV cell electrical energy supplies, rain water harvesting, VRF reverse cycle heat pump systems for heating and cooling within KWN and The Humber Suite and the linking Innovation Pathway atria.
Carbon monoxide sensing and air system modulation were also installed within all areas of occupancy fluctuation. LED lighting is featured throughout, with intelligent and addressable lighting controls.
Design features have been benchmarked against the globally recognised LEED (Leadership in Energy and Environmental Design) standard, with the target rating for the S&I Centre being LEED Gold.
The new facility not only sets a new green benchmark for the client, but has also created a vastly improved working environment, ensuring that RB remains at the forefront of consumer health research research.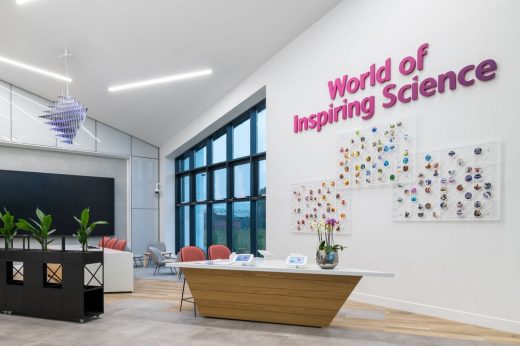 About RB*
RB* is driven by its purpose to protect, heal and nurture in a relentless pursuit of a cleaner, healthier world. We fight to make access to the highest-quality hygiene, wellness and nourishment a right, not a privilege, for everyone.
RB is proud to have a stable of trusted household brands found in households in more than 190 countries. These include Enfamil, Nutramigen, Nurofen, Strepsils, Gaviscon, Mucinex, Durex, Scholl, Clearasil, Lysol, Dettol, Veet, Harpic, Cillit Bang, Mortein, Finish, Vanish, Calgon, Woolite, Air Wick and more. 20 million RB products a day are bought by consumers globally.
RB's passion to put consumers and people first, to seek out new opportunities, to strive for excellence in all that we do, and to build shared success with all our partners, while doing the right thing, always is what guides the work of our 40,000+ diverse and talented colleagues worldwide.
For more information visit www.rb.com
*RB is the trading name of the Reckitt Benckiser group of companies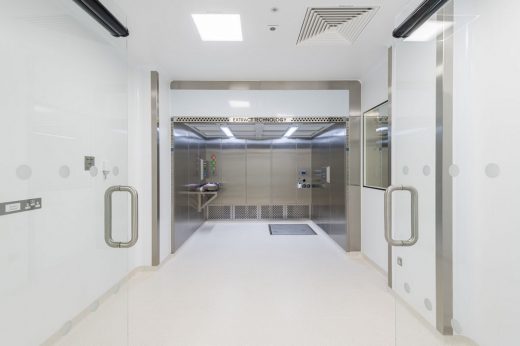 About HDR | Hurley Palmer Flatt
HDR | Hurley Palmer Flatt is the UK's leading independent multidisciplinary engineering consultancy, providing solutions for the built environment. Established in the UK in 1968 as a trusted advisor, it delivers engineering solutions for clients worldwide.
The company has over 500 staff located throughout its 10 office locations delivering projects worldwide. The company works in over 50 countries across 15 sectors, which include TMT, Development, Transport, Health, Education, Pharmaceutical, Hotels, Leisure, Research, Energy and Process Engineering.
HDR | Hurley Palmer Flatt is part of the Hurley Palmer Flatt Group, which was acquired by HDR in mid-2019.
For further information, please visit http://www.hurleypalmerflatt.com
Science and Innovation Centre Kingston-upon-Hull images / information received 140720
Location: Kingston-upon-Hull, England, UK
Architecture in Hull
Contemporary Architecture in England
Reckitt Benckiser Centre for Scientific Excellence
Reckitt Benckiser Centre for Scientific Excellence Hull
Hull Buildings – selection below
Solar Gate Sundial in Queens Gardens
Solar Gate Sundial in Queens Gardens
A Hall for Hull Installation
Design: architects Pezo von Ellrichshausen with artist Felice Varini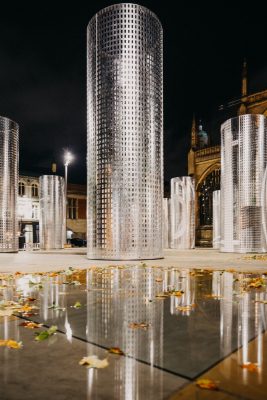 photograph : Thomas Arran
RIBA A Hall for Hull Installation
The Market Hall of 1887 in Kingston upon Hull
Brynmor Jones Library at the University of Hull
Design: Sheppard Robson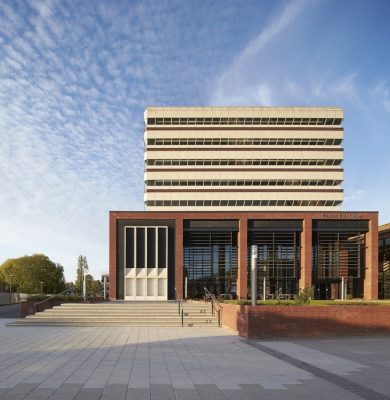 photo © Hufton + Crow
Brynmor Jones Library at the University of Hull
Scale Lane Bridge
Design: McDowell+Benedetti
Scale Lane Bridge
Kingswood Academy, Bransholme
Design: Allford Hall Monaghan Morris
Kingswood Academy Hull
Hull Truck Theatre – new building, Ferensway
Design: Wright & Wright Architects
Hull Truck Theatre
Humberside building : ARC Hull
Hull Fruit Market : main page
Comments / photos for the Science and Innovation Centre Hull, S&I Centre page welcome