Morgan Visitor Centre, Worcestershire Motor Company Building, UK Architecture Design News
Morgan Motor Company Visitor Experience Centre
4 Nov 2020
Design: Hewitt Studios
Overview
Hewitt Studios have creatively repurposed a collection of ageing post-war buildings as a
sustainable new visitor Experience Centre for the Morgan Motor Company in Malvern, England, UK.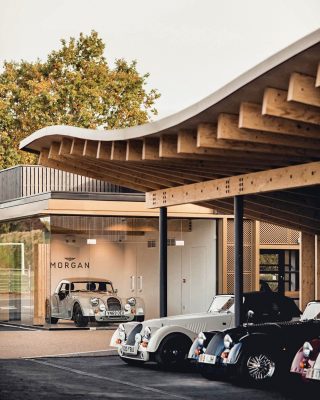 The Morgan Visitor Centre, Worcestershire
Project Stats
Location: Malvern, England, United Kingdom
Contract Value: £1.8m
Area: 1,300m2
Duration: 6 months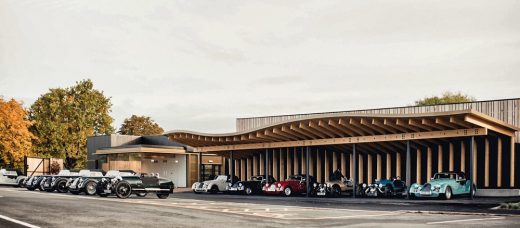 Hewitt Studios were invited by the Morgan Motor Company to reimagine their ageing Cafe, Museum and Showroom spaces as an exciting new visitor Experience Centre.
The Morgan Motor Company has been making cars on the same site in Malvern England since 1914, employing generations of local craftsman to construct their cars from three reusable and recyclable core elements: ash timber, aluminium and leather. Crucially, Morgan cars are some of the longest living cars on the planet – on request the factory will still produce certain parts for cars dating far back into the first half of previous century!
Consistent with a brand that prides itself on ethical sourcing, natural materials, local craftsmanship and a long-lived legacy, our solution had a strong focus on sustainability – a series of low-carbon interventions designed to improve building thermal performance, increase natural daylight, reduce energy consumption, reduce surface water run-off and provide for end-of-life recycling of materials.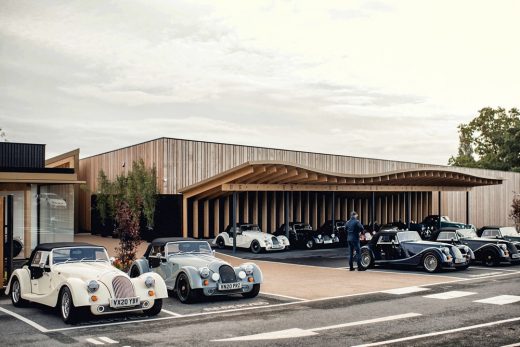 It consists of the following key components:
– New Jewel Box display space for 'hero car' and customer handovers
– New sculptural visitor entrance foyer to welcome visitors
– New external covered car canopy to protect hire & demo fleet
– Re-clad and re-roofed existing buildings, inc. cafe & museum.
– Opened-up and enhanced internal spaces, inc. expanded showroom.
– Improved public realm
The three new built interventions all utilise prefabricated, modular timber structures which relate to the historic ash construction of the Morgan body frame.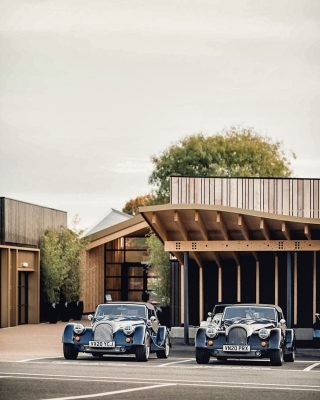 Moreover, they actually all utilise the same inexpensive, off-the-shelf industrial product (Metsawood Kerto LVL), which has been manipulated in a number of different ways to achieve a variety of different outcomes.
– The Jewel Box is a simple rectilinear space with a restrained 'goal-post' structural form to ensure that 'the car is the star'.
– The entrance canopy uses the same 'goal-post' approach, but each bay is twisted in turn by a few degrees to create a soft, organic form reminiscent of a Morgan's rear wing. This creates a peaked gable at each end which, on one side frames a historic specimen ash tree, and on the other a perfect long-range view of the Malvern Hills.
– Finally, the external car canopy is the most expressive evolution of this technique. Large enough to accommodate 6no. demo cars, the canopy extends along the main elevation of the visitor centre. Gently undulating across its length the canopy evokes the rolling topography of the Malvern Hills. An asymmetric section, with large frontal cantilever, ensures that the cars are all displayed to their best, whilst being protected from the worst of the elements.
This strategy of using a single conventional product in a number of unconventional ways delivers terrific value for Morgan, creating the impression of an expensive bespoke outcome using readily available 'stock' timber sections – maximum bang for their buck!
It also creates an important legacy for the site, employing sustainably-sourced timber detailed to enable easy dismantling for re-use and / or re-cycling at the end of the structure's life.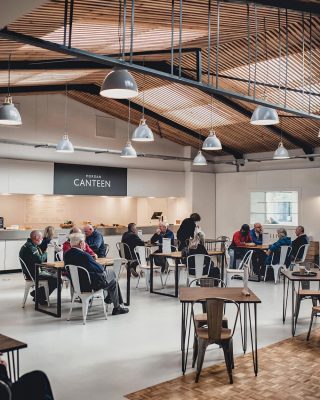 Timber is also used extensively for cladding, with easily recyclable aluminium flashings and cladding panels employed in critical weathering locations as a reference to Morgan's chosen panel material, and that of its latest chassis.
The result is a dramatic transformation of the site, which is considerate of both the enviable heritage and the exciting future of this unique British brand.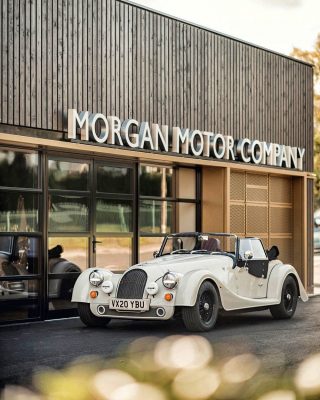 Laminated Timber Frame
We chose Laminated-Veneer Lumber, a readily-available, sustainable and attractive timber
product, for a number of reasons:
– It is carbon-sequestering, with only certified timber from sustainably managed forests being
used (along with formaldehyde-free adhesives). The timbers are also reusable, recyclable and
easily disposable (as biomass fuel)
– It is is an off-the-shelf product with short lead times – important on a rapid build like this.
– It is hugely flexible, allowing us to use the same product in a number of different ways to achieve
a variety of different outcomes.
– It represents great value from a performance to price perspective – easily cost comparable to a
steel frame when used in a similar application.
– It creates a better environment than a steel-framed structure; the surface quality is warmer /
softer and the acoustics are superior, with lower reverberation times.
– It gives the flexibility for services to be fixed discretely, without the coordination issues normally
associated with steelwork (welding of additional brackets, etc.)
– It has better thermal stability than steel, helping to mediate extremes of temperature when
combined with the high thermal mass of the concrete floor in the reception area and Jewel Box.
– It is effectively self-finished (with Class 0 clearcoat), requiring no additional lining or applied
finishes.
And, Morgan Cars are famous for their ash timber frame, so we weren't really going to use
anything else!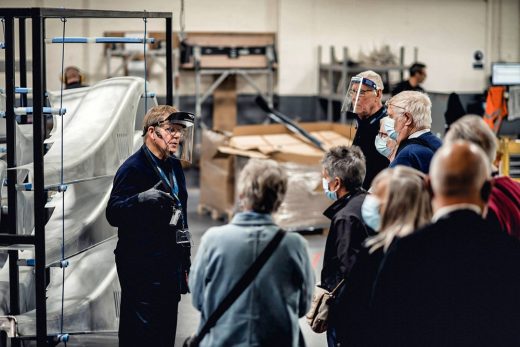 Sustainability
The refurbished Experience Centre has a greatly reduced energy requirement, due in part to the
choice of timber structure:
Prefabricated:
– The new interventions structure were all prefabricated using industrial LVL sections in order to
minimise environmentally disruptive on-site works and ensure a rapid build.
Recyclable:
-The interventions are designed to be dismantled at end of their life and all timber components reused / re-cycled. The aluminium flashings and cladding can also be readily re-cycled by the scrap
industry.
Low-impact materials:
-The interventions are constructed from carbon-sequestering, renewable materials where
possible, e.g: PEFC / FSC certified timber.
Highly Insulated:
– Both new interventions and the existing building have been insulated to contemporary Building
Regulations standards.
Local Sourcing:
– The building is partly constructed using local materials, including cedar from local forests. Local
labour has also been used wherever possible, utilising Morgan's established relationships within
Malvern and the surrounding area.
Naturally Daylit:
– The building is largely naturally daylight with supplementary LED lights on motion and daylight
sensors.
Naturally Ventilated:
– The building is naturally ventilated by default, with mechanical assistance only when required
(e.g. glazed Jewel Box).
Efficient services:
– The building uses an efficient modular gas boiler system for heating. It runs on a single
domestic-sized boiler most of the time, with a second boiler for periods of high-demand.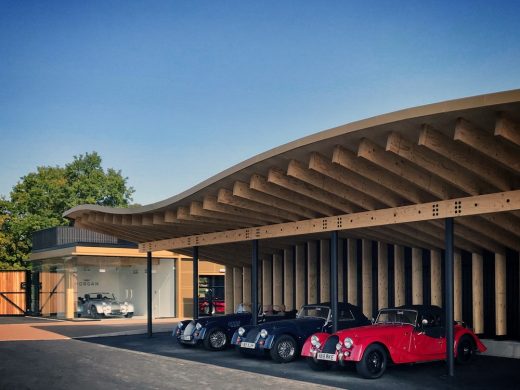 photo : Hewitt Studios LLP
Offsite Construction
This project has been delivered in a short window (effectively 6 months, allowing for a 2 month
Covid-related shutdown) and without any reportable health & safety incidents on site. This is due
in no small part to the choice of prefabricated LVL timber as the primary construction material.
The client themselves were instrumental in the choice of offsite timber technologies – they wanted
the project to be undertaken as quickly and as safely as possible and saw prefabrication as the
solution to this. As a car manufacturer they are accustomed to efficient production methods (e.g.
zero-waste, just in time, etc.) and very much wanted this project to adopt a similar approach on
this project.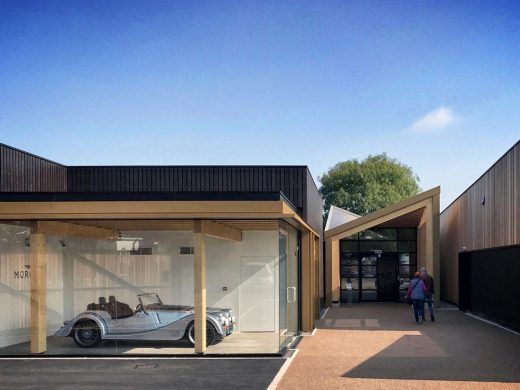 photo : Hewitt Studios LLP
The innovative offsite approach (seldom employed on refurbishment projects like this) has
resulted in a significantly accelerated and de-risked construction process, delivering significant
benefit for the client on a busy site which has remained operational throughout the process.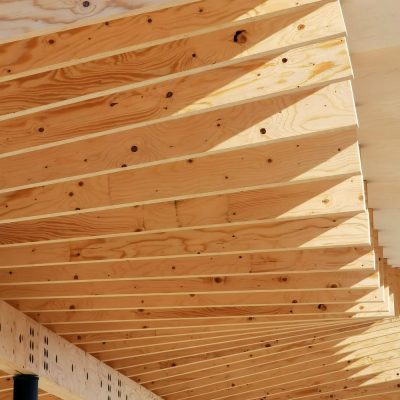 photo : Hewitt Studios LLP
The rapid assembly of the LVL frames quickly created dry workshop conditions on site, enabling
trades to work safely undercover from the earliest possible opportunity. The mass timber structure
also meant that no dangerous site welding was required, only simple bolted connections. The
prefabricated timber frame and aluminium flashings meant that site waste was minimised, with
the other main materials (e.g. plywood cladding, acoustic panels, polycarbonate, etc.) utilised in
standard modules to reduce cutting waste.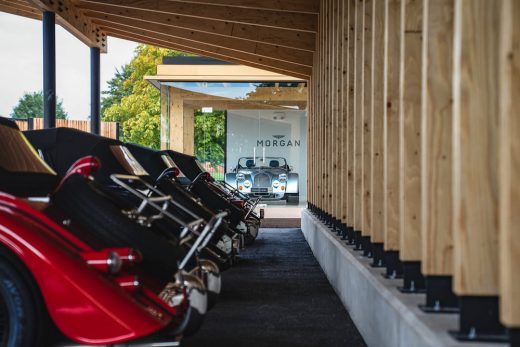 photo : Hewitt Studios LLP
Maintenance requirements for the Morgan estate have been significantly reduced through the
project. The existing Visitor Centre was effectively a series of leaky, draughty, uninsulated sheds
long overdue refurbishment. Morgan now have a building which is sealed and insulated to
contemporary standards, reducing their maintenance expenditure to a fraction of its previous
level.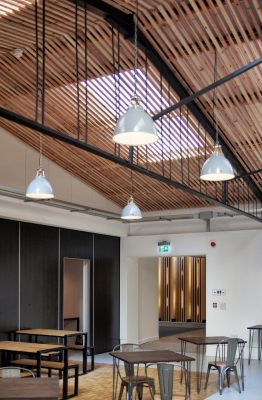 photo : Hewitt Studios LLP
Project team
CLIENT
Morgan Motor Company
ARCHITECT / PM / PD
Hewitt Studios LLP
28 Morford Street, Bath, BA1 2RT
T: 01225 461919
W: http://www.hewittstudios.co.uk
MAIN CONTRACTOR
HB Projects
T: 01274 474 080
W: www.hbprojects.co.uk
TIMBER CONTRACTOR
Constructional Timber
T: 01226 727211
W: http://www.constructionaltimber.com
STRUCTURAL ENGINEER
Integral Engineering Design
T: 01225 859657
W: https://www.integral-engineering.co.uk/
M&E ENGINEER
DDA Ltd
T: 01924 265757
W: http://www.ddaltd.co.uk
LIGHTING DESIGNER
The Lighthouse Design Partnership
T: 01793 784254
W: http://www.thelighthousedp.co.uk/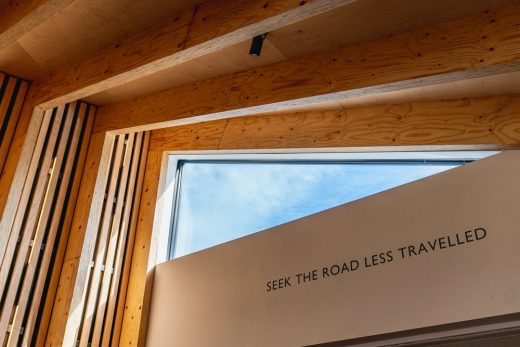 photo : Hewitt Studios LLP
Photo Credits
Photos by Morgan Motor Company, except those credited to Hewitt Studios LLP
Morgan Motor Company Visitor Centre images / information from Hewitt Studios LLP
Location: Worcestershire, western England, UK
Worcestershire Architecture
Contemporary Architecture in Worcestershire
The Hive, Worcester
Design: Feilden Clegg Bradley Studios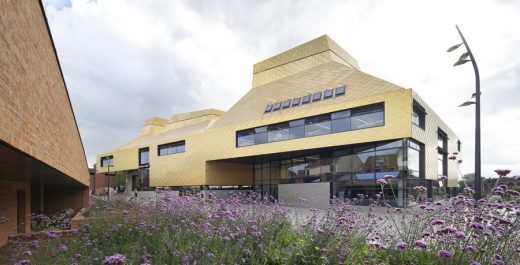 photo © Hufton & Crow
The Hive, Worcester
Architecture in England
Contemporary Architecture in England
English Architecture
Royal Shakespeare Theatre – redevelopment, Stratford-upon-Avon
Bennetts Associates
Royal Shakespeare Theatre
Comments or building suggestions / photos for the Morgan Motor Company Visitor Centre Worcestershire Architecture page welcome