English Petrol Station Buildings, Architecture Photos, Architects, Projects, Property
English Petrol Station Designs : Canopies
Petrol Stations in England, 1960s canopies UK: Buildings Photos
10 May 2012
English Petrol Station Canopies
ENGLISH HERITAGE CELEBRATES THE AGE OF THE MOTOR CAR
Iconic Mobil and Markham Moor 1960s petrol station canopies listed at Grade II
English Heritage to publish motoring book Carscapes in autumn 2012
Two rare reminders of our motoring past have been given Grade II listed status today by Heritage Minister John Penrose on the recommendation of English Heritage. The dramatic overlapping parasol design of the Mobil canopies on the A6 at Red Hill, Leicestershire, and the concrete canopy structure on the A1 at Markham Moor, West Drayton, Nottinghamshire, represent a time when road travel captured the public's imagination and the motorway was full of futuristic glamour.
Mobil Red Hill petrol station canopies: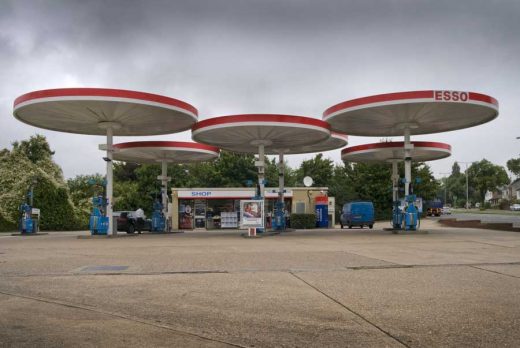 photo © English Heritage
John Penrose, Minister for Heritage, said: "These petrol station canopies are splendid reminders of an era, not so long ago, when motoring was first becoming available to all, and a family car journey was very often an adventure in itself. These designs were futuristic at the time and they continue to delight – they have clearly stood the test of time.
"Listing doesn't mean they must remain unchanged for all time, but it does mean that they will now have an extra layer of protection against demolition or inappropriate redevelopment."
Markham Moor petrol station canopy: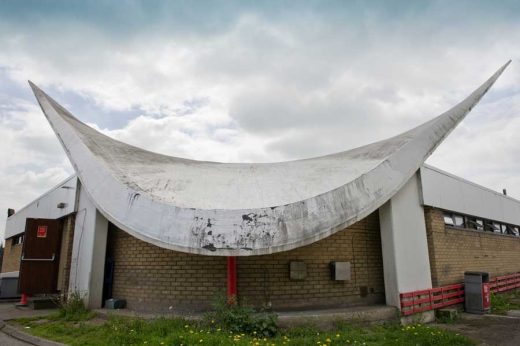 photo © English Heritage
Dr Simon Thurley, Chief Executive of English Heritage, said: "The advent of motor transport perhaps did more to change life in 20th century Britain than any other single invention. Yet today hardly any petrol stations or other buildings relating to the birth of motoring remain – almost all have been swept away and rebuilt many times over. These two new listed buildings will strike an immediate chord with many people today and symbolise to future generations some of the flair and exuberance associated with driving in the 1960s."
The canopy listings are part of a wider English Heritage project to examine the impact of the motor car on the historic environment. The aim is to find out more about this major development in twentieth century history and seek out the very best examples of architecture that represent this time. The project will culminate in the publication of Carscapes: the Motor Car, Architecture and Landscape in England published by Yale in autumn 2012. Written by English Heritage experts John Minnis and Kathryn Morrison, the book sets out to illuminate the century-long process that saw the world around us re-engineered for cars.
The two canopies are the first 1960s motoring related structures to be listed and join the likes of the Grade II Chinese Garage in Beckenham built in 1929. Despite its name the building takes its inspiration from Japan, with a Japanese garden complete with pond, bridge and lanterns. Another example is the former premises of the car manufacturer Rootes in Maidstone, Kent. Built in 1937-8 and also Grade II listed, they are a good example of the large moderne style garages of the 1930s with a vertical fin to catch the eye, rounded corners and extensive showrooms and workshops.
Markham Moor petrol station canopy: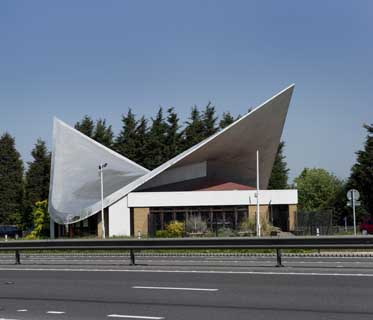 photo © English Heritage
The distinctive circular Mobil canopies at Red Hill, built in the late 1960s, were designed by noted American modernist architect, Elliot Noyes (1910-1977). Noyes was an important figure in post-war commercial design and met the famous French modernist architect Le Corbusier while studying architecture at Harvard. He was commissioned by Mobil in 1964 to create an instantly recognisable and attractive design which resulted in the Pegasus style petrol station.
The design was used internationally and the canopies in Leicester are thought to be the only intact remaining examples in use in the whole of the UK. They have survived remarkably well and their striking overlapping "parasol" design makes Red Hill perhaps the most innovative and distinctive petrol station in England.
The canopy at Markham Moor in Nottinghamshire was a technical innovation, an unusual and dramatic roof structure formed of a hyperbolic paraboloid shell. Used most famously at the Sydney Opera House, and the Commonwealth Institute in London, it derives great strength from the way the forces in its "saddle" shape work together.
Built out of concrete in 1960-61, it is one of only a few of these structures from the 1950s and 60s to survive in this country. The canopy at Markham Moor was designed by the British architect Sam Scorer with the engineer and German refugee Dr K Hajnal-Kónyi. Compared to modern standardised examples of petrol stations Markham Moor is both a dramatic and unique design.
Markham Moor petrol station canopy: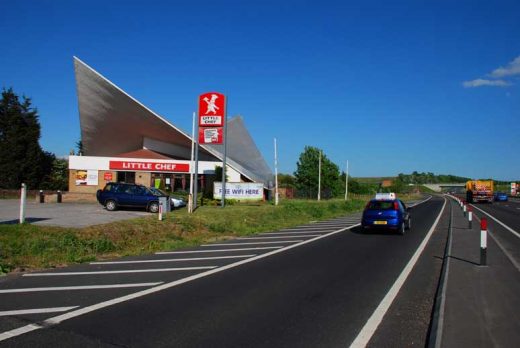 photo © Karolina Szynalska
English Heritage
English Heritage is the Government's statutory advisor on the historic environment. We provide advice on how best to conserve England's heritage for the benefit of everyone. While most of England's heritage is in private hands, we work with all who come into contact with it – landowners, businesses, planners and developers, national, regional and local government, the Third Sector, local communities and the general public – to help them understand, value, care for and enjoy England's historic environment.
We are also entrusted with the custodianship of over 400 sites and monuments which together form the national collection of built and archaeological heritage. These include some of the most important monuments of human history such as Stonehenge and Hadrian's Wall. For further information about our work, please visit www.english-heritage.org.uk
Carscapes : the Motor Car, Architecture and Landscape in England
Carscapes sets out to illuminate the century-long process that saw the world around us re-engineered for cars. It poses a series of questions. Just why and when and how did the car become such a powerful catalyst for change? And to what extent can it be held responsible for how entrepreneurs, politicians, planners, architects and engineers have opted to arrange the towns and cities we live in today?
The approach is thematic, with each theme treated chronologically, creating its own free-standing narrative. The book also explores the history of various building types associated with the car: filling stations, garages, car showrooms, car parks, motels, roadhouses.
English Petrol Station Canopies images / information from English Heritage + Karolina Szynalska
More English Petrol Station Buildings + Canopies welcome
Location: England, UK
Petrol Station Architecture
Contemporary Petrol Station Architectural Projects
Petrol Station in Las Palmas, Gran Canaria, Canary Islands, Spain
Design: Romera y Ruiz Arquitectos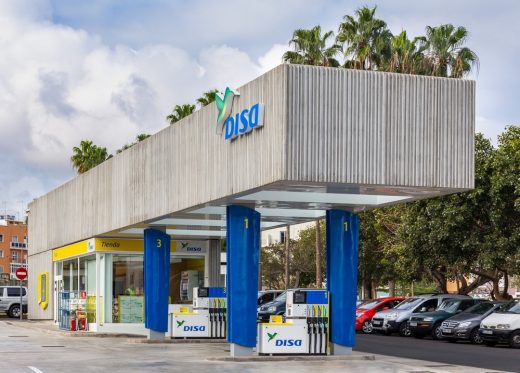 photo : Simón García Arqfoto
Petrol Station in Las Palmas
Shoreditch Petrol Station Building, Hackney, London, UK
Design: KYSON Architects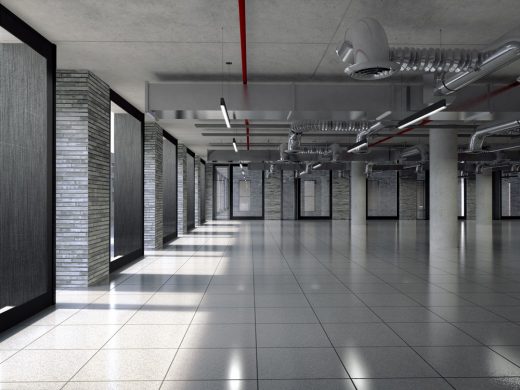 image courtesy of architects
Shoreditch Petrol Station Building in Hackney
Ultra Fast Charging Stations Denmark
Batumi Fuel Station + Restaurant
Justice Mill Lane Aberdeen
Recent petrol station buildings on e-architect:
Rest Stops in Georgia



photograph : Jesko M. Johnsson-Zahn
J Mayer H news
A famous 20th century petrol station building:
uno-X petrol station, Herning, Denmark
Design: Jørn Utzon
Petrol filling station for the uno-X petrol company
English Architecture
English Architecture Design – chronological list
English Buildings – Selection
English Houses



photo : John Donat
Additions / photos for the English Petrol Station Buildings page welcome