Big Town Plan Shrewsbury, Shropshire Architecture News, Masterplan, BID, Town Council
Big Town Plan for Shrewsbury
Master Plan for Shropshire Buildings / Public Realm, western England by LDA Design, UK
17 Aug 2018
Big Town Plan for Shrewsbury, England
Bold thinking behind Shrewsbury's Big Town Plan
Design: LDA Design
A ground-breaking Big Town Plan has been drafted for Shrewsbury, setting out an ambitious, landscape-led vision for how this historic county town will look by 2036.
LDA Design has developed the Plan with partners Shrewsbury Bid, Shropshire Council and Shrewsbury Town Council, and in association with Phil Jones Associates.


image courtesy of architects
The recently published Grimsey Review 2 (July 2018) set out 25 recommendations to revitalise the UK's ailing town centres. Shrewsbury's planners and decision-makers have gone a step further, adopting a holistic approach to make the whole town more liveable, not just the centre. It could become a blueprint for other county towns to follow.
The Big Town Plan provides a framework to make Shrewsbury more resilient, directing investment in new housing and start-ups from the periphery into the centre.
Priorities include: rethinking movement and place; supporting, creating and nurturing town vitality and a mix of uses; creating a place for enterprise; and boosting natural Shrewsbury. The Plan aims to strengthen the all-year-round appeal of the town through more events and activities, and increase its attraction for cyclists and pedestrians, including with a central pedestrian-priority promenade.
LDA Design took a landscape-led approach to the Plan. This meant starting with an understanding of what local people need to live happy and rewarding lives, and the physical qualities that make the town special: the river loop and medieval quarters, and its parks and green spaces.
"The entire process behind this Plan is refreshingly different," explains LDA Design Board Director Bernie Foulkes, who led the masterplan. "Our aim has been to make it as inclusive as possible. After all, if you are planning for people then you need to involve them more effectively in planning and managing change. This is what the Big Town Plan does so well."
Consultation on the Big Town Plan is now underway with a pop-up exhibition running until Wednesday 19 September.
Alan Mosley, leader of Shrewsbury Town Council said: "We are delighted to present this collective vision for our town's future. It presents a series of realistic, practical and sustainable aspirations; together with a clear plan of how we can get there.
"It is ambitious and bold in putting people at the heart of the town so it becomes an even better place to live, visit, work and invest."
Seb Slater, executive director of Shrewsbury BID said: "We have listened to what the public wants to see happen and taken soundings and insights from businesses and key stakeholders representing genuine partnership working.
"This final draft reshapes the physical public realm and matches it with an outstanding public experience, revolutionising movement around the town and attracting vital investment."
Councillor Nic Laurens, Shropshire Council's cabinet member for economic growth, said: "The Shrewsbury Big Town Plan has been a true collaborative piece of work and its aim is to put people at the heart of the town.
"Throughout the process we've asked for people's views, with over 5,000 people visiting the Big Town Plan shop in September last year to hear more about the work and input into the plan.
"We have taken these views and used them to create and shape what I feel is a really exciting plan for the future. We'd love to hear people's thoughts."
16 Feb 2018
Big Town Plan for Shrewsbury News
LDA Design to deliver a Big Town Plan for Shrewsbury
Design: LDA Design
LDA Design has been appointed to help deliver a 'Big Town Plan' for Shrewsbury, one of England's finest county towns.
LDA Design, the creative consultancy behind masterplans for Exeter and Plymouth as well as the London 2012 Olympic Park, will work alongside three project partners – Shrewsbury BID, Shrewsbury Town Council and Shropshire Council – to develop a masterplan that builds on visioning work carried out to date, including public consultation where over 2,500 comments and ideas were collected.


image courtesy of architects
Shrewsbury has long been the commercial centre for Shropshire and mid-Wales. It has a strong independent retail and food offer and has remained a great place to live and work, with almost 70 per cent of residents also working in the town. The ambitious Big Town Plan seeks to build on this robust local economy and high-quality of life, ensuring investment and activity stays in the heart of the town and future-proofing Shrewsbury against changing patterns of shopping, working and living. The Plan aims to make the most of the town's rich heritage and green spaces, improving transport links and creating a lively, self-sustaining place to be.
Last year, Shropshire Council, in partnership with Town Council and BID Team, embarked upon on a comprehensive conversation with over 50 individuals and organisations from both the public and private sector, ahead of more widespread public consultation, that culminated in a vision backed up by a clear set of priorities and objectives. This includes: creating a place that supports enterprise; improving movement and place; enabling vitality, life and mix; and, nurturing natural Shrewsbury. Above-all, it is about a people-centred town, one that supports wellbeing and good health.
The Big Town Plan now needs to be converted into a masterplan and turned in action, something both transformational and achievable. LDA Design was appointed because of its landscape-led, 'first life, then spaces, then buildings' approach and collaborative way of working. They will be supported by Phil Jones Associates on transport.
Bernie Foulkes, Board Director LDA Design, commented: "We are really excited to be working on the masterplan for Shrewsbury with the Big Town Plan Team. There is a real sense of momentum on the back of the Big Town Plan and a belief that Shrewsbury can genuinely lead the way for other English county towns, putting people and place first, as the way to attract investment. We look forward to being part of that journey."
Alan Mosley, Leader of Shrewsbury Town Council says: "Working collaboratively on proposing a Big Town Masterplan makes so much sense. Not only does it help us identify what is needed for our town, but it ensures that we are all working together, alongside residents and all other stakeholders, to make it happen. The Town Council really looks forward to working with our partners and LDA Design on this very exciting project. With short, medium and long-term goals we aim to ensure that Shrewsbury becomes an even greater place to live, work, visit and do business."
Seb Slater, Shrewsbury BID Executive Director comments: "I am delighted that town centre partners have jointly appointed LDA Design to work on the Shrewsbury Big Town Plan. LDA Design will bring great experience of collaboration with local people and partners to the creation of a holistic and bespoke masterplan for Shrewsbury."
Big Town Plan for Shrewsbury image / information received 160218 from LDA Design
Location: Shrewsbury, Shropshire, UK
Shropshire Buildings
Shropshire Buildings – Latest Designs, chronological list:
Bedlam Furnaces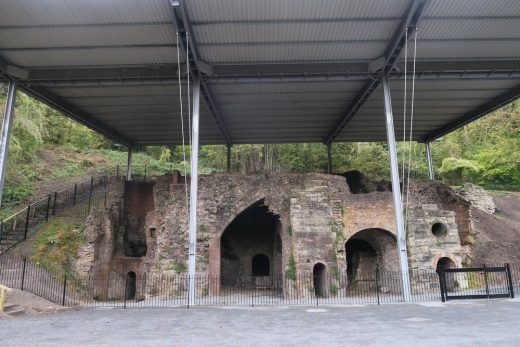 image courtesy of architects
Bedlam Furnaces Building in Shropshire
Ditherington Flax Mill Maltings
Design: Feilden Clegg Bradley Studios



image from architects
Ditherington Flax Mill Maltings Shropshire
Abraham Darby Academy
Design: BDP



image from architects
Shropshire School Building
Severn Trent Water Office Building, Shelton, Shrewsbury
Glenn Howells Architects



image from architects
Shropshire Office Building
County Architecture adjacent to Shropshire
Comments / photos for the Big Town Plan for Shrewsbury, Shropshire page welcome