Red Castle reconstruction, Hradec nad Moravicí Historical Building, Czech Cultural Monument Architecture
Červený zámek Hradec nad Moravicí Building
Building Renovation Project in Czech Republic Property design by Atelier 38 architekti
18 Feb 2020
Červený zámek in Hradec nad Moravicí Renovation
Architects: ATELIER 38 architekti
Location: Hradec nad Moravicí, Czech Republic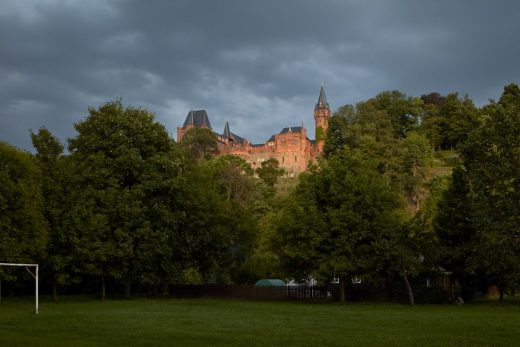 ATELIER 38 have completed a renovation project of Červený zámek (Red Castle) in Hradec nad Moravicí, Czech Republic.
The first phase of the renovation of this romantic neo-Gothic castle included the removal of static disturbances, monument restoration and integration of new functions into the restored spaces.
Červený zámek in Hradec nad Moravicí
The castle area of Hradec nad Moravicí is situated on the territory of the low mountain range of the Nízký Jeseník, in the area of southern Silesia. Its area is one of the largest in the Czech Republic: in addition to the Červený zámek (Red castle) it includes Bílý zámek (White castle), Bílá věž (White tower) and a park. In 2001, the castle complex was declared a National Cultural Monument.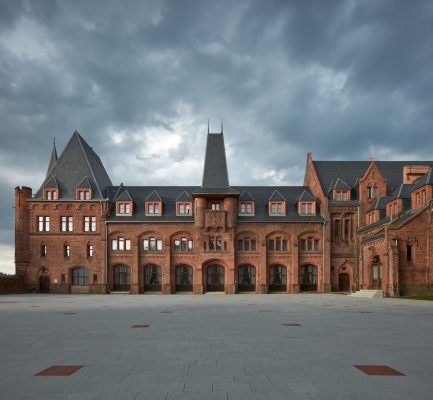 Červený zámek is an important social and cultural centre. Among other things, it hosts the international interpretation competition and music festival "Beethoven's Hradec" and the large cultural festivals "Hradecký slunovrat" (Hradecký Solstice) and "Hrady CZ" (Castles CZ). This romantic neo-Gothic castle, with its numerous turrets and battlements, is ranked among the "most fabulous" in the country.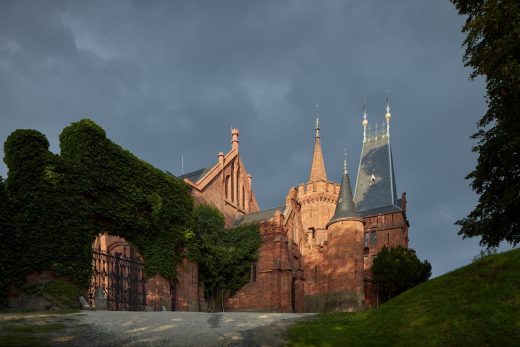 History
The stables complex (the so-called Červený zámek) was built in the 1880s, according to a design by Wrocław architect, Alexis Langer. The inspiration came from the North German Gothic castles, specifically the Crusader castle Malbork, in present-day Poland.
Prince K.M. Lichnovský placed a stable here for his English thoroughbreds, with a depot for buggies and carriages, a carriage house / blacksmith's, and other operating rooms and cellars. It also included a residential tower with guest rooms, a clock tower, and the main entrance gate to the entire castle complex.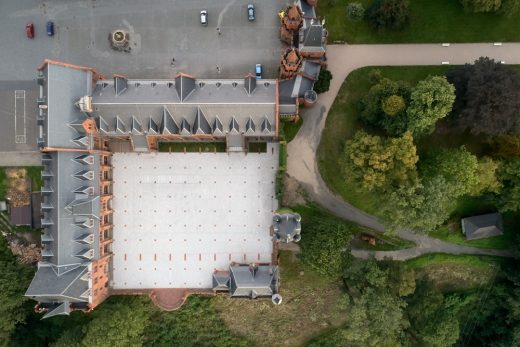 The history of the 20th century was reflected in the function and appearance of the stately home, along with its political and economic twists.
Prince Lichnovský's interest in stables diminished with his growing passion for motoring. After the Lichnovskýs left Hradec as their main residence in 1913, the building definiteively lost its original purpose. During the First World War, the stables were used by the army as a hospital for the wounded, and for sick horses from the Eastern Front.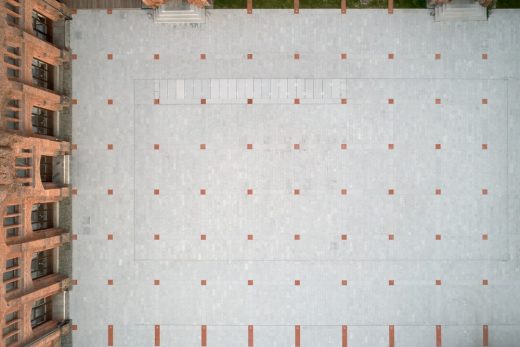 In the 1930s, the Lichnovskýs sought to demolish the then virtually unused building. Due to the high interest in local history and tourism – "it would hurt tourism very much, and damage the landscape character of the whole town" – however, the state administration of the young Czechoslovak Republic did not support their intention.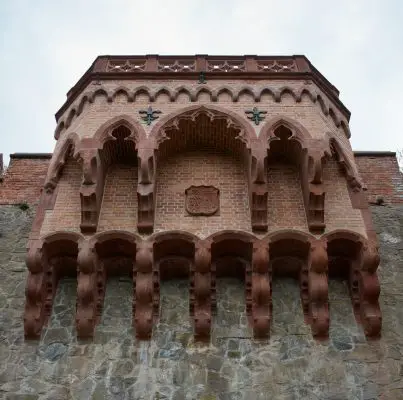 At the close of World War II, the castle was damaged during the bombing, and partially burned down; in the post-war years it was temporarily repaired. After refusing to place a state stud farm here, the stables were converted in 1954-59 into a restaurant with a hotel and socio-cultural spaces. In 1972, a part of the building burnt down, and the condition from the renovations from 1975 has been preserved up to this day.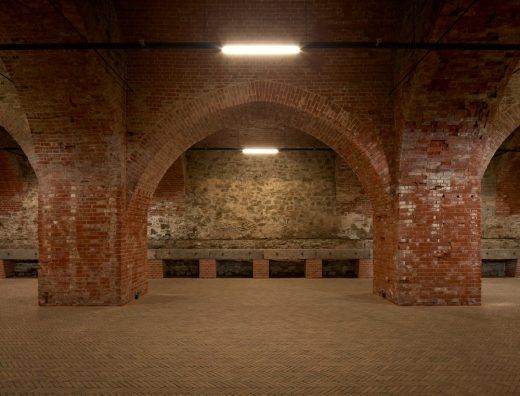 Reconstruction of a Heritage Listed Building (2017-2019)
During the first phase of a reconstruction and restoration it was essential to secure structurally unstable masonry walls, vaults, balconies and roof trusses and to replace roof tiles and dormers.
The intent was to retain original masonry walls as much as possible.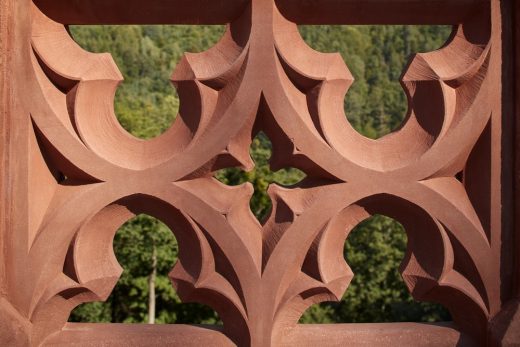 The castle`s façade made from red face bricks with red sandstone inserts was decorated by handcrafted elements – such as coat of arms, engraved slabs, gargoyles, mascarons, rosettes, end pieces, statues of basilisk and chimney heads. The original stone miniature of the "Tower" was returned to the top of the gable of the Upper Stables.
The vaulted space of the Lower Stables (the former hospice for wounded horses) was restored into its original layout and monumentality. Today it is used for exhibitions, concerts as well as a glyptotheque – to store the original statues and roof and façade stone fragments.
The pitched dormers were built according to the 1950s scheme to suit today's demand for an accommodation. Slate tiles were used for the roofing to minimize flashing details – to create a valley, a hip, a ridge and a gutter.
The courtyard was unified again to provide a platform for cultural events. Wall to wall paving is entirely from granite in order not to compete with the romantic expression of the Červený zámek (Red Castle). A so-called hidden water fountain enhances pleasant microclimatic conditions especially during hot summer days.
ATELIER 38 / Červený zámek in Hradec nad Moravicí from BoysPlayNice Photography&Concept on Vimeo.
JČervený zámek in Hradec nad Moravicí – Building Information
Project name: Červený zámek in Hradec nad Moravicí – Renovation of a listed building
Basic description: Removal of static disturbances and monument restoration – 1st stage
Studio: ATELIER 38
Authors: Jan Zelinka | authorized architect ; Luděk Valík | authorized engineer
Email: [email protected]
Web: www.atelier38.cz
Project address: Státní zámek Hradec nad Moravicí (State castle Hradec nad Moravicí)
Městečko 2, 747 41 Hradec nad Moravicí, Czech Republic
Project year: 2015 – 2017
Implementation: 2017 – 2019
Area: Built-up area (solved as No.): 4 700 m2 ; Enclosed space (solved as No.): 16 190 m3
Costs: For the first stage – 2 400 000 €
Client: Národní památkový ústav (National Heritage Institute) [email protected]
Photography: BoysPlayNice | [email protected] | www.boysplaynice.com
Collaboration
Statics: MARPO | www.marpo.cz
Fire protection: Petr Matějek | www.jposluzby.cz
Environmental engineering of buildings, heating and ventilation: Cond Klima | www.cond-klima.cz
Gastro: Mava | www.mava-t.cz
EPS: BESCOM | www.bescom.cz
Contractors:
Roof trusses and roofs: H&B Delta Vsetín
Statics, stables, courtyard, lookout: Zlínstav, Pracom
Tech. supervision Daniel Ludín
Materials
Roofing – slate
Flashing – titanzinc
Timber trusses – pine
Brick Masonry – fired clay brick
Stone Details – red sandstone
Stone Masonry – locally sourced natural stone
Courtyard's paving – granite
Stable's paving – brick paving
ATELIER 38 Profile
ATELIER 38 is an architectural and design studio. In 2000, a loose association Atelier 38 transformed itself into the existing limited liability company. We focus on teamwork, realization of contracts using both classic and alternative technologies, continuous education and development in state-of-the-art procedures and trends in our field of expertise including respecting the ecological aspects. We cooperate with a number of experts in technical infrastructure design, technical provisions of constructions, statics and others.
Photos: Jakub Skokan and Martin Tůma / BoysPlayNice
Jinonice Family House in Prague images / information received 180220
Location: Czech Republic
Architecture in Czech Republic
New Czech Republic Architecture
Prague Building Designs – chronological list
Architecture Tours Prague by e-architect
Nelahozeves Castle Library and Research Centre
Design: Wright & Wright Architects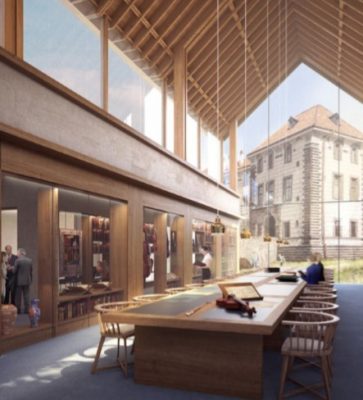 image courtesy of architects
Nelahozeves Castle Library and Research Centre
Prague Congress Centre Design Competition
Design: OCA Barcelona Architects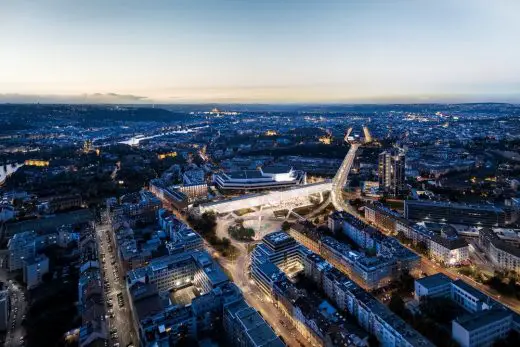 image : Play Time – Architectonic Image
Prague Congress Centre Design Competition
Janosik Design Window Showroom, Vinohradská
Design: Mjölk architects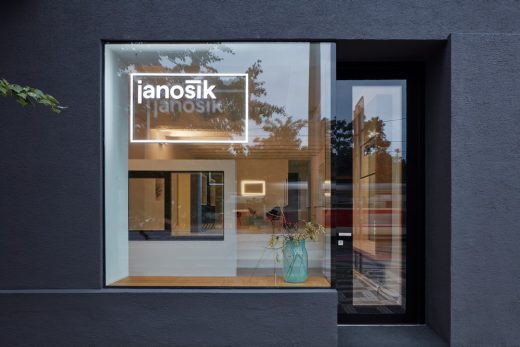 fotografie : BoysPlayNice
Janosik Design Window Showroom
JETLAG Tea & Wine Bar
Architect: Mimosa architekti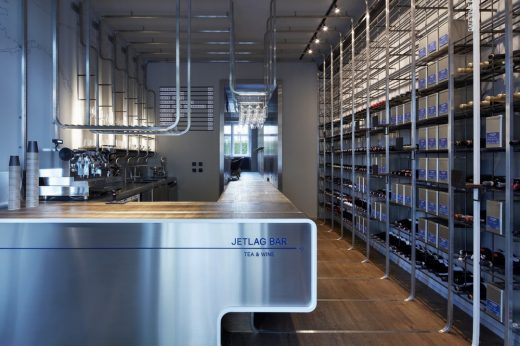 photo : BoysPlayNice
JETLAG Tea & Wine Bar
Comments / photos for the Červený zámek in Hradec nad Moravicí, Czech Building – page welcome
Website : Hradec nad Moravicí