Buggy Sky Station, Skyscraper Design, Masterplan, Tower Architecture Images
Buggy Sky Station Tower
Concept Masterplan Skyscraper design by A-Simple Architects
17 Aug 2016
Buggy Sky Station Design
Architects: A-Simple
Buggy Sky Station
Concept of countryside lifestyle in the skyscraper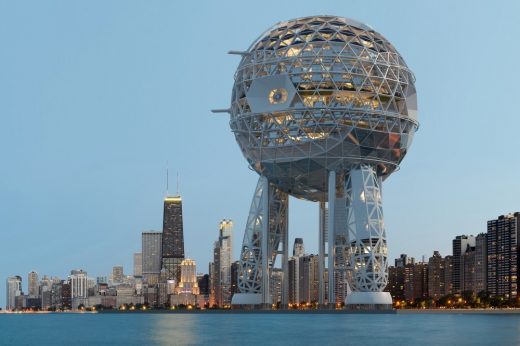 In Buggy Sky Station group of architects conceptualized an idea to bring village to the city and make them coexist in harmony. The Skyscraper offers a unique symbiosis of the city and countryside experience with a minimal impact on the surroundings. On top of that, Buggy Sky Station is a community of likeminded people, who enjoy countryside lifestyle while simultaneously staying integrated into urban rhythm.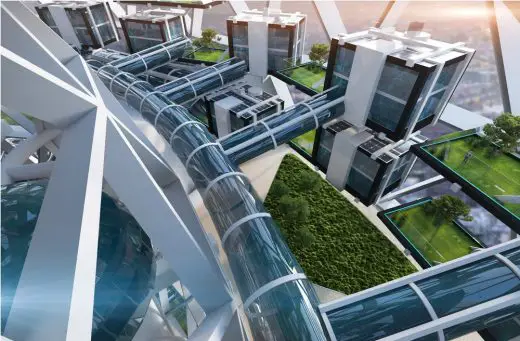 The Skyscraper's structure
Buggy Sky Stations consist of two structural spheres – internal and external, connected with each other with the help of vortexes and 3 supporting structures – "legs".
Except holding the construction of the Skyscraper each "leg" contains evacuation routes, the automatic vertical parking area on its lower 18 floors, as well as 24 floors of office premises.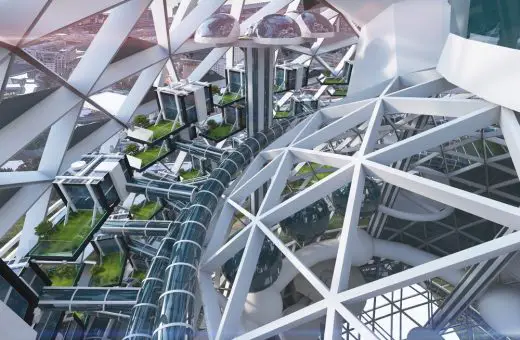 The communication system is provided by 42 elevators at 6 elevator shafts, connected between each other with a pipe shaped transitions. In order to resist an earthquake the system based on gyroscope principle is planned on the bottom of internal sphere.
Inhabitants will have an opportunity to have a rest in 6 spherical restaurants with a park view, cinemas and galleries. Besides that public swimming pool with panoramic lounge area are located at the upper part of Buggy Sky Station.
Glazed part of the Skyscraper called Ring Building will accommodate apartments, offices, technical and engineering premises.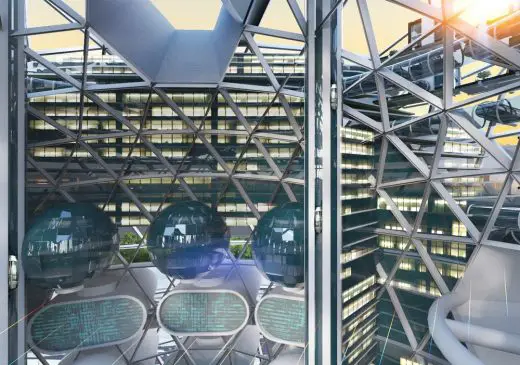 Why Buggy?
Buggy vehicle, its simplicity and functionality, has become a source of inspiration and has been transformed into a powerful and fresh perspective. Similar to the buggy vehicle with no traditional body, the skyscraper consists of frames instead of traditional walls; like buggy, which does not require roads, the Skyscraper requires neither the traditional construction area nor traditional foundation and can be developed and placed in different locations and climate zones.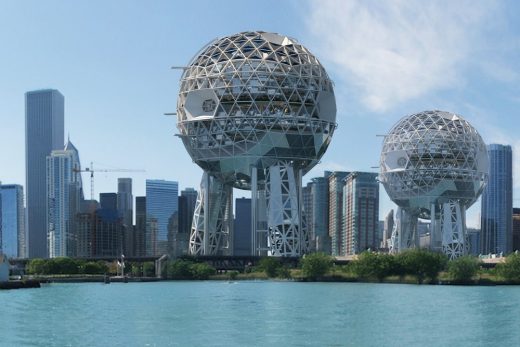 Both buggy vehicle and Buggy Sky Station do not isolate an individual from the surroundings, as typical cars or houses do. The skyscraper invites a person to become a part of the local area or the environment, while maintaining or even enhancing the comfort level.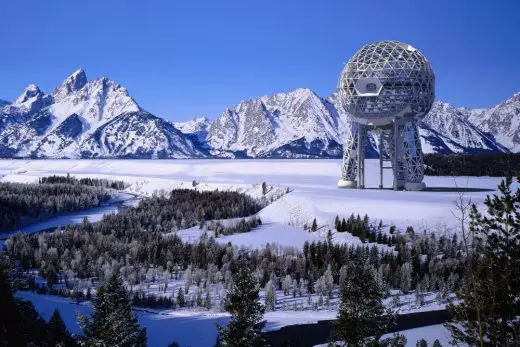 Buggy Sky Station erases mobility barriers. House becomes a backpack
You don't need to come back to your home but instead home follows you. Buggy Sky Station's home capsule is combined of a few modular components, with a 40 ft container dimensions as the basis for a module and can be easily transported by automotive vehicles, ferry, etc., assembled and disassembled. Module lifting and transportation system is designed in a way that allows capsule assembly on new site with no extra efforts.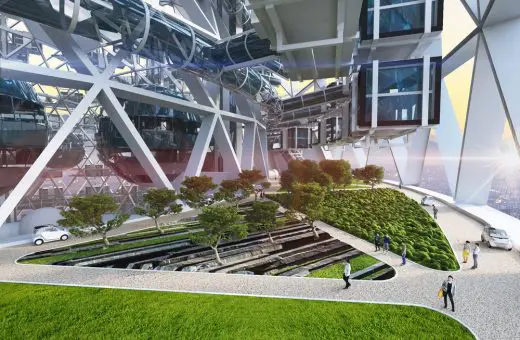 Swapping cities and countries without necessarily leaving home behind has never been so easy.
Maximum green areas in the skyscraper
Due to the continuous increase in human population the urban built-up areas are becoming increasingly wider and denser. Green areas are getting swallowed by inhabitant areas, which is leading to an acute shortage of parks and leisure areas. This problem has been solved in the Buggy Sky Station, as it hosts an impressive Sky park area (2.068 ha), plenty of common-use green terraces along with private gardens (100 sq. m. each).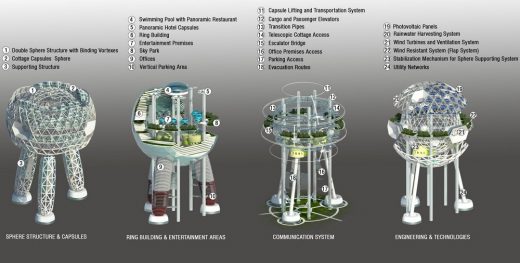 The Skyscraper's shape reduces the need for artificial lighting, as the spherical surface scatters light and evokes feeling of lightness and comfort. Abundance of greenery improves air quality, noise protection and creates a distinctive micro-climate within the building. Plants serve as natural sun shield regulating the amount of sunlight permeating inside the premises.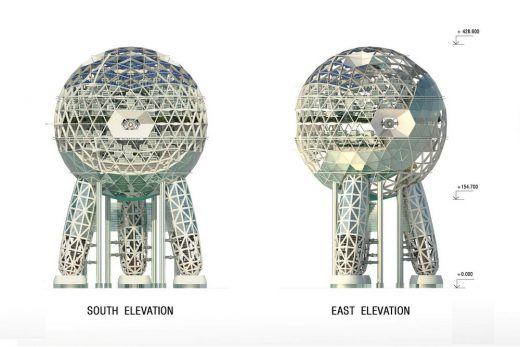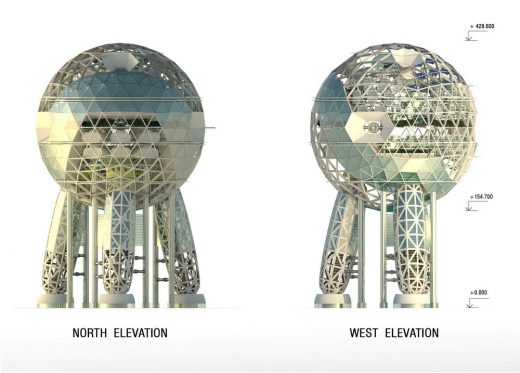 Buggy Sky Station – Building Information
Architecture Team: Kostiantyn Kuvika, Victoria Kuziv, Andriy Bilousko. Kiev, Ukraine.
Height of the building: 428.600 m
Number of floors: 95
Total area: 436.336 sqm
Areas:
– Sky Park: 20.683 sqm
– Cottage Houses: 27.200 sqm
– The Ring Building: 278.729 sqm
– Construction Area: 9.225 sqm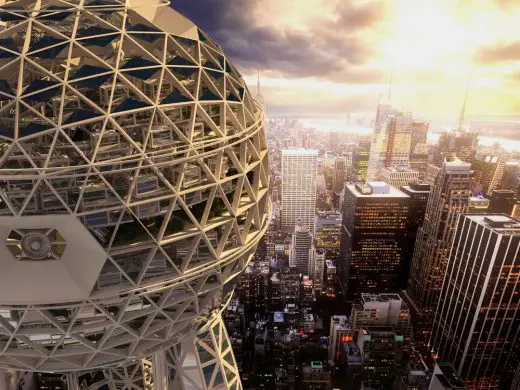 Buggy Sky Station information / images received 180816
Architectural Concept Designs
Wave Tower Design



picture from architect firm
Hanging Tower



image © Stephan Sobl
Metropolitan Vertical Theme Park



picture from architect practice
Indigo Tower Concept



picture from architect
Ukraine Architectural Designs
Ukraine Buildings – architectural selection below:
Ukraine Architecture Designs – chronological list
EQ by Andrey Sokruta, Kyiv
Architecture: Andrey Sokruta, Andrey Sokruta Workshop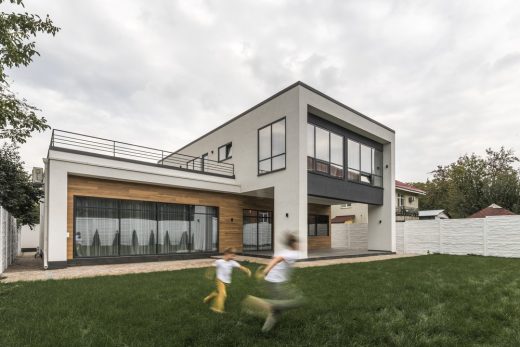 photo : Andrey Sokruta
EQ by Andrey Sokruta, Kyiv house
The architecture was intended to be modern and functional. The interior was supposed to be as neutral as possible, but stylish and attractive. It was important to strike a balance and not go too far in the direction of too pretentious minimalism, to avoid particulars.
Cube House, Bucha, Kyiv Oblast
Architecture: Yakusha Design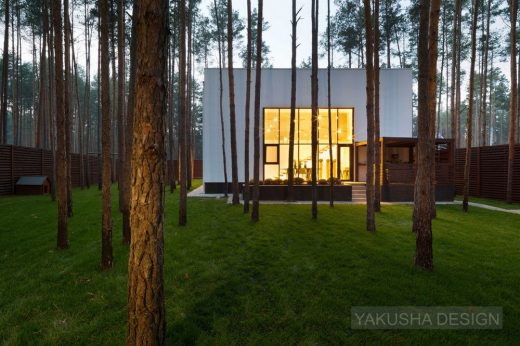 image courtesy of architects
Cube House in Bucha, Kyiv Oblast
A house for the young family with two kids who leads an active lifestyle. Actually while they were choosing the design of their house they found out about one more baby coming soon.
Comments / photos for the Buggy Sky Station design by A-Simple Architects page welcome
Website : Architecture Walking Tours