Temporary Cinema Competition in Dakar, Open International Architects Competition, Senegal Architecture Contest
Temporary Cinema Competition
Senegal Open International Architects Contest, Cap-Vert Peninsula, Atlantic coast – organised by [AC-CA]
page updated Nov 10, 2016 with new images ; 11 Jan 2015
Organiser: [AC-CA]
Temporary Cinema Competition
Closing Date for Registration – 27 Feb 2015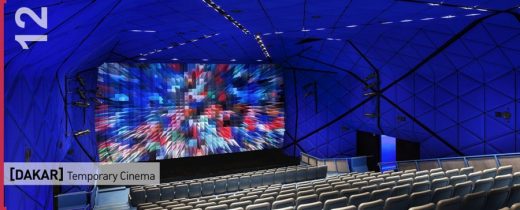 Temporary Cinema Competition in Dakar, Senegal
Dakar is the capital and largest city in Senegal. It is located on the Cap-Vert Peninsula on the Atlantic coast and is the western most city on the African mainland.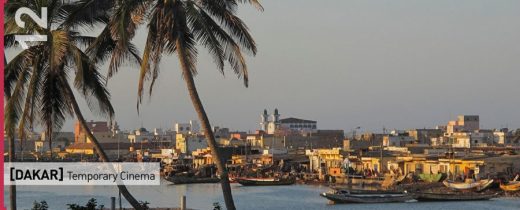 Cinematography is the art or science of motion picture photography. It is the technique of film photography, including both the shooting and development of the film.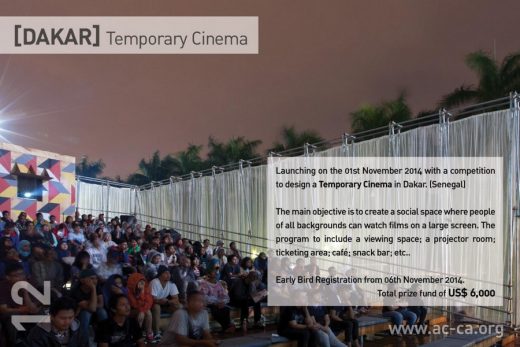 Cinema: A film theatre (also referred to as movie house, film house, movie theater or picture house) is a venue, usually a building or desiginated space for viewing films for entertainment.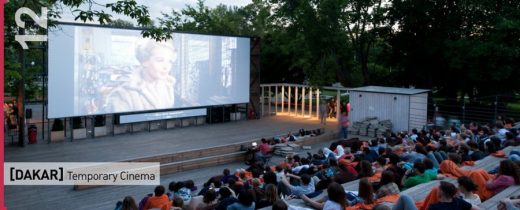 Today, downtown Dakar, a city of 2.5 million people, has almost no films theatres with many of the old theatre if not all closing their doors in the last decade.
Aim of the Temporary Cinema Competition
The aim of this International Competition is to design a Temporary Cinema within the city of Dakar in Senegal. This competition hopes to achieve the following:
_Encourage and reward design excellence which integrates function, structure and details.
_Analyse how the thoughtful development of the cinema within the surrounding neighborhood helps to create a livable community.
_Research, respond to and highlight the unique aspects of designing a temporary structure.
_Build knowledge of design principles related to cultural development within an urban area.
_Encourage the employment of sustainable design in all aspects of the proposal.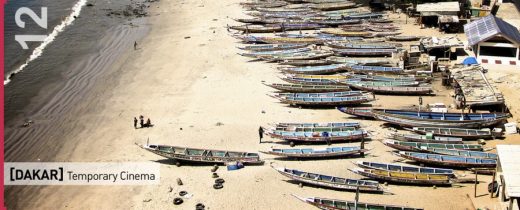 Temporary Cinema Competition Awards
Winning participants will receive prizes totaling US$ 6,000 with the distribution as follows:
1st PRIZE: US$ 3,500
2nd PRIZE: US$ 1,700
3rd PRIZE: US$ 800
There will also be 7 honorable mentions.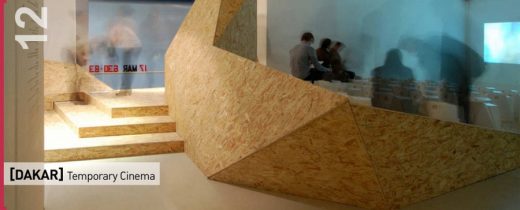 Note: this is an open international competition hosted by [AC-CA] to generate progressive contemporary design ideas.There are no plans for the Cinema to be built.
Schedule
Competition Officially Announced – 01st November 2014
Start of Competition – 06th November 2014
Early Bird Registration – 06th to 28th November 2014
Standard Registration – 29th November 2014 to 30th January 2015
Late Registration – 31st January to 27th February 2015
Deadline for Questions – 15th February 2015
Closing Date for Submissions – 02nd March 2015
Jury Evaluation – 10th – 17th March 2015
Announcement of Winners and Publication at www.ac-ca.org – 23rd March 2015
For more information please contact us and/or visit our website – [AC-CA]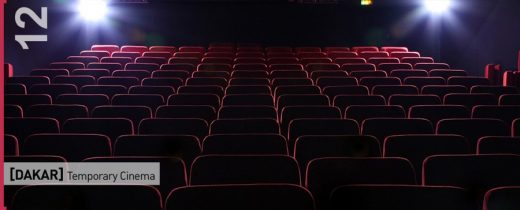 Temporary Cinema Competition image / information from [AC-CA], 18 Nov 2014
Location: Dakar, Senegal, West Africa
Architecture Competitions
International Competition for the National Museum of Korean Literature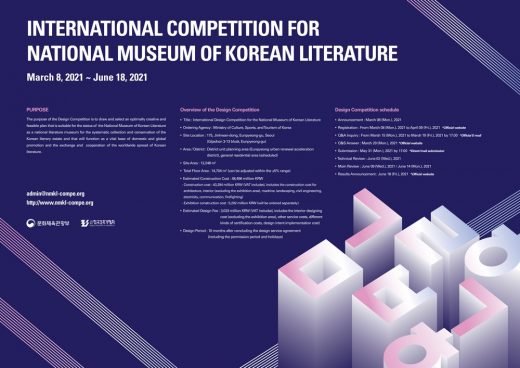 picture from competition organisers
Competition for the National Museum of Korean Literature
This architecture competition is Organized by Korea Institute of Architects. The holding organization for the design competition is Ministry of Culture, Sports, and Tourism of Korea, S. Korea.
Architecture & Design Tabloid Contest 2021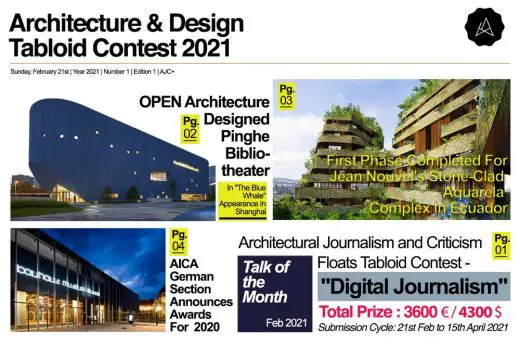 picture from architecture competition organisers
Architecture and Design Tabloid Contest 2021
To explore the domain of being an entrepreneur in digital journalism related to the Architecture & Design Community, specifically, to move ambitiously to take it out of the borders that one lives in. The Tabloid should have a special focus on curating – local projects, competitions, events, books, and new initiatives regarding the local architecture of your country.
Ocean Platform Prison Competition – [AC-CA] Architecture Contest



picture from design competition organisers
Ocean Platform Prison Architecture Competition
Russian Architecture Competition, Russia
Nikola-Lenivets Architecture Competition
Triumph Pavilion Architecture Competition, London, UK
Triumph Pavilion Architecture Competitions
Cambridgeshire Design Competition, UK
Great Fen Visitor Centre Architecture Competition
Comments / photos for the Temporary Cinema Competition page welcome