RETHINK: 2025 Design Competition, RIBA post-pandemic Architecture Contest News
Rethink 2025 Design Competition Winners
27 July 2020
RIBA announces three winners of post-pandemic design competition
The Royal Institute of British Architects (RIBA) has today (27 July 2020) announced three joint winners of Rethink: 2025 – an international design competition seeking designs for our post-pandemic world.
Rethink 2025 Design Competition Winners
Previously on e-architect:
14 July 2020
RETHINK: 2025 Design Competition shortlist news
The Royal Institute of British Architects (RIBA) has today (14 July 2020) announced the shortlist for Rethink: 2025 – an international design competition for our post-pandemic world.
Rethink: 2025 invited architects and students to consider what life could look like by 2025 and to respond to one or more of the following areas – the future of; healthcare spaces, remote learning, high density living, public transport, high streets vs online shopping, international travel and the use of technology to monitor and control populations.
The judging panel – made up of five design leaders and radical thinkers, chaired by RIBA Journal Editor, Hugh Pearman – have selected a shortlist of 12 proposals.
Key themes explored by the Rethink: 2025 shortlist include: ideas to reclaim the streets to make them safer and greener, proposals to change existing buildings to make outdoor spaces more accessible, and plans to repurpose redundant offices and shops to create vibrant new community facilities.
The Rethink: 2025 shortlisted entries are:
A Catalogue of Regeneration, Andrew Jackson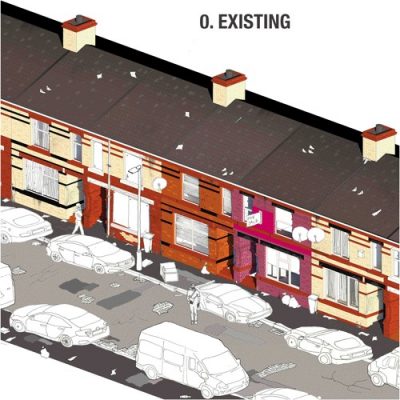 This project proposes a series of incremental improvements that can be made to streets and houses. The step-by-step guide sets out five key stages of regeneration, starting with repairing potholes, through to the creation of 'woonerf' zones – traffic calmed streets, and ultimately work to improve and expand individual homes.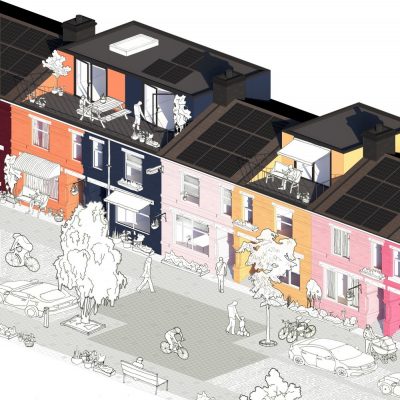 With sustainability at its heart, this idea works with the existing buildings, using inner city Manchester terraces as the case study within the proposal.
Childbirth Made Personal, Sarah Joyce, University of Leeds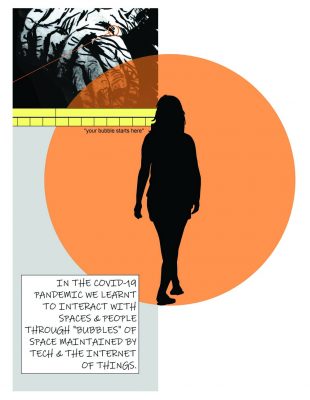 This entry was presented through emotive drawings that drew out of the impact of the pandemic on childbirth and the essential element of touch. Using the coronavirus concept of 'bubbles' and virtual connections, Childbirth Made Personal suggests that the way we design will change with the use of light-touch interventions and personalised pathways. It encapsulates the idea of the 'safe outside' versus the unsafe inside, where births take place. It gently describes how the birthing experience will be affected by thinking of 'people as carriers of infectious diseases and surfaces as transmitters'.
This proposal details the reinvention of commuter hubs and tourist destinations of city centres as localised districts with less travel, homeworking and very limited shopping. Empty department stores and half-used office spaces are retrofitted with a school, an urban farm, new homes, bars, cafés, collaborative working spaces and leisure facilities in close proximity, providing maximum opportunities for social interaction and chance encounters.
Eco-Archi Post Covid, Khan Bonshek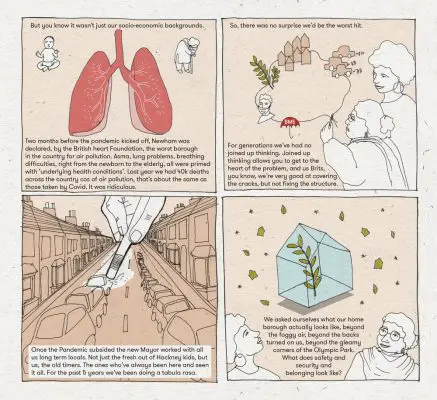 This proposal seeks to address challenges faced by ethnic minority communities who have been disproportionately affected by coronavirus. Often excluded from planning decision-making, ethnic minorities also often live in more built-up and polluted areas. This idea seeks to address this through engaging the local community and working with local government to make tangible changes. Presented in the form of a comic, the proposal focuses on Newham which has the highest air pollution in London. It proposes making it the Green Lungs of London by radically cutting road traffic on domestic streets and changing the culture of car driving.
Far off is close at hand, Haslam & Co Architects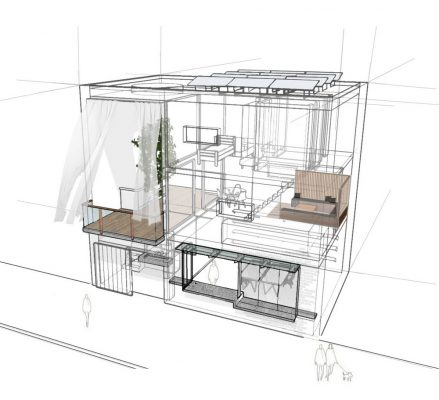 This proposes a clever way to repurpose existing buildings through a reimagining of the high street. Converting existing shops into homes that still function as a point of exchange – with spaces for meeting and entertaining.
Get Everyone In, Benjamin Holland, Olivia Dolan, Katie Williams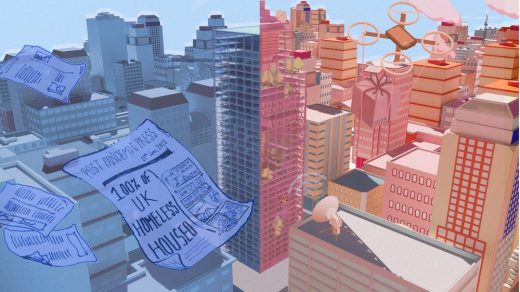 The project proposes reusing empty office space to house the homeless. Through the redesign of office towers, it suggests the inclusion of communal health facilities on ground level, bringing nature into the space with gardens at the mid-level and translating a deep plan office floor into hostel-style bedrooms on upper floors, with space left to accommodate some office workers.
Greater London Agriculture, Tim Rodber and Dominic Walker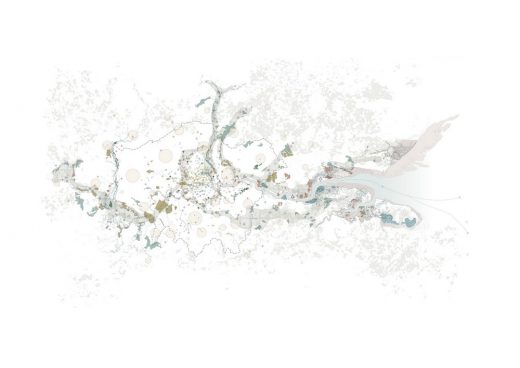 The most ambitious proposition in terms of scale, this idea centres around agriculture becoming interwoven with the city – tiny mapped patchworks of food production linked over time by corridors of biodiversity. From community orchards to seaweed farms based around existing green spaces and low carbon transport links – this an agroecological approach to land use and a green innovation network. Local, regenerative food production is intended to build respect for food, offer super-fresh seasonal produce. In increasing biodiversity and allowing wider ecosystems to recover it could also play a part in reducing threats of future pandemics.
House Farm – Peru, Kenyi Kevin and Sulca Quichca, Universidad Nacional de Ingenieria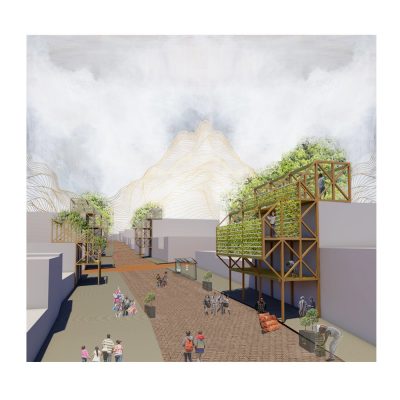 Explicitly set in the Villa Maria del Triunfo district of Lima, this proposes a timber extension to create a new space between private home and public social space. It offers hydroponic growing space for fruit and vegetables. It appeals to the desire for food security sparked by the pandemic and would reduce crowds in markets say the designers.
Post Pandemic Exchange, Elle Thompson, University of Nottingham
This proposal tackles the use and function of three buildings types and the streets around them. Garden streets are created in city centres, improving the journeys that remain. While shops and high streets are out of favour, this entry argues that entrepreneurship can flourish in the form of markets and rooftop exercise classes with bank frontages taken over by ambitious bakery businesses. The final condition that is examined is that of the much neglected suburbia. Prefabricated extensions expand homes and front gardens to take over the streets.
Streets are Made for Walking, People Matter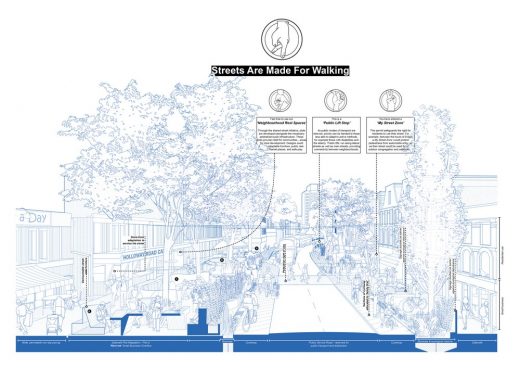 This project takes the reduced capacity of public transport and the increased space allocated to cycling and pedestrian infrastructure. It develops a method for implementing 'Shared Streets' with cleaner, greener, safer environments. Modelling is done on Holloway Road, an arterial route in North London. Placemaking and 'purposeful' streets are a priority in stage one to 2025, helping build local identity. 2025-2035 would see the development of 'inter-neighbourhood connections, in lateral rings expanding from the city centre' – increasing the potential for polycentricity and reducing demand on the city centre.
This proposal suggests a new rural model to revive denuded villages – producing the facilities of a town for a cluster of villages. How do we allow villages to retain their character but be fit for the future? How do we re-invest the concept of localism? And how do we capitalise on the improved air quality and the move to zero carbon? The village-city would include a health centre; care home; sheltered housing; shops; bank or post office; cafe; learning resource centre for workshops and evening classes; office for meetings and small businesses; gym or sports hall; renewable energy centre. Ideally all this would be 10,000 steps (4km) there and back from each village – a healthy, walkable distance. And around this centre the proposal is to plant 40,000 trees interspersed with running and cycling trails.
Window Living, Alice Vivoda, Patricia Schleeh, Eva Setz Kengen and Mark Kengen, The University of Edinburgh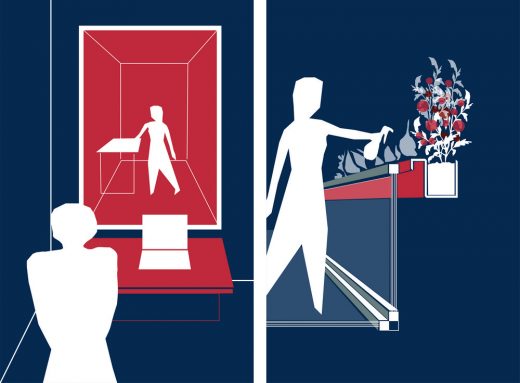 With outdoor space being more important than ever before, Window Living gives those without immediate access to such space a chance to have it retrofitted. Window Living proposes a clever window that can swing open into a balcony or a half bay to be enjoyed as a semi-outdoor bench – giving different states of interaction with nature, neighbours and the city. 'Step out of the box and through the window,' urge the designers. For lockdown recurrences and rainy days, the set up also acts as a virtual window with HD screen, allowing a full perspective so communication is not just from behind the computer.
Hugh Pearman, Editor of RIBA Journal and Chair of the Judging Panel said: "The shortlisted entries show architects applying their analytical and design skills to adapt to the new problems we face – ranging from reducing viral spread, to re-using redundant buildings – using all the tools of apps and AI as well as bricks and mortar – to imagine a better future."
The winner of the Rethink: 2025 competition will be announced on Monday 27 July.
9 July 2020
RETHINK: 2025 Design Competition
Post-pandemic buildings and cities – RIBA reveals longlist for Rethink:2025 international design competition
Thursday 9th of July 2020 – The Royal Institute of British Architects (RIBA) has today (9 July 2020) announced the longlist for Rethink: 2025 – an international design competition for our post-pandemic world.
Rethink: 2025 invited architects and students from around the world to consider what our buildings, streets and communities might look in 2025. How will the pandemic have modified the way humans interact with space and one another, and how can design mitigate its worst effects?
Entrants submitted ideas tackling the seven following areas: healthcare spaces, high density living, public transport, high streets vs online shopping, remote learning, international travel and the use of technology to monitor and control populations.
The judging panel – made up of five design leaders and radical thinkers, chaired by RIBA Journal Editor, Hugh Pearman, selected 32 proposals, from almost 150 entries, to progress to the next stage of the competition.
The longlisted ideas range in scale from addressing details of healthcare provision and transport design to radically reconsidering the design and use of our streets and cities – whether that be repurposing existing buildings or designing new building types and technologies. Issues addressed range from social inequality to virus disinfection, education provision, food production, air pollution, working from home, individual and collective remembrance and improvements to rural communal life.
Hugh Pearman, Editor of RIBA Journal and Chair of the Judging Panel said: "The ingenuity and ideas demonstrated across different issues on the longlist – from health through new building types to streets and neighbourhoods – breeds an optimism about how we reset after the coronavirus pandemic."
The Rethink: 2025 longlisted entries have been organised into three categories – Body, Buildings and Communities:
Body
Childbirth Made Personal, Sarah Joyce, University of Leeds
Designs are people/tech-driven in this new era. The maternity policy goals of 2020 are achieved through personalized "maternity bubbles" – buildings and spaces organized around pregnant women.
Separation without Barriers to Learning, Emma Tincombe
Designs for a positive, personalised classroom experience. Individuals choose their own level of physical separation whilst remaining engaged in social and learning activities.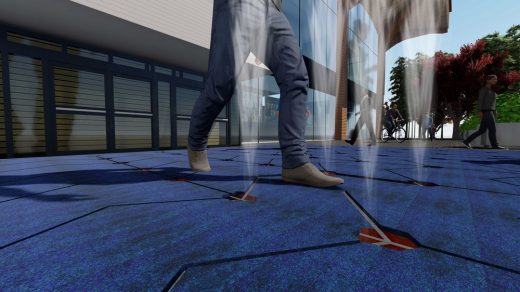 Blue Tile is an interlocking tile system placed strategically at building gates and pathways. It contains a built-in mechanism to spray disinfectant/ vaccine mist upwards when stepped on.
Each bus compartment at street level has its own access and can accommodate between one and four people, standing or seated, with luggage, prams, wheelchair, children, or bicycle. Both levels are open to the outside air and divided physically, but not visually, by screens.
World Sanitation Box, George Stoneham, University of Creative Arts
The World Health Sanitation Box is a network of compact stations utilising UVC light to disinfect people on the go, creating a healthier world for tomorrow.
Buildings
Markthalle, Sophie Judson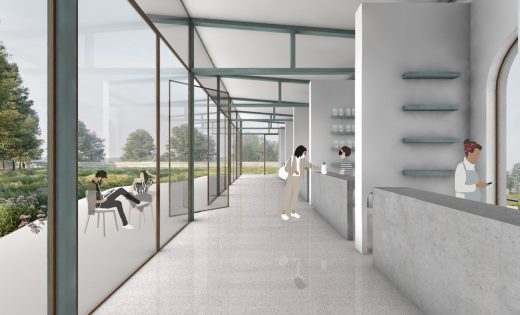 Markthalle breaks down socio-economic and health related barriers created by the pandemic, providing local residents with a space to socialize while supporting local businesses.
Pop-up Teaching for Outdoor Learning, Curl La Tourelle Head Architecture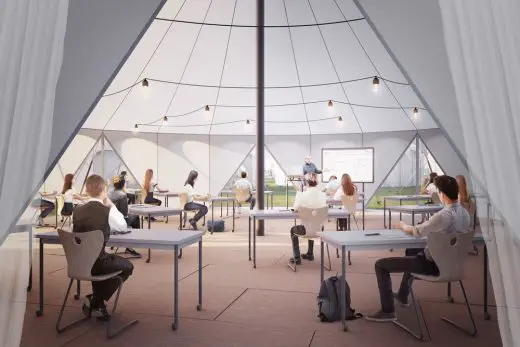 Temporary low-cost emergency schools using recycled festival marquees, to provide outdoor learning opportunities.
Hyper-Emotional Society, Hon Yen Chong and Chen-Yong Tan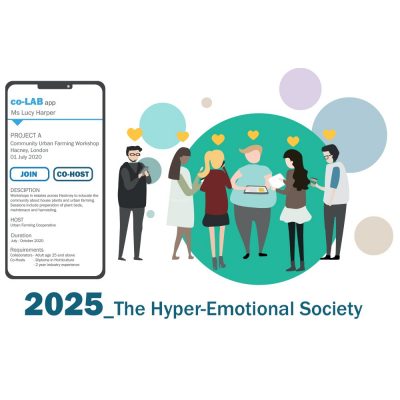 The pandemic has caused an evolution towards a hyper-emotional society as we re-evaluate life priorities to become less driven by financial motivations but more by personal emotion and interests. This proposal is to transform the way we work through a work joining project app, micro home labs and forums.
Green Catalyst, Kamvari Architects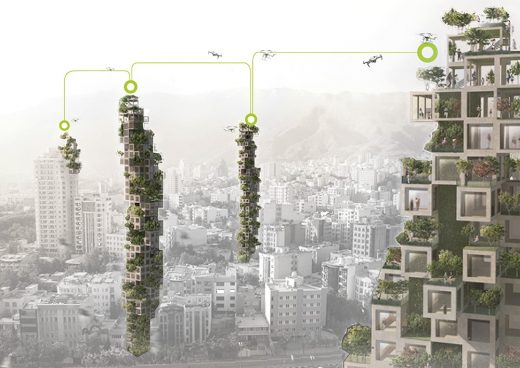 Public realm, small scale food production and high density homes come together in a high rise design. These towers are built up from prefabricated timber cubes. Courtyard plans create pleasant airy open space.
Spiral Bike Store, Fatkin Ltd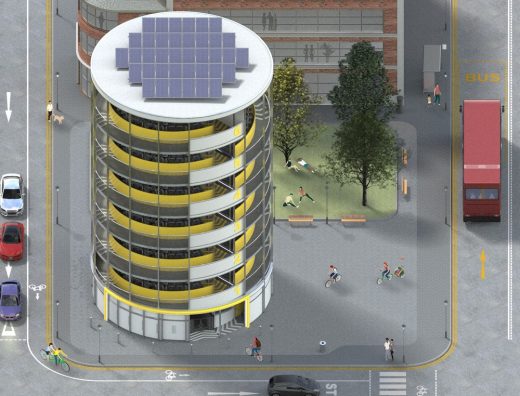 The spiral bike store provides a fun and efficient solution to secure cycle storage.
House Farm, Peru, Kenyi Kevin and Sulca Quichca, Universidad Nacional de Ingenieria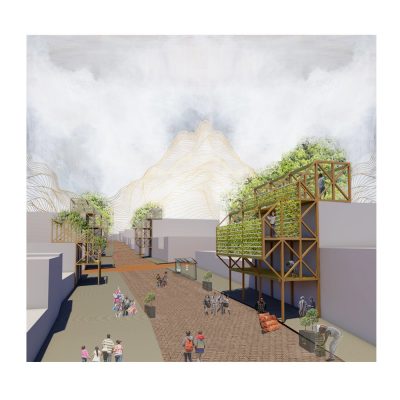 A new experience for life at home through a new space – a timber framed home extension with two functions: producing vegetables for family consumption and a place for recreation.
Design-a-Shed, Kilshaw and Partners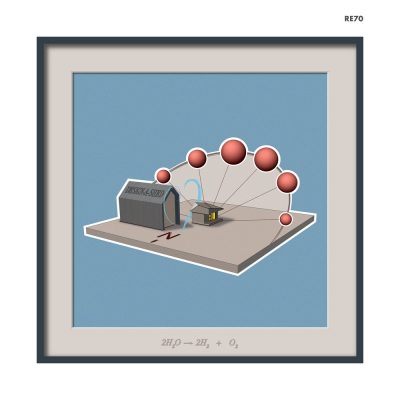 This fictional company specialises in responsive garden office design with an integrated hydrogen fuel cell – an optimum solution in a de-urbanised future.
Street Support Hub, Axis Design Architects
A neighbourhood common room for teaching, entertaining and socialising, with energy generating capacity. All in the area of one car parking space. This infrastructure scales down energy and social services, while scaling up the spatial boundaries of the private home.
Far Off is Close at Hand by Haslam & Co Architects
Reworking of a shop as a home. Four critical aspects of living in the city through the lens of a new urban house design: a perch on the street, a nest to withdraw, creating space for the ritual of washing at the threshold and the creation of a 'bar of exchange' as boundary between home and street.
Window Living by Mark Kengen, Eva Setz Kengen, Patricia Schleeh, and Alice Vivoda, The University of Edinburgh
An interactive window retrofitted to existing buildings to transform into a balcony or sitting place allowing closer interactions with neighbours and nature.
Institute of Making Homes, Monty Dobney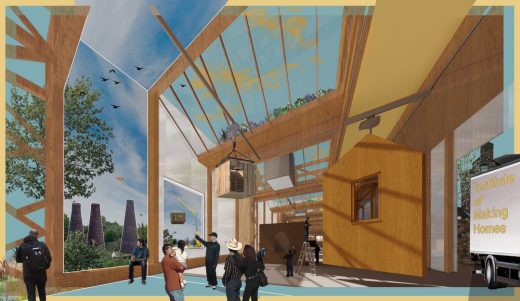 A radical solution to drive innovative, collaborative and community involved research into the design, manufacture and construction of homes.
Podding the City, The Good Thing
Homes will be places for more activities, for healing, working, learning; flexible and elastic living spaces where we will spend most of our time. Lightweight 'spods' can be attached to extend existing homes.
Get Everyone In, Benjamin Holland, Oliva Dolan, Katie Williams, University of Liverpool
Design for the reuse of empty offices to house the homeless. Working from home is now the new norm.  Office towers are empty… Here's how government funds can help the vulnerable in society survive and thrive.
Living in Hope, Rachel Moberly, Will Allen, Steve McDougall and Reuben Reid, University of Bath
The mass production of bespoke high-quality homes at low cost using a mobile app and AI to ensure the home works for the user while being based a consistent grid and structure.
Communities
The Thread and Blanket, Studio McLeod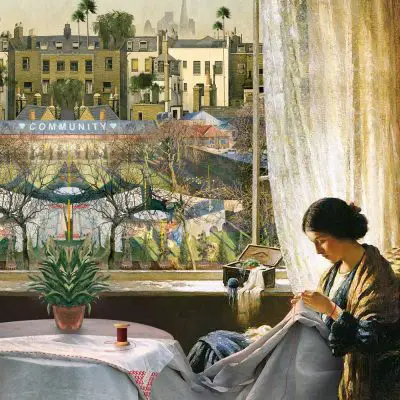 Simple objects in the street and home to help remember the pandemic and build back better. Ranging from intimate artefacts to public memorial, The Blanket, Thread, Lamp and Streetlight would be catalysts which continue to harness the power of 'symbols' to connect, unite and strengthen communities.
Re-invention of the Mid Twentieth Century Estates, Yvonne Dean Architecture
Reimagining the suburban street with ventilation towers and green roofs to bring nature and food production home.
Streets are Made for Walking, PeopleMatter.
Rethinking how space along our streets can better serve the communities who neighbour them with new ways of interacting between traffic and people, the cross section shows one such speculation in London.
Community Retrofit, Farrells
Empty department stores and half-used office spaces retrofitted to combat loneliness by reinventing the high street toward sustainable, localised communities in the heart of our towns and cities.
Reclaiming our Streets, Assael Architecture
A blueprint for a community-led, grassroots intervention to reclaim the streets we live on.
Eco-Archi Post Covid, Mark Bonshek, Khan Bonshek
This comic explores the impact of air pollution upon Covid-19 transmission and the disproportionate affects upon BAME communities living in the inner-suburbs of our cities.
Post Pandemic Exchange, Elle Thompson, University of Nottingham
The City's Garden Streets: Designs for a cleaner, greener, more attractive inner city, promoting sustainable societal choices, rendering that infrequent trip to the office a worthwhile healing experience.
Village City, Stephen Macbean
A development model that creates a hub of essential facilities in walking distance from a cluster of villages. This reaffirms the strengths of localism, providing economic and community cohesion, with considerable environmental benefits. It may be in need as people move out of cities post-pandemic.
Greater London Agriculture, Tim Rodber and Dominic Walker
A city region masterplan to encourage fresh ways of growing and eating in cities, divesting from industrialised food systems, letting global biodiversity flourish, and – almost incidentally – reducing chances of future pandemics.
Pedestrian Friendly Streets, Gabriel Fox, University of Bath
COVID-19 has provided us with the perfect opportunity to rethink urban design so that pedestrians and cyclists are put above motorists. This proposes three tiers of streets, pedestrian streets, cycle streets and regular streets.
Leafrow, Highly Creative Minds
Covid-19 or not 2025 will present a different world: environmental preservation will be key with lifestyles changing accordingly. Redundant planes could be made in all sorts of community spaces, re-energising green spaces  but with targeted recycling that makes this 'plane'-sailing.
A Catalogue of Regeneration, Andrew Jackson
Elements for the regeneration of homes to address issues of health, density, sustainability and the physical implications of the Covid-19 fallout in a phased, economical manner designed to help the most vulnerable in society. Improvements will be made to roads and pavements, facades and street furniture.
Home Front 2025, Sung and Ivan TL Chan
An urban vision of interventions and activities which encourages the full participation of the public in addressing the global fear of pandemic. Submission in the form of a comic book.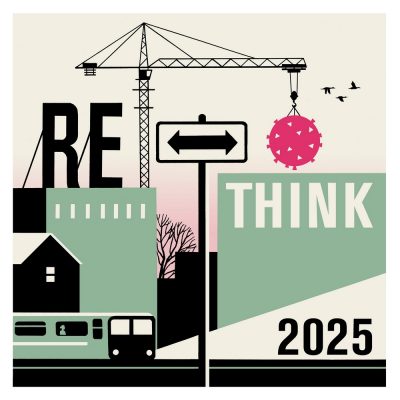 The Rethink: 2025 shortlist will be revealed on Tuesday 14 July, with the commendations and winners announced on Monday 27 July.
For further competition information, visit: https://www.ribaj.com/rethink2025/rethink-2025-post-covid-19-design-competition-riba-ribaj-arup
The competition judging panel: Francine Houben (Creative Director and Founding Partner at Mecanoo), Matt Jones (Principal Designer at Google AI and RIBA Trustee), Sarah Castle (Director and Co-Founder at IF_DO), Ed Clarke (Director of Structural Engineering at Arup), Joanne Averley (London Mayor Design Advocate and incoming Chief Planner at MHCLG), Asif Khan (founder, Asif Khan) and was chaired by RIBA Journal Editor Hugh Pearman.
The first prize (£5000) of this competition is sponsored by Arup.
'RETHINK: 2025' Design Competition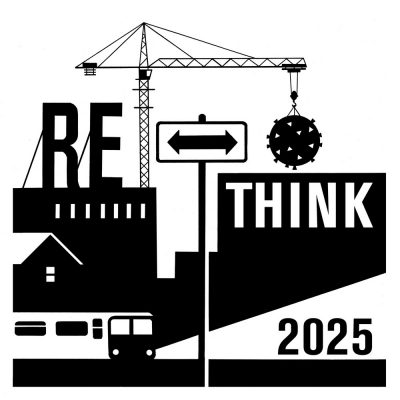 RIBA Rethink 2025 Design Competition
RIBA Design Competitions
RIBA Heath Park Competition for a vision of future living – longlist announced
Heath Park, Runcorn, Cheshire: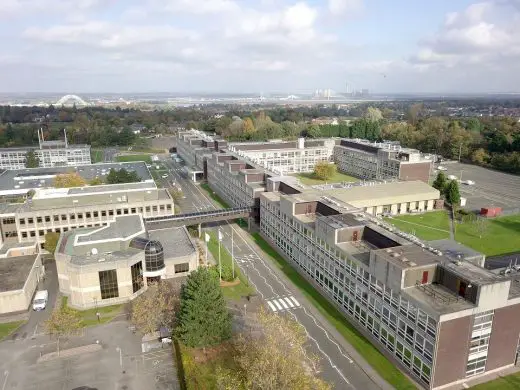 RIBA Vision of Future Living Design Competition
Low Line Design Competition – RIBA Contest in London
Musicity x Low Line London Architecture
Illuminated River in London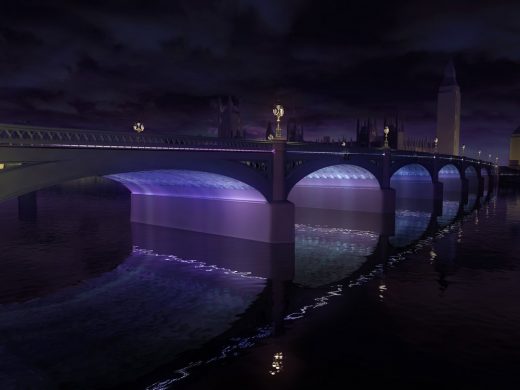 image © Malcolm Reading Consultants and Leo Villareal and Lifschutz Davidson Sandilands
Illuminated River London Bridge Designs
Illuminated River International Design Competition
English Architect Practices
Comments / photos for the RIBA International Design Competition for a Vision of Future Living Design page welcome