Ecological Borders Architecture Competition, Think Space Contest, Design
Ecological Borders Competition : Think Space Design Contest
Ecological Borders Architecture Contest : Information
18 May 2011
Ecological Borders Competition
The Zagreb Society of Architects is launching the third of four architectural competitions for this year's Think Space cycle. For this year's annual cycle, the main theme connecting all four competitions is Borders.
The new – third Ecological Borders competition calls for a radical reimagination of the current relationship between humans and the built environment through the establishment of new architectural protocols of coexistence in the search of a new Partial-Total Ecology: "YUmen[eco]tec-pharming".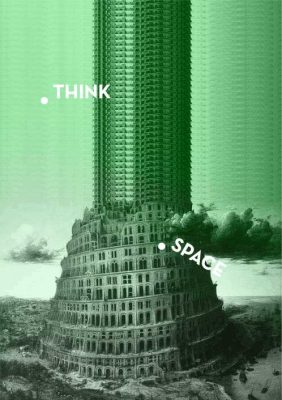 image from organisers
The juror of the competition is François Roche, who together with Stéphanie Lavaux runs R&Sie(n) architectural practice based in Paris. His architectural work builds on research as speculation – integrating nature as a protocol. It seeks to articulate the real and/or fictional, the geographic situations and narrative structures that can transform them, focusing on development of technological experiments as forms of natural distortion or environmental mutations.
In the past architecture has always operated as a mediator between humans and the built environment, within an anthropocentric ideological framework with a deterministic approach. This competition seeks to escape this direct relationship and asks for submissions able to produce new socio-ecological scenarios able to reimagine our current ideas and preconceptions, in relation to notions of equilibrium and sustainability within Western Culture.
Going beyond notions of moral ecology or fake sustainability, this competition asks for entries able to envision new architectural scenarios and moments of invention by looking into spaces of residual otherness to reconstitute canonical forms of thinking.
These new socioecological architectural visions will provide a new understanding and a new set of possible relations of humans with the planet. François Roche.
Submission deadline for Ecopolitical Borders Competition
28 Jun 2011 (Tue), 12:00, CET – Central European Time.
There is an early participation fee of 220 HRK / 30 EUR until 14 June 2011.
From 15 June to 28 June 2011 participation fee will be 330 HRK / 45 EUR.
Ecopolitical Borders Competition Prizes
1. prize: 1000 EUR
2. prize: 700 EUR
3. prize: 350 EUR
All winners will be granted with an ORIS pack:
• Annual subscription to ORIS Magazine – for Culture and Architecture
• Free Admission to Days of ORIS
International Architectural Symposium
Last weekend of October 2011 in Zagreb
Please visit our web site think-space.org for further information. Recently updated Participant's Kit includes all the necessary information about this particular contest. All the entries from the previous competition Geopolitical Borders have been published in our gallery. Please take a look at award-winning works, and read the juror's comments.
Feel invited to explore the borders of architectural thought and join at www.think-space.org/competitions. You can also follow us on Facebook.
The winners of the second competition in this year's annual cycle devised by Teddy Cruz are Konstantinos Papadimitrakopoulos (Greece) with his project "Border Archipelagos of the Narrow Passages" and Despoina Gkirti together with Efthymios Dimopoulos with their project "Common Visions: The Case of Prespa Region". Take a look at award-winning works, and read the juror's comments in our gallery http://www.think-space.org/gallery/.
Ecological Borders Competition information from Think Space
Location: Zagreb, Croatia, southeast Europe
Architecture in Croatia
Contemporary Architecture inCroatia
Croatian Architecture



image from 3LHD
Architecture Competitions – Selection
Namur Jean-Talon West Urban Design Competition, Canada
27 May 2011 registration deadline 4pm
6 Jun 2011 submission deadline
www.letrianglemontreal.com
Rio 2016 Olympic Park Competition
30 Jun 2011 submission deadline



image from architect
The Brazilian Institute of Architects of Brazil/Rio de Janeiro (IAB/RJ) has sign a partnership with the City Government of Rio de Janeiro for the International Public Competition for the Rio 2016 Olympic Park's General Urban Plan.
Registration at http://concursoparqueolimpicorio2016.iabrj.org.br from 3 May 3nd to 20 Jun, 2011: Rio 2016 Olympic Park Competition
Montenegro Architecture Competition
15 May 2011 registration deadline
30 Jun 2011 submission deadline 11am
International Competition for preparation of conceptual architectural-urban design of facilities of hotel-tourism purpose on urban parcel UP 1, area of 24.015 m2, in Ulcinj.
Deposit of 500 euros. Competition website: www.mrt.gov.me
Busan Opera House Ideas Competition, Korea
25 May 2011 registration deadline
3 Aug 2011 entry submission deadline
Busan Opera House Architecture Competition
ONE Lab Competition, NYC, USA
31 May 2011 application deadline
BioDesign Summer Lab: Summer Lab for students, architects, scientists, artists, and individuals of all backgrounds to explore design with various living matter including live tissues, bacteria, tree grafting, fungi growth control and parametric scripting: www.terreform.org/labl
Building Competitions : Archive
Comments / photos for the Ecological Borders Architecture Competition page welcome