International ArtExpo Competition in Venice, Computer Graphic Design Contest, News
Computer Graphic Competition Venice : International ArtExpo Contest
Liquid Identities – International Videoart Festival and Photo Exhibition
page updated 27 Aug 2016
International ArtExpo Computer Graphic Competition in Venice
[International ArtExpo] Computer Graphic Competition in Venice
Computer Graphic Competition in Venice – FREE ENTRY!
Deadline: 10 Sep 2012
International ArtExpo is selecting five international video and photo talents operating in fields of computer graphic to include for FREE in the next 2012 Exhibition:
Liquid Identities – International Videoart Festival and Photo Exhibition at Scoletta di San Giovanni Battista e del SS. Sacramento in Bragora, Venice (September 28-29-30, 2012)


image courtesy of Luca Curci, "Circular Borders", 2009. Mixed media. 150×100 cm
Organizer: International ArtExpo (www.lucacurci.com/artexpo)
Curators: Luca Curci
Project coordinator: Biagio Ciraldo
Press office: It's LIQUID Group (www.itsliquid.com)
Opening: 28 Sep 2012 at 6pm at Scoletta di San Giovanni Battista e del SS. Sacramento in Bragora, Castello 3811/B – Campo della Bragora, Venice – Italy
Exhibition & screening places: Scoletta di San Giovanni Battista e del SS. Sacramento in Bragora
Dates: September 28-29-30, 2012
The deadline for applications is September 10, 2012.
The videos and the photos must to be based on the main concept of "Liquid Identities" based on fluidity, motion, changing networks and cities transformations. In contemporary society boundaries are getting more and more fleeting, and also the identity; what makes every person or place a recognizable entity, turns out fluid, multiple, making the cultural, religious, ethnic borders changeable too. This change, this mutation has allowed to cross the inside of the identities creating new possible crossings, new blends. And it's just this "contemporaneity" that makes our civilization conceived as subjected to a process of continuous evolution and cultural hybridization. There is no more limit between an identity and the other one but it is possible to walk, to cross a passage and to find oneself halfway through it, in a non-place, in a non-identity. This project is about temporary roles in changing rules, thinking about liquid borders in new evolving worlds.
The number of works with which you can participate is maximum three. All video works must be on DVD (PAL or NTSC), no matter what the original source medium. The maximum length of videos should be 20 minutes. All photo works on every kind of support are accepted. The maximum dimensions allowed per each image are 100 cm per side.
Send your works submissions with a CV/biography, videography and some still images (only for videoartists) and some samples of photo works (only for photographers) via email to [email protected] or via mail to:
Luca Curci Architects
Corso Vittorio Emanuele II, 33
70122 Bari, Italy
International ArtExpo is a not for profit organization that provides a significant forum for cultural dialogue between all artists from different cultures and countries. ArtExpo is grateful to all of the institutions, corporations, and individuals who support our artistic projects. We work with a number of national and international galleries as well as publishers, museums, curators and critics from all over the world. We help artists through solo and group exhibitions, gallery representation, magazine reviews and advertisements, press releases, internet promotion, as well as various curatorial projects.
International ArtExpo
Corso Vittorio Emanuele II, 33
70122 Bari (Italy)
+39.0805234018
+39.3387574098
[email protected]
www.lucacurci.com/artexpo
Location: Venice, Italy
Venice Biennale 2012 News
Venice Biennale European Pavilion, Italy – news



photo : Giorgio Zucchiatti, Courtesy La Biennale di Venezia
President Paolo Baratta, Architect Winy Maas, launched the EU CITY Manifesto with a large audience at the preview days of Architecture Biennale, « Through architecture we show what kind of democracy we can build. What kind of Europe do we want? » asked President Baratta in his opening remarks at the EU City Manifesto Conference in Venice on the 27th of August 2012. « The possibility of a splintered Europe comes again into perspective. How to react to that? How to visualise this and to give optimistic visions? » answered architect Winy Maas (MVRDV, T?F).
Wolf Prix Critique of the Venice Biennale
'Hollow, Bleak and Boring'
Article for e-architect by Roland Wahlroos-Ritter – 5 Sep 2012



photo : Neale Smith Photography
Wolf Prix with his prickly critique of the Venice Biennale, initiated and published by Bkult.de, is setting the tone for this week's projects review.
Wolf D. Prix, COOP HIMMELB(L)AU, Austria
Attacks Venice Biennale of Architecture 2012



photo © Elfie Semotan
"If one did not know that the media constantly exaggerates, one could almost conclude – as the Süddeutsche Zeitung has – that the Venice Biennale of Architecture really is the world's most important architecture exhibition.
However, I believe that the word "exhibition" is not intended to describe an exhibition in this case, rather that the notion only designates the event per se. In other words an industry meeting, like a product fair. Other critics fail to even question the purpose of the exhibition, rather they immediately conclude that the coming together, the meeting, the networking is the key aspect. That's that!"
Zaha Hadid Exhibitions – 'Arum Installation'
Venice Architecture Biennale 2012, Italy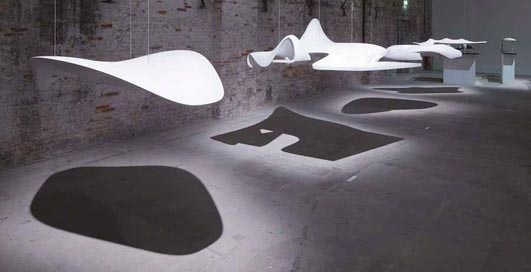 photograph courtesy of Iwan Baan
This year's Biennale theme 'Common Ground' shows how the work of the major protagonists of contemporary architecture – often regarded as independent individual creations – is in fact based on historical lineages of collective research. This is also true of the work of Zaha Hadid Architects. It is well known that the early work was initially inspired by Russian Suprematism.
Venice Architecture Biennale 2012 Room 1.9, Corderie dell' Arsenale
Venice Architecture Biennale 2012 News
Kazuyo Sejima Names as First Rolex Architecture Mentor
Rolex mentoring programme extended to architecture
Kazuyo Sejima in Venice
Direttore della 12. Mostra Internazionale di Architettura – La Biennale di Venezia
Director of the 12th International Architecture Exhibition – La Biennale di Venezia



photo : Giorgio Zucchiatti, Courtesy La Biennale di Venezia
Venice, 28 August, 2012 – Japanese architect Kazuyo Sejima has been named as the first architecture mentor in the Rolex Mentor and Protégé Arts Initiative, it was announced today at the 13th International Architecture Exhibition – la Biennale di Venezia.
Architecture will now be added as a seventh category in Rolex's global philanthropy programme, which includes literature, music, visual arts, dance, film and theatre.
Kazuyo Sejima, photo as the Director of 12th International Architecture Exhibition in Venice



photo © Adrian Welch
Sejima, a partner in the architecture practice SANAA, joins a distinguished line-up of Rolex mentors for the current cycle of the programme, which pairs major artists with rising young talents. They are: Margaret Atwood (literature), Patrice Chéreau (theatre), Gilberto Gil (music), William Kentridge (visual arts), Lin Hwai-min (dance) and Walter Murch (film).
Building Competitions : Archive
Comments / photos for the Computer Graphic Competition in Venice – International ArtExpo Contest page welcome