2A Asia Architecture Award 2015, Architectural Contest Winners
2A Asia Architecture Award 2015
2AAA Architectural Contest Winners – ITÜ Mimarlık Fakültesi
2 Nov 2015
2A Asia Architecture Award 2015 Winners
2AAA 2015 Winners
2A magazine has announced the final winners of the 2A Asia Architecture Award 2015 : 2AAA 2015. The 2AAA 2015 was held in conjunction with ITÜ Mimarlık Fakültesi as award academic partner.
A jury comprised of leading architects and professionals from India ( Romi KHosla), Iran ( Bahram Shirel), South Korea ( Seung H-Sang), and Turkey (Sinan Mert Sener, and Yavuz Selim Sepin) evaluated the projects in seven defined categories of the award. The second stage judgment panel took place at ITÜ Mimarlık Fakültesi (Taşkışla Kampüsü) with the organization of 2A magazine and presence of Ahmad Zohadi (CEO of 2A magazine and chief organizer of the award).
This year's 2AAA took place in two stages. The response to the Call for submission was very strong. Out of 613 submitted projects in seven categories, around 400 projects have met the award submission standards in the first stage.
During August 2015, the entries from 7 categories, have been reviewed and assessed by Jury and with respect to the award key goal which is defined as:
To identify essences of Architecture in Asia and to glorify the importance of social and cultural identity and significance of spirituality along with physical aspects of architecture.
Shortlisted of award categories were invited to submit final boards for the second stage judgment and the exhibition. On October 12, short listed boards were presented in and discussed by the jury board at ITÜ Mimarlık Fakültesi.
Finally the following projects were awarded in the categories with each category featuring three winners from first to third places and some honourable mentions in some categories:
Category: Commercial
First Place: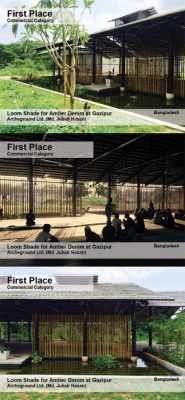 Project Title: Loom Shade for Amber Denim at Gazipur (Bangladesh)
Design Team: Archeground Ltd. – Lead Architect: Md. Jubair Hasan, Partner Architects: Nabi Newaz Khan and
Lutfullahil Majid, Project team: Ahmad Faisal/ Md. Abdur Rakibi/ Saurav Dutta/ Md. Abdur Rakib/ Abdul
Rahman/ Md. Zubairul Alam/ Sumaiya Mehjabeen/ Nafisa Bari/ Mehnaz Chowdhury/ Samantha Hossain Sheetal
(Bangladesh)
Second Place: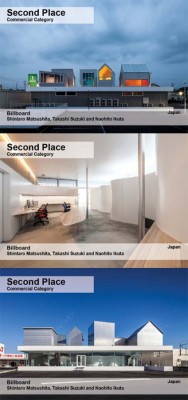 Project Title: Billboard (Japan)
Design Team: Shintaro Matsushita, Takashi Suzuki and Naohito Ikuta (Japan)
Third Place: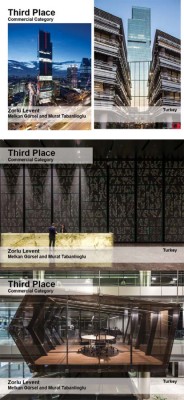 Project Title: Zorlu Levent (Turkey)
Design Team: Tabanlioglu Architects- Lead Architects: Melkan Gürsel and Murat Tabanlioglu (Turkey)
Category: Future Projects / Innovative Designs
First Place: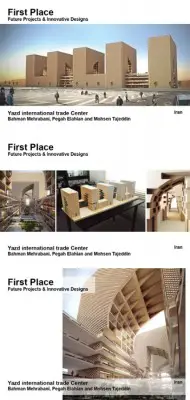 Project Title: Yazd international trade Center (Iran)
Design Team: Bahman Mehrabani, Pegah Elahian and Mohsen Tajeddin (Iran)
Second Place: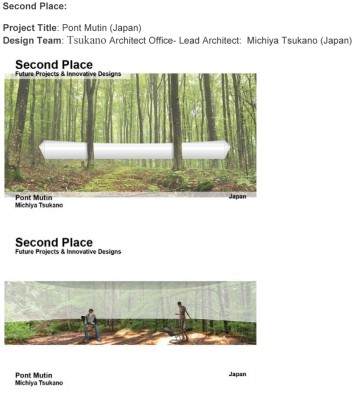 Project Title: Pont Mutin (Japan)
Design Team: Tsukano Architect Office- Lead Architect: Michiya Tsukano (Japan)
Third Place: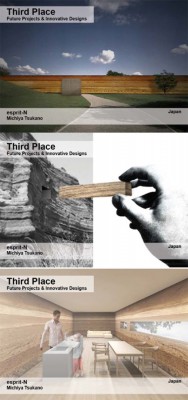 Project Title: esprit-N (Japan)
Design Team: Tsukano Architect Office- Lead Architect: Michiya Tsukano (Japan)
Category: Interior Design
First Place: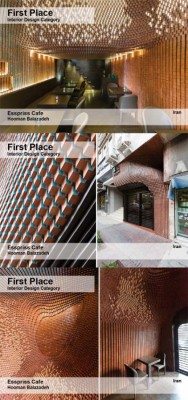 Project Title: Esspriss Cafe Center (Iran)
Design Team: Hooba Design Group – Lead Architect: Hooman Balazadeh, Project Manager: Elham Seyfi azad,
Project team: Niloofar Al-taha/ Noushin Atrvash/ Mona Razavi/ Mohammad Fard/ Majid Kamali Ali Akbari/
Nosrat-allah Mansouri (Iran)
Second Place: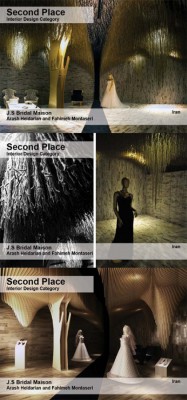 Project Title: J.S Bridal Maison (Iran)
Design Team: N.A.M- Lead Architects: Arash Heidarian and Fahimeh Montaseri, Project team: Ali-Asghar
Yaghoubian/ Ali Youssefzadeh/ Behzad Hasanzadeh/ Morteza Motahari/ Mona Zamani/ Katayoun Youssefi/ Alireza
Salari/ Samaneh Ghazizadeh/ Ali Gholamzadegan/ Kazem Nezami (Iran)
Third Place: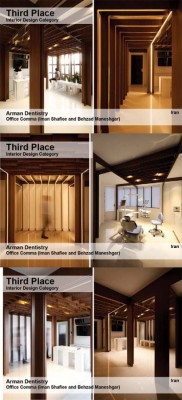 Project Title: Arman Dentistry (Iran)
Design Team: Office Comma – Lead Architects: Iman Shafiee and Behzad Maneshgar, Project team: Lida
Badafrah/ Mohamad Jalali Farahani/ Pejman Moeini/ Mehdi Farid Afshar/ Hamed Farid Afshar/ Yaser Ebrahimi
(Iran)
Special mention: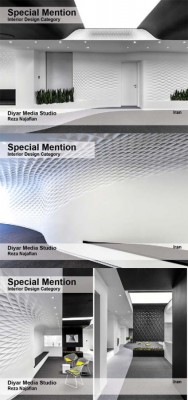 Project Title: Diyar Media Studio (Iran)
Design Team: ReNa Design- Lead Architect: Reza Najafian, Project Team: Mina Nazmjou/ Ehsan Marvi/
Mohamad Hosein Hamzehlouei/ Maryam Najafian/ Saeed Toodehfallah (Iran)
Special mention: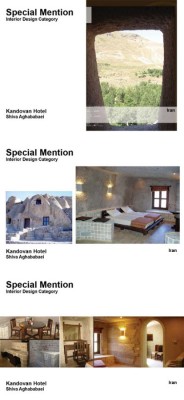 Project Title: Kandovan Hotel (Iran)
Design Team: Tarh & Afarinesh Architectural & Engineering Consultants- Lead Architect: Shiva Aghababaei
(Iran)
Category: Old and New (Reuse and adaptation, Renovation, Restoration, Regeneration)
First Place: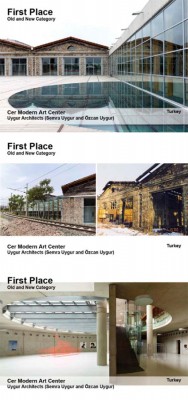 Project Title: Cer Modern Art Center (Turkey)
Design Team: Uygur Architects- Lead Architects: Semra Uygur and Özcan Uygur/ Project team: Necati Seren/
Güliz Erkan/ Ayhan Abanozcu/ İrem Erdinç/ Selen Poyraz/ Işıl Düzgün/, Ünsal Susam/ Danyal Kubin/ Mehmet S.
Yurdakul/ Bahri Türkmen (Turkey)
Second Place:
Project Title: The Āb-Anbār of Dīvān-Khāneh (Fārs Province Museum of Aqua Structures)- (Iran)
Design Team: Ali Sodagaran and Nazanin Kazerounian (Iran)
Third Place:
Project Title: Lamkadeh Building (Iran)
Design Team: Office Comma- Lead Architects: Iman Shafiee and Behzad Maneshgar, Project team: Ghazal
Goodarznia / Samaneh Sadatmir/ Majid Ghiasvand/ Hamid Emami/ Iman Zare (Iran)
Special mention:
Project Title: Ave Gallery (Iran)
Design Team: Fluid Motion Architects ‐ Lead Architects: Catherine Spiridonoff and Reza Daneshmir,
Project Team: Vandad Rohbani/ Behrang Bani Adam (Iran)
Category: Public (Sport & Leisure, Education, Hospitality, Culture, Mixed Use, Health, Religion, Civic,
Transportation)
First Place: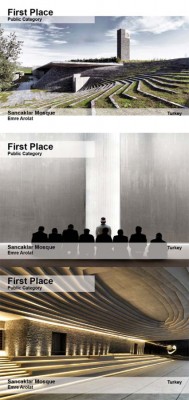 Project Title: Sancaklar Mosque (Turkey)
Design Team: EAA- Emre Arolat Architecture : Lead Architect: Emre Arolat (Turkey)
Second Place:
Project Title: For the people by the people (Bangladesh)
Design Team: SchilderScholte architects- Lead Architects : Gerrit Schilder and Hill Scholte (Netherlands)
Third Place:
Project Title: Maria Grazia Cutuli School (Afghanistan)
Project Team: Mario Cutuli/ IaN+/ ma0 and 2A+P/A (Italy)
Special mention:
Project Title: Naman Pure Spa (Vietnam)
Design Team: Lead Architect: Nguyen Hoang Manh/ project team: Nguyen Quoc Long/ Bui Hoang Bao/ Steven
Baeteman/ Truong Trong Dat/ Le Ho Ngoc Thao (Vietnam)
Category: Residential
First Place: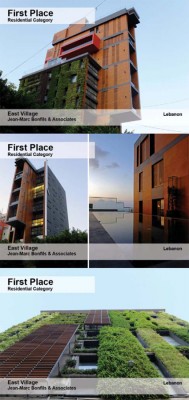 Project Title: East Village (Lebanon)
Design Team: Jean-Marc Bonfils & Associates: Jean-Marc Bonfils/ Marwan Matta/ Ramzi Sabbagh/ Lea Ksayer/
Rudolphe Matar/ K.Sioufi & Partners/ Turba/ Nassif (Lebanon)
Second Place:
Project Title: BB home (Vietnam)
Design Team: Doan Thanh Ha and Tran Ngoc (Vietnam)
Third Place:
Project Title: Beyond the hill (Japan)
Design Team: acaa- Lead Architect : Kazuhiko Kishimoto (Japan)
Special mention:
Project Title: Kahrizak residential Building (Iran)
Design Team: Mahdi Kamboozia, Helena Ghanbari and Alireza Movahedi (Iran)
Category: Urban Projects, Rural Projects, Community-based projects, Landscape &
Public Spaces (Including squares and streets)
First Place: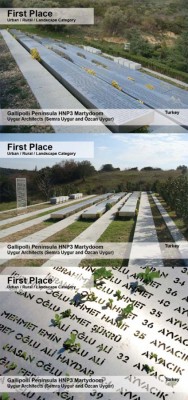 Project Title: Gallipolli Peninsula HNP3 Martydoom (Turkey)
Design Team: Uygur Architects: Lead Architects: Semra Uygur and Özcan Uygur , Project Team: Güliz Erkan/ Necati
Seren/ Evren Başbuğ/ Özcan Kaygısız/ Melike Bilgin/ Alhan Gedik/ Kemal OVACIK (Turkey)
Second Place:
Project Title: Friendship Centre (Bangladesh)
Design Team: Lead Architect: Kashef Mahboob Chowdh`ury , Project team: Anup Kumar Basak/ Sharif Jahir
Hossain/ Matiur Rahman/ Zafar Ahmed/ Phansak Thew Site/ Nahidur Rahman/ Amrul Hasan/ Ahasanul Haque/
SM Hafizur Rahman/ Jamir Ali Khan/ Jongsak Kuntonsurakan, Khan M A Bari / Albab Yafez Fatmi, Sharijad
Hasan (Bangladesh)
Third Place:
Project Title: Kwel Ka Baung Migrant Learning Center (Thailand)
Design Team: Albert Company Olmo & Jan Glasmeier (Germany)
Special mention:
Project Title: Ayang Gichatgil (South Korea )
Design Team: CA Plan – lead architect: Jungwoo Chae, Project team: Seungyoung‐Jung/ Seoyoung‐Yoon/
Hyo Weon‐Lee (South Korea )
Special mention:
Project Title: Shahr-E-Aftab International Trade Fair (Iran)
Project Team:
– NJP( Iran )- Project and Design Manager: Hamid Mirmiran and Farideh Saebi, Project team:
Baharak Keshani/ Saman Sayar/ Mahmod Hasanvandi/ Amin Sharafaldin/Tello Tahmasian/ Daryosh Shafaghati/
Mahmod Porziaei/ Nazanin Salimi/ Glareh Danaei/ Shahriar Ghasemi
– GMP( Germany): Project and Design Manager: Volkwin Marg and Hubert Nienhoff , Project team:
Markus Pfisterer/ Nima Ghahreman / Fariborz Rahimi Nedjat / Justin Allen/ Alexander Buchhofer/ Kasia Ciruk/
Yana Espanner/ Stefanie Hereth/ Nicole Jahn/ Felix Kastner/ Christian Klimaschka/ Lars Laubenthal/ Sebastian
Lundelius/ Silvia Schneider/ Katya Vangelova
Special mention:
Project Title: Tabiat Pedestrian Bridge (Iran)
Design Team: Diba Tensile Architecture (Iran)- Lead Architect: Leila Araghian , Project team: Alireza Behzadi/
Sahar Yasaei/ Mina Nikoukalam / Massimo Maffeis/ Marco Grigoletto/ Loris Frison/ Adel Mohammadi/ Payam
Golfeshan/ Massod Momeni/ Nader Naghi pour
2A Asia Architecture Award 2015 information / images received 011115
2A Asia Architecture Award – 2016 event
Architecture Competitions
Ocean Platform Prison Competition – [AC-CA] Architecture Contest



picture from design competition organisers
Ocean Platform Prison Architecture Competition
Russian Architecture Competition, Russia



image from competition organisers
Nikola-Lenivets Architecture Competition
Triumph Pavilion Architecture Competition, London, UK



image from competition organisers
Triumph Pavilion Architecture Competitions
Cambridgeshire Design Competition, UK



photo from RIBA Competitions
Great Fen Visitor Centre Architecture Competition
24H COMPETITION
24H COMPETITION 2014


10 Nov 2014
24H COMPETITION 2nd edition
24H COMPETITION 2nd edition Winners
1st place: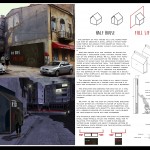 2nd place: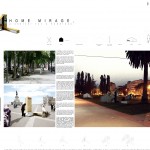 3rd place: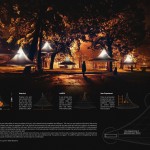 Website: 24H COMPETITION 7th edition
Comments / photos for the 2A Asia Architecture Award 2015 – Architectural Contest page welcome
2A Asia Architecture Award 2015