Yuanshe Hezhou B & B Housing, Heshan Town, Guangdong Urban Real Estate Development, Chinese Architecture Photos
Yuanshe Hezhou Housing in Heshan Town
10 Dec 2021
Architectural, landscape and interior design: y.ad studio
Location: Dongbangtou Village, Heshan Town, China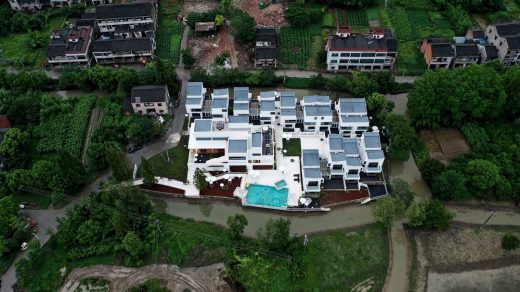 photo © Yan Yang
Yuanshe Hezhou Housing
Huashengbang Ideal Village is a rural revitalization project located in Dongbangtou Village, Heshan Town, with its core areas set in Huashengqiao Natural Village and Nanshengbang Natural Village.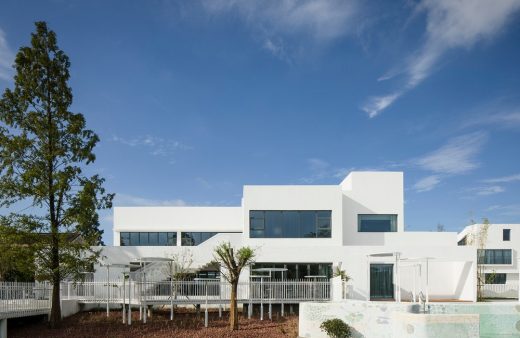 photo © Peter Dixie, Lotan Architectural Photography
The Heshan Town government works with Xband Club to construct an ideal village that consists of waterfront B&B, artistic restaurant, Huasheng Academy, rural art gallery and waterfront tea bar, etc., by drawing on cultural elements such as Feng Zikai's cemetery and "escape wharf", and taking advantage of various resources, such as Huashengqiao Natural Village, retained industrial plants, and agricultural and industrial bases.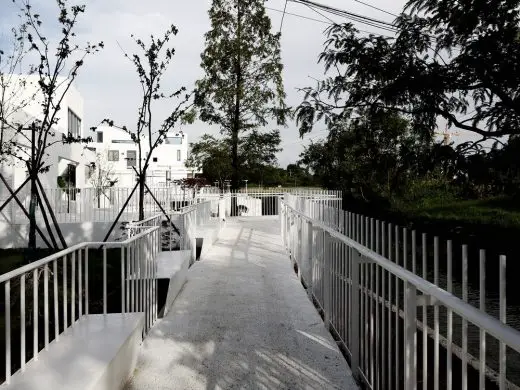 photo © Yan Yang
Through integrating with surrounding water systems, farmlands and other natural elements and improving the infrastructure and surrounding environment, the goal is to create a demonstrative, influential and beautiful pastoral building complex.
Taking the Huashengbang Ideal Village project as an opportunity, Heshan Town actively explores the combination of agriculture and tourism, agriculture and culture, works to upgrade villages in aspects of industry, economy and lifestyle, and aims to construct a future rural community that sets an example in Jiaxing City.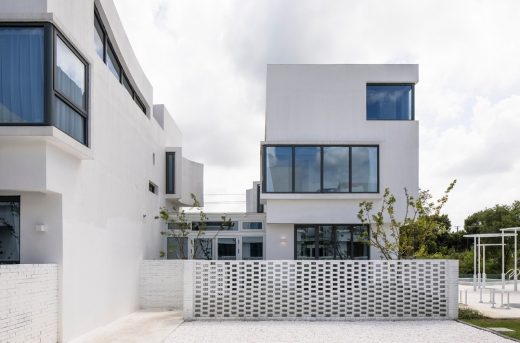 photo © Peter Dixie, Lotan Architectural Photography
Yuanshe · Hezhou is a B&B, which is one of the first group of building complexes constructed within the Ideal Village.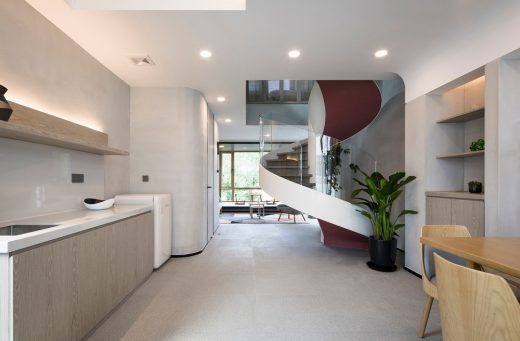 photo © Peter Dixie, Lotan Architectural Photography
Location
Dongbangtou Village is situated in Heshan Town, Tongxiang City, adjacent to Shanghai, Hangzhou, Suzhou and Ningbo. It enjoys convenient transportation, with about 2 hours' drive from Shanghai and around 40 minutes' drive from Hangzhou.
Inspiration: regional and cultural elements
The project is not far from Wuzhen and Nanxun, two well-known historical water towns in Jiangnan Region.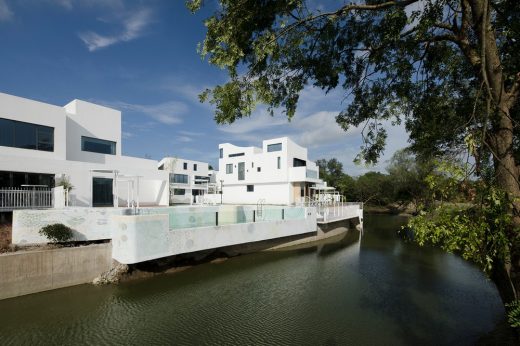 photo © Peter Dixie, Lotan Architectural Photography
"Tongxiang City in my mind is always relevant to historical water towns, as Wuzhen here is so famous," y.ad studio founder and chief architect Yan Yang explained, "When it comes to Tongxiang, ancient towns, piers, small bridges, flowing rivers and narrow streets and lanes pop into head. In addition, I also immediately think of Mu Xin, a renowned Chinese painter and writer, and the comics by Feng Zikai."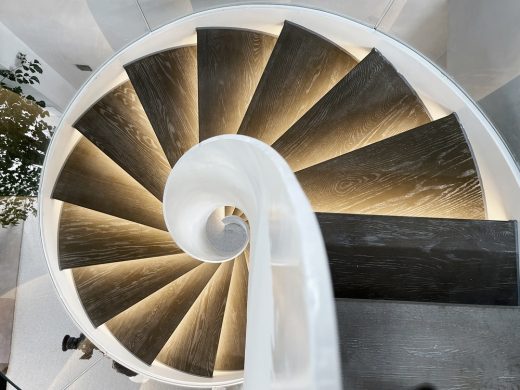 photo © Yan Yang
Dongbangtou Village, where the project sits, has a close connection with Feng Zikai, because he was born and lived here during his later years. Besides, there is a bond among Huashengqiao Natural Village, Feng Zikai's cemetery, and the "escape wharf" where Feng Zikai fled his hometown by ship after the outbreak of the War of Resistance against Japanese Aggression in 1934.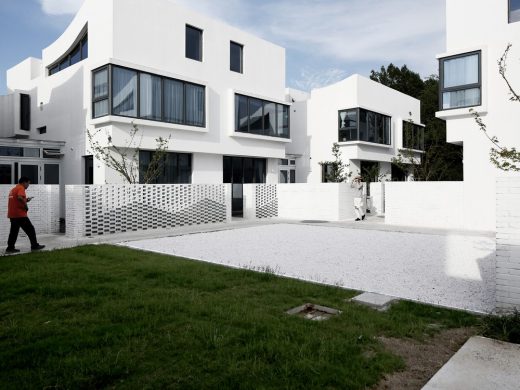 photo © Yan Yang
Concept: an ideal living space
At the early design stage, the operator of the B&B put forward several requirements for the space, i.e. small area, low density, large space for use, independence and villa style. In view of this, y.ad studio conceived the design by focusing on spatial scale, density, comfort and functions, to create a villa-style living space. After careful deliberation and discussion, the team identified the following principles for creating a villa-style B&B distinct from conventional living & experiential spaces:
a. Each building is relatively independent, with a single floor area of 80m² to 100 m² and a two-storey volume.
b. Interior and outdoor spaces can be utilized alternately.
c. Poetry and nature are injected into the space, to bring enjoyable strolling, touring and living experiences.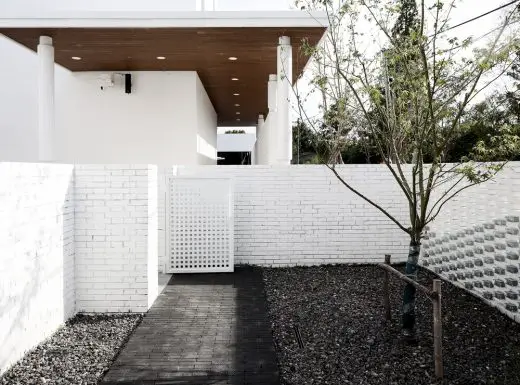 photo © Yan Yang
Jiangnan water town-featured living environment that fits into contemporary lifestyle and aesthetics
Two major design strategies were adopted.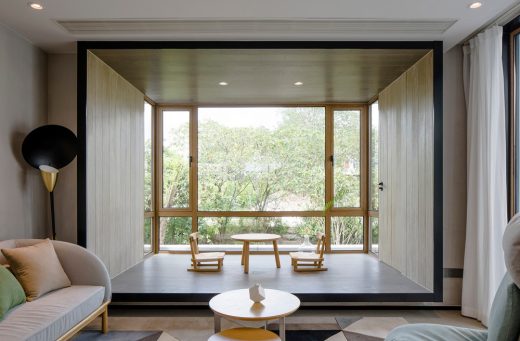 photo © Peter Dixie, Lotan Architectural Photography
1、Create a waterfront environment
The site was re-adjusted. The north and east sides of the site are surrounded by rivers and the south side faces a pond. But the rivers were separate from the pond. The design team connected the pond and rivers, so as to form a peninsula-like landform enclosed by water on three sides, and meanwhile preserved the existing big trees on the site as well.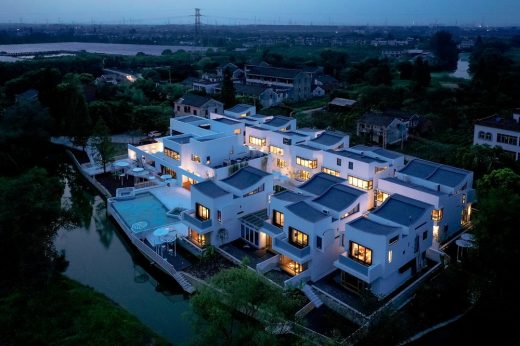 photo © Yan Yang
Moreover, the functional buildings were built at a distance from big trees and around rivers, in order to retain the existing natural vegetation and environment. Three public water platforms are set in different functional areas, so as to create a Jiangnan wharf-like public waterfront space.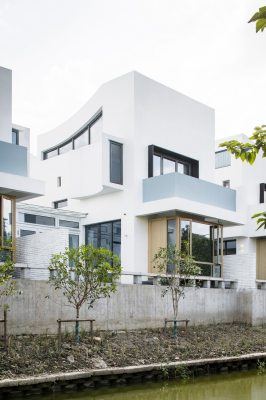 photo © Peter Dixie, Lotan Architectural Photography
A walkable circulation route links various spaces, which creates varying experiences at every step and strengthen a sense of ritual.
The zigzag bridge-like corridors and size-reduced passages produce a sense of scale and visual effect that recall traditional Jiangnan gardens, streets and lanes.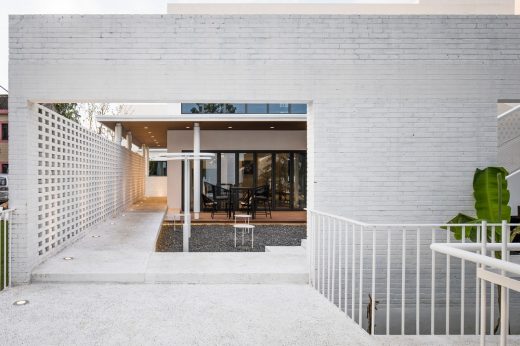 photo © Peter Dixie, Lotan Architectural Photography
The big metasequoia trees at the original entrance of the site are retained, with a newly built suspended corridor passing in between, thus forming an entrance space that makes guests feel like they're walking into a forest. Besides, it not only brings a walkable and novel experience, but also generates a sense of ritual, acting as a prelude to another space.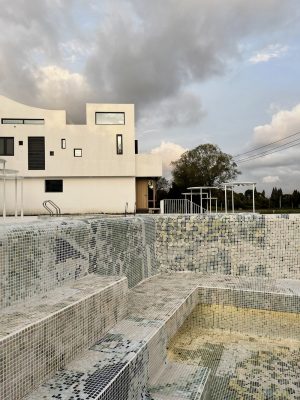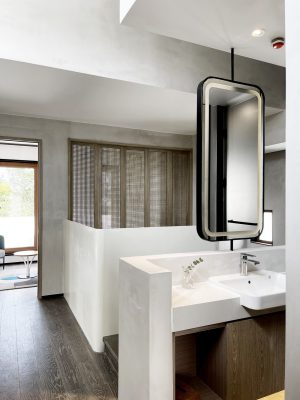 photos © Yan Yang
2、Incorporating comic elements
Given the site's conditions, how to arrange landscape intervention posed a challenge to the design team. At the beginning, the team planned to set a garden. But due to the limited area, it was hard to do so, and it would make the space appear "heavy" and cramped. Besides, deliberate planting and landscaping would increase maintenance costs in the future or create negative spaces. In light of this, the team organized landscapes based on the principles of "leaving blank spaces, reducing cost, returning to purity and daily life, and injecting art".
They adopted pure design techniques, common and natural materials and wild planting to create a large-scale landscape. Besides, front paths are also included in the landscape creation scope, which not only enhances a sense of integration, but also enable the inner and outer spaces to echo each other. With the theme of art, the design team created two artistic activity squares. In addition, the elements of paintings by Feng Zikai are extracted and incorporated into landscapes, art installations and interior spaces.

Video: y.ad studio
Yuanshe Hezhou Housing in Heshan Town, China – Building Information
Developer: Dongbangtou Joint-stock Economic Cooperative
Client: Xband Club
Architectural, landscape and interior design: y.ad studio
Structural design: Huo Zhenzhong
Collaborator: Shanghai Times Architecture Design Co., Ltd.
Construction firm: Shanghai Jingyu Landscape Construction & Development Co., Ltd.
Project team: Yan Yang, Wu Kejia, Yan Yu, Hu Hongmei
Area: 1,901.68 square meters
Main materials: washed stone, exterior wall coating, laminated bamboo, cement-texture paint, mosaic tile, terrazzo tile, wood veneer
Design phase: Dec. 2019 – Oct. 2020
Construction phase: Oct. 2020 – Aug. 2021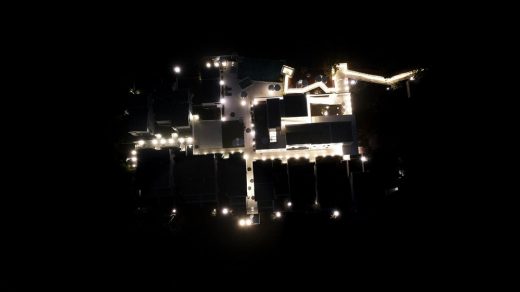 photo © Yan Yang
Photographer: Peter Dixie / Lotan Architectural Photography, Yan Yang
Yuanshe Hezhou Housing, Heshan Town images / information received 101221
Location: Dongbangtou Village, Heshan Town, China
China Architecture
China Architecture Design – chronological list
Chinese Architect – Design Practice Listings
Yiwu Cultural Square, Zhejiang Province
Architect: The Architectural Design & Research Institute Of ZheJiang University Co,Ltd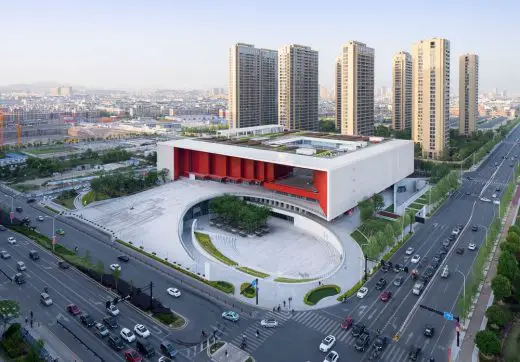 photograph : Qiang Zhao
Yiwu Cultural SquareBuilding
Shuyang Art Gallery, Suqian City, Jiangsu Province
Design: The Architectural Design & Research Institute Of ZheJiang University Co,Ltd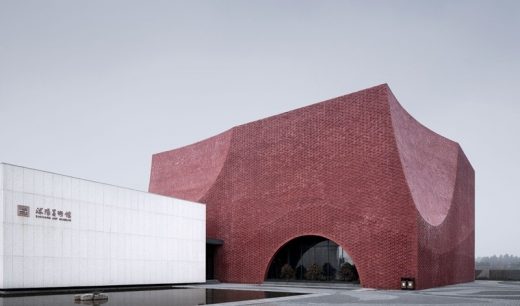 photograph : Qiang Zhao
Shuyang Art Gallery Building
Comments / photos for the Yuanshe Hezhou Housing, Heshan Town design by y.ad studio page welcome