Convention and Exhibition Center (Phase II), Hangzhou Building Development Images
The Cloud Town International Convention and Exhibition Center (Phase II) in Hangzhou
Architecture Development in China design by Approach design (ZUP)
3 Apr 2019
The Cloud Town International Convention and Exhibition Center
Design: Approach design (ZUP)
Location: Hangzhou, China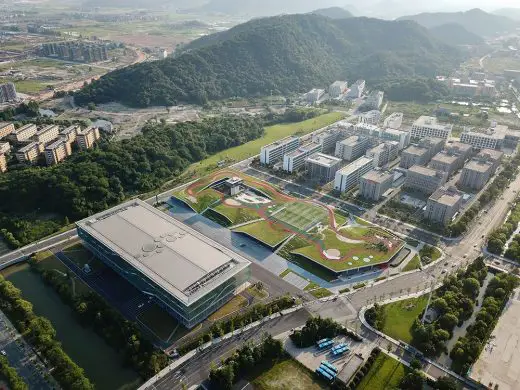 The Convention Center in Hangzhou is designed as a "3D park" to return all the space occupied by the building to the city, and "insert" various facilities like Lego toys to encourage citizens to participate in and meet each other. Indoor exhibition halls can be quickly switched to "sports warehouses". The design aims to get more public value from the urban resources of large public buildings.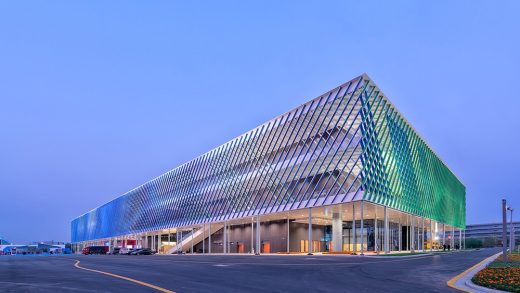 The project lies in the birthland of characteristic towns – Cloud Town, Hangzhou. For actively embracing imagination, a once unfinished industrial park has now become the industrial hub of cloud computing, big-data and artificial intelligence. The 'Computing Conference' held in autumn every year has become the largest-scale scientific and technological fiesta.
Oddly enough, the conference was held outdoors several years in a roll simply because of the 'impropriety' of available venues. Of course, by no means does 'impropriety' suggest those venues were inferior in terms of size or grade, it's just that the conference founders didn't want to see people's imagination being constrained by a venue.
Therefore, as the designers of the exhibition center, Approach design (ZUP) intended to break away from past experience and the 'desire to create', contemplating and making breakthroughs from its origin instead of constructing yet another generic exhibition center on this land.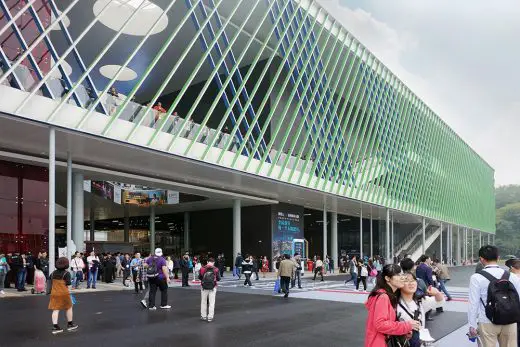 By nature, an exhibition center is a vehicle for urban public cultural life. In fact, exhibition centers all over the country tend to adopt a pompous design, being pinned with the hope that their dimensions and unique looks could fully highlight the ambition of a city.
However, from the standpoint of an individual, these features often intimidate people, so much so as to discourage them and detach from the life of the populace. Therefore, in the process of designing the first-stage of Cloud Town Exhibition Center in 2015, Approach design (ZUP) came up with an atypical exhibition center design, abandoning specific models and so-called sense of ceremony. Thus this makes the long-standing image of a 'high above' out-of-reach exhibition center nowhere to be found around here. The replacements are refreshingly concise exterior, blurred boundaries and a fully open space accessible for anyone.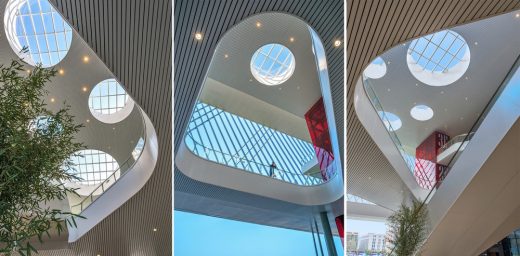 The free, equal, easy and open experiences epitomize the town's atmosphere, giving every visitor a sense of belonging and joy. In leisure time, large numbers of people come here every day to take a walk, rest, meet up and play around.
Everywhere you can see their presence. There are even spontaneous shows going on. Therefore, the building turned from a makeshift structure into a permanent building representing the entrepreneurial spirit of the town.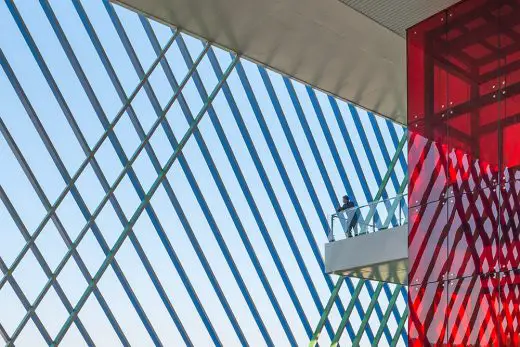 Two years later, in 2017, due to the increased scale of 'Computing Conference', a three-times larger second-stage Cloud Town exhibition center was to be constructed opposite to the first-stage structure. Just when everyone expected an even larger 'iconic' building, Approach design (ZUP) designed it as a short '3D-Park'. There was no modelling to begin with. It didn't even strike people as a building. The plan caused instant controversy and opposition. However, hidden behind it was our reimagination of urban large-scale public building design paradigm, which had already gone above and beyond an exhibition center itself.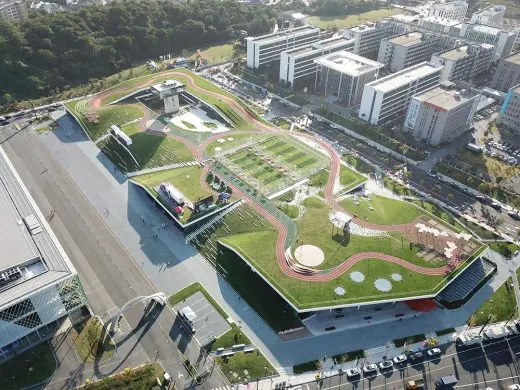 Today, almost every city owns an exhibition center, which requires the support of a huge amount of urban resources. However, only few people know that even the busiest exhibition centers merely have a usage rate of 40%, meaning that they lie idle at least 200 days a year. The usage rate of most other exhibition centers is below 10%.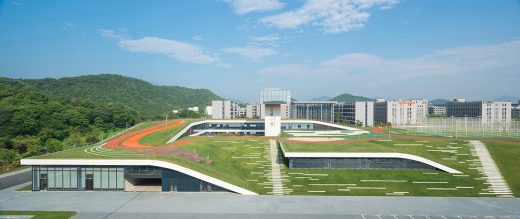 On the flip side, the inertial thinking and typical characters of traditional exhibition centers make them hard to be utilized in any other ways, causing a huge waste of resources invisibly. As such, Approach design (ZUP) started to question themselves: is it possible to facilitate ordinary people's life on the premise of fulfilling the original functions of an exhibition center? Can higher resource utilization rate be achieved, by sharing the same body with other types of urban public facilities or by integration of some sorts?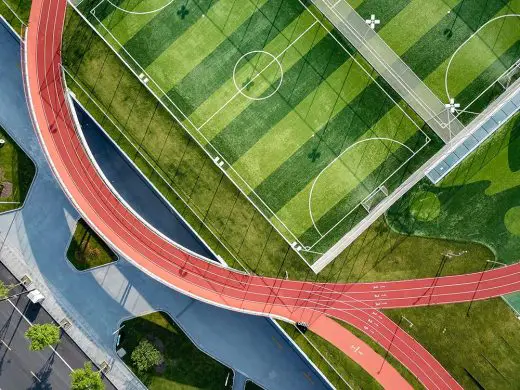 Consequently, Approach design (ZUP) first decided to reduce the building's huge size, in order to dampen its 'aggressiveness', compressing this 66,000 square meters mega-structure to merely 6.6 meters tall. It presents itself as a huge low rooftop covered in lawn, giving it as low a profile as possible and attracting people to approach it.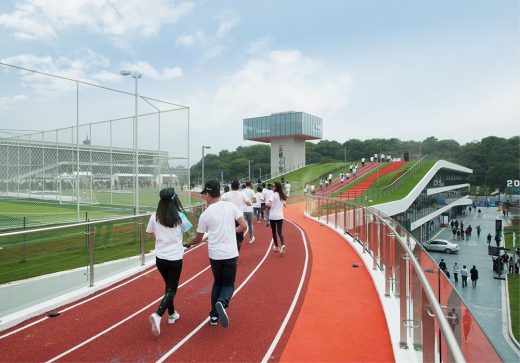 All around the building sit a multitude of gentle grassy slopes, and thus the whole roof appears to be an extension of the horizon, openly welcoming people to walk onto the rooftop. In comparison to raising up the building and returning the bottom level to the public in the first-stage design, the second stage design returns all the land occupied by the building to the public, in a more intriguing and environmentally-friendly '3D-Park' manner.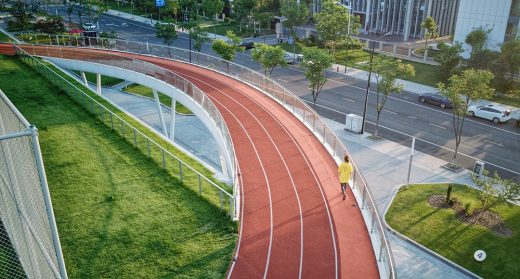 Looking at both designs, one is 'light' and the other is 'heavy'. People enter from the bottom of one building, then exit on top of the other without realizing it. A harmonious and interesting dialogue is thusly initiated at the same site.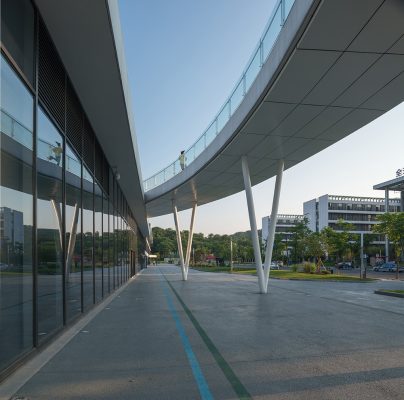 In order to control the height of the roof so that people can easily access, the design embedded one-third of the 9-meter-high exhibition hall underground, which makes people walk down when entering the venue. This has created a strong contrast from the ceremonial large step of the previous convention centers.
The building almost filled the entire second phase due to the low building height, and both building density and greening ratio break through the existing design specifications (even if the roof was covered with green land, it could only convert 20% of the total greening demand). This idea has once again suffered a huge controversy, and several times it was asked to overthrow and redo it.
Fortunately, Hangzhou City is willing to accept the imagination and listen to the architect's ideas, even more willing to create more benefits for the people's livelihood. Under the concerted efforts, this several-time "death penalty" plan passed the various approvals in a reasonable and compliant manner.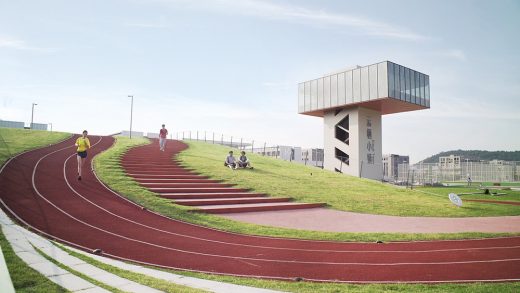 The rooftop isn't just a park. Approach design (ZUP) also introduced ten-odd types of fun-having facilities such as football field, watchtower, sand pit, studio theatre, roller skating platform, community vegetable garden, pavilion and hopscotch, all of which are joined by a 760 meters long winding rooftop runway.
All these seemingly non-exhibition-center-related designs attract numerous top-level conferences to be held here. On usual days, large numbers of people come here every day to exercise, rest and play around. With spontaneous community activities such as township concert, football match, carnival and marathon going on, the exhibition center has become the place to be for workers and inhabitants of the town on a daily basis.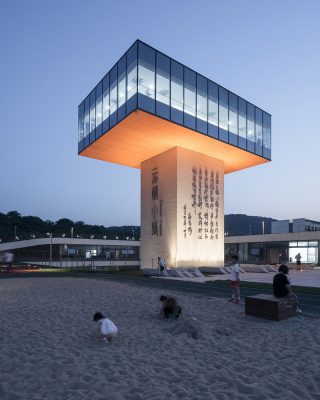 Approach design (ZUP) also preinstalled a large number of ports beneath the lawn. Should people possess interesting ideas, they can simply uncover the lawn and plug in like LEGO. The free development of the building and activities taking place here can both benefit from this. The architects wished that this building would never limit the imagination of its users.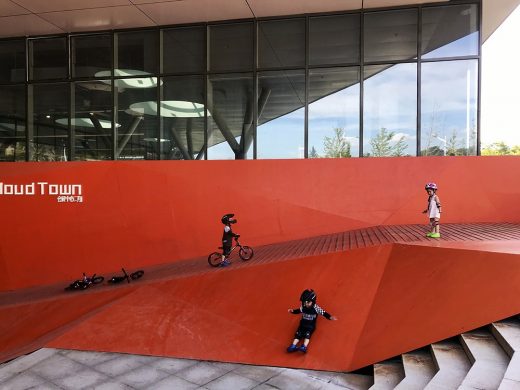 Today everyone is talking about interconnecting and sharing, but it appears that all the connections are virtual connections, and all the sharings are alternate sharings. We are living in an age of extremely advanced social networking, but the opportunities for people to truly get to know each other are fewer and fewer.
We are in an age of 'universal interconnection', and we are ignoring the quintessential interconnection – interconnection between people. Approach design (ZUP) wish to design this attractive open place to encourage people to get out of their home and their office and come to this park to embrace nature. The architects wish people could meet here and develop all sorts of interesting stories.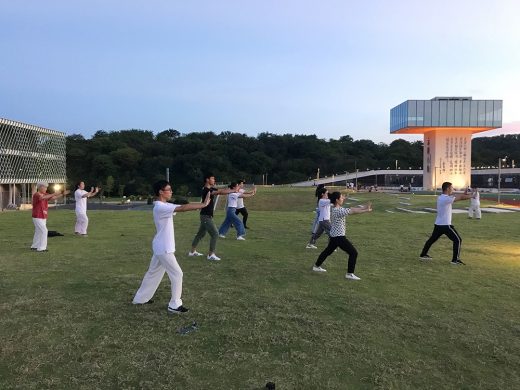 The rooftop park extends all the way to the sink-style square at the main entrance, in conjunction with half-enclosing stairs, creating a round-the-clock studio theatre.
In the corner, previously monotonous freight ramp has been redesigned into an undulated origami shape. People utilize it in all sorts of ways – a roller-skate platform for the youngsters or a slide for kids.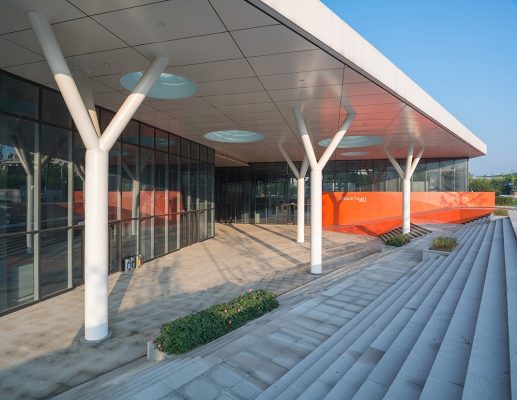 The interior of the building no longer serves solely as an exhibition hall. Through integration of space and functions, we confer upon it a new property – 'Sports-Warehouse'. In absence of a conference, the exhibition hall can be immediately transformed into facilities for a series of sports such as basketball, badminton, table tennis, fitness training and etc., with the addition of closet, showering and professional mechanical/electrical equipment, making it a hustling and bustling place every day. So much so that the demand is well in excess of its capacity.
This is an unprecedented trial. Although it is roughly the same place and construction scale, the end result is not only an exhibition center but also the first public park and stadium for the town. Furthermore, it injects new vitality and infinite possibilities into the town. Looking back on the whole design, it has neither eye-catching exterior, nor complex and costly technique, nor obscure and esoteric ideas.
The open, compound and civic design alone makes it the most popular place in town, maximizing the public value of urban resources behind the building. The design is an active imagination of and bold attempt at the urban public building design paradigm under the requirements of the new era.
The project has come a long way, here is our special thanks to all the decision-makers and participants for your understanding, support and industrious contribution.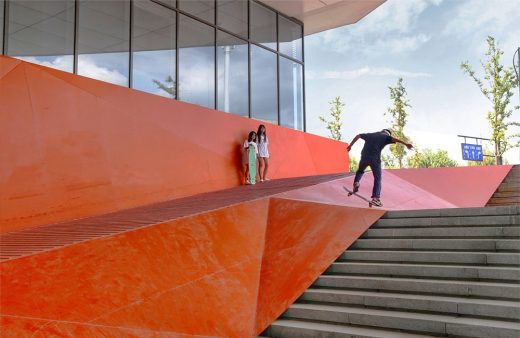 The Cloud Town International Convention and Exhibition Center (Phase II) in Hangzhou – Building Information
Client: Cloud Town, Hangzhou
Design: Approach design (ZUP)
Chief Architects: Ma Di
Design Team: Jin Xin, Mao Liaoping, Jiang Sheng, Zhang Jialiang, Shen Weifen, Wang Yang, Mao Mengjun
Site area: 25,591 sqm
Gross Floor area: 66,680 sqm
Location: No. 1 Heshan Road, Xihu District, Hangzhou, China
Status: Built
Project start date: Feb 2017
Photographer: Lianping Mao
The Cloud Town International Convention and Exhibition Center (Phase II) in Hangzhou in Hangzhou images / information received 030419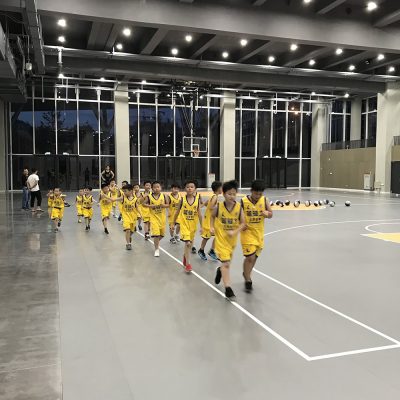 Location: Hangzhou Zhejiang, China
Hangzhou Buildings
Recent Hangzhou Building Designs
Junxi Mountain Villa Sales Centre, Vanke Junxi, Yuhang District, Hangzhou City, Zhejiang Province, China
Architects: More Design Office (MDO)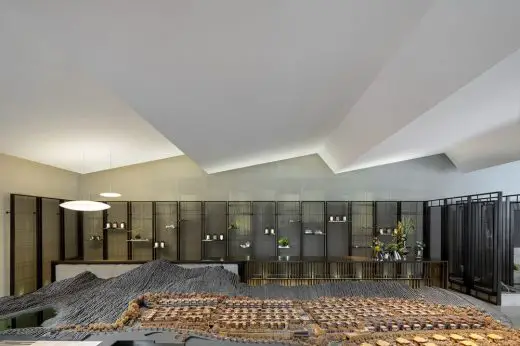 photograph : Sicong Sui, Dirk Weiblen
Junxi Mountain Villa Sales Centre in Hangzhou City
Integrated Campus Complex for Hangzhou Normal University
Design: WSP ARCHITECTS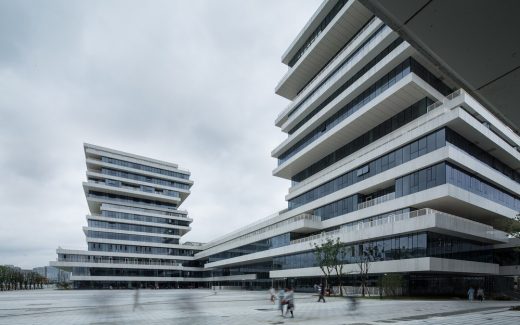 photograph : RUIJING Photography/Zhang Hui
Integrated Campus Complex for Hangzhou Normal University
JOOOS Fitting Room, Xingguang Avenue
Architects: X+Living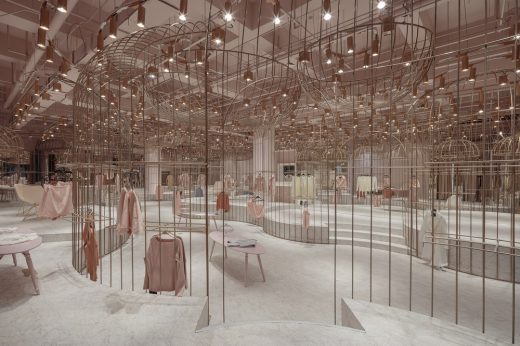 photographe : Shao Feng
JOOOS Fitting Room Hangzhou
Xixi Wetland Estate in Hangzhou
Design: David Chipperfield Architects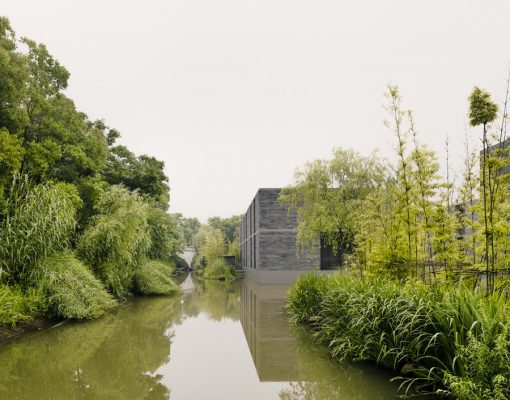 photograph : Simon Mengese
Xixi Wetland Estate in Hangzhou
Zhejiang World Trade Center Hangzhou
Jingshan Boutique Hotel Hangzhou Building
Ripple Hotel Hangzhou Building
Architecture in China
China Architecture Designs – chronological list
Chinese Architect – Design Office Listings
Website: Hangzhou
Comments / photos for the The Cloud Town International Convention and Exhibition Center (Phase II) page welcome