International Campus of Zhejiang University, Ninghai Campus Buildings China, Photos
International Campus of Zhejiang University Building
19 Nov 2020
International Campus of Zhejiang University News
Location: No. 718 Haizhou East Road, Ninghai, Zhejiang, China
Design: UAD (The Architectural Design and Research Institute of Zhejiang University Co., Ltd.)
浙江大学国际联合学院(海宁国际校区)
International Campus of Zhejiang University
Photos by Zhao Qiang
△总体俯视图 Aerial views: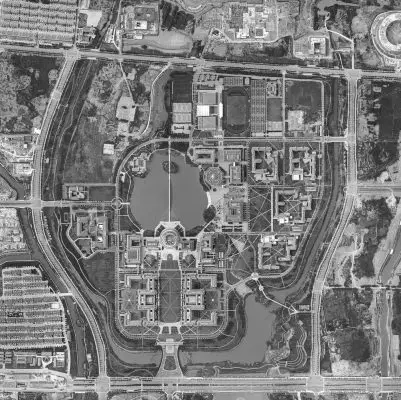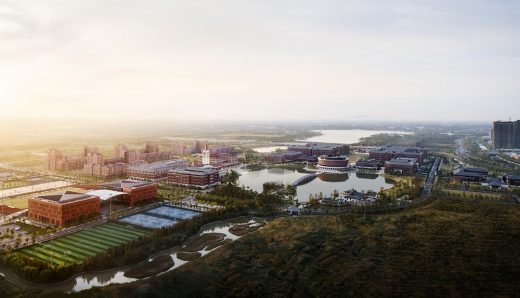 在教育资源跨境流动成为常态的全球化时代,浙江大学提出了建设国际校区的战略构想。浙江大学国际联合学院(海宁国际校区)选址于浙江省海宁市东部的鹃湖国际科技城,南临占地1300亩水域的鹃湖,北接湿地公园,东、西侧河道围合,地块四周形成天然屏障。
In the era of globalization where cross-border flow of educational resources has become the norm, Zhejiang University has proposed a strategic concept for the construction of an international campus. The project is located at the Juanhu Lake International Science Park, east of Haining City, Zhejiang Province. To its south is the Juanhu Lake which covers an area of 1,300 mu, and to its north is the Wetland Park. River channels run along the east and west side, forming a natural shield around the site.
△大讲堂 Auditorium: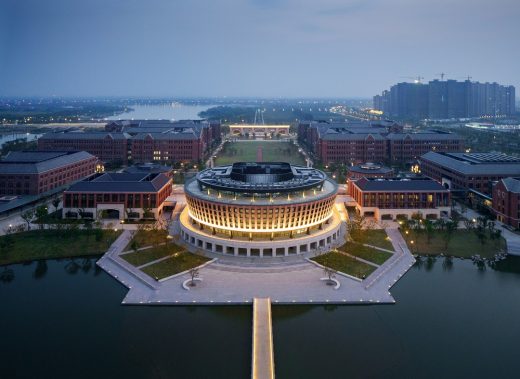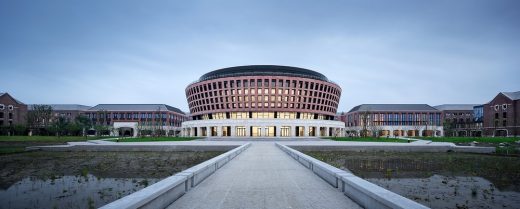 校园规划打破以功能分区为架构的传统规划模式,以英式"住宿制书院"为基本型制,建立"书院+教学与服务综合体+公共科研平台"的功能结构,提出复合型功能模式。
The campus planning breaks away from the conventional planning model with functional zones as the key, adopts the British-style "residential college" as the basic framework and establishes a functional structure of "college + teaching and service complex + public scientific research platform", proposing a multi-functional model.
△湖面景色 Lake view: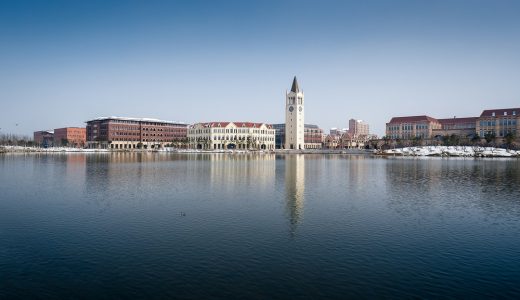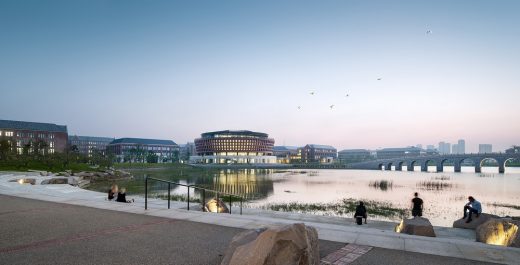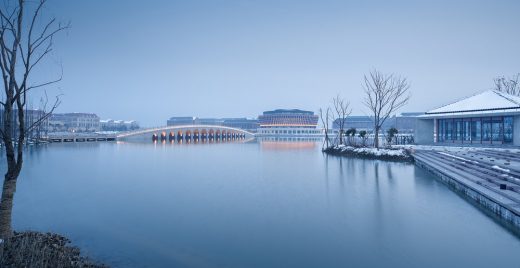 海宁国际校区建筑风格以新古典主义样式为基调,在此基础上,各组团略有变化,或端庄理性、或优雅闲适、或现代简洁,多元而包容,体现国际化历史纬度的同时更表达了浙江大学自身文化的自信和归属感。
The Campus enjoys a neo-classical style in general, with each group changing slightly, either dignified and rational, or elegant and casual, or even modern and minimalist. It is diverse yet inclusive, and not only reflects the historical depth of internationalization, but also expresses the self-confidence and sense of belonging of Zhejiang University's own culture.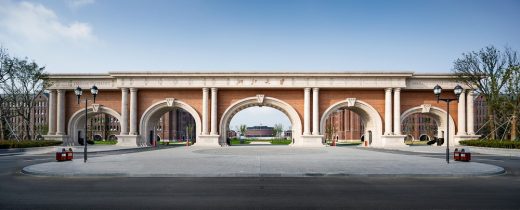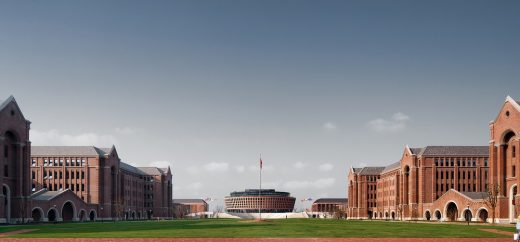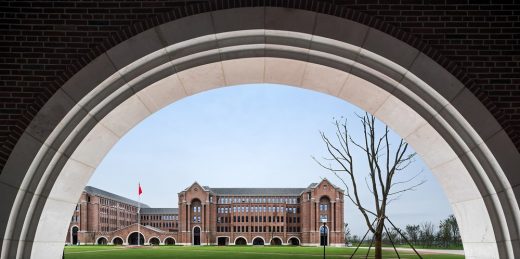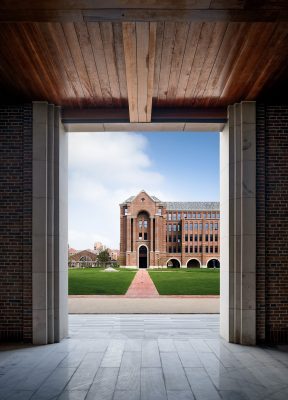 建筑外墙以清水红砖为主要材料,以一块简单的红砖构建了十几种不同的建筑细部,由此对传统语汇作出了新的阐释。精细的砌筑、自然的色调使最终建成的清水砖表皮呈现了生动的表情,在阳光下影子丰富而并不凝重。
Fair-faced red bricks were used as the main materials for the building's exterior wall. By constructing more than a dozen of different combinations with simple red bricks for architectural details, the design embodies a new interpretation of traditional architectural language. The meticulous masonry and natural color tone allow the completed fair-faced brick surface to present vivid visual effects. On sunny days, the shadows were rich yet undignified.
△教学北区 North area of the teaching building: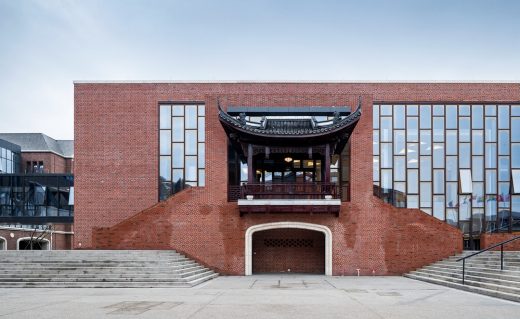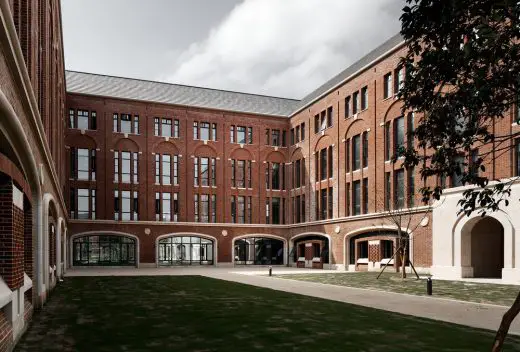 △教学南区 South area of the teaching building: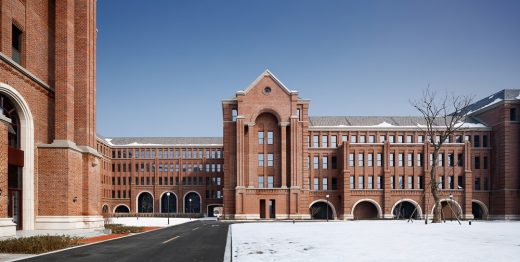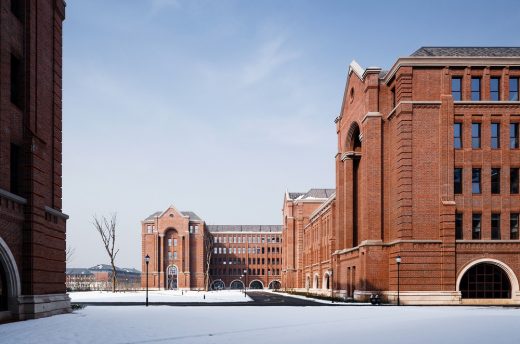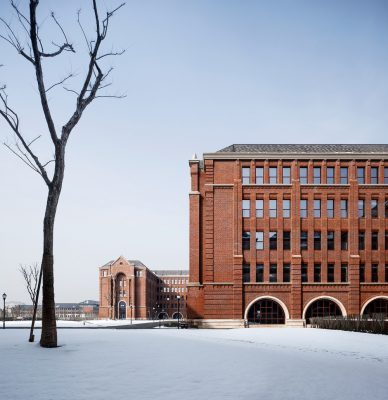 △文理学院内院 Arts and Science Building: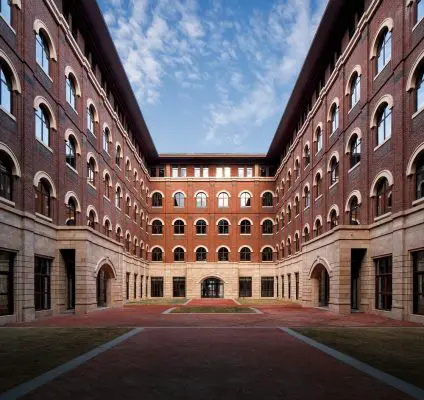 在阴雨天,红色的砖与浅色的砂岩显得温润而沉稳,使整个校区于建成伊始似乎就有了时间的沉淀。
On rainy days, the wet red bricks and light-colored sandstone appear warm and calm. The alternating impressions under different weathers make the entire campus seem to have a sense of history since its completion.
△红砖细节 Details of red bricks: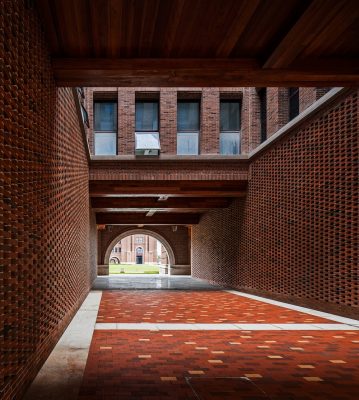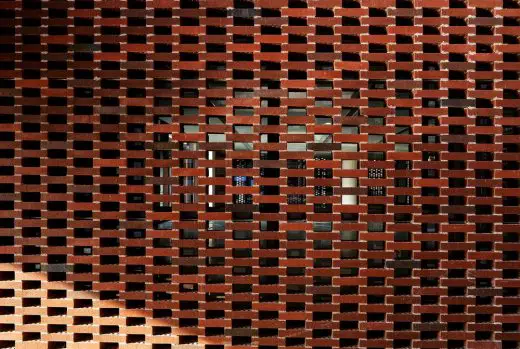 △教学楼入口细部 Details of teaching building's entrance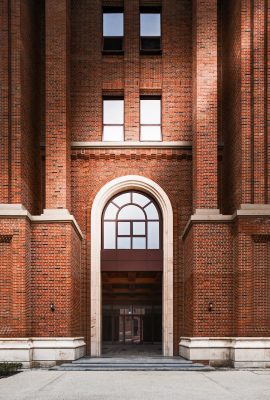 △教学楼中庭 Atrium of teaching building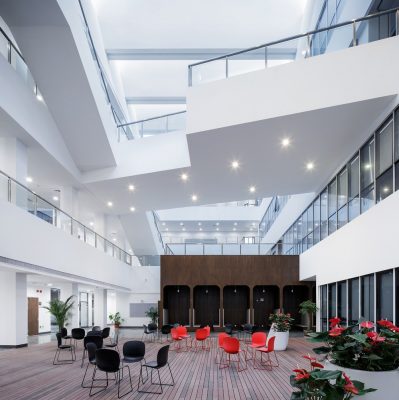 砖石廊柱,从来就是大学文化的重要载体,而以红砖一种合适的建筑材料,不仅仅造就了温暖厚重的外观,形成了醇和雅洁的气质,更重要的是为了传承和延续浓厚的人文气息。
All the time brick, stone, veranda and column are essential elements in campus culture. Red brick, suitable for the temperament of campus, forms a warm and massive appearance, graceful and pure, and more importantly, inherits and carries forward the rich cultural atmosphere.
△西区书院 West Residential College: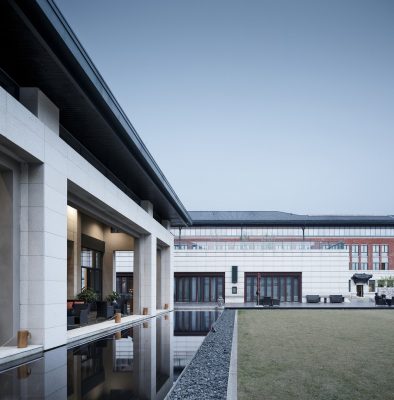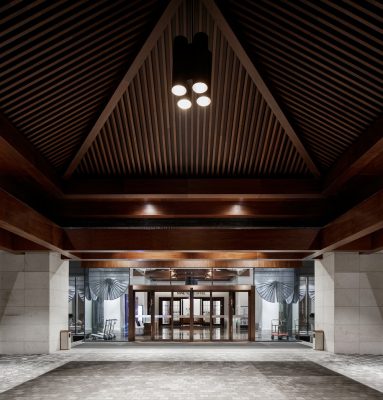 △东区书院 East Residential College: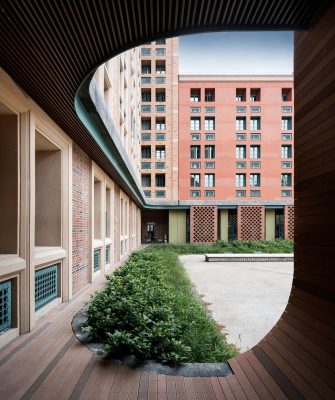 △体育馆 Gymnasium: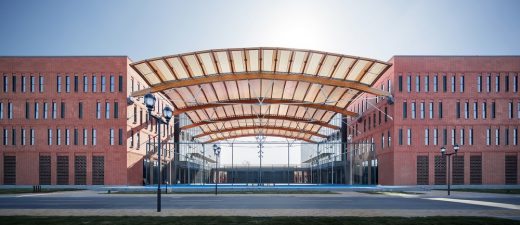 因此,设计者更注重场所学术氛围的塑造,情理合一、得意而成形,创造出有意义的场所,让师生们愉悦的使用它、感受它,这是设计的价值,也是海宁国际校区校园营造的最终目的。
Therefore, the architects paid more attention to shaping an intellectual atmosphere so as to echo the campus. It's the design value and ultimate purpose of the project as well that create more significant spaces where teachers and students can live and learn pleasantly with great experiences.
△学术大讲堂 Lecture Theatre: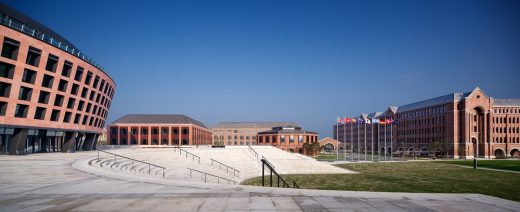 International Campus of Zhejiang University China – Building Information
Chinese text:
项目信息
项目名称:浙江大学国际联合学院(海宁国际校区)
项目地址:浙江省海宁市海州东路718号
建设业主:海宁市社会发展建设投资集团有限公司
业主管理机构:海宁国际校区项目建设指挥部办公室
建筑公司:浙江大学建筑设计研究院有限公司(http://www.uad.com.cn/)
主创建筑师:董丹申、劳燕青
合作建筑师:叶长青、陈建、陈瑜、陆激、杨易栋、胡慧峰
用地面积:66.67公顷
总建筑面积:399231.31平方米
摄影师:赵强
English text:
Project name: International Campus of Zhejiang University
Location: No. 718 Haizhou East Road, Ninghai, Zhejiang
Client: Haining Social Construction Development Investment Group Co., Ltd.
Client Administration institution: Haining International Campus Project Construction Headquarters Office
Architectural firm: The Architectural Design & Research Institute of Zhejiang University Co., Ltd. (http://www.uad.com.cn/)
Chief architects: Dong Danshen, Lao Yanqing
Architects: Ye Changqing, Chen Jian, Chen Yu, Lu Ji, Yang Yidong, Hu Huifeng
Area: 66.67 hectares (666,700 sqm)
Total construction area: 399,231.31 sqm
Photographer: Zhao Qiang
International Campus of Zhejiang University Building in Jiangsu, China images / information received 191120 from UAD (The Architectural Design and Research Institute of Zhejiang University Co., Ltd.)
Previously on e-architect:
21 June 2019
Comprehensive Gymnasium of International Campus Zhejiang University, Haining
Architects: The Architectural Design and Research Institute of Zhejiang University Co., Ltd.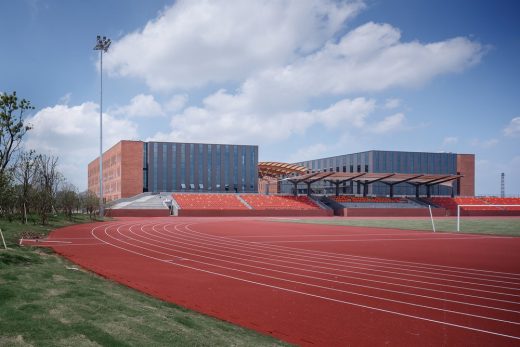 photo : Zhao Qiang
Comprehensive Gymnasium of International Campus Zhejiang University
Location: 718 Haizhou East Rd, Ninghai, Zhejiang Province, People's Republic of China
Architecture in China
Chinese Architecture Designs – chronological list
Chinese Architecture Offices – Design Practice Listings
Shanghai Architectural Tours by e-architect
Architecture in Jiangsu Province
Shuyang Art Gallery, Suqian City
Design: The Architectural Design & Research Institute Of ZheJiang University Co,Ltd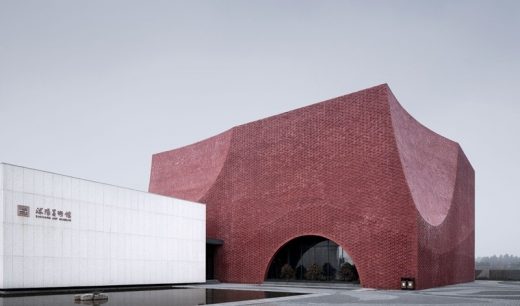 photograph : Qiang Zhao
Shuyang Art Gallery Building
Wuxi Hualuxe Hotel Building in Jiangsu
Architect: BLVD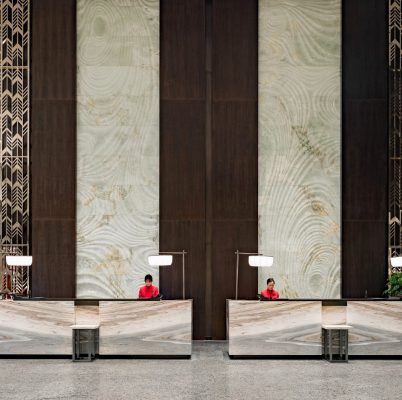 image courtesy of architects
Wuxi Hualuxe Hotel Building in Jiangsu
Suzhou Jin Ji Lake Project Jiangsu Province
Nanjing Tower Buildings Jiangsu Province
Lushan Primary School Building, Jiangxi
Design: Zaha Hadid Architects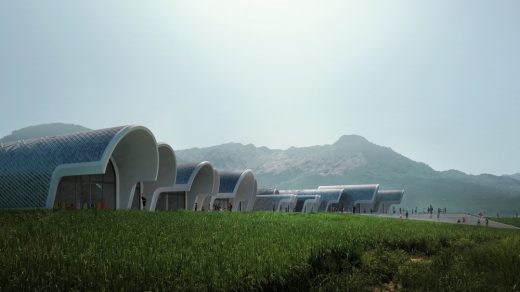 image Courtesy architecture office
Jiangxi School Building
The Summit for Tishman Speyer, Suzhou, Jiangsu Province
Architects: Goettsch Partners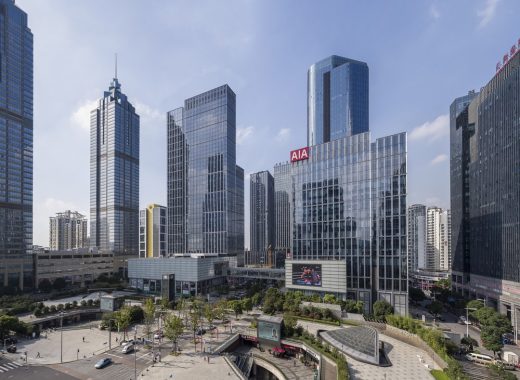 photo © Shen Zhonghai, 1st Image
The Summit for Tishman Speyer
Comments / photos for the International Campus of Zhejiang University Building in Jiangsu, China page welcome
Website: Wuxi Jiangsu