Brasilia Stadium, Brazilian Football Arena, Architecture, Soccer Arena Design Images
Estádio Nacional de Brasília
Brasilia World Cup Stadium Building design by gmp – Architekten von Gerkan, Marg und Partner
12 Jun 2014
Brasilia Stadium : 2014 World Cup Venue
Location: Estádio Nacional de Brasília, Brasilia, Brazil
Design: gmp
Concept and scheme design of roof + esplanade as well as detailed design of esplanade Castro Mello arquitetos with consultancy service provided by gmp and schlaich bergermann and partners Detailed design of roof gmp and schlaich bergermann and partners Design of bowl Castro Mello arquitetos, São Paulo.
Estádio Nacional de Brasília building, Brasil: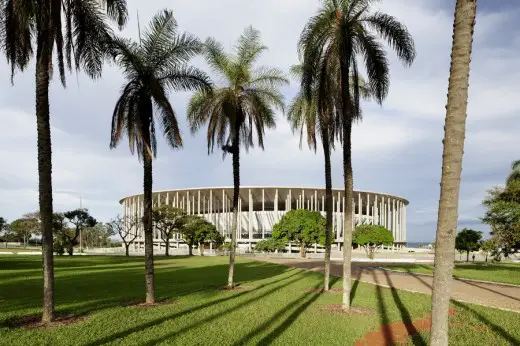 Brasília is the only city dating from the 20th century that has been declared a UNESCO World Heritage Site. With its range of public buildings, the "ideal city" built between 1956 and 1960 is one of the icons of the Moderne style. In this context gmp Architects, in cooperation with schlaich bergermann and partners (sbp), produced the design of the Brasília national stadium for Castro Mello Arquitetos (São Paulo).
It was constructed in the place of the former Mané Garrincha stadium. Eduardo Castro Mello was responsible for the design of the 72,000-seat bowl; gmp and sbp produced the elevations of the esplanade as a characteristic "forest of columns", and a double-skin suspension roof.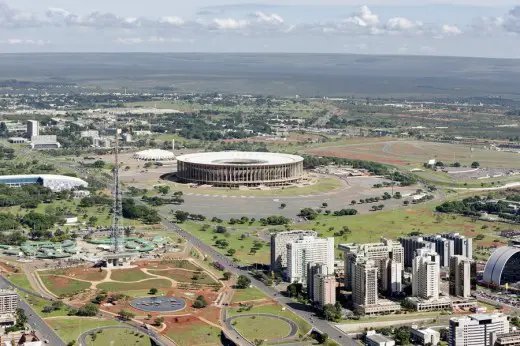 The objective of the design was a solution that does justice to the architectural history of the place, with a clear reference to the city's tradition, and yet has its own distinct contemporary style.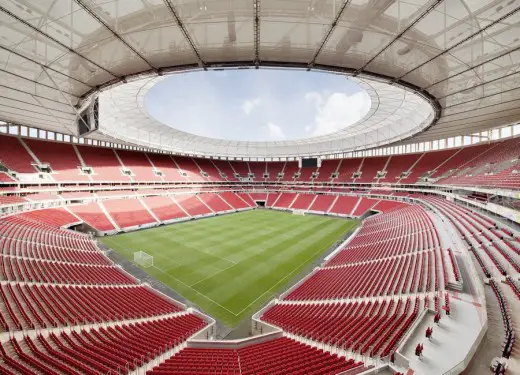 As the city's largest building, located on Brasília's central axis, the composition was developed as a monumental building volume which integrates seamlessly into the urban design context. To achieve this, the stadium bowl is surrounded by an esplanade which comprises all access elements and supports the roof on its "forest of columns".
This clear gesture is emphasized by the minimalist, almost archetypal design of the components – the key material being concrete. The circular suspension roof is a doubleskin structure – the upper skin consists of a PTFE-coated glass fiber fabric while the lower membrane is made up of an openmesh, back-lit fabric.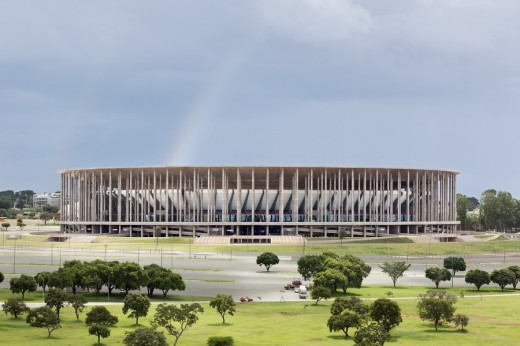 Brasília National Stadium shortly before completion. The city's largest public building is located directly at the central axis dissecting Brasília's basic urban layout. The stadium bowl is surrounded by a circular esplanade which contains all access elements and includes a "forest of columns" which supports the roof.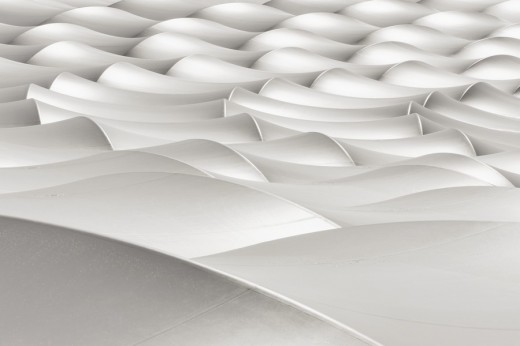 In the stadium bowl designed by Eduardo Castro Mello, the filigree suspended roof construction created by the German stadium designers has a real presence and provides unrestricted views.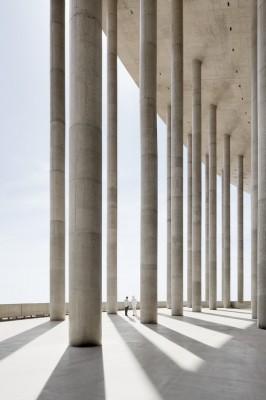 Brasilia Stadium – Building Information
Design: Volkwin Marg and Hubert Nienhoff with Knut Göppert, 2008
Project Manager: Martin Glass
Project Manager, Brazil: Robert Hormes
Director of gmp do Brazil: Ralf Amann
Team members (alphabetical): Ante Bagaric, Holger Betz, Rebecca Bornhauser,
Carsten Borucki, Lena Brögger, Martina Maurer-Brusius, Kacarzyna
Ciruk, Laura Cruz Lima da Silva, Stefanie Eichelmann, Ruthie Gould, Florian
Illenberger, Jochen Köhn, Martin Krebes, Helge Lezius, Tobias Mäscher, Adel
Motamedi, Burkhard Pick, Jutta Rentsch Serpa, Lucia Martinez Rodriguez,
Maryna Samolyuk, Florian Schwarthoff, Sara Taberner Bonastre
In cooperation with: schlaich bergermann and partners, Stuttgart; Castro
Mello arquitetos, São Paulo
Structural design of roof and esplanade: schlaich bergermann and partners
– Knut Göppert with Knut Stockhusen and Miriam Sayeg
Team members (alphabetical):
Andreas Bader, Tiago Carvalho, Arnaud Deillon, Uli Dillmann, Stefan Dziewas, Hansmartin Fritz, Alberto Goosen, Hartmut Grauer, Jochen Gugeler, Andreas Hahn, Achim Holl, Hubert Kunz, Christoph Paech, Jana Pavlovic, Bernd Ruhnke, Tilman Schober, Klaus Straub, Cornelia Striegan, Peter Szerzo, Hiroki Tamai, Augusto Tiezzi, Feridun Tomalak, Chih- Bin Tseng, Gerhard Weinrebe, Rüdiger Weitzmann, Andrzej Winkler, Markus Wöhrbach, Kai Zweigart
Structural design of stadium bowl: Etalp, São Paulo
Services engineering – roof (concept and scheme design): b.i.g. Bechtold
Ingenieurgesellschaft mbH; mha, São Paulo
Light concept – roof (concept and scheme design): Conceptlicht, Taunreut;
Peter Gaspar, São Paulo; mha, São Paulo,
Seats approx.: 72,800
Construction period: 2010–13
Photography: Marcus Bredt
Brasilia Stadium information / images from gmp – Architekten von Gerkan, Marg und Partner
Location: Brasilia, Brazil, South America
Architecture in Brazil
Brazilian Architectural Projects
Brasilia Buildings
Vila Belmiro – Santos FC Stadium
Architects: Biselli Katchborian Arquitetura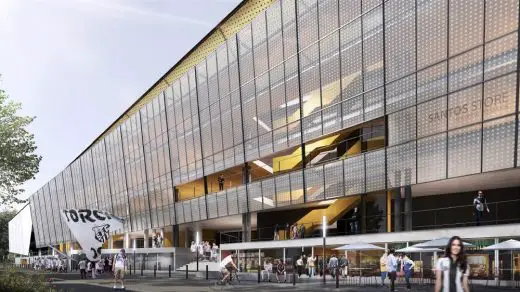 image courtesy of architects
Vila Belmiro
IESB University Building
Architects: Pei Cobb Freed & Partners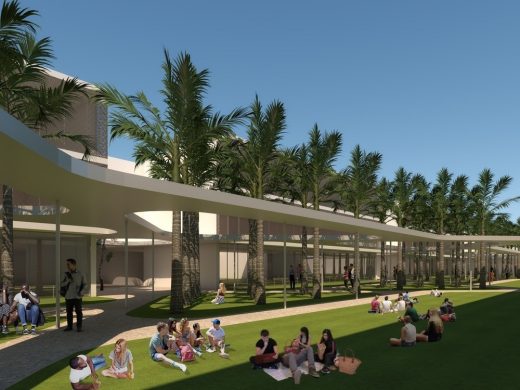 rendering : Pei Cobb Freed & Partners
IESB University Building Brasilia
Casa Clara
Architects: 1:1 arquitetura:design
Casa Clara in Brasilia
Byte Building Brasilia
Design: DOMO Arquitetos Associados
Byte Building in Brasilia
Mané Garrincha Stadium Brasília, World Cup Venue
Patchwork Pavilion Brasilia Building
Amazon Sports Complex, Manaus, east Brazil
Design: gmp – von Gerkan, Marg & Partners
Amazon Sports Complex Brazil
Symbolic Brazil World Cup Structure Competition
Comments / photos for the Brasilia Stadium – World Cup Venue page welcome
Website: Visit Brasília