Go West Book, Chinese Megacities, Building
Go West Project : China's New Megacities Book
Chinese Urban Society Publication – by architect Daan Roggeveen & journalist Michiel Hulshof
21 Sep 2012
Go West Project
'How the City Moved to Mr Sun – China's New Megacities'
GO WEST PROJECT TO LECTURE IN USA
WILL CHINA'S NEW MEGACITIES CONQUER THE WORLD?
China is creating the largest urban society the world has ever seen. Small towns in Central and Western China transform at breakneck pace into huge metropolises with many millions of inhabitants. Architect Daan Roggeveen and journalist Michiel Hulshof travelled to twenty of these emerging cities and described them in their book How the City Moved to Mr Sun – China's New Megacities.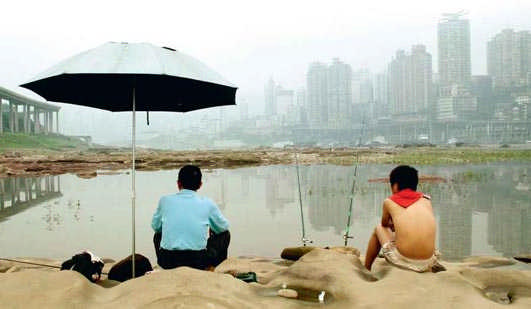 image from Go West
In the coming weeks, Daan Roggeveen will be doing a series of lectures in multiple cities in the United States. In his talk, he will challenge assumptions about the nature of Chinese society, and discusses the question: will China transform its triumph of brick and concrete into a model that will conquer the world?
Daan Roggeveen Lectures – Schedule
09/24, 6PM SPUR San Jose, 38 West Santa Clara Street, San Jose
09/27, LA Forum, Los Angeles
10/3, 5PM DAAP/University of Cincinnati, 2600 Clifton Ave., Cincinnati
10/5, 5PM University of Kentucky/CoD, 209 Pence Hall, Lexington
10/8, 6PM UIC School of Architecture, A+A Building, 845 W Harrison St, Chicago
10/9, 7PM Van Alen Books, 30 W 22nd St, Ground floor, NYC
10/11, Afternoon, Princeton University 105 McCormick Hall, Princeton
10/15, 11AM Columbia University, Ware Lounge (6th floor) of Avery Hall, NYC
ABOUT THE BOOK
How the City Moved to Mr Sun – China's New Megacities


image from Go West
Provincial towns in the heart of China are transforming into potential world cities. In size they rival global cities like Rio de Janeiro, London and Moscow, but their names are unknown in the rest of the world.
In their book How the City Moved to Mr Sun – China's New Megacities, architect Daan Roggeveen and journalist Michiel Hulshof lift the veil from these unexplored Chinese cities. It lays bare the ruthless logic behind this incredible growth, and presents in loving detail the mass of humanity washed up in this unstoppable process: farmers who demolish their homes and build their own high-rise apartment blocks, torn down again by city authorities in the name of progress. Architects, complaining that the cities grow faster than they can design them. Chinese officials, surprisingly frank about the darker sides to this story of success.


image from Go West
How the City Moved to Mr Sun – China's New Megacities was launched in 2011 and was well received by the international press. The Dutch edition of the book was launched in Spring 2012, the Chinese edition is due end of 2012.
SPEAKER INFO
Daan Roggeveen is a Shanghai-based architect. Together with journalist Michiel Hulshof, he founded and oversees the Go West Project, a multidisciplinary research and design studio focusing on emerging megacities. The studio has a deep interest in urban cultures and wants to understand and contribute to them through research, architecture and media.
The body of work produced by Go West Project over the past years is extensive and varied: lectures, blogs, (photo) essays, installations, performances, events, architectural designs, urban plans, books and policy proposals. The work has been widely published in both China and Europe and won various awards.
Go West Project works in an international network of writers, designers, architects, researchers and journalists and has offices in Shanghai and Amsterdam. Go West Project lectures at international universities on a regular basis.
Daan Roggeveen studied architecture at Delft University of Technology. Next to his work as founder and director of Go West Project, he is the Curator of the public programme at Hong Kong University / Shanghai Study Centre. He is an often-asked contributor to the debate about urban development in China.
THE PRESS ABOUT 'HOW THE CITY MOVED TO MR SUN'
'Witty, poignant, startling'
– Duncan Hewitt, former BBC Beijing and Shanghai correspondent
'…telling the greatest urbanisation story in history quite literally from the deep foundations up.'
– Nick Mackie, China correspondent for World Business on CNBC
'Compelling reports and photos illustrating the unprecedented pace of change'
– de Volkskrant
'A delight to read'
– Architectural Record
www.gowestproject.com
Location: Shanghai, China
Architectural Publications
Shanghai New Towns Book
49 Cities Book
Post-Traumatic Urbanism Book
Travels in the History of Architecture
Zaha Hadid Books
Architectural Articles
Resisting Boredom : article by Joyce Hwang
Sizing Identities : article by Sergio López-Piñeiro
Design Narrative : article by Lee Miles
Comments / photos for the Go West Project – China's New Megacities Book page welcome