Building Façade Technologies Improvement, Better Energy Efficiency
Improving Building Façade Technologies Research
Better Energy Efficiency Research – UK Architecture & Building Article
22 Apr 2019
Improving Building Façade Technologies for Better Energy Efficiency
£1.6m grant to improve building façade technologies for better energy efficiency
A project to create new technologies to improve the energy efficiency of buildings is underway after a group of researchers from the University of Nottingham, Loughborough University and University of Exeter was awarded a £1.65 million grant from the EPSRC.
Dr Yupeng Wu from the Faculty of Engineering at Nottingham is leading the project to develop low cost optical components that can be integrated into conventional double glazing to provide comfortable annual daylight levels in buildings and reduce their annual energy consumption from annual artificial lighting, heating and cooling by over 30%.
Buildings currently account for over 40% of total UK energy consumption and a similar percentage of the UK CO2 emissions. With this new technology, thermal resistance will be increased and solar heat gain better controlled enabling windows to perform better than walls on a yearly basis in terms of their useful net energy balance.
Holistic approach
Dr Wu explains: "We're delighted to receive this grant, which we are using to adopt a holistic approach to developing advanced façade technologies to achieve building energy reduction goals.
Glazed façades play an important role in determining a building's energy performance and perform a range of, sometimes conflicting, functions. They regulate heat transfer to and from the external environment by radiation (solar and long wave), conduction and convection, allow natural daylight into the space and improve the way to buildings look externally. Improving fenestration energy performance can make a significant contribution to reducing building energy loads.
Our target is for a typical commercial building incorporating these novel glazed façade systems to provide comfortable annual daylight levels while achieving over a 20% reduction in annual artificial lighting energy consumption, space heating reductions of over 30% in the heating season and cooling load reductions of 20% in summer. The integration in a façade system of active solar energy technologies with better performing windows paves the way for commercial buildings to become net energy producers on an annual basis."
Advanced glazing
Four types of advanced glazing are being developed with input from industry partners to ensure the solutions developed will be a viable option for commercial building designers.
The new products being developed would be suitable replacements for current transparent glazing systems, offering building energy reduction through enhanced thermal resistance and optimised daylight transmittance. By recognising the range of functions played by different areas of the façade, it is possible to tailor strategies to match.
For example, those areas where view is less important can use active coatings that vary the transmission and scattering of light to direct daylight deeper into rooms, or integrate solar technologies to generate electricity or capture useful heat.
Dr Wu is working alongside Professor Philip Eames from Loughborough University and Professor Tapas Mallick from Exeter University on this project.
Professor Philip Eames, Professor of Renewable Energy, said: "It is great to be working with Dr Wu and Professor Mallick on this very important project. The ambitious goals are to develop a range of new facade systems that can contribute to reducing building end use energy demand. The project takes full advantage of the expertise and facilities at the three universities and includes a good mix of modelling, materials research, prototype system development and characterisation."
Professor Tapas Mallick, from the University of Exeter's Renewable Energy department at the Penryn Campus said: "We are delighted to secure this highly competitive research award, which will help provide new pathways to transform how energy is generated and used.
"The technology we are developing here at the Penryn Campus will be a key component for creating Energy Positive homes in future, by developing innovative new solar-based technologies that can be incorporated in the windows and opening of buildings to allow thermal load reduction, electricity generation and daylight management."
The University of Nottingham is a research-intensive university with a proud heritage, consistently ranked among the world's top 100.
The industry partners on this project are: Couch Perry Wilkes: an environmental building services consultancy, Elementa: specialised in low energy building design, MDelta Ltd: thermal solutions, Brinell Vision: a designer/manufacturer of thin film optics.
Location: UK
Nottingham Architecture
New Nottingham Bioscience Building
Design: Pick Everard, Architects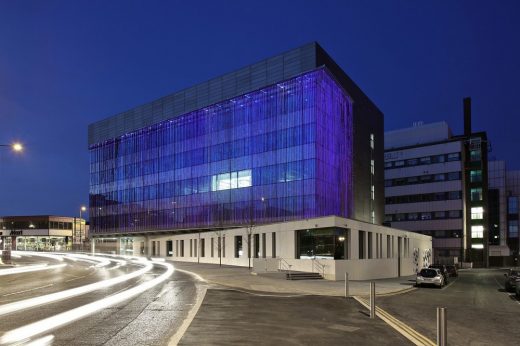 photo : Neil Hoyle Photography
Nottingham College City Hub Building
Nottingham College City Hub
Design: Bond Bryan Architects News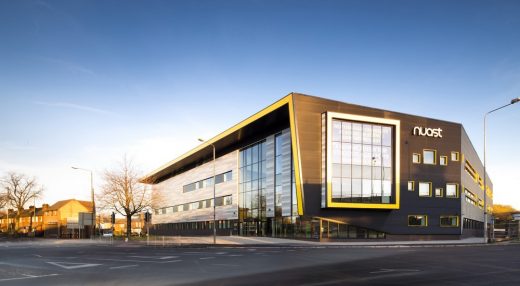 image from architects office
Nottingham College City Hub Building
RIBA East Midlands Awards Shortlist in 2017
RIBA East Midlands Awards Shortlist
'The Orchard' – Eco Hotel – University of Nottingham
Eco Hotel – University of Nottingham
Isover House Contest – Nottingham Architecture Competition
Design: Evgeni Leonov Architects
Nottingham Architecture Competition
Maggie's Nottingham Building
Design: CZWG
Maggies Nottingham
Meat Factory
Marsh & Grochowski
Meat Factory Nottingham
Newton and Arkwright Building, Nottingham Trent University
Hopkins Architects Partnership
Newton and Arkwright Building
Centre for Contemporary Arts Nottingham – Lace Market
Caruso St John
Centre for Contemporary Arts Nottingham
Jubilee Campus Expansion – Masterplan, University of Nottingham
make
University of Nottingham Jubilee Campus
New Art Exchange
HawkinsBrown
New Art Exchange
Old Market Square renewal, centre of the city
Gustafson Porter
Nottingham Square
Birmingham Architecture Walking Tours : city walks by e-architect
Birmingham Architecture Designs – chronological list
Rotunda Birmingham by Glen Howells Architects
Comments / photos for the Improving Building Façade Technologies for Better Energy Efficiency page welcome