Tongrentang Zhima Health Space, Chinese Medical Center, Goji Berry Coffee
Tongrentang Zhima Health Space in Beijing
13 June 2020
Tongrentang Zhima Health Space Design
Architects: Wang Yong – WUUX (Wuxiang Space Architecture Design)
Location: Beijing, Northern China
Tongrentang Zhima Health Space
Wang Yong: New Chinese Merchandise – Tongrentang Zhima Health Space
Drink Goji Berry Coffee, Stay up in Good Health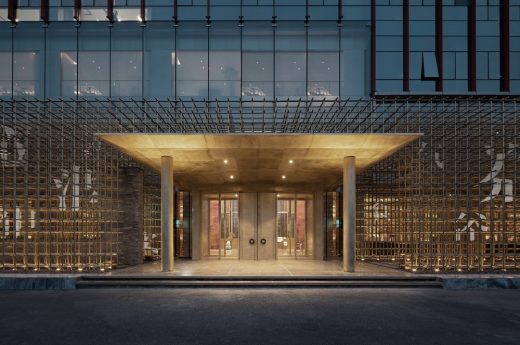 Goji berry coffee is the featured healthy drink in Tongrentang Zhima Health Store.
As a healthy featured drink of Zhima Health, goji berry coffee combines coffee and goji berry which can soothe the nerves and improve sleeping. As the most popular drink among the customers, goji berry coffee adopts the high quality barbary wolfberry strictly selected by Tongrentang, while the price equals to a cup of specialty coffee. Enjoying caffeine and keeping in good health, the new urban noble tastes it and smells the fragrance.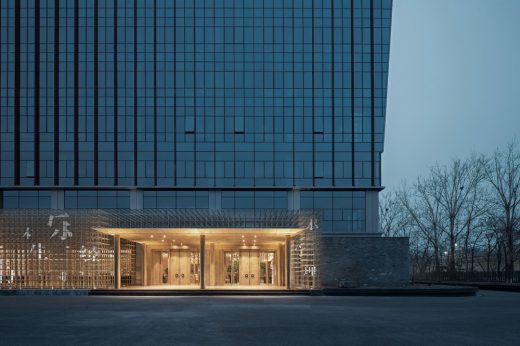 The Four Word Secret of Health Maintenance
/ Inquiry Food Convalescence Cure /
Tongrentang Zhima Health has created a complex functional system of healthy diet + medical center + health examination + social entertainment. The designer Wang Yong has applied a large area of contrasting materials as solid wood and brass in the store. From the ground floor to upstairs, Zhima Health Concept Store has four themes: inquiry, food, convalescence and cure.
/ Inquiry /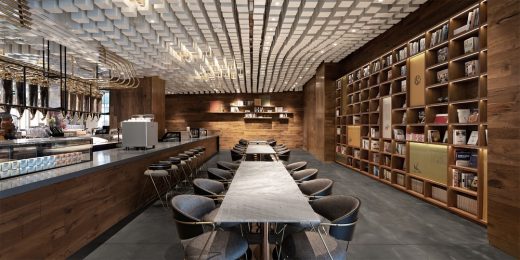 / Food /
In the "Food" themed space on the ground floor of the zero store, the health recipes solutions can be offered in one stop. Here, the food, wine, Chinese and Western tea and baking areas are distributed in the two thousand square meters space.
Coffee area in "Food" themed space on the ground floor.
In the ancient diet dining hall enclosed by the dark gray bar, well-known chefs have developed various secret palace nourishing diets according to the four seasons. Whether tasting a cup of health coffee or drinking wine is the best solution to unfold the recipe.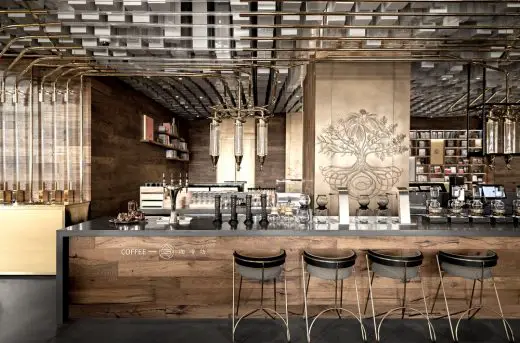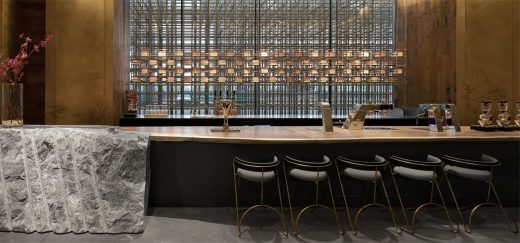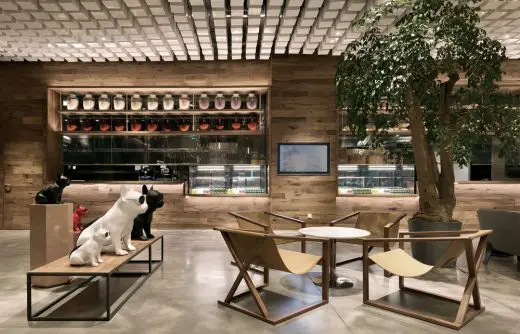 From the hot soup in spring to a bowl of cured chicken and mushrooms in winter, Zhima Health has covered the recipes all year round. And its diet therapy is developed according to the physical needs of different stages in the entire human life, which includes postpartum conditioning, children's diet, elderly three highs (high blood pressure, high blood sugar and high triglycerides), sub-health and so on. 16,800 medicine boxes are arrayed to cover the 2000 square meters ceiling on the ground floor in a waved and extending way. After gathering all the herbs, the medicine boxes will be hung up high, and the era of changing lifestyle with meals is officially opened.
/ Convalescence /
Another two main themes of "Inquiry" and "Convalescence" are set on the second floor in the zero store. The functional areas like the body examination of "Inquiry" space and the sub-health management and physical therapy of "Convalescence" space are arranged in order by Tongrentang.
In the sub-health solution corridor, through health data monitoring and tracking, a full set of solutions can be directly customized from diet to health care sports for sub-health. The leisure cultural and creative space near the long corridor extends the use of terrazzo and old solid wood.
/ Cure /
Traditional Chinese medicine dispensing table in the "Cure" themed space on the third floor.
In the third floor themed with "Cure", the ancient medical hall full of medicine cabinets has been transformed into an open, comfortable and professional modern medical center through contemporary design techniques.
The health TED live broadcast area regularly conducts various health lectures, which has become the new center for health care professionals in the community. From medical treatment to maintenance, although the face has changed, Tongrentang is still the golden brand of "medicine to cure".
The 500-square-meter Shuangjing Store No. 1 is now officially open to the public. These stores that really enter the community will have all the functional experiences of zero store. Let's take the health card dealt by Tongrentang and become a new urban noble!
Renascence of The Three Hundred Years Old Brand
"I hope people in the world are free of disease, and I would rather the medicine on shelf is full of dusts."
Envisioned by this ideal, Tongrentang has gone through 350 years of history from herbs to royal medicine to health tonics. Even if one has not stepped into Tongrentang medicine shop, its reputation has probably branded in the hearts of every Chinese. However, when you doubted whether Tongrentang was out of date and only a signboard left, it has done something big.
In 2020, the new brand Zhima Health owned by Tongrentang was officially launched. Relying on the brand-new Zhima Health Concept Store, the immersive shopping experience that completely subverted tradition has began formally. The old brand is showing its strength in a younger, trendier and broader way. From today on, Zhima Health is your new activity center in the city.
As the interior designer of Tongrentang's new brand – Zhima Health, Wang Yong has accompanied Tongrentang for five years. From the proposal for strategic transformation to the official opening of the large-scaled zero store, there are too many stories in the transformation process of Tongrentang.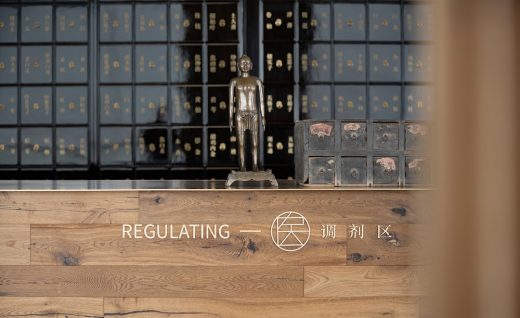 Tongrentang Zhima Health Space Beijing Store
Questions & Answers:
Q: On what occasion did Tongrentang put forward the strategic transformation?
A: Probably in 2014, Tongrentang seems to have encountered bottleneck. The selling form relying on traditional stores urgently needs to be changed, so the brand proposed a strategic transformation from products to services at that time.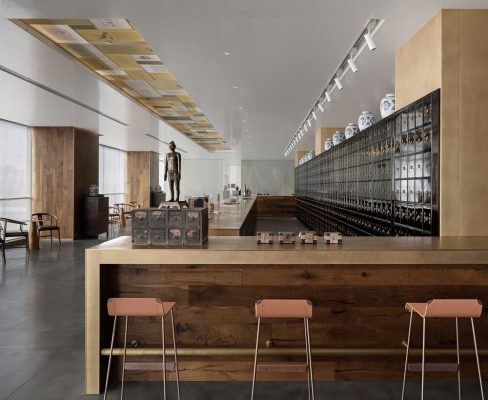 Q: How did the concept come to scheme and realization?
A: After proposing the transformation, Tongrentang and we began field investigations at home and abroad. From retail to hotel and other formats, we have experienced almost every brand new store. And finally we focused on the trade form of hotel brand. So, the idea of creating an immersive experience space comes out.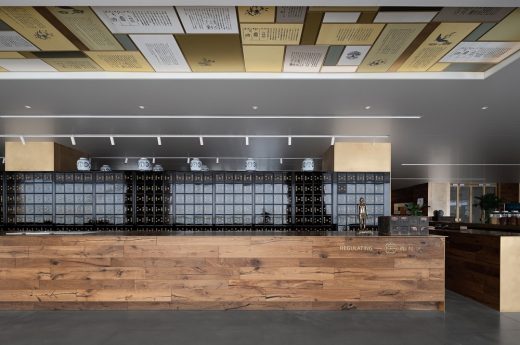 Q: What difficulties did you encounter in the process of planning?
A: The first breakthrough lies in the initial investigation on retail industry and the final set of trade form. Secondly, the brand tried to find some well-known foreign design teams. However, because the foreign designers did not really understand the business model and accurate needs of the well-established domestic brands, they eventually failed to give a design plan. Later, when our team completed the overall design plan, many of the product lines that we are seeing now were developed backward from space design, and Tongrentang's almost perfect endorsement allowed this backward process to be realized.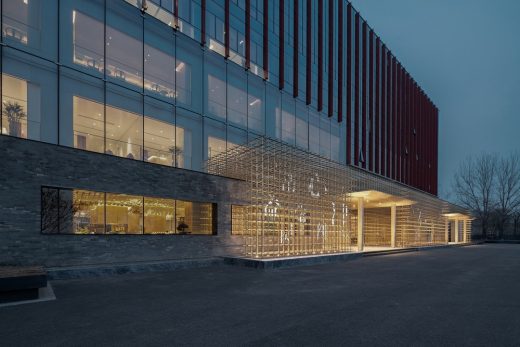 This era is pushing old brands to make changes. Whether it is reinventing or innovating, this massive upgrading change is imperative. At the moment when Zhima Health is launched, there is a joy of new life, and even more firmness as ever. "New domestic merchandise is the train of the ages, as well as the new heritage of old brand culture. Have you been aboard this train?"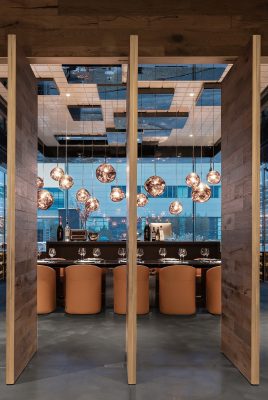 Tongrentang Zhima Health Space, Beijing – Building Information
Project name: Tongrentang – Zhima Health Offline Experience Store
Constructor: Beijing Tongrentang Health
Project address: No. 39 Simiao Road, Daxing Pharmaceutical Production Base, Beijing, China
Design company: Beijing Wuxiang Space Architecture Design
Chief designer: Wang Yong
Design team: Tan Wei, Zhu Chenxu, Zhang Guiying, Jia Zhiyong, Yu Yue
On-site management: Peng Shanxiang, Lu Zhengkun, Chen Yixuan
Design area: 5000 square meters
Completion time: 2018
Lighting design: Beijing Yingzhuo Lighting Design
Lighting consultant: Fuzhou Maiguang Lighting Service Provider
Display consultant: Wuxiang Construction
Furniture brand: Camerich, Maxmarko
Brand consultant: B+P
Logo design: To Three
Video provided by: Beijing Tongrentang Health
Project planning: Lele Designer Branding Strategy Studio
Project photography: IN VIEW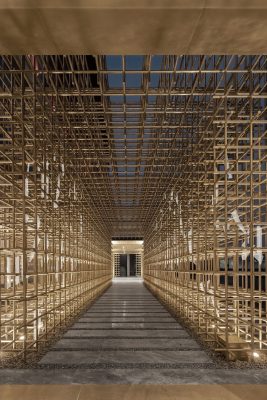 About the designer:
Wang Yong
Representative designer for traditional brand upgrade
Design strategy consultant for new retail space
Founder of WUUX (Wuxiang Space Architecture Design)
As a senior interior architect of China Building Decoration Association, creative director and co-founder of Beijing Wuxiang Space Architecture Design and Wuxiang Construction design, founder and partner of Yue Hotel, and design consultant for new retail space of Beijing Tongrentang Health, Wang Yong has designed a series of conceptually innovative projects, high-end real estate projects, hotels and office spaces.
WUUX (Wuxiang Space Architecture Design) team: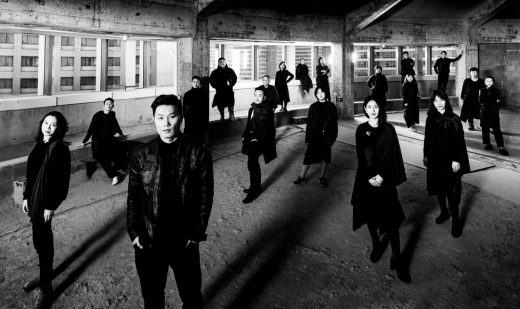 His representative works include the brand-new Tongrentang Zhima Health Zero Store, Yuewuyi Tea Life Aesthetics Hotel, Taohuayuan Family Exhibition Hall, etc. Founded in 2015, the design brand Wuxiang Construction is a new design force with a wide range of services.
Founded in 2015 by Wang Yong, Wuxiang Space Architecture Design (WUUX ) is a design practice based in Beijing, China. The company's service covers environmental art design, architecture, interior design, soft decoration and space art consultant.
It is committed to the design fields of commercial real estate, hotels and resorts, high-end clubs, corporate space customization, retail experience stores and other interior projects. According to the client's project characteristics, it provides integrated services from architectural planning, landscape design, interior design, lighting design to soft decoration design to ensure that the design concept is consistently implemented.
Since its foundation, it has established strategic partnerships with giant groups as Vanke Group, Longfor Group, Greentown Group, Poly Real Estate, Tongrentang Health and other brands.
WUUX focuses on the temperature sense in space and it pays attention to the purpose behind design. Starting with a mufti-dimensional perspective of regional humanities, business models, and customer groups, the team offers solutions with dialectical thinking.
The long-term and stable cooperation with excellent teams enables WUUX to have a discerning discernment and control in the industry. It has been exploring the deep value and sustainability of project and maximizing the value and benefits in project through multidimensional understanding.
Tongrentang Zhima Health Space in Beijing, China information / text received 130620
Location: Beijing, People's Republic of China
Architecture in Beijing
Beijing Architecture Designs – chronological list
Beijing Architecture Walking Tours
The Dog House
Design: Atelier About Architecture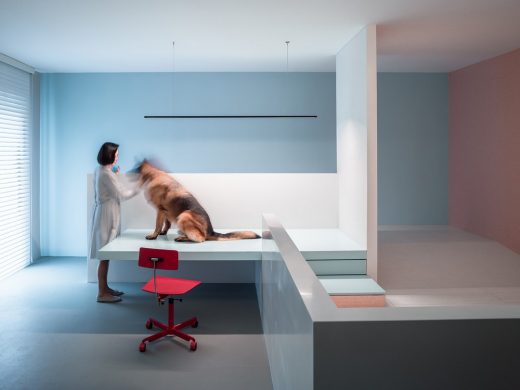 photograph : Sun Haiting
The Dog House in Beijing
Office Environmental Design of Shiyue Media, Lang Park Vintage, Chaoyang District
Design: CUN Design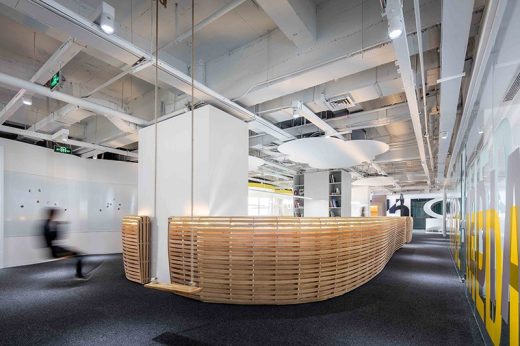 photographers : Wang Ting, Wang Jin
Office Environmental Design of Shiyue Media
MS-II Restaurant
Architects: WAY Studio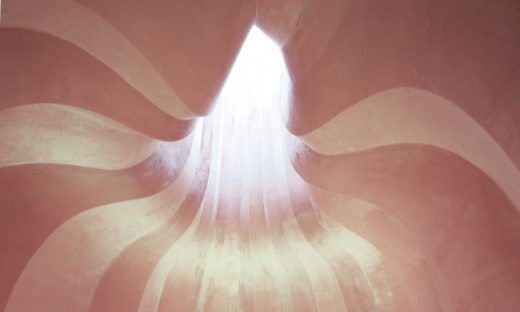 photographer : Zeng Hao, Fernie Lai
MS-II Restaurant in Beijing
Hualong Private Terminal Space, Capital Airport
Design: Shishang Architecture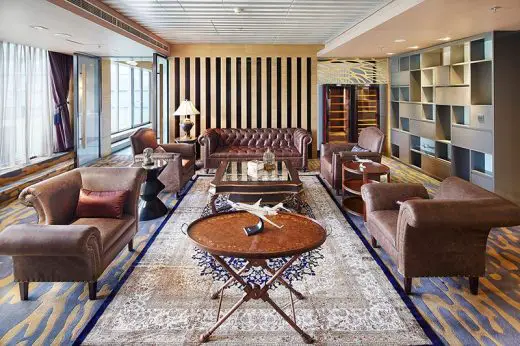 photographer : An Li
Hualong Private Terminal Space
Comments / photos for the Tongrentang Zhima Health Space in Beijing, China page welcome