Wolfson Economics Prize 2021 Winner, Ab Rogers Living Systems Design, Architecture News
Wolfson Economics Prize 2021: Ab Rogers Design
26 November 2021
Wolfson Economics Prize 2021 Winner News
£250,000 Wolfson Economics Prize 2021 awarded to Ab Rogers Design for 'Living Systems'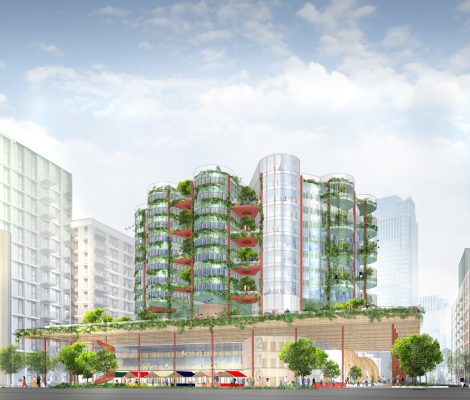 ● The 2021 Wolfson Economics Prize, run in partnership with Policy Exchange, was awarded to Ab Rogers Design for their 'Living Systems' proposal at a gala dinner in London on Wednesday 24th November
● The 'Living Systems' entry envisions smaller, 200-bed hospitals designed to become a 'third carer' supporting patients alongside medical staff and friends and family; redesigned common areas and workspaces would also improve working conditions thereby increasing staff retention in the NHS
● Other suggestions to improve hospitals include building an open area on the ground floor – termed the podium – which would incorporate a thriving market and be accessible and used by the entire community, allowing hospitals to act as anchor institutions and centres of wellness, as well as cure
● The Prize takes place in the context of a national programme of hospital building and significant workforce pressures across the NHS, with the number of nurses leaving the profession at its highest since 2017 according to official figures
● Health Secretary Rt Hon Sajid Javid MP congratulates Ab Rogers Design and thanks all entrants for their contributions on how to design better hospitals
Wolfson Economics Prize 2021 Winner
The £250,000 Wolfson Economics Prize 2021 was awarded to Ab Rogers Design and their 'Living Systems' submission at a gala dinner in London. It is the fourth time the prize – run in partnership with Policy Exchange, the U.K.'s leading think tank – has been awarded since its inception in 2011. The prize was awarded as the government embarks on a national programme of hospital building over the coming decade.
Entrants to this year's competition were asked: "How would you design and plan new hospitals to radically improve patient experiences, clinical outcomes, staff wellbeing, and integration with wider health and social care?"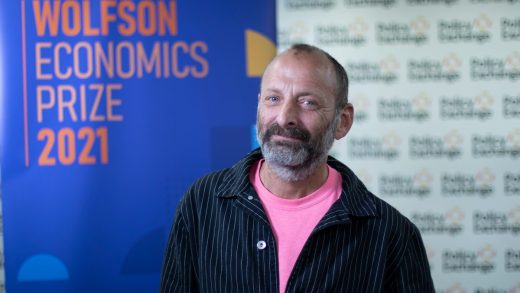 The 'Living Systems' team envisions hospital buildings becoming a 'third carer' alongside medical staff and a patient's family and friends, and sets out a vision for smaller hospitals which could be built across England and sit within the community as centres of wellness as well as cure. The 200-bed sites would be constructed out of a prefabricated, modular design of 12 storeys, with an internal shell of cross-laminated timber so that wards can be easily partitioned into isolation rooms, for example in response to infectious disease outbreaks. A central open area on the ground floor – termed the podium – would incorporate a thriving market and be accessible and used by the entire community. The plan would also redesign staff facilities, including common areas, in order to improve working conditions and increase staff retention across the NHS.
The Living Systems hospital design features a rooftop area reserved for hospital staff and volunteers. This space would include offices, meeting rooms and congregation areas, including a bar and canteen. A series of raised beds would convert the remaining rooftop area into an allotment for growing fresh produce. These facilities could be used by staff and patients and would inform a programme of education within the community on diet and lifestyle. Other thoughtful considerations include locating the bulk of patient rooms and wards on the south side of the building to maximise levels of natural daylight, with greenery and views accessible from every bed.
The plan to improve working conditions comes at a time of widespread challenges in the recruitment and retention of staff across the NHS. Recent official statistics from the Nursing and Midwifery (NMC) register shows the number of people leaving the nursing profession is at its highest since 2017, with nearly 14,000 quitting between April 2021 and September 2021.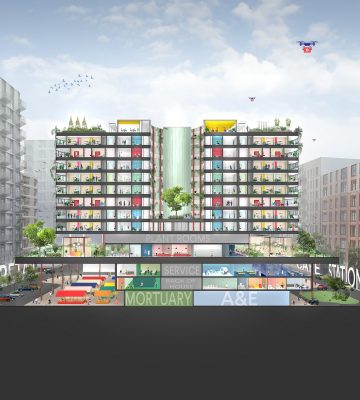 The winning team – led by Ab Rogers Design – now plan to develop a research unit to help develop their ideas further, in the hope of seeing them implemented across hospitals in England.
The Health Secretary, Rt Hon Sajid Javid MP, congratulated Ab Rogers Design and the other entrants and said "the new hospitals built over the next decade will provide 'state-of-the art facilities for staff and patients, prioritising the latest digital technologies, sustainability and modern methods of construction".
The 2021 Wolfson Economics Prize – second only to the Nobel Prize in monetary terms – is evidence of a new focus on the long-term improvement in hospital provision in Britain and globally. In addition to improving the care pathway, the proposals reimagine hospital design and style, including how these vital facilities integrate with their communities.
The four runners-up, which included proposals to base hospital design on neuroscience and the symmetry found in nature, redesign hospitals into starfish shaped pods to modernise hospital activity, reimagine the emergency department, and relocate acute and non-acute health facilities to town centres, will receive £10,000 each.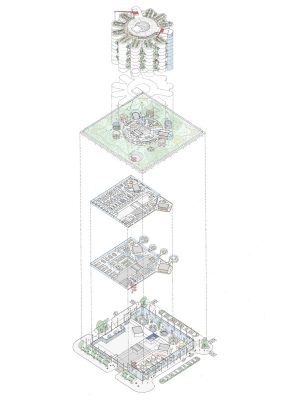 Ab Rogers of Ab Rogers Design said:
"We are thrilled to have won the Wolfson Economics Prize. Our proposal is the result of the collective intelligence of an extraordinary team of hospital workers, patients and thinkers, all coming together to create a humanist hospital. We now look forward to developing this into a real life hospital."
Lord Wolfson of Aspley Guise, founder of the Wolfson Economics Prize and Chief Executive of Next, said:
"This year's Wolfson Economics Prize has generated important new thinking on how to plan and design hospitals. I am thrilled by the quality of the proposals we received, there are so many powerful ideas. Between them they have the potential to radically improve medical outcomes whilst creating spaces that are a pleasure to work, recover in, and visit. The winning entry from Ab Rogers Design is a powerful and compelling proposition where the hospital building itself becomes an intrinsic element of patient care: nurturing people instead of simply housing them."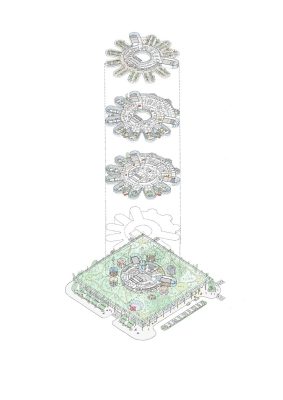 Lord Kakkar, Chair of the Judging Panel and Chair of the King's Fund, said:
"Whilst the Judges were deeply impressed by the calibre of thinking behind each of the finalist proposals, Living Systems stood out. Good hospital care is about teamwork. The submission by Ab Rogers is a visionary proposal to make the hospital itself part of that clinical team, with the building aiding healing and recovery. The result is a thoughtful, consultative design which recognises the needs of human beings in medical environments – whether they are patients, visitors or staff."
Secretary of State for Health and Social Care Sajid Javid said:
"Hospitals are at the centre of people's communities, helping to save lives and keep people healthy, and it is vital they are designed to be fit for the future. We welcome innovative ideas and I congratulate everyone who has taken part in this year's Wolfson Economics Prize.
"The 40 new hospitals we have committed to build over the next decade will provide state-of-the art facilities for staff and patients, prioritising the latest digital technologies, sustainability and modern methods of construction.
"This is how we will deliver world-class facilities for our NHS as well as value for money for the taxpayer, as part of the biggest hospital building programme in a generation."
To view the full submission for 'Living Systems' by Ab Rogers Design, and more information on the Wolfson Economics prize, please visit: www.policyexchange.org.uk/wolfsonprize.
Wolfson Economics Prize 2021 Winner, Ab Rogers Living Systemsimages / information received 241121
New Healthcare Architecture
Bispeberg Laboratory and Logistics, Bispebjerg
Design: Mikkelsen Architects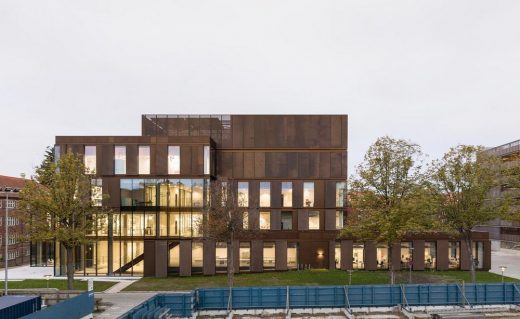 photograph : Hampus Berndtson
Bispeberg Laboratory and Logistics
New hospital Michele and Pietro Ferrero, Verduno, Cuneo, north west Italy
Architects: Aymeric Zublena of Scau Architecture with Ugo and Paolo Dellapiana of Archicura and Ugo Camerino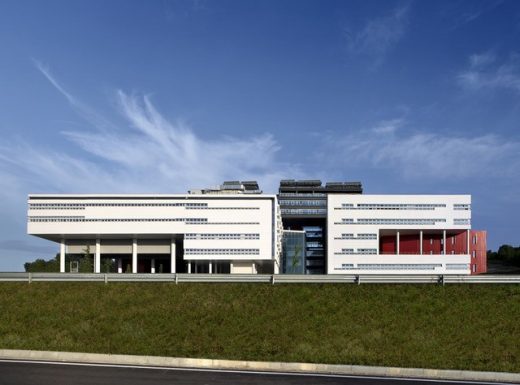 photo : Barbara Corsico
Hospital Michele & Pietro Ferrero, Verduno
Architecture Prizes
Architectural Design Prizes – recent posts added:
RIBA House of the Year 2021 Shortlist
Schelling Architecture Prize 2020
RIBA International Prize 2021 Shortlist
Wolfson Economics Prize
The Wolfson Economics Prize
Created in 2011, the Wolfson Economics Prize has previously sought policy solutions on rethinking roadbuilding (2017), delivering more homes via Garden Cities (2014), and reforming currency unions (2012).
The 2021 Prize question was: How would you design and plan new hospitals to radically improve patient experiences, clinical outcomes, staff wellbeing and integration with wider health and social care?
The judges' panel, Chaired by Lord Kakkar, also includes Professor Brian Donley MD, CEO of Cleveland Clinic, London; Dame Elaine Inglesby-Burke CBE, former Chief Nurse at Salford Royal; Dame Laura Lee, CEO of the Cancer charity Maggie's; Robert A.M. Stern, Founding Partner of Robert A.M. Stern Architects and Nigel Wilson, CEO of Legal & General.
Judges marked nearly 100 entries from more than 250 organisations from 15 different countries.
Policy Exchange
Policy Exchange is the UK's leading think tank. As an educational charity our mission is to develop and promote new policy ideas which deliver better public services, a stronger society and a more dynamic economy.
Comments / photos for the Wolfson Economics Prize 2021 Winner, Ab Rogers Living Systems page welcome