Clarion Housing Group 2022 William Sutton Prize Winner, UK Architecture Awards Shortlist, Architects
William Sutton Prize 2022 Winner
10 March 2022
Mole Architects crowned winners of Clarion's William Sutton Prize
Mole Architects – illustrated sustainability matrix: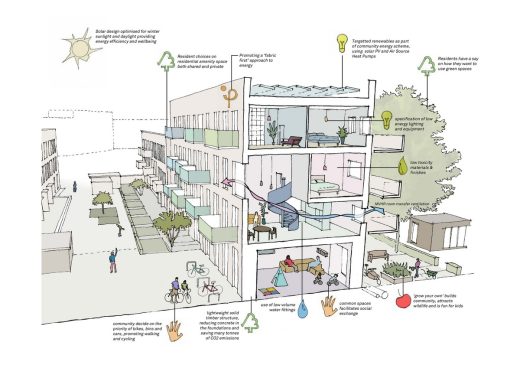 The William Sutton Prize for Sustainability and Placemaking Winner in 2022
Clarion Housing Group has revealed the winners of the fourth William Sutton Prize at an awards ceremony which took place last night, 9 March.
The winner of The William Sutton Prize for Sustainability and Placemaking in its inaugural year is Mole Architects for their proposal for a zero-carbon homebuilding system designed to support the development of Group-Build community housing. The system sets out a step-by-step approach from land purchase to completed building, facilitating community-led housing and tackling associated barriers, with the aim of enabling greater numbers of people to come together to build their own homes.
The aim is to use the £20,000 prize fund to contribute towards the development of an illustrated document and website, forming a toolkit that sets out the approach to engage landowners, local authorities, politicians, and future residents. It will also help fund initial design work on a modular housing system, comprising a building system and engagement model.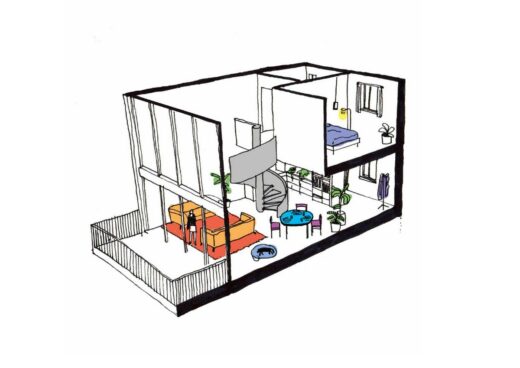 The winning concept will also be trialled on one of Clarion's upcoming development sites, with the Mole Architects team also benefiting from expert support and guidance to turn their idea into reality.
Highly commended was a proposal by Optimised Environments Ltd (OPEN) for a practical toolkit outlining different ways social landlords can provide access to growing spaces and improve connections to the natural environment in order to help improve residents' health and wellbeing. The £5,000 prize money will help expand and refine the existing outline toolkit before it can be piloted on a scheme.
Now in its fourth year, The William Sutton Prize was developed by Clarion Housing Group to celebrate the legacy of its founder, William Sutton, as a 19th century innovator and philanthropist who bequeathed his fortune to improve the quality of social housing.
It encourages individuals and organisations to present a new concept, service or idea that will benefit social housing residents and communities, with a prize fund on offer to help develop the idea and maximise its impact. The funding is provided by Clarion Futures, the charitable foundation of Clarion Housing Group.
The winning entries were determined by a panel led by Clare Miller, Chief Executive of Clarion Housing Group, and including Jas Bhalla, Founder of William Sutton Prize-winning Jas Bhalla Architects, Alastair Mant, Director of Business Transformation at the UK Green Building Council, Matthew Morgan, Director of the Quality of Life Foundation, Usha Sundaram, University of East Anglia (UEA) Governing Council Member and Clarion Futures Board Member, and Richard Cook, Group Development Director of Clarion.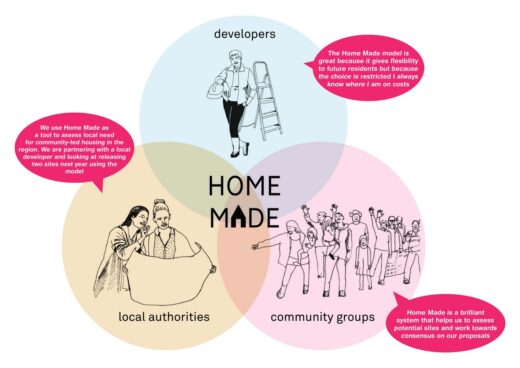 Clare Miller, Chief Executive of Clarion Housing Group, said:
"I'm delighted that we will be supporting Mole Architects and Optimised Environments through The William Sutton Prize. Our winners are inspiring and innovative projects that have the potential to change lives, and that's what the Prize is all about.
"Not only will the winning teams receive financial support, but we'll also be working with them to offer guidance and expertise to help turn their bright ideas into reality. Mole Architects' proposal will be trialled on a future development site and we're excited to see how it can help support community-led housing at scale."
Meredith Bowles, Founding Director and Principal at Mole Architects, said:
"At Mole Architects, we're committed to making this project happen no matter what, but winning The William Sutton Prize means that we can focus proper time and energy, which will give it a much greater chance of success. We'd noticed The William Sutton Prize each year it's happened, and have admired the ethos behind it as much as the fantastic schemes. It fits our aspirations as a practice perfectly and we're excited to have the opportunity to trial our winning project on one of Clarion's upcoming development sites."
Jas Bhalla, Founder of Jas Bhalla Architects and former William Sutton Prize winner, said: "It was an absolute pleasure judging this year's William Sutton Prize for Sustainability and Placemaking; we were overwhelmed by the creativity and variety of the shortlist. Combining innovation with a focus on delivery, Mole Architects' 'Home Made' project was the standout entry. The project builds upon the team's growing expertise in group-build to explore ways of delivering new forms of community housing across the country. Given the importance of diversifying the types of new homes brought forward, 'Home Made' offers an exciting proposition to create new housing focused on the specific needs of a particular community."
To find out more about The William Sutton Prize visit www.clarionhg.com/william-sutton-prize
The William Sutton Prize 2022 Jury
The winning entries for The William Sutton Prize for Sustainability and Placemaking were determined by a panel comprising:
• Clare Miller, Chief Executive of Clarion Housing Group
• Richard Cook, Group Director of Development of Clarion Housing Group
• Usha Sundaram, University of East Anglia (UEA) Governing Council Member and Clarion Futures Board Member
• Jas Bhalla, Founder of Jas Bhalla Architects (winners in the Prize's second year)
• Alastair Mant, Director of Business Transformation at the UK Green Building Council
• Matthew Morgan, Director of the Quality of Life Foundation
The winning entries for The William Sutton Prize for Social Innovation were determined by a panel comprising:
• Clare Miller, Chief Executive of Clarion Housing Group
• Michelle Reynolds, Chief Operating Officer of Clarion Housing Group
• Sebastian Rocca, Founder and CEO of Micro Rainbow (winners in the Prize's first year)
• Rebecca Sycamore, Executive Director of Strategy and Development of St Mungo's
• Jeremy Porteus, Chief Executive of Housing LIN
William Sutton Prize 2022 Winner: Mole Architects images / information received 100322
Previously on e-architect:
5 January 2022
Shortlist for Clarion Housing Group's revamped William Sutton Prize
The William Sutton Prize for Sustainability and Placemaking Shortlist in 2022
William Sutton Prize 2022 Shortlist
The Community Green Hub Toolkit
Optimised Environments Ltd (OPEN)
The Community Green Hub Toolkit by Optimised Environments Ltd (OPEN):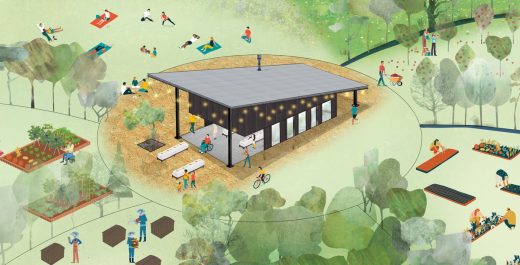 Stanmore Garden Community Masterplan
Greenspace Architects Ltd
EcoVillage, Whixall, Shropshire, England, UK, by Greenspace Architects – Village Green CGI:


William Sutton Prize for Sustainability and Placemaking
26 Mar 2021
William Sutton Prize 2021 Winner
Modular community housing project is winner of Clarion Housing Group's William Sutton Prize
Ecomotive and SNUG Homes and illustrates their proposal for a vibrant hub of community participation that co-produces housing in response to local needs: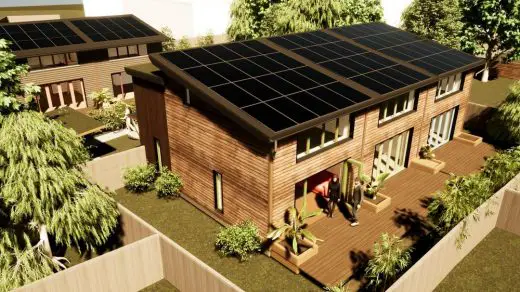 image courtesy of Ecomotive / SNUG Homes
Home-Made Bristol Ecomotive and SNUG Homes: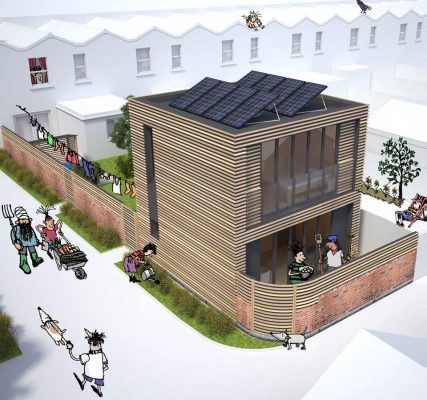 image courtesy of Ecomotive / SNUG Homes
William Sutton Prize 2021 Winner
William Sutton Prize 2020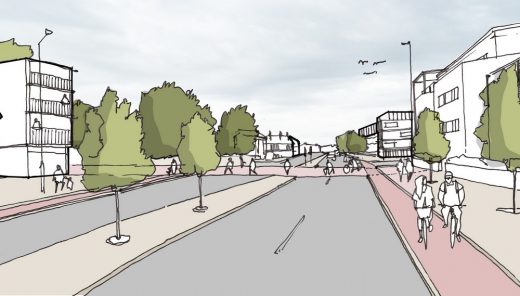 Last year's winner project
www.clarionhg.com/william-sutton-prize
Location: London, UK
Architectural Design
London Architecture Design – chronological list
Pulsa Repulse Bay Development, Repulse Bay, HK, design by Cary Lau – Aedas, Architects: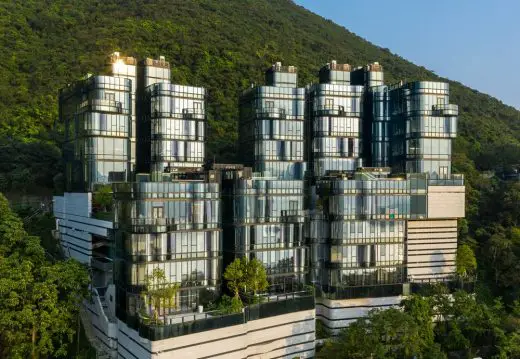 image courtesy of architects
Comments / photos for the William Sutton Prize 2022 Winner: Mole Architects page welcome