Applications open for third year of Clarion Housing Group's William Sutton Prize, UK Architecture Awards, Architects
Clarion Housing Group's William Sutton Prize
24 November 2023
William Sutton Prize 2023 winners
12 Jan 2021
William Sutton Prize shortlist
William Sutton Prize Shortlist 2021
3 Aug 2020
William Sutton Prize
Applications open for third year of Clarion Housing Group's William Sutton Prize
Following the success of The William Sutton Prize in its first two years, Clarion Housing Group has today (28 July) announced that applications are open for the third year of the scheme.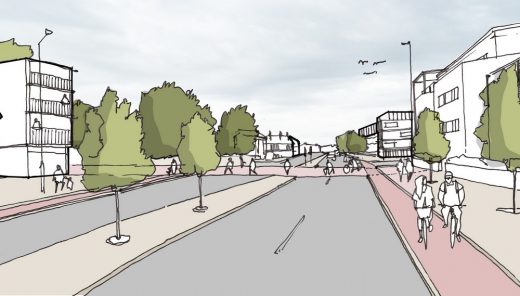 Last year's winner project
Above you can see an image submitted by last year's winner, Jas Bhalla Architects, to showcase their concept.
Clarion is seeking applications from architects and designers for The William Sutton Prize for Placemaking and Affordable Housing Design which recognises an innovative design concept that will improve the quality of life and support the wellbeing of residents and communities. The criteria have been updated to recognise new thinking around community spaces, the renewed sense of community spirit and the important role and impact of community spaces post-lockdown.
In addition to this design-led award, The William Sutton Prize for Social Innovation will be awarded to an individual or organisation that has developed a ground-breaking new product, concept or service that will make a positive social impact on disadvantaged groups or communities. This could include those keen to build on a service or project that was trialled successfully during the coronavirus outbreak.
The William Sutton Prize was developed by Clarion Housing Group to celebrate William Sutton's legacy as a 19th century innovator and philanthropist who bequeathed his fortune to improve the quality of social housing.
Applications have opened later this year due to the impact of the coronavirus outbreak, enabling potential applicants to focus on coordinating their response to the crisis over the past few months. During the outbreak there have been efforts nationwide to use innovative approaches to generate social impact, and it is hoped that the judges will see entries that capture this new burst of innovation across the sector.
There is a prize fund of up to £20,000 on offer for each of the two categories, with the funding provided by Clarion Futures, the charitable foundation of Clarion Housing Group. The winning entries will be determined by a panel of industry experts led by Clare Miller, Group Chief Executive of Clarion, and including Biljana Savic, Director of The Academy of Urbanism and Richard Cook, Group Development Director of Clarion.
The winner of The William Sutton Prize for Placemaking and Affordable Housing Design in 2019 was Jas Bhalla Architects' proposal for a planning policy that encourages the transformation of nine main roads in Outer London into dense, urban streets through place-based design guidance.
Jas Bhalla and Nash Adjaye accepting the award from Chief Executive, Clare Miller: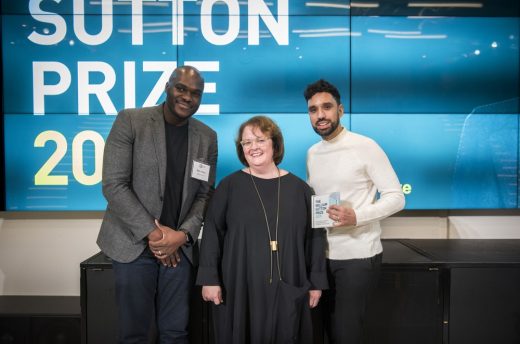 Last year's winner Jas Bhalla (right) and Nash Adjaye (left) accepting the award from Chief Executive, Clare Miller (centre)
Jas Bhalla, Founder of Jas Bhalla Architects, said:
"As a young practice, winning The William Sutton Prize has been a significant boost to our profile and our growing portfolio. Since last November, we have held a number of (largely virtual) discussions with senior policy officers at several London Boroughs, many of whom have got in touch directly to learn more about our research and emerging proposals.
These conversations been a great way of refining the Radial Routes project and discussing how aspects of our work might be reflected in Local Plans across London. As the government announces a further roll out of controversial permitted development rights as a solution to our acute housing shortage, now more than ever we need innovative ideas to demonstrate why proactive planning and placemaking is key to increasing the quantum and quality of affordable housing."
Biljana Savic, Director of The Academy of Urbanism, said:
"I am delighted to be representing the Academy of Urbanism on the judging panel for the third year running. The Academy's mission is to recognise, celebrate and support the creation of great places for all, and we have wholeheartedly supported Clarion in setting up The William Sutton Prize. We find ourselves in extraordinary circumstances this year, but if the Covid-19 crisis has shown us anything, it is just how important well-designed homes and places are for everyone's wellbeing. I very much look forward to seeing the innovative ideas for how this can be achieved."
Clare Miller, Chief Executive of Clarion Housing Group, said:
"Whilst the coronavirus outbreak has seen our lives change in ways we could never have imagined, there have been some positive outcomes, as it has brought communities closer together and encouraged organisations to find creative solutions to challenges faced. We hope to see some of these amongst the entries for this year's William Sutton Prize and look forward to continuing our support for talented and passionate architects, designers and social entrepreneurs."
Applications close at midday on 30 September. To find out more about The William Sutton Prize or to apply, visit here
The winning entries will be determined by a panel comprising:
• Clare Miller, Chief Executive of Clarion Housing Group
• Greg Reed, Clarion Housing Group Board member and CEO of HomeServe Group
• Peter Fortune, Deputy Leader of the London Borough of Bromley
• Biljana Savic, Director of The Academy of Urbanism
• Peter Holbrook CBE, CEO of Social Enterprise UK
• Richard Cook, Group Director of Development of Clarion Housing Group
• Michelle Reynolds, Chief Operating Officer of Clarion Housing Group
About Clarion Housing Group
Clarion Housing Group is the UK's largest provider of affordable housing. We are committed to playing our part in tackling the housing crisis, both as a social landlord and developer of new housing.
More than 350,000 people call a Clarion home their home. Our mission is to provide and maintain good quality housing for our residents and to build communities through high quality design and placemaking.
We are a social business, reinvesting our profits into building new homes and providing support and opportunities to our residents through Clarion Futures, our charitable foundation.
Applications open for William Sutton Prize images / information received 030820
Location: London, UK
Architecture Awards
Velvet Underground Nightclub in Singapore, past winner:



photographs from organiser
London Architecture Design – chronological list
Stratford City



photograph from organiser
Comments / photos for the William Sutton Prize 2020 – 2021 page welcome