Clarion Housing Group 2022 William Sutton Prize Shortlist, UK Architecture Awards Winners, Architects
The William Sutton Prize for Sustainability and Placemaking 2022 Shortlist
10 March 2022
Mole Architects crowned winners of Clarion's William Sutton Prize
Clarion Housing Group has revealed the winners of the fourth William Sutton Prize at an awards ceremony:
William Sutton Prize 2022 Winner
5 January 2022
Shortlist for Clarion Housing Group's revamped William Sutton Prize announced
Clarion Housing Group has today (5 January) revealed the shortlist for the fourth year of The William Sutton Prize:
The William Sutton Prize for Sustainability and Placemaking Shortlist in 2022
Six projects* are shortlisted for The William Sutton Prize for Sustainability and Placemaking focusing on themes such as community-led development, zero carbon homebuilding and tackling public electric vehicle (EV) inequality.
The shortlist includes projects by Mole Architects, an award-winning architectural practice based in Cambridge, Greenspace Architects, an eco-architectural practice with extensive experience of producing high quality, low energy and bespoke architecture underpinned by sustainable design principles, and the London Development Trust, a social enterprise delivering community services that allow the community to lead and determine its own future.
There is up to £20,000 on offer for the winners to help turn their bright ideas into reality, with the funding provided by Clarion Futures, the charitable foundation of Clarion Housing Group.
The winning concept for The William Sutton Prize for Sustainability and Placemaking will also be trialled on one of Clarion's major upcoming development sites, with the winning team also benefiting from expert support and guidance.
A further six projects** will compete for The William Sutton Prize for Social Innovation that will recognise innovative concepts, products or services meeting this year's theme of 'A Home for All'. The shortlist features projects focusing on themes such as intergenerational living, homelessness and supported housing.
The William Sutton Prize was developed by Clarion Housing Group, the UK's largest provider of affordable housing, to celebrate the legacy of its founder, William Sutton, as a 19th century innovator and philanthropist who bequeathed his fortune to improve the quality of social housing.
The winning entries will be determined by a panel led by Clare Miller, Group Chief Executive of Clarion, and including Jas Bhalla, Founder of William Sutton Prize-winning Jas Bhalla Architects, Alastair Mant, Director of Business Transformation at the UK Green Building Council, Matthew Morgan, Director of the Quality of Life Foundation, Usha Sundaram, University of East Anglia (UEA) Governing Council Member and Clarion Futures Board Member, and Richard Cook, Group Development Director of Clarion.
Clare Miller, Chief Executive of Clarion Housing Group, said:
"In the fourth year of The William Sutton Prize, we narrowed our focus in the hope of identifying concepts that could tackle some of the key issues affecting society today. I look forward to seeing how these creative projects will make a real difference in their communities, and it's a real honour to be able to support them through the Prize."
Jas Bhalla, Founder of Jas Bhalla Architects and William Sutton Prize winner in 2019, said:
"The shortlist for this year's William Sutton Prize brings together some truly innovative, ambitious, and crucially, deliverable proposals. Whilst the projects are incredibly diverse in terms of scale and type, each shortlisted entry presents a compelling proposition about how to improve the design quality and environmental footprint of new places. I very much look forward to meeting the applicants and learning more about each proposal in due course."
The winners in both categories will be announced at an event on 9 March.
To find out more about The William Sutton Prize visit www.clarionhg.com/william-sutton-prize
The William Sutton Prize for Sustainability and Placemaking Shortlisted Entries
*Shortlisted entries for The William Sutton Prize for Sustainability and Placemaking:
Home Made
Mole Architects
Mole Architects – illustrated sustainability matrix: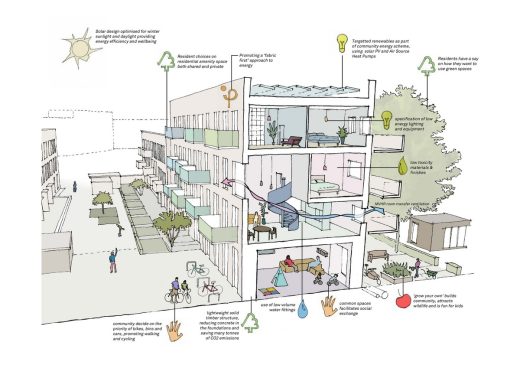 A proposal for a zero-carbon homebuilding system supporting the development of group-build community housing. By setting out a step-by-step approach from land purchase to completed building, it will create a methodology for community-led 'Group-Build' housing, that could lead to greater numbers of people being a part of this revolutionary movement.
The Community Green Hub Toolkit
Optimised Environments Ltd (OPEN)
The Community Green Hub Toolkit by Optimised Environments Ltd (OPEN):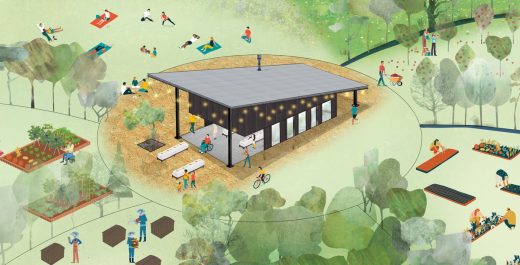 A toolkit and model approach for providing a truly innovative community green hub for new and existing communities. It gathers various threads including Biodiversity Net Gain, re-wilding, healthy spaces, active travel, outdoor spaces for social interaction and education relating to the natural world into an inspirational planning and design resource.
Stanmore Garden Community Masterplan
Greenspace Architects Ltd
EcoVillage, Whixall, Shropshire, England, UK, by Greenspace Architects – Village Green CGI:


The far-reaching ONE Housing Scheme is an idealised masterplan for a development of mixed-tenure housing using Garden City principles to help people live in their own homes for longer, regardless of age, income or ability. Greenspace Architects now wish to test this across mixed age groups on an actual site at Stanmore.
My Place
London Development Trust
My Place is piloting an innovative approach to neighbourhood development which prioritises the needs of existing communities by commissioning young people to research and advocate for their local communities, connecting them to local decision-makers and encouraging young community leaders and local decision-makers to work together to co-create neighbourhood development.
Accessible public electric vehicle (EV) charging infrastructure
Connected Kerb
A project to demonstrate how affordable and accessible public electric vehicle (EV) charging infrastructure can be deployed to tackle EV inequality and drive greater EV adoption amongst communities traditionally under-represented in the EV transition.
YorSpace: a replicable housing model for affordability, sustainability and community
YorSpace CLT Ltd
YorSpace Community Land Trust has developed an innovative, scalable model for community-led development. This involves acquiring existing sites to create affordable zero-carbon housing and other community assets that are invested in, and managed by, local communities. Morrell House is a pilot project demonstrating the model's applicability to the rental sector.
**Shortlisted entries for The William Sutton Prize for Social Innovation:
Two Front Doors
Hill Patru Architects (formerly Adrian Hill Architects)
'Two Front Doors' is a concept for true intergenerational living in a high density urban scenario. Inspired by Transylvanian farmhouses, the innovation consists of pairing a smaller apartment with a larger one, forming a 'linked unit'. When desired, the apartments can share a room and a terrace but they have separate entrance doors, giving each of them a distinct presence. A nuclear family can live next door to an elderly couple, using the space in between for common activity. When required, the room in between can become an extra bedroom to either unit. Having won the 'Intergenerational Living – Housing for the Future' competition (Enfield & MTVH, 2020), the aim is to develop the proposals, demonstrate how concepts can be implemented and take the project to a pilot scheme.
Agile Homes
Agile Property & Homes Ltd
A unique, rapid-response housing solution that enables the delivery of high quality, space-compliant, low-carbon, affordable homes. By unlocking land that's free and hidden in plain sight, Agile Homes can deliver truly affordable homes for social rent, shared ownership and open market sale.
Pride of Place Living
Pride of Place Living
Pride of Place Living will provide multigenerational, life-long and inclusive living for LGBTQ+ people in Leeds, particularly those aged over 50. LGBTQ+ communities are disproportionately affected by homelessness, familial rejection and social isolation. Residents will live in a safe and supportive living environment with full acceptance and part of a multi-generational community.
Insightful allocations – understanding, applying and measuring new insights from the psychology of poverty
University of Birmingham
Utilise insights from the psychology of poverty to design an empathetic allocation process. The aim is to put the heart back into allocations, to build relationships with new tenants and staff that result in sustainable tenancies, designing impact measures and training to scale the approach.
The Growing Project
Grand Union CIO
To develop a business plan to create a regenerative urban farm project set in Sandwell, West Midlands. The farm will house 10 work/live units and enable people who are currently vulnerably housed and whose needs are not met within the current supported housing system to work and live together.
Danger Zones Diagnostic Assessment Tool
Depaul UK
Depaul UK have co-produced a tool that empowers young people experiencing homelessness to describe their subjective experiences of temporary housing in a standardised way. They plan to develop this tool into an online platform to support frontline organisations to identify young people living in dangerous accommodation and protect them from harm.
William Sutton Prize for Sustainability and Placemaking 2022 Shortlist images / information received 050122
Previously on e-architect:
William Sutton Prize for Sustainability and Placemaking
26 Mar 2021
William Sutton Prize 2021 Winner
Modular community housing project is winner of Clarion Housing Group's William Sutton Prize
Ecomotive and SNUG Homes and illustrates their proposal for a vibrant hub of community participation that co-produces housing in response to local needs: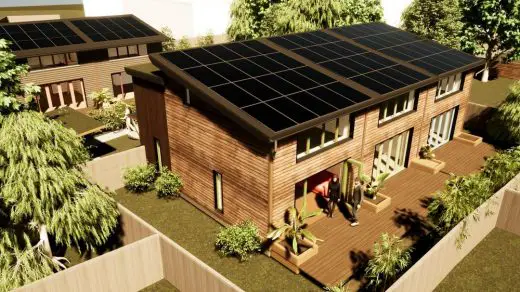 image courtesy of Ecomotive / SNUG Homes
Home-Made Bristol Ecomotive and SNUG Homes: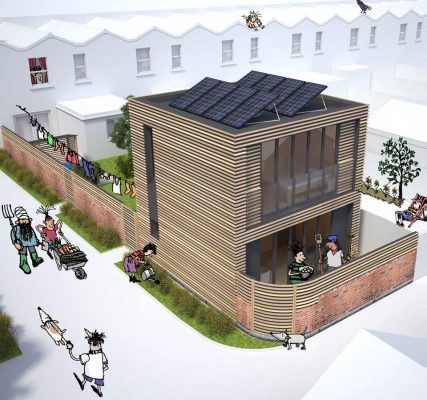 image courtesy of Ecomotive / SNUG Homes
William Sutton Prize 2021 Winner
William Sutton Prize 2020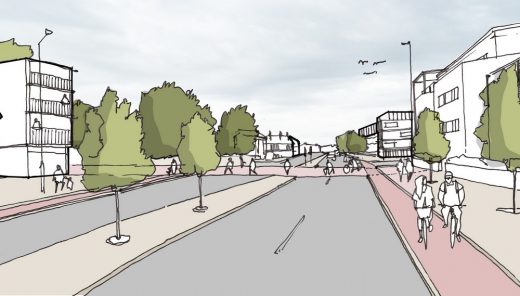 Last year's winner project
www.clarionhg.com/william-sutton-prize
Location: London, UK
Architectural Design
London Architecture Design – chronological list
Pulsa Repulse Bay Development, Repulse Bay, HK, design by Cary Lau – Aedas, Architects: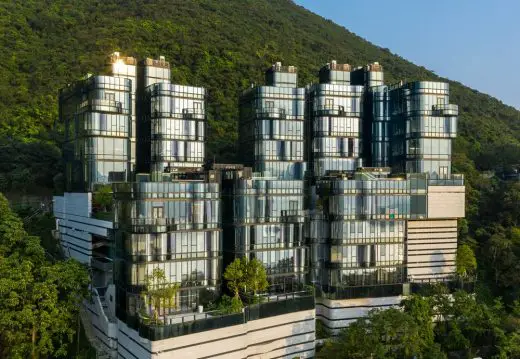 image courtesy of architects
Comments / photos for the William Sutton Prize 2022 Shortlist page welcome