World Architecture Festival Awards Shortlist, Buildings, News, Winners, Architects
World Architecture Festival Awards Shortlist 2009, Barcelona
WAF : International Architectural Prize, Spain
WAF Awards Shortlist 2009 Part 2
Future Projects
World Architecture Festival Awards Shortlist 2009 2 – buildings & architects information
World Architecture Festival Awards Shortlist 2009 2 – Commercial Future Projects
Automotive Showroom and Leisure Center, Cairo, Egypt, Manuelle Gautrand Architecture, France
A vast sculpture of circles and spheres, which are stuck together, used as a car showroom
Bodrum Buyuk Kulup, Mugla, Turkey, EAA-Emre Arolat Architects, Turkey
Settled on Salvaraga Hill, an invisible 'landscape-building' containing several terraces
Central Embassy, Bangkok, Thailand, Amanda Levete Architects, United Kingdom
Located on Bangkok's primary commercial artery, a new architectural landmark in which the design merges a podium and tower into a continuously twisting coil
Central Embassy
Architects: AL_A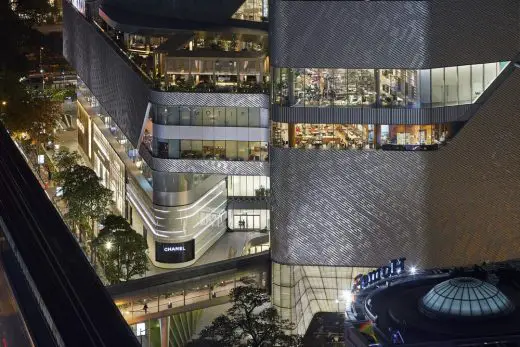 photograph © Hufton Crow
Central Embassy Bangkok Building
Chongqing Gomei shopping mall, China, Aedas, Hong Kong
A series of metal planes that tilt, interlock and stack up on top of one another with a roof top path that is extensively landscaped
Corporate Village, Mriehel, Malta, Architecture Project, Malta
A transparent and open area of offices, located within a Brownfield site within what has been an industrial zone
Floating Hotel, Dublin, Ireland, NMA Architects, Ireland
110 bedroom hotel including restaurant boasting 360 degree views, located on the river Liffey within the heart of the Dublin docklands financial area
H20-tel, Amsterdam, Netherlands, RAU, Netherlands
A five star city habitat next to the Amstel train station, with a system of bay windows and terraces with vertical gardens
Kensington Krystal, Dubai, United Arab Emirates, P&T Group, Hong Kong
An office building with a small amount of retail space, the traditional reflective glass tower has been re-assembled with inclined columns
Kuggen, Gothenburg, Sweden, Wingårdh Arkitektkontor AB, Sweden
A circular building growing in size as height increases, with triangular windows, situated next to a university campus
Los Angeles NFL Stadium, City of Industry, USA, Aedas Sport, USA
A state-of-the-art, 75,000 seat stadium with an asymmetrical configuration
Pavilion 8 & Restaurant Archipel, Lyons, France, Odile Decq Benoît Cornette Architects & Urban Planners, France
A renovation of the docks between the two rivers, Rhone and Saône, suspended on a huge three dimensional structure on three big steel columns
Pazhou Exhibition Center, China, Aedas, Hong Kong
Centrally located, a glass walled building with stacked rectangles of office blocks staggered on the roof
Shimao Wonderland Intercontinental, Songjiang, China, Atkins, United Kingdom
A 400 bed, five star resort hotel located in an unusual situation within a large water filled quarry
Sino Steel International Plaza, Tianjin, China, MAD Architects, China
A new organic landmark consisting of a hexagonal façade, multiplying and growing across the building
Statoil Hydro Office, Oslo, Norway, A-Lab, Norway
Situated within a new landscape plan, a six-storey atrium space with meeting centre and restaurants
Top Code, Imola (Bologna), Italy, Lellie & Associati Architettura, Italy
A little business tower with the landscape consisting of hills on one side and a plain on the other. The external is skin made of glass
World Architecture Festival Awards Shortlist 2009 2 – Competition Entries Future Projects
Al Sahan City, Doha, Qatar, Surbana International Consultants, Republic of Singapore
Located south of Doha on the current airport site, consisting of various luxury commercial areas and a central dome
Aqaba Bus Terminal & Plaza, Aqaba, Jordan, Maisam Architects & Engineers, Jordan
Strategically located at the arrival point to the city with a dramatic sweep of the roof plaza which provides uninterrupted views of the Aqaba Bay
Binb, Tehran, Iran, Eleni Kostika Architecture, Greece
Mixed use development in the centre of Tehran , including commercial, retail and residential space.
Crystal Island, Shenzhen, China, ZB Studio, Afghanistan
Redesign of a district of Shenzhen city centre.
Entangled Bank, Dallas, USA, Little, USA
Series of horizontal green spaces and vertical farms promoting future growth and development of the bank
House of Arts and Culture, Beirut, Lebanon, Mikou Design Studio, France
A building shaped like a series of stacked cubes, referencing different types of Lebanese culture, including cinemas, opera, a film library, and exhibition spaces
Masdar Plaza, Masdar, United Arab Emirates, LAVA Laboratory for Visionary Architecture, Australia
An adaptive village environment, an 'oasis of the future' with weather sensitive features and a five star hotel
Nanjing Suning Plaza, Nanjing, China, Aedas, Hong Kong
One of the largest economical zones in China, a complex with dynamic curves consisting of commercial, residential and waterfront recreational area
New Passenger Terminal/Zagreb Airport, Zagreb – Velika Gorica, Croatia, Kincl Ltd, Croatia
The updated terminal boasts a planned railway connection, a steel roof and other energy efficient features
Szentendre Cemetery, Szentendre, Hungary, A4 Studio, Hungary
Important cultural and arts area, a planned landscaped graveyard with several buildings and botanical garden
Tall Emblem Structure of Dubai Zaabel Park, Dubai, United Arab Emirates, MoChen Architects & Engineers, China
Composed of 1001 units with different sizes featuring an electronically controlled wall and using solar and wind power systems
The New Qingpu Wetlands, Shanghai, China, Logon Co. Ltd, China
Situated in the Western core of Qingpu New City, this ecopark solution is a breath of fresh air right in the city
Tianjin Eco-City, Tianjin, China, Surbana International Consultants, Republic of Singapore
Situated very close to Beijing, this distinctive eco-city consists of a residential sub-centre, a compact core and a solarscape
Tianjin History Museum, Tianjin, China, Perkins & Will, USA
A traditional Chinese building with galleries wrapped around a courtyard, with water and pedestrian walkways.
Zagreb Passenger Terminal, Zagreb, Croatia, Tower 151 Architects, Croatia
Extremely modern terminal with internal levels, an enclosure and a pier
World Architecture Festival Awards Shortlist 2009 2 – Cultural Future Projects
Bombay Arts Society, Mumbai, India, Sanjay Puri Architects, India
Fluid forms meshed together constitute this small, mixed use building, with fluid spaces across the three lower levels
Congress Centre, Krakow, Poland, Ingarden & Ewy Architects, Poland
Occupies a plot near an important car, bus and tram road junction with a glazed, three storey high foyer
Eyup Municipality Marriage Hall, Istanbul, Turkey, EAA-Emre Arolat Architects, Turkey
Eyup is Istanbul's first Ottoman Turkish settlement and a popular tourist attraction. The hall has a picturesque walking ramp on the waterfront of Golden Horn
Freedom Park Phase 2, Pretoria, South Africa, GAPP Architects/Urban Designers; Mashabane Rose Associates;
MMA Architects, South Africa
An interpretative centre celebrating African heritage situated on a prominent and ecologically sensitive hill overlooking the capital city of Tshwane.
Hoki Collection, Chiba-shi, Chiba-ken, Japan, Nikken Sekkei Ltd, Japan
Located on the boundary between forest and city, this tunnel-like steel structure floats like a bridge
Kosterhavet Visitors Centre, Sweden, White Arkitekter AB, Sweden
Sweden's first Marine National Park, located on South Koster Island, an island protected for its unique archipelago, marine life, nature and cultural values. The visitors centre consists of three buildings, two of which sit in the water and appears to hover over the surface
Massar Children's Discovery Centre, Damascus, Syrian Arab Republic, Henning Larsen Architects, Denmark
Unique location at the heart of Damascus, a low energy building with a plateau rising from the riverbed of the Barada River
Musee de Louvain-la-Neuve, Louvain-la-Neuve, Belgium, Perkins & Will, USA
Sited between the main square of the city of Louvain-la-Neuve and Belgium, an exhibition tower and a park-covered base which contains public functions
Pheonix International Media & Culture Center, Beijing, China, MoChen Architects & Engineers, China
Located adjacent to Beijing Chaoyang Park, the project is based on a studio production centre of a well-known media named Phoenix
PNF Head Office, Concelho Santa Catarina – Cova Figueira, Cape Verde, OTO & Jorge Graça Costa Architect, Portugal
Includes three main areas: the exhibition area, the exterior auditorium area and a semi-buried auditorium space with pedestrian paths exiting on to a green roof
Regional Founds of Contemporary Architecture (Frac Bretagne), Rennes, France, Odile Decq Benoît Cornette Architects and Urban Planners, France
A square, glass building with a vertical promenade and exhibition areas
sMoT (Smålands Musik och Teater), Jönköping, Sweden, Wingårdh Arkitektkontor AB, Sweden
Situated in the city of Jönköping it is a regional scene for music and theater, twisted as a spiral, transparent, compact and meandering
Spanish Pavilion for 2010 Expo Shanghai, China, Miralles Tangliabue Embt, Spain
Large patios, in the form of different coloured wicker baskets, compose the pavilion which is an exhibition
Sperone Westwater Gallery, New York, USA, Foster & Partners, United Kingdom
Gallery design incorporating a mezzanine floor and double-height display area at street level, a sculpture terrace towards the park and a private viewing gallery at the top of the public floors.
World Architecture Festival Awards Shortlist 2009 2 – Education Future Projects
Chetham's School of Music, Manchester, United Kingdom, Stephenson Bell, United Kingdom
A carved, solid building, housing the largest Music School in the UK, with a new bridge link allowing daily secure access
EKA, Tallinn, Estonia, EFFEKT, SEA Architects, Denmark
A centre of art for students and teachers housed in a beautifully proportioned square tower, featuring a spiral void at the heart of the building
Kuwait University College of Arts, Kuwait City, Kuwait, Perkins & Will, USA
A College of Arts Building enabling students to enjoy the benefits of campus life and instill a sense of inhabiting an academic community
Malama Learning Centre, Kapolei, USA, Eight Inc, USA
A learning centre which is designed to respond to West Oahu's environmental conditions, built with natural minerals relying on renewable local resources such as sun, wind and recyclable water for its support
Marcel Sembat High School, Sotteville lès Rouen, France, Archi5, France
High School located either side of a road and connected by a bridge has been designed in six buildings to reflect different periods from the 30s – 90s
Prototype Child-Friendly School in Sierra Leone, Kondoma, Sierra Leone, Article 25, United Kingdom
Working with 'Save the Children', Article 25 is developing a new prototype for schools in Sierra Leone which will create a safe and child friendly education environment for thousands of children for years to come
World Architecture Festival Awards Shortlist 2009 2 – Experimental Future Projects
Biooctanic, Zagreb, Croatia, Upi-2m, Croatia
The creation of utility towers (vertical farming) to produce bio fuel, utilising bamboo and algae, in order to allow increased agricultural areas to be used for the growing of food
Das Urpflanza Haus, Sunapee, USA, The Boston Visionary Cell Inc, USA
The development of housing from plant materials enabling people to live in a world-wide garden
Islands – Conceptual Projects on the Water, Sochi, Russia, A.Asadov Architectural Studio, Russia
A series of projects which act as alternatives to man-made islands – these projects can be made in a wide range of water areas. Projects could include an air-hotel, pier-hotel and an Olympic island
Mobile Performance Venue, Various Architects, Norway
A lightweight and easily transportable venue to allow a five screen cinematic performance within a unique structure. The current design would make the Mobile Performance Venue the largest mobile venue in the world
Reimagining Madrid's Plaza Mayor, Madrid, Spain, Rockwell Group Europe, S.L, Spain
Description of three distinct visions which would infuse energy into Madrid's historical centre, and reintroduce elements of nature, art and spectacle
Timber Stadium, United Kingdom, dRMM, United Kingdom
Proposal for a timber stadium to produce an optimized stadium structure with minimum material and waste
World Architecture Festival Awards Shortlist 2009 2 – Health Future Projects
Al Jalila Children's Speciality Hospital, Dubai, United Arab Emirates, Studio Altieri Spa, Italy
Design for the "Al Jalila Children Speciality Hospital" in Dubai, which reviews the traditional canons of hospital design, applying innovative concepts where the architecture is strongly integrated with the child healing process to enhance the hospital's therapeutic performance
Extension of Islamia Eye Hospital, Dhaka, Bangladesh, Shatotto, Bangladesh
Hospital extension that ecompasses water and greenery as the essence of Bangladesh, incorporating public realm and sustainable features to withstand the 'mother climate'
World Architecture Festival Awards Shortlist 2009 2 – Infrastructure Future Projects
Main Station Stuttgart, Stuttgart, Germany, Ingenhoven Architects, Germany
A minimalistic concrete shell construction to renovate Stuttgart's existing main railway station and its development as a through station below ground level, to aid the development of the high speed railway network
Sea Passenger Terminal (With Khalid Molato), Tangier, Morocco, Odile Decq Benoît Cornette Architects and Urban Planners
Tangier Med is a passenger harbour for increasing traffic, containing equipment and amenities for all types of passengers and traffic
Thinking Beyond The Station: Aguasaclientes City Surburban Train, Aguascalientes, Mexico, RVDG Arquitectura & Urbanismo, Mexico
Approaches infrastructure and transit facilities that articulate social and urban fragmentation, positioning Aguascalientes in the regional map for best cities to live and invest
World Architecture Festival Awards Shortlist 2009 2 – Landscape Future Projects
East London Green Grid, London, United Kingdom, Design for London, United Kingdom
A strategy to attract and direct investment in the green and open spaces of East London in order to create a "multi-functional green infrastructure", combining better visitor and community amenities, flood mitigation and biodiversity, with a better urban environment
Markham Centre Park & Civic Mail, Markham, Canada, Janet Rosenberg & Associates, Canada
New urban park that features integral additions to the Markham Community and a response to the town's strategy to create a sustainable, mixed-use town centre that will act as a focus of town-wide events and activities
Plaza Dubai, Dubai, United Arab Emirates, WS Atkins, United Arab Emirates
Conceived as a response to the privatization of public space in Dubai, it offers a completely open and democratic venue for Dubai's inhabitants and visitors and as such forms a new centre point for the city between the Emirates Towers and the Dubai International Financial Centre
World Architecture Festival Awards Shortlist 2009 2 -Masterplanning Future Projects
Bloemendalerpolder, Muiden/Weesp, Netherlands, Strootman Landscape Architects, Netherlands
A 500 hectare plan situated on the River Vecht to the east of Amsterdam includes 2,350 houses and associated infrastructure conceived as one overall composition with the landscape and city merged into one
Cobh Urban Design Feasibility Study, Co. Cork, Ireland, Scott Tallon Walker, Ireland
An urban design and development strategy for the Cobh Waterfront to leverage its history and position itself as a place to live, to work and to visit
Grangegorman Masterplan, Grangegorman, Ireland, Moore Ruble Yudell Architects & Planners, USA
Masterplan to create a new higher learning campus for Dublin Institute of Technology (DIT) and Ireland's national health care service (HSE) as a vibrant urban quarter on one of Dublin's largest undeveloped pieces of land
Green Office 2015, Netherlands, RAU, Netherlands
An urban planning contribution to the inner city experience and its integration into the surrounding areas
Holbæk Harbour Masterplan/DGI Sports and Leisure Centre, Holbæk, Denmark, Schmidt Hammer Lassen Architects, Denmark
Masterplan and complex forming part of the transformation of the town's historic commercial and transportation port into an attractive urban area close to the inlet, ensuring better integration with the water and making the harbour accessible to all
Magok Waterfront, Seoul, South Korea, Samoo Architects & Engineers, South Korea
Masterplan for one the few remaining large-scale undeveloped sites within the city limits of Seoul, located on the western fringes of the city, with direct linkages to the Han River
New Urban Centre, Riga, Latvia, Fletcher Priest Architect, United Kingdom
The proposals redevelop a 46 hectare area on the left bank of the Daugava River adjacent to the city's UNESCO World Heritage Site on either side of one of the city's main railway lines
Nordholmene, Copenhagen, Denmark, COBE, Denmark
With 200 ha, Copenhagen's Nordhavn (Northern Harbour) is the largest urban transformation project in Scandinavia. The area, today used as harbour, will be transformed into a new Copenhagen neighbourhood, providing accommodation for 40,000 residents.
Our City-Our Urban Spaces, København V, Denmark, Entasis, Denmark
A sustainable and politically approved urban project for transforming the industrial site of an old Danish brewery into a part of Copenhagen city.
Ruta del Peregrino, Ameca to Talpa de Allende, Mexico, Tatiana Bilbao (Tatian Bilbao), Dellekamp Arquitectos (Dellekamp Derek), Periferica (Montiel Rozana) Mexico
Plans for stations at vital points throughout the route of a pilgrimage route extending 117 kilometers in Jalisco, Mexico, which is travelled every year by over two million people from different states of Mexico
Sinpas Eco-Town, Istanbul, Turkey, EAA-Emre Arolat Architects, Turkey
Eco Town in Turkey including a series of interlinked waterways around which the accommodation is designed
Wieringen Passage, Wieringen, Netherlands, Strootman Landscape Architects, Netherlands
This new passage to the south of the former island of Wieringen is intended to connect the Amstelmeer with the IJsselmeer. Around 2000 new permanent and recreational dwellings are planned in and around the passage
Residential Future Projects
360º Building, São Paulo, Brazil, Isay Weinfeld, Brazil
360º Building will be erected in São Paulo, the largest city in Brazil, where currently over 10 million people live. Leaving the street and past the reception, a suspended walkway will lead to the building's lobby, surrounded on all sides by a reflective pool
AZ House, Adma, Lebanon, Nabil Gholam Architects, Lebanon
The house is located on a 1050 m2 area on the Maamltein cliff with spectacular views towards the open sea of the Junieh city bay. The ground floor has almost six metre clear ceiling height giving rise to a large space, highlighting the view and the drop of the cliff
BcD Residences, Mugla, Turkey, EAA-Emre Arolat Architects, Turkey
BcD Residences comprises 81 housing units, overlooking a castle or sea view
Block 36, Cairo, Egypt, Shahira H. Fahmy Architects, Egypt
Block 36 is a residential block in a new mixed use city center in West Cairo. The development is located in the raw desert between Cairo-Alexandria desert road and the city of Sheikh Zayed
Digby Road, London, United Kingdom, Stephen Davy Peter Smith Architects, United Kingdom
Digby Road is a new-build residential project of 98 affordable residential units (10% disabled units).
Fake Hills, Beihai, China, MAD Architects, China
Residential apartment building, providing both a high density solution and a new landmark for the city
For a Sustainable Living, Hauts de Seine, France, Mario Cucinella Architects, Italy
This residential building was the result of an ideas competition organised by the Cité de l'Architecture et du patrimoine in Paris. The building is arranged over six floors and is located in Boulogne Bilancourt just outside Paris, conceived as a series of overlapping timber layers
House in Dublin, Dublin 4, Ireland, Amanda Levete Architects, United Kingdom
Private home featuring a softly curved roof surface, perforated with multiple windows of varying diameter, wrapped around the house creating a tree-like canopy and filtering dappled light into the interior
Ironbark, the Ecovillage, Currumbin, Australia, Design Forum Architects, Australia
The residential design includes a home, retreat and office in the newly released eco estate called "The Highlands".
Kisebuku Summer Resort, Mugla, Turkey, Tabanlioglu Architects, Turkey
Located near Bodrum, local stone, wood and glass are the materials used to compliment the existing greenery and the sea view
Knit Atelier-House, Berlin, Germany, FabriKG, Mexico
Located in Berlin, the plot is situated inside an existing housing block that was bombed in the Second World War. Inspired by the surrounding park where the old trees set their mark on the whole space
Liqueur Project, Istanbul, Turkey, EAA-Emre Arolat Architects, Turkey
Residential redevelopment of 1930s Liqueur and Cognac Factory
Mero Beach Project, Dominica, BURO II, Belgium
Development will become a new landmark for the coastline of Dominica without overshadowing its nature. Central walkway will connect the beach and village
Natura, Estado de Mexico, Mexico, Archetonic S.A. de C.V, Mexico
Development consists of 344 apartments developed in 7 independent buildings with two parking underground levels, common areas for recreational uses as well as multi-use rooms, pools, gymnasium, business centre, private balconies and terraces for each living space.
S.A. Residence, Dhaka, Bangladesh, Shatotto, Bangladesh
Private home; the south and the southeast have been designed to bring in the cool breeze during the hot humid summer and the warmth of the sun during winter. The centre "water court" acts as a natural exhaust, which flows out the hot air and makes the middle court a solace
Sens, Mexico D.F, Mexico, Archetonic S.A. de C.V, Mexico
A residential development located in Cuajimalpa, Mexico City.
Skygate, Beirut, Lebanon, Nabil Gholam Architects, Lebanon
Urban apartments stacked above a convivial plaza, which leads to a 10m high lobby. These 'villas in the sky' look over the Lebanese Mountains and Mediterranean Sea and feature well lit spaces and variably dimensioned balconies and terraces
Location: Barcelona, Spain
Building of the Year – 2008
Universita Luigi Bocconi, Italy
Grafton Architects



photo : Federico Brunetti
University Luigi Bocconi
WAF Awards Shortlist 2009 Part 1
World Architecture Festival Awards
World Architecture Festival Awards Seminars 2009
WAF Awards 2008 : 2008
Comments / photos for the World Architecture Festival Awards Shortlist 2009 2 – i.e. Part 2 page welcome
WAF – Website: www.worldarchitecturefestival.com