Schindler Award 2011, Buildings, Project, News, Architects, link it Design, Property
Schindler Award Winners
International Architecture Prize – Winners News
17 Jan 2011
Swiss team takes top honors at Schindler Award 2010
Schindler Award 2011 Winners News
Three students from Bern's University of Applied Sciences have won 1st prize in the Schindler Award architecture competition, run by the elevator company Schindler. The competition, which challenges young architects to design barrier-free urban environments, also awards schools' prizes, with 1st place going to Russia's Ufa State Petroleum Technological University.
The winning projects were announced on January 14, 2011, at a special Schindler Award ceremony at the KOSMOS in Berlin, Germany. They were selected from a total of 174 designs submitted by students or teams from schools of architecture across Europe.
Schindler Award 2010 First Prize – design: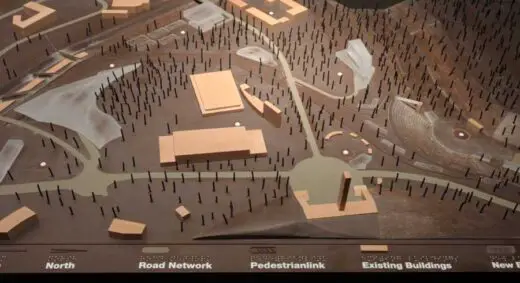 Taking top honors and prize money of €5,000 were Simon Moser, Daniel Meier and Simon Peter Roesti for their project "link it". Second prize went to two architects from the University of Lund in Sweden, with a Russian team from Ufa State Petroleum Technological University (USPTU) taking third. The Russian team's professors were on hand to collect the 1st Schools' Prize, a research grant of €25,000, in recognition of the architecture faculty's support for the Schindler Award, and for integrating the topic of accessibility into its curriculum. Second and 3rd schools' prizes went to the Bauhaus University Weimar, Germany and the University of Belgrade, Serbia.
The president of the jury, Professor Françoise-Hélène Jourda, praised the quality of the designs submitted, describing them as "seriously minded" – rather than "utopian", as is often the case in architectural competitions. She added that, from a technical standpoint, all of the designs could have been realized immediately.
Schindler Award 2010
30 Apr 2010 deadline – registration
30 Jul 2010 deadline – submission
22 Sep 2009
Opening of the Schindler Award 2010
One of Europe's leading architectural competitions, the Schindler Award, is now accepting applications for its 2010 edition. Students of architecture are invited to put forward visionary design ideas for developing an area of the grounds that were used for Berlin's 1936 Olympic Games. The central theme of the competition is "Access for All", a design philosophy characterized by inclusiveness and barrier-free mobility for people of all ages and capabilities.
Key Visual Schindler Award 2010:


The Schindler Award is an excellent opportunity for graduating architects to have their designs judged by a professional jury. It is open to architecture students who are either in their last year on a bachelor's course or attending a master's course at a European university or school of architecture.
Students interested in participating in the 2010 competition should register online at www.schindleraward.com. The closing date for registrations is April 30, 2010. Completed projects must be submitted by July 30, 2010.
Visions for an enhanced and accessible "Olympic Park Berlin" The 2010 competition sets participants the task of transforming an area on the western fringe of the "Olympic Park Berlin" into a pleasing, functional and fully accessible sport and leisure park. Students must redevelop the site – which contains sporting facilities, an open-air theater and car parks – and develop a new access route from a nearby urban transit station.
The site is of historical significance because it is part of the "Olympic Park Berlin", which the Nazis tried to exploit as a propaganda stage during the 1936 Games. Instead the event turned into a triumph for the black American athlete, Jesse Owens, who won four Gold medals, including one in the all-important men's 100 meters.
A new approach
The Schindler Award seeks to change the way young architects approach their work. It challenges them to think beyond form, light and materials and to focus on the needs of the people who will eventually inhabit the structures and spaces that they design. It has the goal of improving access and overall mobility for all city dwellers, irrespective of their age, status or physical capabilities.
The Award competition also encourages schools of architecture to incorporate "Access for All" into their curricula, by awarding schools' prizes. A notable example is the Bauhaus University, Weimar, Germany, whose lectures on the topic were recently adapted into essays for a book: Access for All, Approaches to the Built Environment, published by Birkhäuser in September 2009.
The Schindler Award is held under the patronage of the Schindler Group, a leading global mobility company specializing in elevators and escalator solutions for all building types.
The Schindler Award information received 220909
Schindler Award Images
Competition Site 1
'Waldbühne': Spectacular open-air theatre for up to 22,000 spectators


Jury President
Prof. Françoise-Hélène Jourda


Panorama Competition Site 2
Train station 'Pichelsberg' of the S-Bahn urban transit sytems


Panorama Competition Site 3
Panorama West Glockenturmstrasse


Location: Berlin, Germany, western Europe
Architecture Awards
Architectural Design
EPIQ Building, Quito, Ecuador
Architecture: BIG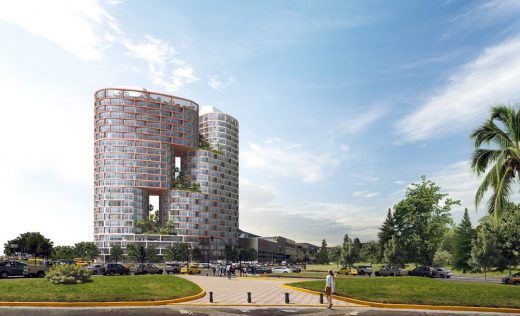 image courtesy of architects office
EPIQ Building in Quito
Comments / photos for the Schindler Award page welcome
Website: www.schindleraward.com