Global Architecture & Design Awards, GADA 2018, Rethinking The Future Competition News
Global Architecture & Design Awards 2018
RTF SA: International Architecture Prize: Categories, Buildings, Images, Architects
10 Jun 2018
RTF Global Architecture & Design Awards 2018
RTF Global Architecture & Design Awards 2018
After successfully completing the RTF Awards for six years, Rethinking The Future invites you to participate in the Global Architecture and Design Awards 2018.
Previous Winners in the Awards hosted by RTF includes prestigious firms from the world such as Bjarke Ingels Group & Dialog, Perkins Eastman, Page, RTKL, AHR, Aecom, Henning Larsen, CAZA, DLR Group, Behnisch Architekten, UNstudio, HOK, Gensler, HKA, LMN Architects, LAN Architecture, WOW Architects, EYP Inc., Line and Space LLC, IDOM UK Ltd, Sanjay Puri Architects, Christopher Charles Benninger Architects, and BIOME. Global Architecture and Design Awards are one of the Renowned Awards where winning is a dream for every one of Architects and Designers.
Entries are invited from professional and students from all around the world.
40+ Categories and 100+ Awards
A panel of 25 judges chooses three (3) Winners and Honorable Mentions in each category.
RTF Media Lab communicate all the winners to a wide range of Magazines, Newspapers, Newsmagazines and Design Blogs.
GADA 2018 Reach
RTF Media Lab also communicates the winners to worldwide popular blogs and provides tools for communication to the designers. The designers are also given Winners Logo to put on their websites to indicate the quality of designs. The Global Architecture & Design Awards would bring the extraordinary eminence to your work.
Schedule:
(Registration Begins 15th Feb 2018)
Submission Deadline 15th June 2018
Winners Announcement 15th July 2018
Categories:
Commercial | Cultural | Hospitality | Housing | Residence | Institutional Building | Mixed Use | Office Building | Pop-Ups & temporary | Sports & Recreation | Transportation | Landscape Design | Landscape Design | Residential Interior | Commercial Interior | Corporate Interior | Households | Fashion, Lifestyle and Accessories | Interior Design Elements and more.
Fees:
Registration is Free for RTF Media Lab Members. If you're not member yet, you can easily join.
Submission Requirements:
 Submissions may contain any or all of the following, i.e. text, diagrams, plans, sections, sketches, photographs, graphics, collage etc, in a combination without restrictions that can convey the visual summary of the design intent of the entrant comprehensively illustrating the :
(i) Response to challenges outlined in the Hypothesis.
(ii) The emergence of unified and relevant image of Design
 Submission must contain Hypothesis (not more than 500 words) in .doc file.
 Max. of 6, A3 size sheets (420mm X 297mm), in horizontal format and submitted as digital, colored, high-resolution files, meant for printing in JPEG format needs to be upload at Re-thinking The Future Website prior to the submission deadline.
 Each submission must contain the 'Registration ID' provided by the RTF at the time of registration, this ID must be written in bold Arial font, 5 mm in height on the top right corner of each submission entry.
 Submission must be free from any kinds of identifying marks, such as and including firm logos, name of participant.
 The submissions will ONLY bear the Registration ID, given to an entrant after their successful registration, as a means of identification and any other identifying mark will make the entrant liable for disqualification.
Eligibility:
 Professional and Students are invited for 'Global Architecture & Design Awards 2018'.
 Entries are invited from all the nations.
 The projects submitted are considered by the author that submits the entry for the Award. Every violation of copyright will be punished with immediate disqualification.
 Signing up at re-thinkingthefuture.com and participating in the awards, you are accepting the 'General Rules' and the 'Terms of Use' of re-thinkingthefuture.org.
 The works reached out of time will be excluded.
 It is absolutely prohibited the participation to the awards of a Jury member, a relative or a person or body connected professionally to the jury.
 Participation in the competition implies full acceptance of these rules.
Website:
https://www.re-thinkingthefuture.com/global-architecture-and-design-awards-2018/
RTF Media Lab
New Delhi, INDIA
www.rtfmedialab.com
23 Feb 2018
RTF Sustainability Awards 2017 Winning Designs
1st Award | Commercial (Built)
Project: 451 7th Avenue by DLR Group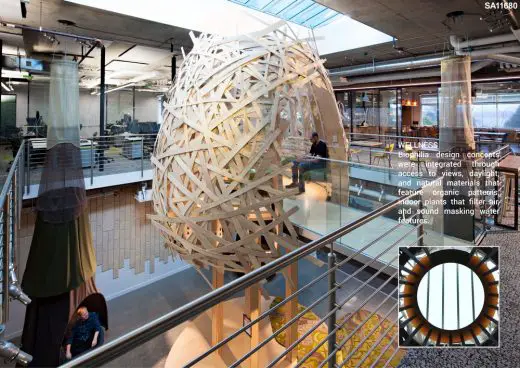 image courtesy of architects
RTF Sustainability Awards 2017 Winning Designs
Google's campus expansion in Kirkland, Washington focuses on environmental stewardship, health and well-being, and user experience to achieve a high-performance building design.
Location: Vancouver, BC, Canada
Architecture Awards
Rethinking Urbanity Competition



image : wonderland plaform for European Architecture
Website : Architectural Walking Tour
Comments / photos for the RTF Global Architecture & Design Awards 2018 page welcome