RIBA Northwest Awards 2017 Shortlist, Winning Buildings, Manchester Architecture, Links, Liverpool Projects
RIBA Northwest Awards 2017
Royal Institute of British Architects Lancashire Area Prize Shortlist: Buildings + Architects
22 Jun 2017
RIBA Northwest Awards Winners in 2017
• Chetham's School of Music – Stoller Hall by stephenson STUDIO – Manchester, England School – independent/public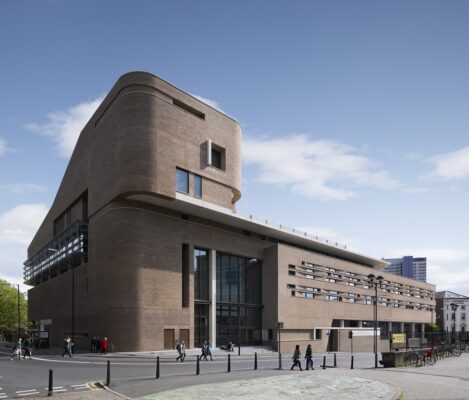 photograph © Daniel Hopkinson
Chetham's School of Music Building
• Finlays Warehouse by Stephenson Studio – Northern Quarter, Manchester, England Housing development – private
• Liverpool Philharmonic by Caruso St John Architects – Liverpool, England – Theatre
• Maggie's at the Robert Parfett Building by Foster + Partners – Christie Hospital, south Manchester, England – Healthcare
8 Apr + 13 Mar 2017
RIBA Northwest Awards in 2017
RIBA Northwest Awards Shortlist in 2017
Twelve buildings have been shortlisted for the 2017 RIBA Northwest (Royal Institute of British Architects) Awards; the winners will be announced at an Awards evening at the Manchester School of Art on Wednesday 24 May 2017.
The buildings that have been shortlisted are:
.Blackburn Bus Station, Blackburn by Capita
.Cambridge Street, Manchester by Hodder + Partners
.City Football Academy, Manchester by Rafael Viñoly Architects
.Finlays Warehouse, Manchester by Stephenson Studio
.Foundry, Salford by Sixtwo Architects
.Liverpool Philharmonic, Liverpool by Caruso St John
.Liverpool's Royal Court, Liverpool by Allford Hall Monaghan Morris
.Maggie's at the Robert Parfett Building, Manchester by Foster + Partners
.Oldham Town Hall, Oldham by BDP
.Stoller Hall at Chetham's School of Music, Manchester by Stephenson Studio
.Stubbs Mill, Manchester by Sixtwo Architects
.XYZ, Manchester by Cartwright Pickard
RIBA Northwest Jury Chair said:
"There are some wonderfully talented designers working in the Northwest and 12 very different projects have been shortlisted for the 2017 RIBA Northwest Awards. This is never an easy task but these twelve shortlisted buildings, with differing functions, scales and budgets, are all memorable and each has achieved that unexpectedly special quality that makes them stand out as significant to the architecture of the Northwest."
RIBA Northwest Awards Shortlist:
Blackburn Bus Station, Blackburn
The Cathedral Quarter redevelopment in Blackburn prompted relocation for the old bus station which comprised of small windswept utilitarian shelters opposite Blackburn railway station. Capita were appointed to design a new landmark building promoting a step-change in quality and perceptions of public transport. The composition of the canopy draws inspiration from Blackburn's historic weaving looms which through a series of slots, allow daylight to penetrate onto the concourse. The concourse is lined in stone which absorbs solar gains and is conceived as an extension of the public realm, which itself has strengthened pedestrian links and improved connectivity.
Architect: Capita
Cambridge Street, Manchester
The building site was a derelict horseshoe shaped plot, enclosed by a meander in the River Medlock to the Northern and Eastern boundary. The building contains 282 PRS apartments, with a reception and commercial unit at street level. The accommodation is split into two opposing blocks; the lower situated at nineteen storeys above ground and the highest at twenty eight. The scale of each responds to the desire for the site to act as a landmarked gateway in to the city, as defined by the Terry Farrell masterplan, whilst translating the key heights of the chimney and eaves of the adjacent mill. The one, two and three bedroom apartments were designed to the London Housing Design Guide standards and provide high quality, high density accommodation for sustainable City Centre living.
Architect: Hodder + Partners
City Football Academy, Manchester
The architect's masterplan and building design for the City Football Academy was born out of the Manchester City Football Club's desire to create a world-leading training complex whilst consolidating existing facilities and reinforcing its connection to East Manchester's community. The Central Training Facility combines First Team and Academy facilities, two training pitches and shared support spaces. To the Northwest of the campus is a 7,000-seat arena which also houses the Club's Global Headquarters and a Media Centre. These elements are surrounded by 14 training pitches, one of which is dedicated for use by the community. Throughout the scheme, robustness and durability were important considerations for maintenance of appearance and to extend the lifespan of the development.
Architect: Rafael Viñoly Architects
Finlays Warehouse, Manchester
Finlays Warehouse is a Grade II listed building, located on Dale Street in the Northern Quarter. It had been empty for several years before the practice was approached to convert the building into 27 one, two and three bedroom luxury apartments. The external elevations have been sympathetically restored, whilst careful consideration has been given to the buildings internal features to enable them to be incorporated into the new proposals. The overriding principle was to ensure that one is always conscious of being in a nineteenth century warehouse built of bricks, stone, pitch pine and cast iron, whilst at the same time, providing high quality modern residential facilities. Interior finishes, appropriate for a warehouse interior, include rough sawn oak, galvanised steel and kitchens painted in heritage colours.
Architect: Stephenson Studio
Foundry, Salford
Completed in 2016, the architects adopted a fresh approach to a much ignored architectural type; the industrial warehouse. Its unique design and public amenity offer has appealed to the surrounding community and market place, and as such, all of the units have either been sold or are pending completion. A key aspect of Foundry's design was to create a new public boulevard to connect Grade I listed Ordsall Hall to the Ship Canal towpath and visa-versa. This new amenity is open every day of the year and has played a huge role in opening up the surrounding area to further regeneration.
Architect: Sixtwo Architects
Liverpool Philharmonic, Liverpool
Caruso St John was appointed in 2012 for the refurbishment and extension of the Grade II listed Liverpool Philharmonic Hall, originally designed by Herbert Rowse and built in 1939. The architects approached the building in three interrelated parts; the front of house, the auditorium and stage, and the back stage facilities. The new building has a festive and unified spirit like the Rowse Building, with the performance space, back of house facilities and offices being brought together to make a single, compact volume. The wide corner window to the bar, the extravagant marquee and the bold posters and signage lead an urban quality to the new venue, projecting the dynamism of the Philharmonic's programme out to the surrounding city.
Architect: Caruso St John
Liverpool's Royal Court, Liverpool
The Grade II listed Royal Court Theatre is located in central Liverpool, and has been at the heart of Liverpool's cultural and social life for nearly 200 years. The project, won in 2008 by open competition, is an exercise in restrained reinvention, delivered in phases as funding has been secured. Phases one and two, of a planned five, have seen the refurbishment of the original 1,186-seat auditorium and the exposure of the theatre's original brickwork by remodeling the inefficient front of house areas to create a new circle bar and toilets on the first floor. The old box office is replaced by a weathered steel and glass-fronted extension that wraps around the building, reconnecting it to its lively surroundings.
Architect: Allford Hall Monaghan Morris
Maggie's at the Robert Parfett Building, Manchester
Maggie's Centres provide a place of refuge for people affected by cancer and place great value upon the power of architecture to lift the spirits and help in the process of therapy. Foster + Partners worked closely with Christie Hospital and their planning consultants to create a holistic masterplan for the future, with a new Maggie's Centre as its centerpiece. The building is arranged over a single-storey and its roof rises in the centre to create a mezzanine level, naturally illuminated by triangular roof lights and supported by lightweight timber lattice beams. The centre combines a variety of spaces, from intimate niches to a library, exercise rooms and places to share a cup of tea. It combines the architects fundamental design philosophy's; prefabrication, dry construction, their benefits of speed and quality. The result is a lightweight structure and therapeutic space that is a celebration of light and nature.
Architect: Foster + Partners
Oldham Town Hall, Oldham
Oldham Town Hall is a Grade II listed historic building situated in the centre of a 19th Century industrial town, which has since lost its traditional cotton spinning industry. The former Town Hall building was vacated by its main occupier over 30 years ago, and since then all attempts to reinvigorate the building had failed because of local economic conditions and the buildings complex internal layout. BDP's solution was to save as much as possible of the surviving structures and design a new extension – 'the light box' – on the poor elevation of the building, which resolved all circulation, level changes and access issues. The scheme has succeeded in providing a modern cinema facility and much needed family entertainment within an historic town centre, and saving a landmark historic building.
Architect: BDP
Stoller Hall at Chetham's School of Music, Manchester
The concert hall is the second phase of award-winning Chetham's School of Music, which was completed in 2012 by Stephenson Studio. The concert hall is a complex acoustically isolated 'box within a box' retro-fitted into the voluminous form of the existing building. A steel structure supports the concert hall, technical loft and plenum basement floor all 'suspended' within the self-weighted structure which sits on acoustic mounts. The new concert hall has a 484-seat capacity which includes a choir gallery and balcony. The internal aesthetics are acoustically modelled in oak paneling with profiled plaster finishes above, along with acoustic diffusion slot detailing and coved ceiling profiles.
Architect: Stephenson Studio
Stubbs Mill, Manchester
Stubbs Mill is the transformation of a former machine works, into creative workspaces, located in New Islington, along the Ashton Canal. The Mill, created/owned by Joseph Stubbs, was a pioneer in bobbin production and other machine parts. The contemporary conversion, set over three storeys, creates flexible offices split by a central atrium and core. A purposeful raw finish, with exposed steel beams, original machinery and lightly blasted brickwork creates a new alternative approach for converting such heritage assets.
Architect: Sixtwo Architects
XYZ, Manchester
The brief was to create commercial workspace, supporting corporate, creative and emerging businesses with innovative, dynamic 'Grade A' accommodation, premium hospitality and design-led spaces. This ten-storey building provides a vibrant community hub for tenants, including basement car-parking, cycle hub, communal workspace, gym, café, restaurant, and services concierges for tenants ranging from start-ups to established corporates. To meet economic viability, the architects took a rational design approach to allow construction of 232,000sqft of floor space with a raw, industrial feel. Oak wall linings and flooring offer a softening warmth to the interiors.
Architect: Cartwright Pickard Architects
All shortlisted buildings will be assessed by a regional jury with the winning buildings announced at the RIBA Northwest Awards evening on Wednesday 24 May 2017 at Manchester School of Art by Feilden Clegg Bradley Studios, itself a 2015 RIBA Stirling Prize shortlisted building.
Regional Award winners will be considered for a highly-coveted RIBA National Award in recognition of their architectural excellence, the results of which will be announced in June. The shortlist for the RIBA Stirling Prize for the best building of the year will be drawn from the RIBA National Award-winning buildings later in the year.
Posted on Monday 13th March 2017
2022 RIBA Northwest Awards Winners
——————————————————————————–
RIBA Awards in 2017
RIBA Awards Shortlists in 2017
RIBA West Midlands Awards 2017
RIBA East Midlands Awards 2017
RSAW Welsh Architecture Awards 2017
RIBA Northern Ireland Awards 2017
——————————————————————————–
Northwest England, one of nine official regions of England, consists of the five counties of Cheshire, Cumbria, Greater Manchester, Lancashire and Merseyside.
Location: UK
RIBA Awards Past Winners
RIBA Awards Winning Buildings + Architects
RIBA Awards
English Architecture Designs – chronological list
Northwest English Buildings
Manchester Architecture
Manchester Architecture Walking Tours



photograph © Adrian Welch
Manchester Architectural Designs – chronological list
St Michael's Manchester Development On Hold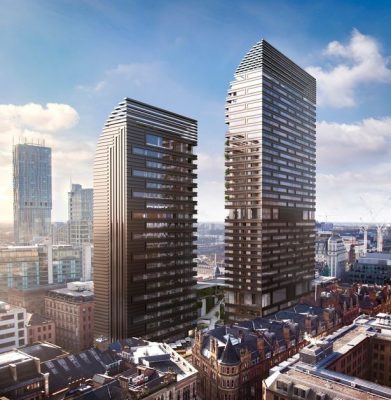 image courtesy of architects
St Michael's Manchester Development
Angel Meadow Skyscraper Building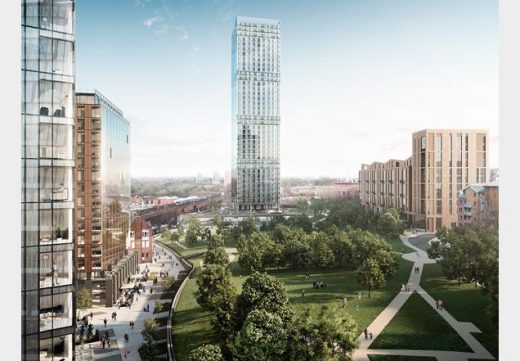 picture courtesy of architect
Angel Meadow Manchester Buildings
Citylabs in Manchester, Oxford Road
Design: Sheppard Robson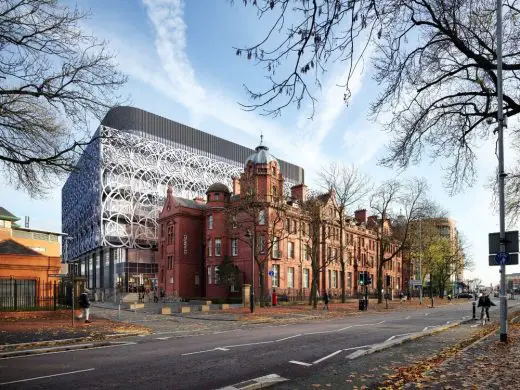 image from architect
Citylabs in Manchester Building
The Factory Manchester Building
Design: OMA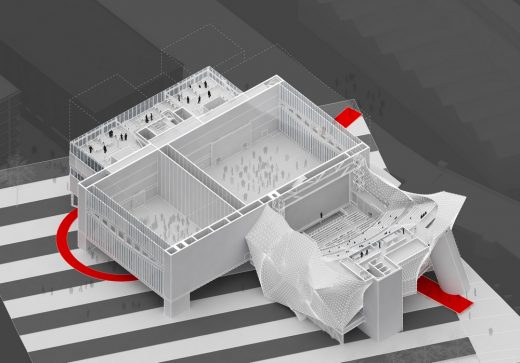 image from architect
The Factory Manchester Building
Website: Northwest England
Comments / photos for the RIBA Northwest Awards 2017 page welcome