RIAS Awards 2013 Shortlist, Buildings, Architects, News, Designs, Judges
RIAS Awards 2013 Winners
Scottish Architecture Prize – Royal Incorporation of Architects in Scotland
8 Mar 2013
RIAS Announces Unprecedented 75 Entries for 2013 Awards
RIAS Awards 2013 News
The Royal Incorporation of Architects in Scotland (RIAS) has announced an unprecedented 75 entries for its 2013 Awards. The judging panel for this year includes RIAS President Elect Ian Connelly FRIAS, Dr Joyce Deans CBE PPRIAS, Lori McElroy MBE, Kathy Li of the Mackintosh School of Architecture and Roger Stephenson OBE, representing the Royal Institute of British Architects.
RIAS Awards : current page
Sholto Humphries, President of the RIAS, commented:
"We had 75 submissions from throughout Scotland and ranging in scale from a few thousand pounds to over £34m. This number of entries is a tremendous vote of confidence and confirms that this new award, in only its second year, is now the single most important recognition of architectural achievement in Scotland.
The judges will decide which schemes to shortlist and will visit them to determine which are worthy of an award. While we are considering an extraordinary range of projects of different scale and type, from a modest house extension to a multi-million pound large new secondary school, we will be rewarding those projects which we feel best address the key role of architecture: to improve people's lives. We are not restricted in the number of awards we make and looking at the quality of this list, the task ahead of us will be a tough one."
RIAS Secretary Neil Baxter said:
"The fact that these awards bring together individual awards sponsored by Historic Scotland, Wood for Good/Forestry Commission Scotland and Zero Waste Scotland and incorporate the RIBA Awards for Scotland gives them real strength. The economic climate for architecture continues to be really tough and it is a huge credit to the profession in Scotland that the remarkable work illustrated in these submissions is still being produced. Scotland's architectural renaissance continues!"
Building from RIAS Awards 2012 – Cape Cove by Cameron Webster Architects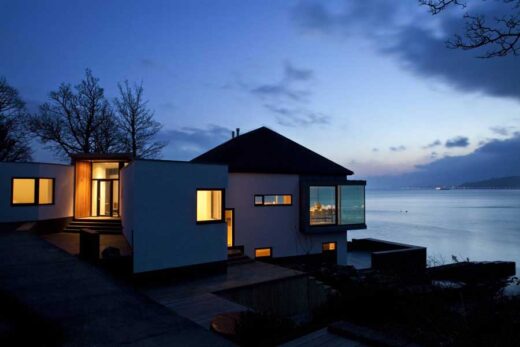 photograph from Saltire Awards
RIAS Awards 2013 – List of Submitted Entries
Project Name ; Practice Name
Abbotsford Visitor Reception Building, Melrose ; LDN Architects
Abbotsmeadow, Melrose ; Sutherland Hussey Architects
An Cridhe, Isle of Coll ; Anderson Bell Christie
Apple House, Fasque Estate, Fettercairn ; @rchitects Scotland Ltd.
Arbuthnott House, Laurencekirk ; GLM
Assembly Rooms, Edinburgh ; LDN Architects
Balgowan Farmhhouse Extension, Methven ; Brennan & Wilson Architects
The Barony Centre, West Kilbride ; Ingenium Archial Ltd
Barrfield, Kilchrenan, Taynuilt ; McInnes Gardner Architects
The Beacon Arts Centre, Greenock ; LDN Architects
The Big Shed, Aberfeldy ; Ecological Architecture
The Bivvi, Dundee ; Archid Architects Ltd.
Blackadders Property Shop, Dundee ; Aim Design
Burgh Business Centre, Rutherglen ; McLennan Partnership
Burnbrae Primary School, Bonnyrigg ; Aedas Architects Limited
Calman Cancer Support Centre, Glasgow ; Austin-Smith:Lord LLP
Carrick Mill, Lower Largo ; Tom Jenkins Architect
Chanonry Wynd (1) House Extension, Brechin ; Garry Adam Chartered Architect
The Chapel of Saint Albert the Great, Edinburgh ; Simpson & Brown Architects
Devon Cottage, Edinburgh ; davidblaikiearchitects
Dishophall Cottage, Haddington ; A449 LTD
Dunfermline High School, Dunfermline ; Fife Council Property Services
The Dutch Barn, Insch ; Acanthus Architects df
Education Centre at St Columba's Hospice, Edinburgh ; Jane Darbyshire & David Kendall Ltd
Engteq, Aberdeen ; WCP Architects
European Marine Science Park, Dunbeg
ADF Architects
Fletcher's Cottage Spa, Direlton ; Aitken Turnbull Architects
Forth Valley College of Further and Higher Education – Stirling Campus ; Reiach & Hall
Garden House, Fasque Estate, Fettercairn ; @rchitects Scotland
Garden Room, Aberdeen ; MAC Architects
The Ghost of Water Row (Temporary Structure) ; Edo architecture
The Glad Café, Glasgow ' ATW Architects (In association with Eggmachine)
Glen Dye Steadings, Banchory ; NORD Architecture
Grant's Family Home, Dufftown ; Acanthus Architects df
Hillcroft, Dullatur ; Arka Architects
House, Lenzie ; cameron webster
John Gray Centre, Haddington ; Gray, Marshall & Associates
Katie's Cottage, Isle of Tiree ; Roots Design
Linsiadar (4), Isle of Lewis ; Studio KAP
Loch Arthur Farm Shop, Dumfries ; Simon Winstanley Architects
Mareel, Lerwick ; Gareth Hoskins Architects Ltd (executive architect PJP Architects, Lerwick)
Middlestrath Mill, Falrkirk ; Arka Architects
Mildens Row , Stonehaven ; Isis Architecture Ltd
Museum of Edinburgh ; Benjamin Tindall Architects
Mussleburgh Primary Care Centre ; jmarchitects ltd
New Suburbia – East Lothian Passive House, North Berwick ; Brennan & Wilson Architects
The Olympia, Glasgow ; Page Park Architects
ON-X (Linwood Sports Hub and Adult Day Care Centre), Linwood ; cre8architecture
Pheasant Field, Cairndow ; Arbour
Phoenix Flowers, Glasgow ; 7N Architects (in collaboration with RankinFraser Landscape Architecture)
Pitfodels, Aberdeen ; Acanthus Architects df
Pollokshaws West Station, Glasgow ; Richard Shorter Architect
Ramp House: A Wheelchair Accessible Family Home, Edinburgh ; Chambers McMillan
Rosemount, Blairgowrie ; McKenzie Strickland
Ross House, Glasgow ; Coogan Architects
Rosslyn Chapel Conservation & Visitors Centre ; Page Park Architects
Rubislaw Den Residence, Aberdeen ; Isis Architecture Ltd
The Scottish Dark Sky Observatory, Dalmellington ; GD Lodge Architects
South Esk Barn, Forfar ; Colin Andrew Smith Architect – CASA
The Studio, Kirriemuir ; Gary Sinclair Architecture
Sugarhouse Close, Edinburgh ; Oberlanders Architects LLP
Taymouth Marine Apartments, Aberfeldy ; McKenzie Strickland
The Thomas Telford Parliamentary Church Bernery, North Uist ; Patience & Highmore
Tog 2012 Lighthouse (Temporary Structure) ; Tog
Towngate, Dalkeith ; Aitken Turnbull Architects
The Transient Gallery (Temporary Structure) ; Groves Raines
The Turf House, Isle of Skye ; Rural Design
Uaill Training Centre, Glasgow ; Cooper Cromar
University of Aberdeen New Library / Sir Duncan Rice Library, Aberdeen ; Schmidt Hammer Lassen Architects
WASPS South Block, Glasgow ; NORD Architecture
Westfield Avenue, Edinburgh ; 7N Architects
Woodhead Farm, Blairgowrie ; McInnes Gardner Architects
Woodside, Newton Stewart ; Hazel J L Smith Chartered Architect
Wormit Extension ; WT Architecture
Yewbank, Stanley ; Walker Architecture
28 Jan 2013
RIAS Awards 2013 Launch
RIAS launch the 2013 RIAS Awards
The Royal Incorporation of Architects in Scotland (RIAS) has launched the 2013 RIAS Awards / RIBA Awards for Scotland.
In only the second year of the restyled awards the RIAS has again teamed up with Forestry Commission Scotland and Wood for Good but also with Historic Scotland and Zero Waste Scotland.
Building from RIAS Awards 2012 – Dundee House by Reiach and Hall Architects



image © Dave Morris
Entrants to the 'one stop shop' RIAS Awards are now eligible for consideration for the RIAS / Forestry Commission Scotland / Wood for Good Timber Award (Award £1,000), RIAS / Historic Scotland Conservation and Climate Change Award (Award £1,000), RIAS / Zero Waste Scotland Resource Efficiency Award (Award £1,000) along with the RIBA Awards (and special category awards) and the Stirling and Doolan Prizes.
Sholto Humphries, president of the RIAS, said: "The expansion of the RIAS Awards in only their second year firmly establishes them as by far the most important awards for architecture and the built environment in Scotland. We are absolutely delighted that four major Scottish organisations have lent their support to our special category awards. Given our well established partnership with the RIBA this represents a tremendous opportunity for all architects with work in Scotland."
John Kissock, chairman of Wood for Good, said: "This is our second year of support for the RIAS Awards. It is an excellent way of showcasing the exciting work that is happening in Scotland using timber, and also the very strong credentials wood has as a mainstream construction material."
Ian Walford, Historic Scotland's acting chief executive, said: "This new award celebrates the innovative and sustainable ways in which Scotland's traditional buildings are being conserved and can contribute to the country's climate change targets. We are delighted to be highlighting the good practise being employed in the heritage sector to re-use and refurbish our older buildings."
Iain Gulland, director, Zero Waste Scotland, added: "Embedding resource efficient principles in the construction industry can help to realise significant cost savings and reduce impact on the environment. We are delighted to be sponsoring the Resource Efficiency Award, which recognises those businesses leading the way in managing the value of their resources."
The judging panel for this year is RIAS President elect Iain Connelly, Past President Dr Joyce Deans CBE, RIAS 2010 Design Tutor Award winner Kathy Li, John Kissock, Chairman, Wood for Good and Roger Stephenson OBE of Roger Stephenson Studio, representing the RIBA.
Shortlisting will take place in March. The winners will be announced at a Gala Dinner at the Edinburgh Grosvenor Hilton on Wednesday 12th June.
RIAS Awards 2013 Shortlist information from Royal Incorporation of Architects in Scotland
Location: Scotland
RIAS Awards 2012 Winners
RIAS Announces 18 Winners in Inaugural Awards



photo © Charlie Koolhaas
RIAS Awards 2012
Andrew Doolan Award
Andrew Doolan Award : Best Building in Scotland 2011 Shortlist
Scottish Design Awards
Scottish Design Awards
Scottish Design Awards winners
RIAS Lifetime Achievement Award
RIAS Lifetime Achievement Award 2010
Saltire Awards Winners
Saltire Society Housing Design Awards
Scottish Architectural Designs
Comments / photos for the RIAS Awards 2013 page welcome