Pritzker Prize Jury, Citation, Architecture, 2011, Designer, Award, Souta de Moura, Winner
Pritzker Prize Citation 2011 + Jury
Pritzker Architecture Prize Laureate Citation
29 Mar 2011
Pritzker Architecture Prize Laureate 2011 – Citation from the Jury
Pritzker Architecture Prize Laureate Citation 2011
During the past three decades, Portuguese architect Eduardo Souta de Moura has produced a body of work that is of our time but also carries echoes of architectural traditions. His oeuvre is convincing proof of modern idiom's expressive potential and adaptability to distinct local situations. Always mindful of context, understood in the broadest sense, and grounded in place, time, and function, Souto de Moura's architecture reinforces a sense of history while expanding the range of contemporary expression.
Pritzker Prize 2011 winner architect Eduardo Souto de Moura: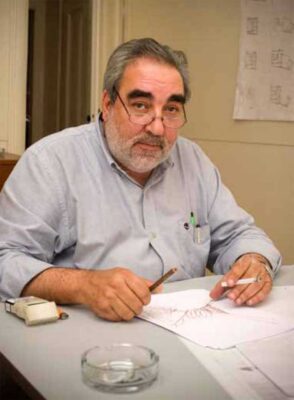 photo : Augusto Brázio
Already in his first works, undertaken in the 1980s, Souto de Moura had a consistent approach that never adopted the trends of the moment. At that time, he was intensely out of fashion, having developed his individual path during the height of postmodernism. As we look back today, the early buildings may seem normal, but we must remember how brave they really were back then.
The versatility of his practice is evident in the variety of commissions he has undertaken with success. He is capable of designing from domestic to urban scale. Many of his early works in the 1980s were single-family houses and remain among his seminal works. However, the scope of his work has expanded: the Braga Municipal Stadium, Portugal, designed in 2000 is muscular, monumental and very much at home within its powerful landscape; the Burgo Tower, Portugal, designed at the beginning of the 1990s and built a decade later, consists of two buildings side by side, one vertical and one horizontal with different scales, in dialogue with each other and the urban landscape; the Paulo Regio Museum, completed in 2008, a grouping of volumes interspersed in the trees at its site in Cascais, Portugal, is both civic and intimate, and so appropriate for the display of art.
In their apparent formal simplicity, de Souto de Moura's buildings weave together complex references to the characteristics of the region, landscape, site, and wider architectural history. Often simple geometries are underlined through interplay of solid and void or light and shadow. The restoration and adaptation of the Santa Maria Do Bouro Monastery into a hotel has taken a building from ruble to reinterpretation. Souto de Moura has created spaces that are both consistent with their history and modern in conception. The effectiveness of his works usually stems from the juxtaposition of elements and concepts. His unique capacity to embrace reality while employing abstraction creates an architectural language that transforms physicality into the metaphysical.
Souto de Moura is an architect fascinated by the beauty and authenticity of materials. His knowledge of construction and skill with materials are always visible in his buildings. He has the confidence to use stone that is a thousand years old or to take inspiration from a modern detail by Mies van der Rohe. The thoughtful use of copper, stone, concrete and wood in the Cultural Center in Porto, completed in 1991, for example, is a testament to his ability to combine materials expressively. By modifying pavements, textures, pathways and public spaces for the subway system of Porto, he has granted new significance to public spaces. House Number Two, built in the town of Bom Jesus, Portugal, in 2007, has achieved an uncommon richness through the subtle banding in the concrete of its exterior walls.
Eduardo Souto de Moura's architecture it is not obvious, frivolous, or picturesque. It is imbued with intelligence and seriousness. His work requires an intense encounter not a quick glance. And like poetry, it is able to communicate emotionally to those who take the time to listen. His buildings have a unique ability to convey seemingly conflicting characteristics—power and modesty, bravado and subtlety, bold public authority and sense of intimacy—at the same time. For architecture that appears effortless, serene, and simple, and for the care and poetry that permeates each project, Eduardo Souta de Moura receives the 2011 Pritzker Architecture Prize.
Cultural Center of Viana do Castelo, north west Portugal, design by Eduardo Souto de Moura: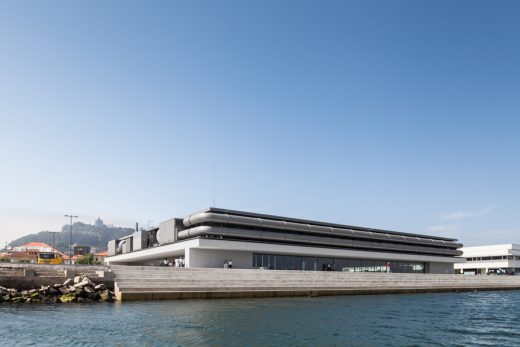 photograph : Joao Morgado – Architecture Photography
Eduardo Souto de Moura
Eduardo Souto de Moura was born in Porto, Portugal in 1952. His father was a doctor (ophthalmologist) and his mother a home maker. He has one brother and one sister. The sister is also a doctor and his brother is a lawyer with a political career – formerly he was Attorney General of Portugal.
Following his early years at the Italian School, Souto de Moura enrolled in the School of Fine Arts in Porto, where he began as an art student, studying sculpture, but eventually achieving his degree in architecture. He credits a meeting with Donald Judd in Zurich for the switch from art to architecture. While still a student, he worked for architect Noé Dinis and then Álvaro Siza, the latter for five years. While studying and working with his professor of urbanism, Architect Fernandes de Sá, he received his first commission, a market project in Braga which has since been demolished because of changing business patterns.
After 2 years of military service he won the competition for the Cultural Centre in Porto. The beginning of his career as an independent architect.
He is frequently invited as a guest professor to Lausanne and Zurich in Switzerland as well as Harvard in the United States. These guest lectures at universities and seminars over the years have afforded him the opportunity to meet many colleagues in the field, among them Jacques Herzog and Aldo Rossi.
He is married and he has 3 daughters: Maria Luisa, Maria da Paz e Maria Eduarda. His wife, Luisa Penha, and the eldest daughter are architects, the second is a nurse and the third is on the Faculty of Architecture of the University of Oporto for the 3rd year.
Along with his architecture practice, Souto de Moura is a professor at the University of Oporto, and is a visiting professor at Geneva, Paris-Belleville, Harvard, Dublin and the ETH Zurich and Lausanne.
Often described as a neo-Miesian, but one who constantly strives for originality, Souto de Moura has achieved much praise for his exquisite use of materials — granite, wood, marble, brick, steel, concrete — as well as his unexpected use of color. Souto de Moura is clear on his view of the use of materials, saying, "I avoid using endangered or protected species. I think we should use wood in moderation and replant our forests as we use the wood. We have to use wood because it is one of the finest materials available."
In an interview with Croquis, he explained, "I find Mies increasingly fascinating… There is a way of reading him which is just to regard him as a minimalist. But he always oscillated between classicism and neoplasticism…You only have to remember the last construction of his life, the IBM building, with that powerful travertine base that he drilled through to produce a gigantic door. Then on the other hand, he arrived in Barcelona and did two pavilions, didn't he? One was abstract and neo plastic and the other one was classical, symmetrical with closed corners…He was experimenting. He was already so modern he was 'post'."
Souto de Moura acknowledges the Miesian influence, speaking of his Burgo Tower, but refers people to something written by Italian journalist and critic, Francesco Dal Co, "it's better not to be original, but good, rather than wanting to be very original and bad."
At a series of forums called the Holcim Forum on sustainable architecture, Souto de Moura stated, "For me, architecture is a global issue. There is no ecological architecture, no intelligent architecture, no sustainable architecture — there is only good architecture. There are always problems we must not neglect; for example, energy, resources, costs, social aspects — one must always pay attention to all these."
Eduardo Souto de Moura Architect
Pritzker Architecture Prize Laureate – The Jury
Chairman
The Lord Palumbo
Architectural Patron, Chairman of the Trustees, Serpentine Gallery
Former Chairman of the Arts Council of Great Britain
Former Chairman of the Tate Gallery Foundation
Former Trustee of the Mies van der Rohe Archive at the Museum of Modern Art, New York
London, England
Alejandro Aravena
Architect and Executive Director of Elemental
Santiago, Chile
Carlos Jimenez
Professor, Rice University School of Architecture
Principal, Carlos Jimenez Studio
Houston, Texas
Juhani Pallasmaa
Architect, Professor and Author
Helsinki, Finland
Renzo Piano
Architect and Pritzker Laureate 1998
Paris, France and Genoa, Italy
Karen Stein
Writer, editor and architectural consultant
New York, New York
Executive Director
Martha Thorne
Associate Dean for External Relations
IE School of Architecture
Madrid, Spain
Pritzker Prize information from The Pritzker Prize 290311
Location: international
Pritzker Architecture Prize
Pritzker Prize architects : main page with current winner information
Pritzker Prize : further information re past winners
Pritzker Architecture Prize Winner 2010 : SANAA, architects
Website: Architectural Walking Tours
Key Architecture Awards
World Architecture Festival Awards
Comments / photos for the Pritzker Prize Citation + Jury 2011 page welcome
Website: Pritzker Prize