2016 Gala + Auction of the National Academy Museum & School, Winner, Architect, USA, Prize, News
National Academy Museum & School Award
Gala + Auction in New York City at Tribeca Rooftop: American Architecture + Architects
18 Feb 2016
2016 Gala + Auction of the National Academy Museum & School
SHoP Architects to Receive Distinguished Achievement Award;
Art Auction Offers 32 Works by Many of America's Renowned Artists
NATIONAL ACADEMY MUSEUM & SCHOOL
2016 GALA + AUCTION SLATED FOR FEBRUARY 24
AT TRIBECA ROOFTOP
NEW YORK (February 18, 2016) ─ The 2016 Gala + Auction of the National Academy Museum & School is set for February 24, 2016 at Tribeca Rooftop (2 Desbrosses St in New York City) at 6 p.m., to support the Academy's many programs benefitting aspiring artists of all ages, particularly those from underserved communities in New York City. The event will include both a live and silent auction, dinner and dancing, and honor the groundbreaking work of SHoP Architects, regarded as a firm that is redefining innovation in urban design.
The Porter House – Condominium, Meatpacking District, Manhattan, USA, by ShoP Architects: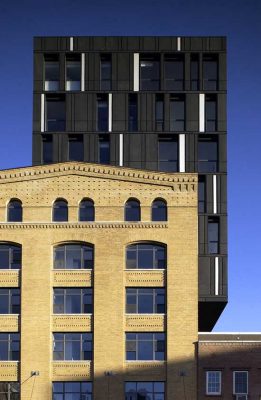 photo : Seong Kwon
The National Academy Gala + Auction is rapidly becoming a signature event on the annual arts calendar in New York City, as it brings together over 300 guests including many of the city's most revered artists and architects ─ the distinguished National Academicians, elected annually by their peers. The event also provides attendees with an exclusive opportunity to bid on and purchase works donated by many of these contemporary artists and architects during both the live and silent auctions.
For 2016, the master of ceremonies is esteemed architect Walter Chatham, NA. Presenting the Distinguished Achievement Award to SHoP Architects is Reed Kroloff, principal of the architectural firm Jones Kroloff. Sara Friedlander, a lead auctioneer at Christie's, will conduct the live auction.
Barclays Center, Brooklyn, New York City, NY, USA, by ShoP Architects:



image © SHoP Architects
Barclays Center New York
Founded in 1996, SHoP Architects is quickly making a profound impact on architecture. Among its signature New York projects include the Barclays Center Arena, the renovation of South Street Seaport, the redevelopment of the Domino Sugar Factory, as well as the expansion of the Google headquarters in California.
"The National Academy is proud to honor SHoP Architects at one of our most significant annual events," said National Academy Interim Director Maura Reilly. "The firm's work is making an important contribution to architecture in the 21st century. Recognizing their achievements parallels the 190-year tradition of the National Academy, given that our National Academicians have been shaping art, architecture and culture in this country virtually since its inception."
SHoP has won numerous awards in its 19-year history. In 2014, Fast Company magazine recognized its pioneering work, naming it as its Most Innovative Architectural Firm and including the firm on its list of its Most Innovative Companies in the World." Additional honors include the Smithsonian Cooper Hewitt Museum's National Design Award for Architecture in 2009, the Chicago Athenaeum American Architecture Awards and multiple honors from the New York City and New York State chapters of the American Institute of Architects.
"Twenty years ago, as young architects just entering the field, my fellow partners and I set out to model a new way forward to combine art, technology, finance, theory, and politics to help the profession reach its highest potential to inspire and serve the public," said Gregg Pasquarelli, principal at SHoP Architects and a National Academician. "We are deeply honored to receive this prestigious award, and humbled to be considered among the roster of architects honored over the centuries by the National Academy."
The National Academy Gala raises funds for multiple programs supporting artists of all ages, with a particular emphasis on young, aspiring artists. Initiatives benefitting from Gala proceeds include the Academy School's Young Artists Scholarship program, enabling children from underserved communities to study at the esteemed National Academy School; summer and winter art camps for children throughout the five boroughs; and new School programs which include scholarships supporting student artists of all ages and skill levels. To learn more about these and other programs at the National Academy Museum & School, visit the website at www.nationalacademy.org.
These beneficiaries inspired an outstanding group of artists to donate works to the 2016 auction, including Lynda Benglis, James Siena, Joan Synder, Wolf Kahn, Julie Heffernan, Peter Saul, Kyle Staver and Carrie Mae Weems, among others. The entire list of contributing artists is available at http://paddle8.com/auction/nationalacademy/.
Tickets and Information
National Academy Gala Benefit Office, c/o Livet Reichard, 212-868-8450 x204, [email protected] or online: http://www.nationalacademy.org/support/2016-gala-auction/Â
National Academy Museum & School
Founded in 1825, the National Academy is the only institution of its kind, integrating a museum, art school, and an association of artists and architects dedicated to advancing American art and architecture through education and exhibition. The Museum mounts a wide range of exhibitions, including The Annual, a yearly show highlighting the attest work from National Academicians, the esteemed members of the Academy who are America's greatest artists and architects, elected by their peers. These National Academicians have contributed works to the National Academy's stellar collection of more than 7,000 works, encompassing virtually all artistic disciplines and numerous architectural models and drawings. The National Academy School is among the world's premier art education centers, with past students including such luminaries as Winslow Homer, George Inness and Willem de Kooning. To learn more, please visit www.nationalacademy.org.
SHoP Architects
Since 1996, SHoP has modeled a new way forward with our unconventional approach to design. At the heart of the firm's method is a willingness to question accepted patterns of practice, coupled with the courage to expand, where necessary, beyond the architect's traditional roles. This open-minded process allows us to effectively address a broad range of issues in our designs: from novel programmatic concepts, to next-generation fabrication and delivery techniques, to beautifully crafted spaces that precisely suit their functions. Years ago we set out to prove that intelligent, evocative architecture can be made in the real world, with real world constraints. Today, our staff of 180 talented architects, designers, and engineers is implementing those ideas, in projects that range from public spaces to museums to skyscrapers, at critical urban sites on five continents.
National Academy Museum & School, 1083 Fifth Ave at 89th St, New York, NY 10128
212-369-4880 | nationalacademy.org
The 2016 Gala + Auction of the National Academy Museum & School Location:
Tribeca Rooftop, 2 Desbrosses St, New York City, NY, USA
Location:2 Desbrosses St, New York City, USA
American Architecture Awards
American Institute of Architects Gold Medal
Architecture Awards
AIA Gold Medal Winner 2005 : Tadao Ando
New York Architect : NYC Architect Listings
Manhattan Architecture Designs
Comments / photos for the National Academy Museum & School Award – Tribeca Rooftop New York City Event page welcome
National Academy Museum & School Award 2016 – page