Middle East Architects Awards, UAE Building Prize, Architect, Photo, Projects
Middle East Architect Awards
Built Environment Prize + Decade of Design Competition
20 Sep 2011
Woods Bagot takes home large Architecture Firm of the Year Award
Middle East Studios go from strength to strength
Middle East Architect Awards 2011
Announced at the annual Middle East Architect Awards, Woods Bagot was presented with the 2011 Large Architecture Firm of the Year Award. In a region that has experienced extreme fluctuations between high and low growth periods, Woods Bagot was recognised for their non-wavering, solid and clear vision for the region.
Accepting the award with his team, Design Director and Principal Alf Seeling of Woods Bagot said: "We are overawed. Woods Bagot has been in the region for 12 years now and it feels good to be acknowledged for our input into this region."
Woods Bagot's unique design approach of consistent clean-lined contemporary architecture, that inexplicitly defines what the global architecture firm stands for, was also hailed by the judging panel. One judge commented: "This practice provides unique and clean-lined contemporary architecture. We should remember that simplicity in architecture is the ultimate sophistication."
Accepting the Award on behalf of the Middle East region (L-R): Nicole Farrall, Duncan Parkinson, Alfred Seeling, Steven Velegrinis and Karim Benkirane Injecting design and industry intelligence back into the local region was also at the forefront of the Awards criteria, with Woods Bagot's Zero Emissions Design (ZERO-E) model a winning ingredient. "Woods Bagot has partnered with engineering firm Buro Happold on an initiative called ZERO-E, a model for sustainable development that significantly advances the construction industry's contribution to realizing a zero carbon economy by 2050," continued Alf Seeling. Absent on the night, yet instrumental in the Middle East regions vision and continuing success was Mark Mitcheson-Low, who has recently transitioned to Australia.
"Against many adverse conditions the studios continue to prove its resilience through the contribution of innovative design solutions. As we look to the Arab spring, we will see further growth and the regeneration of markets, offering new directions," said Mark Mitcheson-Low, Chairman of the Regional Executive, Australia, Woods Bagot.
Praise was also herald from across the globe, from Joint Managing Director, Richard Marshall, now located in the San Francisco studio, said: "This is a credit to the Middle East and the firm. It is a recognition of our unrelenting attitude towards quality design and client service. I am extremely proud.
With offices in Abu Dhabi, Dubai and Bahrain, the firm is renowned for regional projects such as the Qatar Science and Technology Park, and Kempinski hotels in Bahrain and Oman. New projects for the region include Oman Retail Mall and EMAAR residential developments.
In a strategic move to impart and share global thinking, Karim Benkirane has recently transitioned from the London studio joining the Middle East as the new Regional Managing Principal.
16 Sep 2011
Middle East Architect of the Year
George Efstathiou named Middle East Architect of the Year
SOM Consulting Partner honored for his leadership in developing three of Dubai's most iconic buildings
September 15, 2011 (Dubai, UAE) – George J. Efstathiou, FAIA, RIBA, Consulting Partner at Skidmore, Owings & Merrill LLP (SOM), has been named Middle East Architect of the Year for his innovative leadership and involvement in several high-profile projects throughout the Gulf region. Bestowed by Middle East Architect magazine, a jury of seven local architects and engineers recognized Efstathiou as one of the region's most celebrated and established architects.
George J. Efstathiou: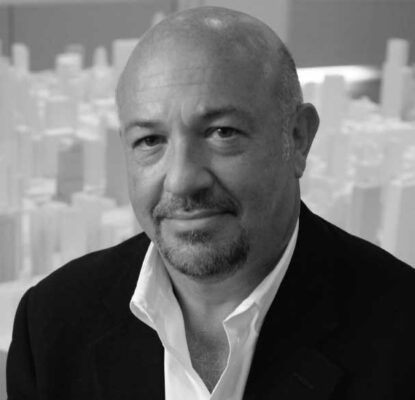 photograph from SOM
Efstathiou accepted the award at the fourth annual Middle East Architect Awards ceremony, held in Dubai on Wednesday, September 14th. Upon receiving the honor, he commented, "I have worked for great clients in the Middle East and have been fortunate enough to have had the lead role on Burj Khalifa, but to be recognized by my peers away from home is truly a highlight of my career". Last year, Efstathiou was also recognized by the Middle East Economic Digest (MEED), as one of Saudi Arabia's most influential architects.
Rolex Tower by SOM:



photograph from SOM
While at SOM, Efstathiou has managed and led several key projects that have shaped Dubai's skyline, helping secure SOM's reputation as a global design leader. For the last eight years, Efstathiou served as Managing Partner and Chief Architect on Burj Khalifa, the world's tallest building, ROLEX Tower and Infinity Tower, all in Dubai. He has also been one of the top leaders for SOM on several major planning projects, including the national Planning Strategies for the Kingdom of Bahrain and King Abdullah City for Atomic and Renewable Energy (KACARE). Efstathiou continues to lead SOM's expertise in several on-going projects in Saudi Arabia, Qatar, Oman and the UAE.
In its nearly unanimous decision, the jury noted that Efstathiou boasts a "prolific experience which represents a deep and thorough knowledge of the profession."
SOM capped the successful Middle East Architect Awards ceremony with ROLEX Tower's win for Overall Project of the Year. It is the second year in a row that an SOM project has claimed this distinct honor.
11 May 2011
Decade of Design Competition Winners
Dubai Competitions
IIDA is pleased to participate as the official knowledge partner at The Office Exhibition 2011, the Middle East's premier office fit-out and design event, taking place in Dubai, UAE, 17 – 19 May 2011.
IIDA hosted two new design competitions for the show. The Decade of Design Competition, recognizing a decade of outstanding interior design projects, and The Middle East Office Awards, honoring new commercial and hospitality interiors products. The winners of these two competitions have been announced in an IIDA Press Release. IIDA also awarded Presidential Commendation certificates to a select group of entrants.
These design firms were awarded in the Decade of Design Competition for their UAE-based projects:
Best of Category-Corporate Space Small
AL Mojil Investment
AK Design, UAE
Best of Category-Hotels
Qasr Al Sarab Desert Resort
HBA International, Dubai Branch
Honorable Mention-Hotels
The Yas Hotel
Jestico+Whiles, UK
Yas Hotel Abu Dhabi
Asymptote Architecture



picture from Asymptote Architecture
Honorable Mention-Hotels
The Hotel Jal Tower Dubai
Draw Link Group, UAE
Best of Category-Mixed Use Buildings
Public Areas at Residences of Burj Khalifa
Skidmore, Owings & Merrill LLP, USA
Burj Khalifa tower



photograph from developer
Middle East Architect of the Year Winner
Middle East Architect Awards Winners



image from architect
Location: Dubai, UAE
Middle East Architectural Designs
0-14 tower, Dubai
RUR Architecture – Reiser + Umemoto



picture from architect
5 Jun 2016
Middle East Interior Design Awards
AAID win Best Large Corporate Space in MEIDA Awards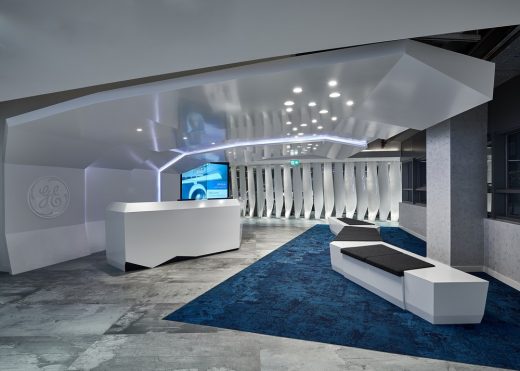 image from architect
Middle East Interior Design Awards
Middle East Interior Design Awards Best Large Corporate Space winner:
General Electric Middle East Aviation Innovation Centre within the Dubai Airport Free Zone (DAFZA)
Contemporary Architectural Designs
World Architecture Festival Awards
Comments / photos for the Middle East Architect Awards page welcome