European Prize for Architecture 2012, Winner, Architects, Prize, Dates, Deadline
The European Prize for Architecture
Architectural Awards – Winners
European Prize Architecture : current winner news
1 Oct 2012
The European Prize for Architecture Winners in 2012
2012 European Prize for Architecture
The Chicago Athenaeum and The European Centre for Architecture Art Design and Urban Studies announce that two young Norwegian architects, Andreas G. Gjertsen and Yashar Hanstad, principals of the architecture cooperative, TYIN tegnestue Architects in Trondheim, Norway, have been named as this year's winners of The European Prize for Architecture for their humanitarian work designing and building with community participation in poor and underdeveloped areas in Africa and Asia.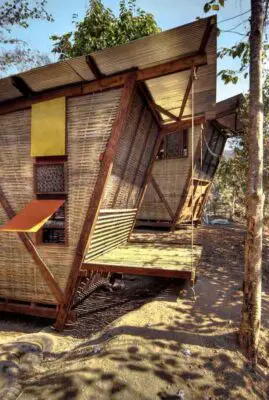 photo : Pasi Aalto / pasiaalto.com
The nomination and the award confirm The European Prize for Architecture's direction in supporting those influential European architects who are blazoning a more humanist and social-based architecture and recognizing their pursuits and their achievements before a European and world audience.
The Prize is given to rare architects who have demonstrated a significant contribution to humanity and to the built environment through the art of architecture. A formal ceremony for what has come to be known throughout the world as European ar-chitecture's highest honor will be held in New York the second week of November.
The European Prize is given every year as a collaborative effort between The Chicago Athenaeum: Museum of Architecture and Design and The European Centre for Architecture Art Design and Urban Studies.
Previous Laureates of The European Prize for Architecture include: The Danish architect, Bjarke Ingels (2010) and the German architects, Graft Architekten (2011).
"This young Norwegian firm," states Christian K. Narkiewicz-Laine, Museum President of The Chicago Athenaeum, "clearly understands the basic needs of the people for whom architecture must serve. 'Serve' is the key word here. This is not a glamorous architecture, but nonetheless, the most profound and noble in its attributes.
Our institutions are not so interested in the newest skyscrapers gracing the shores of Dubai or the Champs-Élysées in Paris." "The European Prize," he continues," reaffirms our own institution's commit-ment to finding and sup-porting a more humanistic approach to the practice of architectural design today."
"Architecture should be a vehicle for social change, social improvement, and real cultural development," continues Mr. Narkiewicz-Laine, "and not an end result of over-commercialization, over-consumption, and self- aggrandizement which is so overwhelmingly apparent in our contemporary world."
"Such self-less pursuits in helping other nations solve the difficult problems of their environment, their ecology, their economic hardship, while building and supporting their local communities, as TYIN Architects have demonstrated," Mr. Narkiewicz-Laine contin-ues, "are the most I mportant direction of our future architecture today."
European Prize for Architecture winner in 2012 – TYIN tegnestue Architects
Architecture by TYIN tegnestue Architects
Klong Toey Community Lantern, Bangkok, Thailand
TYIN tegnestue Architects



photo : Pasi Aalto / pasiaalto.com
Klong Toey Community Lantern
Naust paa Aure, More og Romsdal, Norway
TYIN tegnestue Architects



photo : Pasi Aalto / pasiaalto.com
Naust paa Aure
Soe Ker Tie House, Noh Bo, Tak, Thailand
TYIN tegnestue Architects



photo : Pasi Aalto / pasiaalto.com
Soe Ker Tie House
Location: Dublin, Ireland, north west Europe
Europe 40 Under 40 Award 2011


image from Europe 40 Under 40
Europe 40 Under 40
Architecture Awards
Stirling Prize



photo : Roland Halbe
Pritzker Prize architects



image © Nick Weall
Website: European Prize for Architecture News
European Architecture Awards
Europa Nostra Award – winner news



photos © Timothy Soar
European Copper Architecture Awards



photo © Tuomas Uusheimo
European Architecture Competition : 2nd European Prize for Urban Public Space met in Barcelona



photo © Adrian Welch
For further information on the European Prize for Architecture, contact The European Centre at [email protected]
THE EUROPEAN CENTRE FOR ARCHITECTURE ART DESIGN AND URBAN STUDIES
28 Butler's Court, Sir John Rogerson Quay Dublin 2 Ireland TEL/FAX +353/(0) 1 6708781
46-48 Vassiliou Megalou GR-118-54 Rouf Athens Greece TEL/FAX +30/210-9413717
Comments / photos for the European Prize for Architecture 2012 page welcome
Website: European Prize for Architecture