Klong Toey Community Lantern Thailand, Building, Project, Design, Image
Klong Toey Community Lantern, Thailand
Bangkok Social Building – design by TYIN tegnestue Architects
29 Mar 2012
Klong Toey Community Lantern
Design: TYIN tegnestue Architects
English text (scroll down for Norwegian):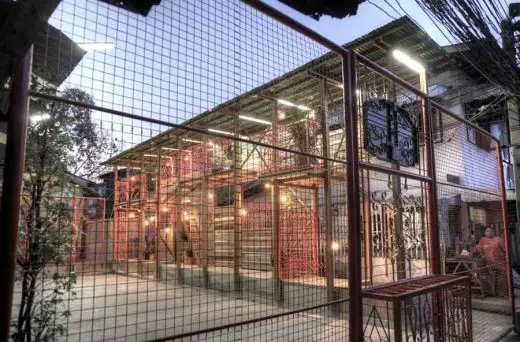 photograph : Pasi Aalto / pasiaalto.com
Klong Toey is currently the largest and oldest areas of informal dwellings in Bangkok. More than 140.000 people is estimated to live here, and most are living in sub-standard houses with few or no tenure rights or support from the government.
The area has great social challenges mostly due to the lack of public services like healthcare, affordable education, sanitation and electricity. An extensive drug problem greatly affects the social climate followed by high unemployment rates, violence and crime.




photos : Pasi Aalto / pasiaalto.com
In addition to the main function as a football court and a public playground the project will work as a tool for the community to tackle some of the social issues in the area. A crucial factor in the continuation of the project is that the Klong Toey Community Lantern will be part of a long-term strategy. This project is part of a development on a larger scale, and it has to be considered as a small contribution that might lead to positive change. With the local connection established both in the local community and a professional network in Thailand the project has greater chances of having a social sustainability.
The year long preparation period allowed the team to design and build the structure in as little as three weeks. During this period the project team got involved with the community through interviews, workshops and public meetings. The design of the structure is a combination of many basic ideas and concepts, and embodies several of the features lacking in the area including new hoops for basketball, a stage for performances or public meetings, walls for climbing and seating both inside and around the edges of the playground.
Space was limited on the site, and it was important to maintain the size of the football field. As a result of these limitations the footprint of the structure measures 12m x 1,2m and the full height of the building is short of 5 meters. Due to poor ground conditions a concrete base was cast to support the weight of the building.
The main construction´s simplicity, repetitive logic and durability enables the local inhabitants to make adaptations that fit with their changing needs without endangering the projects structural strength or the general useability of the playground. This way the project runs in parallel with the ever changing surroundings and fits with the idea that the project could be part of a larger call for a more sustainable development in the Klong Toey area.





photos : Pasi Aalto / pasiaalto.com
Norwegian text:
Prosjektbeskrivelse
Klong Toey er Bangkoks eldste og største slumområde, med et innbyggertall på omlag 140.000. Området preges av falleferdige boliger, usikre eierforhold og svak tilstedeværelse av offentlige myndigheter. De fleste her strever med store sosiale utfordringer, blant annet et fungerende helsevesen, begrenset tilgang på utdanning, vanskelige sanitærforhold og stor arbeidsledighet. Dette fører igjen med seg rusproblemer, vold og kriminalitet.
Ett år med planlegging og forberedelser gjorde det mulig å både utforme og ferdigstille prosjektet på så lite som tre uker. Planleggingsperioden besto i hovedsak av samtaler med beboerne I området samt møter og praktiske workshops. Hovedfokus har hele vært å åpne for medvirkning fra lokalsamfunnet.
Prosjektets viktigste funksjoner er en lekeplass for barna og et felles samlingssted for de voksne. Et armert betongfundament fordeler vekta jevnt utover det usikre underlaget, og gir en sikker innfesting til ti trerammer som rager 5 meter over bakken. Strukturen måler kun 1,2 meter i dybden; et nødvendig svar på en svært trang situasjon. Høyden er begrenset av de tilgjengelige materialene, og et usikret ledningsnett som spenner over tomta.
Strukturens oppbygging skaper mange ulike rom både ut mot gata og inn mot lekearealet – også oppe i høyden. De ulike sonene er delt av med ornamenterte stålpaneler, sveiset sammen av gamle porter og gitter funnet i området. Hovedkonstruksjonens enkelhet, repetisjon og styrke gir lokalbefolkningen mulighet til å tilpasse bygget til egne behov. Dette sammenfaller med områdets flyktige natur og stadig endrede forutsetninger.
Grunntanken bak prosjektet er at Klong Toey Communty Lantern kan fungere som et sosialt verktøy som på sikt kan forbedre lokalsamfunnets forutsetninger for en positiv utvikling. Prosjektet er ment som et strategisk grep i en mye større sammenheng, og kan være et lite bidrag i en mye mer tidkrevende om omfattende prosess.
Femti små lyspunkter er montert blant søylene – Klong Toey Communty Lantern en praktisk, trygg og spennende lanterne, både i praktisk og overført betydning.





photos : Pasi Aalto / pasiaalto.com
Klong Toey Community Lantern Bangkok – Building Information
Design: TYIN tegnestue Architects
Title: Klong Toey Community Lantern
Location: Klong Toey Lock 1-2-3, Bangkok, Thailand
Client: Klong Toey Community
Project: Public space
Cost: 35.000 NOK / 4.500 EUR
Building period: Feb 2011 – Mar 2011
Area: 91 m2
Built by: TYIN tegnestue with Students and Community
Architects: Kasama Yamtree, Andreas Grøntvedt Gjertsen, Yashar Hanstad, Jeanne-Francoise Fischer, Karoline Markus, Madeleine Johander, Paul la Tourelle, Nadia Müller, Wijitbusaba Marome
Students: Natthanan Yeesunsri, Sarinee Kantana, Nuntiwatt Chomkhamsingha, Nantawan Tongwat, Supojanee Khlib-ngern, Nattaporn Seekongplee, Sarin Synchaisuksawat, Nuchanart Klinjan, Panyada Sornsaree, Porawit Jitjuewong, Amornrat Theap-un, Ponjanat Ubolchay, Yaowalak Chanthamas, Boosarin khiawpairee, Praopanitnan Chaiyasang, Kritsana Srichoo, Mario Vahos, Carla Carvalho, Inês Correia, Sarah Louati, Pola Buske, Tabea Daeuwel, Johannes Drechsler, Lisa Gothling, Alessa Hansen, Albert Hermann, Karl Naraghi, Alexander Neumer, Nandini Oehlmann, Fabian Wolf
Sponsors: LINK Arkitektur, RATIO Arkitekter AS
Klong Toey Community Lantern images / information from TYIN tegnestue Architects
TYIN tegnestue – external link
Pasi Aalto – external link
Location: Klong Toey, Thailand
Architecture in Thailand
Thai Architecture Designs – chronological list
Thai School Design Competition, Mae Sot, Thai-Burma border
Thailand School Design
Thailand Architecture – Selection
Siri House, Suriyawong
Design: IDIN Architects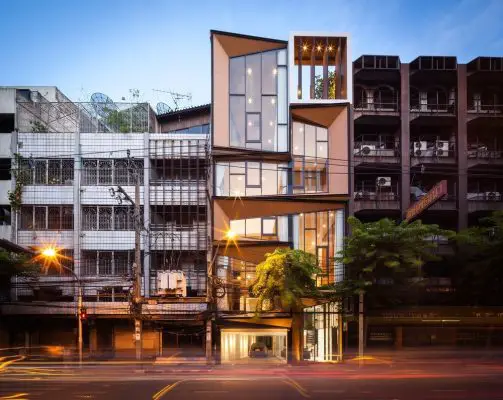 photo © Spaceshift Studio
Siri House in Bangkok
180 Samui Residence, Koh Samui
Design: Sicart & Smith Architects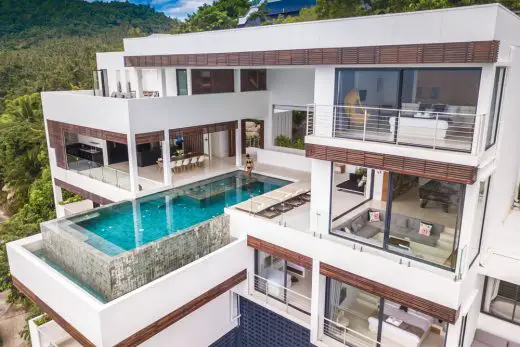 photo © Julien Smith
180 Samui Residence in Koh Samui
Central World Tower Hotel & Convention Center, Bangkok
BBG-BBGM withTandem Architects
Central World Hotel Bangkok
Radisson Suites Bangkok Sukhumvit
HASSELL
Radisson Suites Bangkok
Centralplaza, Bangkok
Manuelle Gautrand
Centralplaza
MahaNakhon, Bangkok
Ole Scheeren, Partner, Office for Metropolitan Architecture
MahaNakhon Bangkok
Website: Visit Thailand
Comments / photos for the Klong Toey Community Lantern Thailand page welcome
Klong Toey Community Lantern Building
Website: Thailand