AIA COTE Top Ten Awards 2017 Winners, Committee on the Environment, US Architecture News, Buildings
COTE Top Ten Awards 2017, USA
American Institute of Architects Prize, United States – Architectural News USA
Apr 24, 2017
2017 COTE Top Ten Awards
American Institute of Architects COTE Top Ten Awards 2017
Recipients selected for the 2017 COTE Top Ten Awards
Washington, D.C. – April, 2017 – The American Institute of Architects (AIA) Committee on the Environment (COTE) have selected this year's recipients of the Top Ten Awards, the industry's premier program celebrating sustainable design excellence. Now in their 21st year, the Top Ten Awards highlight projects that exemplify the integration of great design and great performance. Submissions are required to demonstrate how the project aligns with COTE's rigorous criteria for social, economic, and ecological value. This year's recipients will be honored at the 2017 AIA Conference on Architecture in Orlando.
In a recent statement, the AIA urged policymakers to keep carbon neutral goals for the built environment.
New for 2017
For this year, COTE substantially revised its Measures of Sustainable Design, the criteria judges use to evaluate projects. New topics include impact on health, wellness, and economy. In past years, criteria was based largely on predicted performance, not actual performance as measured after occupying the buildings. Since 2014, past Top Ten recipients have been invited to submit post-occupancy data and narratives to be recognized with a single COTE Top Ten Plus award each year. In 2017, these separate tracks are merged: The 'Plus' designation will denote projects with exemplary performance data and post occupancy lessons.
The descriptions below give a brief summary of the projects:
AIA COTE Top Ten Awards 2017 Winners
Winners of AIA COTE Top Ten Awards 2017
Bristol Community College John J. Sbrega Health and Science Building; Fall River Massachusetts, USA
Sasaki
Bristol set ambitious goals of making its new science building not only elegant and inviting, but also a model of sustainability. The 50,000-square-foot building sets the standard as the first ZNE academic science building in the Northeast. Providing hands-on learning opportunities and care to underserved populations, its program accommodates instructional labs and support space for field biology, biotech, microbiology, and chemistry; nursing simulation labs; clinical laboratory science and medical assisting labs; dental hygiene labs; and a teaching clinic. Taking a holistic approach to the design and construction of the Sbrega Health and Science Building, the team uncovered innovative ways to eliminate the use of fossil fuels, increase efficiency, and dramatically reduce demand.
Brock Environmental Center; Virginia Beach, Virginia, USA
SmithGroupJJR
Top Ten Plus honor for exceptional post-occupancy performance
The Brock Environmental Center is a hub for the Chesapeake Bay Foundation's Hampton Roads office, supporting their education, advocacy and restoration initiatives. The Center is designed to express CBF's mission of collaboration to protect one of the nation's most valuable and threatened natural resources – the Chesapeake Bay. CBF aspired to manifest true sustainability, creating a landmark that transcends notions of "doing less harm" towards a reality where architecture can create a positive, regenerative impact on both the environment and society. The Center surpasses LEED achieving zero-net-CO2 emissions, zero waste, and Living Building Challenge certification from the International Living Future Institute.
Chatham University Eden Hall Campus; Richland Township, Pennsylvania, USA
Mithun
After receiving the donation of 388-acre Eden Hall Farm north of Pittsburgh, Chatham University conceived an audacious goal to create the world's first net-positive campus. Home of the Falk School of Sustainability, Eden Hall Campus generates more energy than it uses, is a water resource, produces food, recycles nutrients, and supports habitat and healthy soils while developing the next generation of environmental stewards. Linked buildings, landscapes and infrastructure support an active and experiential research environment. New building forms, outdoor gathering spaces and integrated artwork complement and interpret natural site systems, while making cutting-edge sustainable strategies transparent and explicit.
Discovery Elementary School, Arlington Public Schools; Arlington, Virginia, USA
VMDO Architects
Discovery Elementary School is the largest zero-energy school in the US. The challenge was to integrate a 98,000 SF building into a residential neighborhood while keeping the entire PV array on the roof. By terracing the mass into a south facing hill, the project met local goals for scale, community goals for preservation of flat, open space for recreation, and global goals for ideal orientation for solar generation. Discovery offers a positive example of a solution to the global crisis of climate change – and along the way emboldens students with the expectation that they are creative participants in those solutions.
Manhattan Districts 1/2/5 Garage & Spring Street Salt Shed; New York City, USA
Dattner Architects and WXY architecture + urban design
The Garage and Salt Shed celebrate the role of civic infrastructure by integrating innovative architectural design with sustainability and a sensitivity to the urban context. The building is wrapped in a custom perforated double-skin façade that reduces solar gain while allowing daylight and views in personnel areas. The 1.5 acre extensive green roof reduces heat-island effect, promotes biodiversity, and filters waste steam condensate and rainwater allowing it to be reused for truck wash. The projects are also benchmarks for NYC's Active Design program, which promotes the health and fitness of occupants through building design.
Milken Institute School of Public Health, George Washington University; Washington, D.C., USA
Payette and Ayers Saint Gross
The Milken Institute School of Public Health at GWU embeds core public health values — movement, light/air, greenery, connection to place, social interaction, community engagement — in a highly unconventional, LEED Platinum building on an urban campus in the heart of the nation's capital. Research offices, classrooms and study areas are clustered around an array of multi-floor void spaces that open the building's dense core to daylight and views. An irresistible, sky-lit stair ascends all eight levels, encouraging physical activity. The pod-like classrooms are set in from the perimeter so informal study and social interaction space can overlook the bustling traffic circle.
Ng Teng Fong General Hospital & Jurong Community Hospital; Singapore
HOK, USA; CPG, Singapore; Studio 505, Australia
The Green Mark Platinum NTFGH is part of Singapore's first medical campus to combine continuing care from outpatient to post-acute care. Based on passive principles, the performance-based design supports resource efficiency, health, and well-being. Seventy percent of the facility is naturally ventilated, representing 82% of inpatient beds. Unlike its Singaporean peers, NTFGH provides every patient with an adjacent operable window, offering daylight and views. An oasis in a dense city, NTFGH incorporates parks, green roofs and vertical plantings throughout the campus. The building uses 38% less energy than a typical Singaporean hospital and 69% less than a typical U.S. hospital.
NOAA Daniel K. Inouye Regional Center; Honolulu, Hawaii, USA
HOK with Ferraro Choi & WSP
Located on a national historic landmark site on Oahu's Ford Island, the National Oceanic and Atmospheric Administration's Inouye Regional Center features the adaptive reuse of two World War II-era airplane hangars linked by a new steel and glass building. The hangars inspired beautifully simple design solutions for how the center uses air, water and light. The LEED Gold complex accommodates 800 people in a research and office facility that integrates NOAA's mission of "science, service and stewardship" with Hawaii's cultural traditions and ecology. The interior environment, which is based on principles of campus design, creates a central gathering place.
R.W. Kern Center; Amherst, Massachusetts, USA
Bruner/Cott & Associates
Hampshire College's R.W. Kern Center is a 17,000-square-foot multi-purpose facility designed to meet the Living Building Challenge. As the gateway to campus, Kern includes classrooms, offices, a café, and gallery space. The building is self-sustaining— generating its own energy, capturing its own water, and processing its own waste. The Kern Center is the result of an inclusive and integrated design process and wholehearted commitment to the environmental mission by the whole team. The project demonstrates Hampshire's dedication to the highest level of sustainability and stewardship, and to the college's mission of critical inquiry, active leadership and hands-on learning.
Stanford University Central Energy Facility; Stanford, California, USA
ZGF Architects LLP
At the heart of Stanford University's transformational, campus-wide energy system is a new, technologically advanced central energy facility. The system replaces a 100% fossil-fuel-based co-generation plant with primarily electrical power—65% of which comes from renewable sources—and a first-of-its-kind heat recovery system, significantly reducing greenhouse gas emissions, and fossil fuel and water use. The facility comprises a net-positive-energy administrative building, a heat recovery chiller plant, a cooling and heating plant, a service yard, and a new campus-wide main electrical substation. Designed to sensitively integrate into the surrounding campus, the architectural expression is one of lightness, transparency and sustainability to express the facility's purpose.
AIA COTE Top Ten Awards Jury:
Annie Chu, FAIA, IIDA, CHU + GOODING ARCHITECTS, Woodbury University; Steve Kieran, FAIA, LEED AP BD+C, Kieran Timberlake; David Lake, FAIA, Lake Flato; Bungane Mehlomakulu, PE LEED AP, Integral Group and Amanda Sturgeon, FAIA, Living Futures Institute.
About the American Institute of Architects
Founded in 1857, the American Institute of Architects consistently works to create more valuable, healthy, secure, and sustainable buildings, neighborhoods, and communities. Through nearly 300 state and local chapters, the AIA advocates for public policies that promote economic vitality and public wellbeing. Members adhere to a code of ethics and conduct to ensure the highest professional standards. The AIA provides members with tools and resources to assist them in their careers and business as well as engaging civic and government leaders and the public to find solutions to pressing issues facing our communities, institutions, nation and world. Visit www.aia.org.
American Institute of Architects
Website: COTE Top Ten Awards 2017
Location: Chicago, USA
Apr 11, 2017
2017 American Architecture Awards
American Architecture Awards Winners in 2017
American Architecture Awards Winners in 2017
The Nation's Highest Public Award for New Architecture by the Most Prominent Architects
The U.S. 'Firm of the Year ' Recipients of The American Prize for Architecture Are Honored at a Gala Reception/Dinner at the Orlando Museum of Art on April 27
Paul Ferro, Robert J. Giannini, John Marx, and James Tefend of Form4 Architecture have been selected as the 2017 American Prize for Architecture Laureates, announced by The Chicago Athenaeum: Museum of Architecture and Design and The European Centre for Architecture Art Design and Urban Studies, which jointly administers the award that is known nationally and internationally as America's highest public tribute for architecture in the United States.
SEA SONG Big Sur, California | 2016
Architects: Form4 Architecture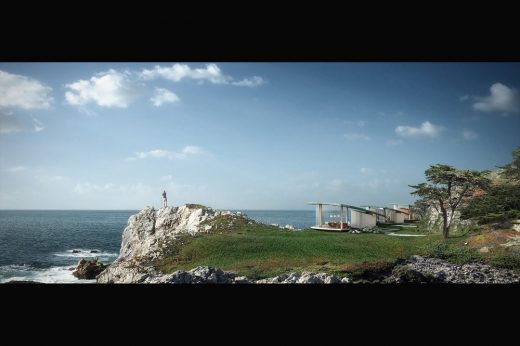 photo courtesy of architects
The four architects from San Francisco have worked collaboratively since the founding of their firm Form4 Architecture in 1998. Their work demonstrates a willingness to transcend architecture norms by pushing the envelope to create a fresh, intellectual approach to form and space-making and architectonic expressionism. Their designs are relative to the environment and stand the test of time. The firm believes that their best buildings are a balance-contemporary, yet enduring; rational, yet provocative.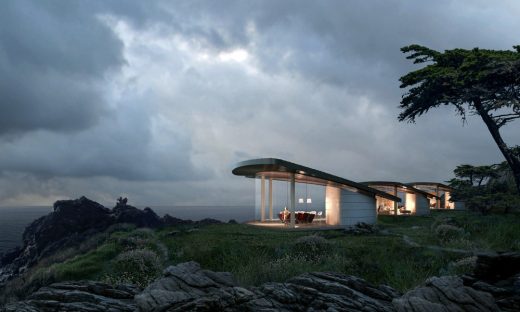 The American Prize for Architecture pays tribute to the spirit of the founder of modernism, Louis Sullivan, and the subsequent generations of Chicago practitioners as Frank Lloyd Wright, Daniel H. Burnham, and Holabird & Root. It also broadcasts globally the significant contributions of America's rich and inspiring architecture practice and its living legacy to the world at large.
Sea Song House in Big Sur, California
Design: Form4 Architecture, architects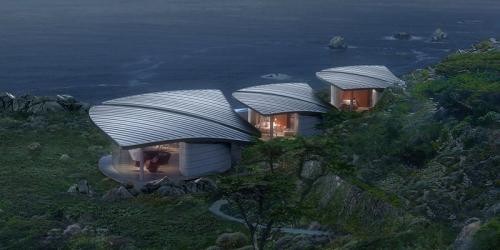 image courtesy of architects
Sea Song House in Big Sur, California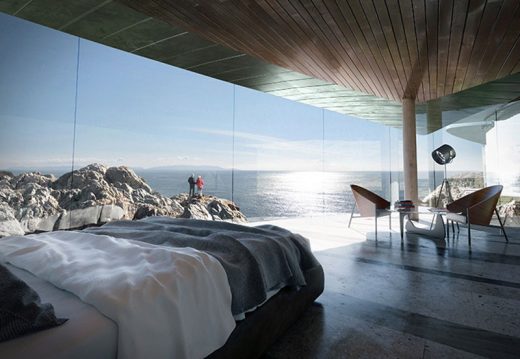 The American Prize for Architecture 2017
American Architecture Awards Winners
American Institute of Architects Gold Medal
American Architecture Awards 2008
Website: COTE Top Ten Awards 2016
Comments / photos for the COTE Top Ten Awards 2017 page welcome