BCO Awards 2022 UK, Results, England, Scotland, Winners Links, Architecture News
BCO Awards 2022: British Council For Offices Prize
British Council For Offices Prize : Winners – Buildings + Architects
7 Oct 2022
British Council For Offices Crowns The Best Of The British Office Sector
BCO Award Winners 2022
Sunderland City Hall was celebrated as 'Best of the Best' at the British Council for Offices' (BCO) National Awards in the capital last night, also taking home the 'Corporate Workplace' award. The office was joined by six other award winners recognised as leading examples of excellence in office space across the UK.
The BCO's respected National Awards programme recognises top quality office design and functionality and sets the standard for excellence across the office sector. The dinner attracted over 1,200 key players from the industry to celebrate the best-in-class buildings as the winners from the Regional Awards programme attended Grosvenor House, hoping to take home the National Award for their category.
The full list of winners is:
– 'Best of the Best' and 'Corporate Workplace': Sunderland City Hall, Sunderland, north east England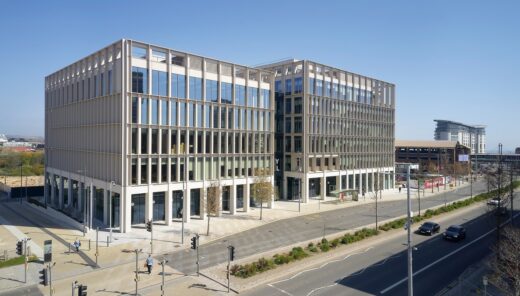 photograph : HuftonCrow
– 'Commercial workplace': 80 Charlotte Street, London, south east England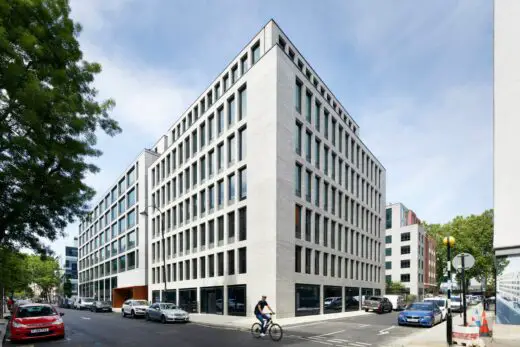 photo courtesy of architects office via British Council for Offices (BCO)
– 'Refurbished/ Recycled Workplace': FORGE, Woking, Surrey, England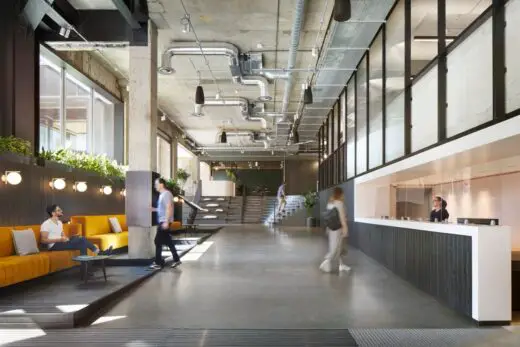 photo courtesy of HawkinsBrown architects via British Council for Offices (BCO)
– 'Innovation': Cadworks, Glasgow, Scotland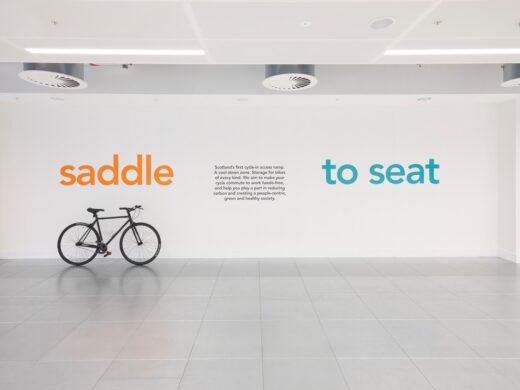 photo courtesy of Cooper Cromar, Cadworks by Alan McAteer via British Council for Offices (BCO)
– 'Fit Out of Workplace': Dojo, The Brunel Building, London, England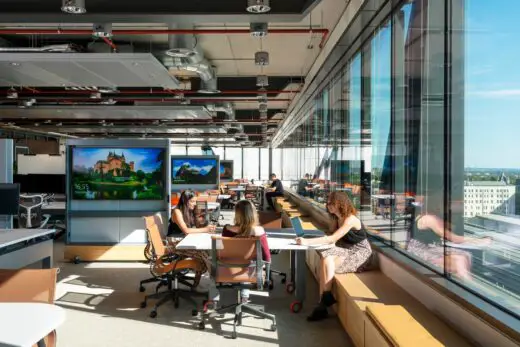 photo courtesy of BDG via British Council for Offices (BCO)
– 'Projects up to 1,500m²': Bicester Eco-Business Centre, Elmsbrook, Oxfordshire, England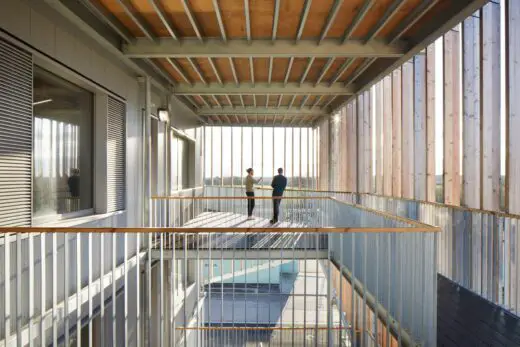 photo courtesy of Architype via British Council for Offices (BCO)
– 'Test of Time': The Enterprise Centre, University of East Anglia, Norwich, Norfolk, England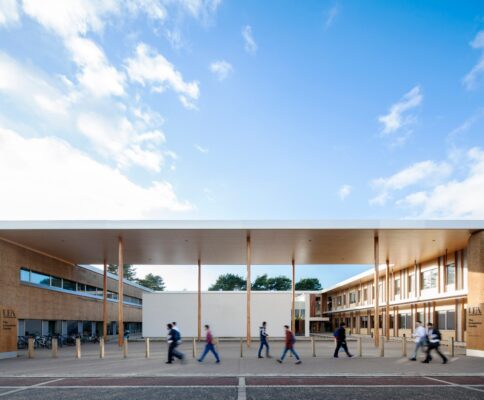 photo courtesy of Keppie Design via British Council for Offices (BCO)
Judges praised Sunderland City Hall, designed by FaulknerBrowns Architects for Sunderland City Council, as an ambitious and transformative project that will be the catalyst for creating a new commercial district and rejuvenating the wider city. "It delivers an exceptional building which embraces the heritage of Sunderland whilst offering a contemporary and welcoming environment for the diverse community who use the building," the judges said of how City Hall demonstrates how the public sector can drive positive change, restore pride and stimulate growth. "The vision and design quality are aspirational whilst remaining accessible and welcoming to all which is a huge achievement." It is the creative commercial structuring coupled with outstanding social impact that makes this project a worthy winner.
Derwent London's 80 Charlotte Street in the heart of London's Fitzrovia combines 320,000 sq ft of commercial office space with 55 new apartments, a new café and restaurant which serves both the local community and occupiers of the new building. Designed by Make Architects, the integrated architectural and engineering approach to the design of the development delivers a building which is BREEAM Excellent and is net zero carbon in operation. The judges were impressed by the quality of the landlord areas, and with the hybrid workspace, bar and roof top terrace.
FORGE by Hawkins\Brown for V7 was acknowledged by judges as "a clever and thoughtful intervention that maximised its opportunity". Attention was focussed in the areas that would have the biggest impact to the users of the building and therefore will make a meaningful difference to tenant, landlord and the local area. Under-utilised areas such as the reception, carparking, the atrium and plant rooms have all been reimagined, maximising useable space within the building, and creating new office and amenity spaces. It is evident that sustainability, technology, future proofing to ensure relevance of design, value for money and user experience were at the heart of all decision making.
FORE Partnership's Cadworks is one of the most sustainable and innovative office buildings in Scotland and the first Net Zero Carbon building in operation in Glasgow. Judges were impressed by how the all-electric building combines smart technology, occupier wellbeing, along with significant carbon reduction. The building by Cooper Cromar features Scotland's first cycle-in access ramp with high quality facilities and Glasgow's first "shell and floor" finish to prevent waste. Occupiers have a series of turnkey packages to layer smart building technology to improve the utilisation, visibility and the health of their workspace, all via a smart phone app.
Dojo, by BDG architecture + design, won the judges over with how it is designed for its people and culture. This fit out sensitively builds on the base build architecture and has a warm, domestic feel to the interior, finishes and settings. Flexibility is a core design principle, team areas are reconfigurable, with a family of moveable furniture elements in support of their agile work processes. A dynamic accommodation stair connects floors through a social hub.
In a time of climate emergency, judges said the Bicester Eco Business Centre provides proof that we have the tools to meet the 2030 carbon targets. Achieving zero carbon in operation, as well as Passivhaus Plus and BREEAM Outstanding, judges said the building by Architype for Cherwell District Council is as forward thinking as it is high achieving. The first Passivhaus Plus office in the UK, it takes the principles of quality, comfort, and sustainability standards to provide an exemplar workplace providing a mix of co working and private office space.
"The Enterprise Centre is a celebration of sustainability, nature, innovation and collaboration," this year's judges said of the BREEAM Outstanding Passive House building that featured at COP26. The use of locally sourced natural materials, fresh air and natural ventilation, daylighting and stable temperatures leads to enhanced quality, as well as creating an excellent environment for health and wellbeing. The operational performance of the building was closely monitored over three years with extensive occupier feedback and engagement to tweak and improve the building performance. The centre, designed by Architype for the University of East Anglia acts as an incubator space for local start-up businesses.
Highly commended projects included The HALO Enterprise & Innovation Centre, Kilmarnock and Plumtree Court, London for 'Corporate Workplace' and Two New Bailey Square, Salford for 'Commercial Workplace'.
Tony Hordon, Managing Director of Parabola and Chair of the BCO's National Judging Panel, commented: "Evaluating the exceptional nominees for this year's BCO National Awards has been a wonderful reminder of the quality, world class design and innovation that our industry stands for. The winners have set new standards for the next generation of offices and will serve as an inspiration for others. Congratulations to all of the teams involved."
Richard Kauntze, Chief Executive of the BCO, added: "The BCO National Awards once again saw industry professionals come together to celebrate best-in class office design. As well as commercial excellence, this year's winners have demonstrated impressive achievements of purpose, putting sustainability and social impact at the centre of their designs."
Sunderland City Hall
Design: FaulknerBrowns Architects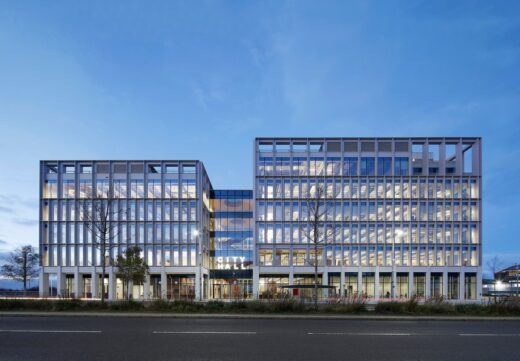 photo : HuftonCrow
Sunderland City Hall Building
BCO Awards
For more information about the awards and the winners this year visit the BCO website (www.bco.org.uk). Entries for the 2023 BCO Regional and National Awards programme open on 5 October.
The Platinum sponsor for this year's BCO National Awards is ISG. Gold sponsors are AECOM, Glamox Luxonic, SAS International and Troup Bywaters + Anders. Silver sponsors are: Atelier Ten, Barr Gazetas, Foreman Roberts, Future Designs, General Demolition, GPF Lewis, HDR and Rider Levett Bucknall.
The BCO Awards are in association with EG.
BCO
The British Council for Offices (BCO) is the UK's leading member organisation representing the interests of all those who occupy, design, build, own or manage offices in the UK. Since inception in 1990, the BCO has provided thought leadership and best practice in all issues related to the creation and use of office space – through to its research, awards, conference and events programmes. www.bco.org.uk
Twitter: @BCO_UK
Instagram: @BCO_UK
Facebook: https://www.facebook.com/BCOonline
BCO Awards 2022 information / images from British Council For Offices on 061022
BCO space standards for post-pandemic offices
BCO Award Past Winners
BCO Awards 2010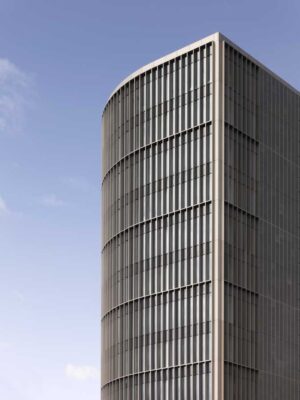 photograph © James Brittain
Location: UK
Architectural Design Awards
Contemporary Architectural Designs
Architecture Walking Tours Europe
Comments / photos for the BCO Awards 2022 – British Council For Offices Winners page welcome.