Unique World Buildings, Global Property Design, International Architecture
Unique Buildings from Around the World
Innovative International Properties – Architectural Design Article
6 Jan 2019
Unique Buildings from Around the World Article
A post aobut global architectural design
Unique International Architecture
The need to build has been the driving force in all humans from the very beginning, resulting in overall development over the years. Whether it is tools to help with everyday life or huge structures that have stood the test of time, our fascination with constructing objects continues till this very day.
While travelling across the world, it is easy to see the diverse architectural styles that exist in various regions. These buildings, be it the seven wonders of the world or a modern upside-down house, are typically a combination of individual imagination, a passion for creating something unique, and also a show of power. As a result, some buildings are funny looking, some majestic, and in many cases, they are extraordinary marvels to gaze at and ponder. It is no surprise then that every few years we are informed of a new tallest building in the world, as the race to reach and stay at the top continues.
Architecture in a broad sense is no different from art, only performed on a grander stage. There are buildings to be found that stand out from the rest because they defy conventional designs and make for excellent places to visit and appreciate the nuances of architecture.
Cubic Houses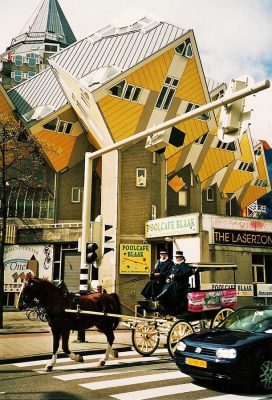 photo © Ton Hermans
The Cube Houses in Rotterdam, Netherlands are no gimmick. There is precise planning and thought that has gone behind the construction of these residential properties. The idea is to maximise space. Even if they might look compact from the outside, there are three floors to each house. Painted bright yellow, the apartments are a busy tourist attraction in the city, but more than that they reflect how architectural ideas influence daily life.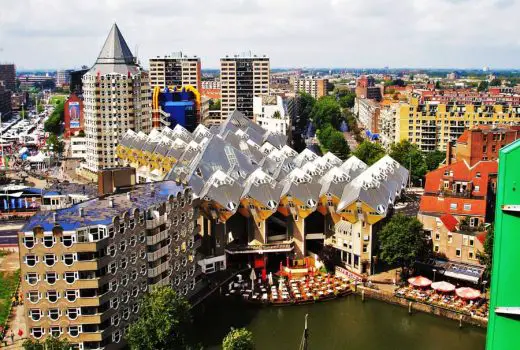 photo © Ton Hermans
Prada Marfa
Is it a shop or is it an art installation? Some refer to it as a sculpture, while the authorities are officially labelling it as a billboard. The Prada Marfa is a non-operational Prada store lookalike in the middle of nowhere on US Highway 90 near Valentine, Texas. A temporary art installation initially, Prada Marfa has over the years become an iconic spot to take pictures. The "shop" contains actual Prada bags, shoes, and accessories. However, after vandalism acts, the bags now have no bottoms and can be traced if stolen.
Louis Vuitton Foundation
Very much like any art, architecture is often under a scanner when it comes to judging it for its beauty. Many say that "beauty lies in the eye of the beholder", but the fact remains that there are buildings that are way out there, and one wonders if the architect purposely wanted to make it look ugly. This 2014 inaugurated art museum and cultural centre is undoubtedly a spectacular building. However, one look at it and most people wonder what was going through the architect's mind when they drew up the plans.
Library of Birmingham
A newly constructed building in the second city of England, the Library of Birmingham has the locals divided. Its exteriors are a combination of circles and stars with gold being a predominant colour.
The main building is enormous, but the façade has people wondering if it fits in with the architecture of the city. Everything else aside, the library is a beautiful place for locals and tourists alike to spend some time in the company of books and also get panoramic views of the city from one of its two verandas.
Comments on this Unique Buildings from Around the World advice article are welcome.
Architectural Design
Robinson Tower
Design: KPF / Architects 61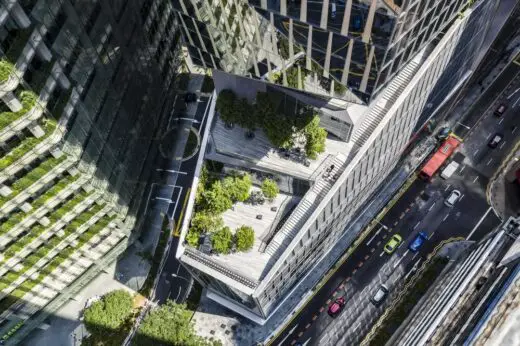 photo : Tim Griffith
Robinson Tower Building News
Comments / photos for the Unique Buildings from Around the World page welcome