Architectural Stained Concrete Flooring Trends, Commercial property unterior floor fashion
Stained Concrete Flooring
23 Oct 2019
Advantages and Disadvantages of Having Stained Concrete Flooring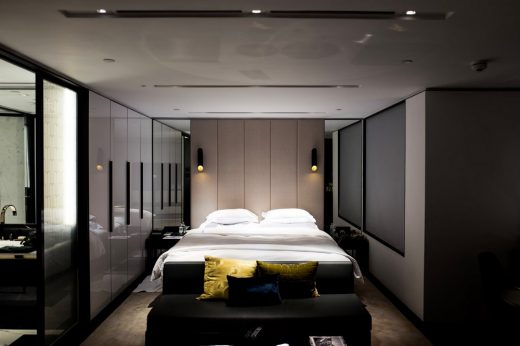 image Source: https://images.pexels.com/photos/1267438/pexels-photo-1267438.jpeg
Concrete flooring is widely used in all types of buildings, from residential to commercial, industrial, and institutional. This is due to many reasons and advantages that concrete flooring offers.
They are durable and can withstand all types of traffic and anything Mother Nature might throw their way. Concrete flooring is also stiff, energy-efficient, and resilient, and easy to be maintained and cleaned. The only flaw that many people can't get over is that this type of flooring can be dull without any pizzazz to it.
That's when staining came into the equation and completely turned the world of floorings upside down. Stained concrete flooring adds the missing stylish element and the luxurious finish. Staining can also add depth and dimension to the floor without any effort. To understand more about stained concrete flooring and whether it will suit your building or not, you need to go over the advantages and disadvantages that they offer to be completely aware of the whole process. Why not choose polished concrete!
Advantages of Stained Concrete Flooring
The quality of the flooring and the staining determine the outcome of the entire process. While staining adds a luxurious look and effect to the flooring, that's not the only advantage it comes with.
Durability
Concrete is one of the most versatile and strongest materials used in numerous construction projects, from the ancient pyramids to the newest forms of concrete flooring. But no matter how strong a material is, it can be worn down by constant pressure over time; even rocks deform by constant little droplets of water. Concrete flooring that's directly exposed to foot traffic and other constant factors can easily be damaged in the form of scratches, warps, and buckling due to its high ratio of pores.
Stained concrete flooring helps by covering the already-strong concrete with a glamorous armor that can keep it going for years, even in a highly punishing environment. The stained coating can provide extra protection against peeling, chipping, and discoloration. It protects the concrete from water exposure, reducing the chances of mold growth.
Ease of Maintenance
Unlike traditional concrete flooring where special products have to be used, all you need to clean stained concrete flooring is some warm soapy water. Sweeping debris will be quite easy as no crevices will be there holding dust and dirt. Traditional brooms wouldn't scratch the surface as the coating makes it scratch-resistant. You shouldn't expect any discoloration or fading when you're cleaning your stained concrete flooring.
Energy Efficiency
The more layers added to insulate flooring from its thermal environment, the better. Stained concrete flooring has a high level of thermal insulation, which makes it able to absorb and release thermal energy at a convenient pace. Some environments are better suited for concrete flooring rather than adding coverings like carpets or hardwood. The thermal mass of stained concrete flooring should reduce your energy bills, too, as you'll rely less on air conditioning and heating systems.
Aesthetic Element
People sometimes tend to quickly brush off the idea of the aesthetic appeal of concrete for their homes. What many do not think about is how it can be used and customized to complement any style. Interior designers are turning to stained concrete to set off a unique trend for many setups. The ability to paint and decorate stained concrete is much higher than that of normal or traditional concrete. No matter what the décor of the house looks like, you can easily find ways to customize your stained concrete flooring to fit into the ambiance of the house.
Disadvantages of Stained Concrete Flooring
Slippery Surface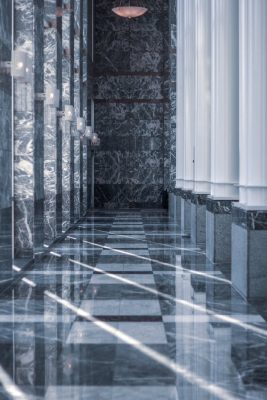 image Source: https://images.pexels.com/photos/2083961/pexels-photo-2083961.jpeg
Many people might think that staining or polishing can be dangerous, especially for pets and kids due to the floor being slippery. However, experienced artisans at Craftsman Concrete Floors have clarified that stained and polished concrete floorings aren't slippery as many people might think. On the contrary, you can control the level of slip resistance added to the floor regardless of the finish you go for. You should always take into consideration that you may need to adjust the slip resistance depending on the nature of your household.
Staining Timing
It's usually recommended to stain the concrete as soon as possible after it's poured. The problem a lot may face when they're staining their old concrete is that there is a chance that a sealant is already applied, making it hard for the stained coating to stick. While it's more environmentally friendly to stain your already existing concrete, it will take a professional to do the job right.
Deciding on Staining
While almost every concrete surface can have staining installed on it, not every surface reacts to it the same way. The age and type of mixing of the concrete are important factors that you need to take into consideration when you're staining your floor. The foot traffic and floor placement also play an important role in the decision of choosing a sealant and colorant for the floor.
Shade Variation
It's very hard to predict the color changes of concrete, especially when it's new. Some floors only witness slight variations while others undergo heavy changes. The method of application of the stain can affect the final result as well. While this doesn't happen often, it's important to keep in mind the factors that will affect the final aesthetic look of the concrete.
Hard Floor
While concrete flooring is known for its ability to withstand punishment and being cost-effective, staining it doesn't change the fact that it is significantly harder. Impacts on stained concrete flooring still have a high energy exchange. Dropping fragile items on the floor would be more likely to destroy them compared to other flooring options.
Stained concrete flooring is a very good option for certain residential and commercial properties. You may need to take some of the mentioned advantages and disadvantages into consideration to make an informed decision. You don't want to miss a better alternative to many flooring options, or waste money and effort on getting stained concrete instead of other choices. Try asking around and see whether it will be an effective option for you or not.
Additional Resource: Benefits of using San Marco Antica Calce Elite
https://www.concretersbrisbane.com
Building Articles
Australia Architecture Designs – chronological list
Lódz Monopolis Building, Poland
Design: The Design Group, Architects – TDG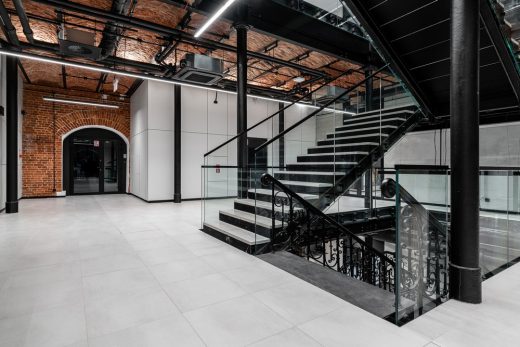 image courtesy of architecture office
Clariant Shared Service Center Lódz Monopolis
Comments / photos for the Advantages and Disadvantages of Having Stained Concrete Flooring page welcome