RICS Construction Activity Monitor 2022 Report, Royal Institution of Chartered Surveyors News, UK Property
RICS Construction Activity Monitor 2022 News
4 November 2022
News from the Royal Institution of Chartered Surveyors, UK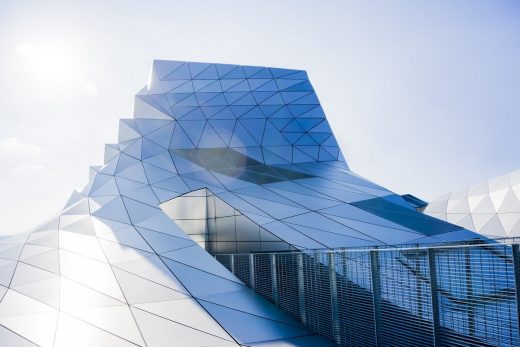 Construction activity expected to continue to slow with credit constraints, labour and material shortages impacting growth
RICS UK Construction & Infrastructure Monitor Q3 2022
• Growth in construction workloads eases – and workload expectations for the next 12 months are also downgraded
• The infrastructure sector is continuing to hold up better than the other subcategories
• Material and labour costs remain a problem and financial constraints are becoming more prominent
• Macroeconomic and industry factors leading to further pressure on profit margins expectations from contributors see the worst figure in two years
RICS Construction Activity Monitor 2022
The Royal Institution of Chartered Surveyors (RICS) UK Construction & Infrastructure Monitor for Q3 2022, indicates that construction activity is expected to slow over the next 12 months. While workloads are still rising, growth is starting to decline and expectations for the next 12 months are now also not as positive as were recorded in this survey in the previous quarter. Significantly, there is now greater concern regarding how macro factors may impact the industry, specifically with respect to credit constraints.
The headline reading of construction workload activity for the whole of the industry has lost momentum over the past quarter, with a net balance of +17% of respondents reporting an increase, compared to +30% in Q2. The infrastructure sector is continuing to hold up better than other areas; with a net balance of +32% this quarter. However, momentum has slowed across all categories. Private industrial, for example, dropped from a net balance of +28% in the previous quarter to +12% in this quarter and private commercial dropped from +25% to +10%. For private residential, the latest workloads net balance slipped to +17%, compared to a reading of +29% beforehand.
In terms of business enquiries, for either new projects or contracts, these have also eased compared to Q2. In Q2 net balance at +36%, this quarter it's fallen to +15%. This underlines the other metrics showing that the market is losing some steam, as does the fact that profit margins are also under increased pressure. Expectations from contributors fell to a net balance of -23% this quarter from -14% in Q2; the worst figure in two years. Turbulent economic conditions, including the rise in interest rates and inflation both domestically and internationally is impacting across the market.
There are several difficulties facing the industry, and respondents cited shortages in materials and labour, alongside increasing financial constraints. 77% of contributors cite material and labour shortages while 74% drew attention to a scarcity of labour as factors hindering activity. Also, 56% of respondents cited a lack of quantity surveyors as a key factor holding back construction activity.
Simon Rubinsohn, Chief Economist at RICS, said:
"The deteriorating macro environment is clearly taking a toll on the construction industry with access to credit now being cited as a key challenge for businesses alongside the more familiar issues around building materials and labour. Indeed, the RICS metric capturing the extent of skill shortages in the sector has barely budged in recent quarters with quantity surveyors and a range of skilled trades in particular short supply.
"Meanwhile, the impact of the shift in the economic outlook is most visible in the residential and commercial sectors where workloads are now viewed as likely to flatline over the coming year. Ongoing commitments to a number of big projects is, however, continuing to support activity in the infrastructure area. The thoughts of the Chancellor on November 17th may provide some clues as to whether this trend is likely to be sustained over the longer term."
RICS
Everything we do is designed to effect positive change in the built and natural environments. Through our respected global standards, leading professional progression and our trusted data and insight, we promote and enforce the highest professional standards in the development and management of land, real estate, construction and infrastructure.
Our work with others provides a foundation for confident markets, pioneers better places to live and work and is a force for positive social impact.
RICS Construction Activity Monitor 2022 Report information received 041122 from the Royal Institution of Chartered Surveyors
Previously on e-architect:
The latest RICS Commercial Property Monitor finds that domestic and foreign investors are turning away from UK commercial property.
27 October 2022
RICS Commercial Property Monitor Q3 2022, UK
Domestic and foreign investors turn away from UK Commercial property as tenant turns negative
• 81% of respondents view the commercial market to be turning down
• Both capital value and rental projections turn negative for the year ahead
• Overseas investment enquiries now in negative territory across all mainstream sectors.
Thursday 27 October 2022 – The Q3 2022 RICS UK Commercial Property Survey results point to a weakening in market activity, with the prospect of significant further interest rate rises weighing heavily on the outlook over the year ahead.
On the occupier side, overall tenant demand fell to a net balance of -10%, down from +17% in Q2. This decline ends five successive quarters of growth, with virtually all parts of the UK seeing a downward trend for tenant demand in office and retail space, and although nationally demand for industrial space is still positive (net balance +21%) the figures have eased in each of the last three surveys (+61% posted in Q4 last year).
Unsurprisingly this decline in demand sees a further rise in leasable office and retail space, alongside a modest decline in industrial vacancies. This has triggered landlords to up the value and number of incentive packages to tempt prospective tenants.
In in-depth questions about the use of office space, close to 90% of our respondents expect businesses to scale back at least some of their office footprint over the next twelve months. The largest share of contributors (one-third) believes this reduction will be between 5 and 10%. That said, an almost equal share believes this trimming in office footprints could be between 10 and 20%+ over the year. In our global version of this survey, interestingly, two thirds of respondents report observing a modest amount of repurposing of offices with just over 10% seeing what they describe as a 'significant' reshaping of the estate.
With structural forces impacting the sector, and a deteriorating macroeconomic backdrop prime office rents are predicted to remain broadly flat over the year ahead, as opposed to the increase previously predicted. The outlook is more negative for the secondary, non prime, office market. Alongside this, twelve-month projections slipped deeper into negative territory for prime and secondary retail, and for the industrial sector the projected rent rise is the most modest since the early stages of the pandemic.
In investment market a headline net balance of -18% of respondents cited a decline in buyer enquiries during Q3. This represents the weakest return for this metric since Q2 2020 and the series capturing overseas investment enquiries is now in negative territory (to a greater or lesser degree) across all mainstream sectors.
The twelve-month outlook shifted markedly during Q3 for capital values. Projections for prime office values turned negative, with the net balance falling to -21% from +15% last quarter. For secondary offices, a net balance of -51% of respondents foresees a value decline (compared to -26% in Q2). For retail, already negative projections were downgraded further, with a net balance of -49% of contributors anticipating prime retail values falling in the year ahead, while the net balance stands at -65% for secondary.
Around 40% of UK respondents now feel the commercial property market is priced above fair value, a steady increase of just 29% taking this view at the end of last year. This share is much higher in London, at close to 60%. Lastly, 81% of respondents now believe that the market is in some stage of a downturn.
Tarrant Parsons, RICS Economist, said: "Deteriorating conditions across the UK economy are having an increasingly noticeable influence on the UK commercial property market, with higher interest rates, and the prospect of more to come, now clearly weighing on investor demand.
"The weaker survey feedback is particularly evident in the retail sector, as the cost-of-living crisis and falling consumer confidence takes its toll on household spending. Likewise, the office sector has also seen a renewed decline in demand, with ongoing structural changes to working patterns brought about by the pandemic further exacerbating the broader cyclical downturn in the economy."
Previously on e-architect:
24 October 2022
RICS UK Awards News
Ni Surveyor Honoured With Lifetime Achievement Award At London Ceremony
Diana Fitzsimons FRICS presented with accolade by RICS
24th of October 2022 – Belfast-based chartered surveyor Diana Fitzsimons has been awarded the inaugural lifetime achievement award at the RICS UK Awards Grand Final in London.
Diana, who has served as RICS NI Chair, Chair of the global Planning and Development Faculty Board of RICS and member of RICS World Governing Council, as well as Deputy Chair of RICS Lionheart, has had a distinguished career across the public, private and voluntary sectors. She was presented with the accolade on Friday afternoon at a gala in the Londoner Hotel on Leicester Square.
The RICS Awards are a highly prestigious event, presenting accolades to the most impressive building projects and teams in the UK. This is the first year in the longstanding awards history that a lifetime achievement award has been presented.
Judges said that Diana Fitzsimons FRICS was an extremely worthy recipient.
Currently a Belfast Harbour Commissioner and a Visiting Professor at Ulster University, Diana is immediate past Chair of Radius Housing and has been active throughout her career at an international level. She regularly gives conference papers on her favourite subjects of sustainability, urban regeneration and Belfast Harbour's regeneration activities.
Diana worked in private practice for many years as a planning consultant leading the Belfast office of Turley, then her own practice, and before that was a principal Planning Appeals Commissioner for a decade. Before that she was a Senior Lecturer in Planning and Development at Ulster University, involved in course development, teaching and research in her field of urban regeneration.
Diana's Lifetime Achievement Award came at an event where Northern Ireland projects and professionals swept the board. The Erne Campus of Southwest College was named Public Sector Project of the Year as well as overall Project of the Year. An Chroí Community Hub in the Northwest was highly commended in the Community Benefit Project category, whilst the project team delivering the Northwest Multi Modal Transport Hub won Infrastructure Team of the Year.
Commenting, Diana Fitzsimons said: "I was extremely honoured to be presented with the Lifetime Achievement Award by RICS. This is effectively an award presented by my peers and for the judges to feel that I was worthy of the award is very humbling."
www.rics.org/awards
Previously on e-architect:
27 May 2022
Rising costs and lack of skilled professionals hindering UK's construction's efforts to digitise and meet ESG goals
RICS Digitalisation of Construction Report 2022 Responses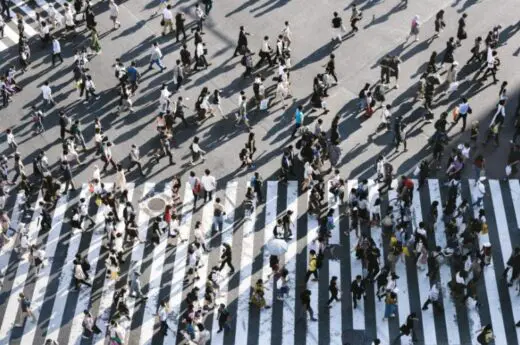 RICS Digitalisation of Construction Report 2022
Location: UK
Architecture Awards
Contemporary Architectural Awards – selection:
World Architecture Festival Awards
British Architectural Designs
London Architect – design practice listing on e-architect
RICS Awards
RICS Awards 2012 Overall Winner – Scottish War Blinded Building, Linburn, West Lothian
Page Park Architects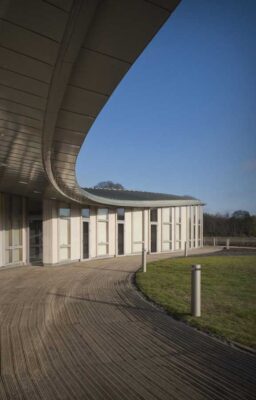 picture : Page Park Architects
Scottish War Blinded Building wins RICS Awards
Global Construction and Infrastructure Conference
RICS Awards 2010 + previous years
Comments / photos for the RICS Construction Activity Monitor 2022 page welcome