Real estate photo tips, Architecture photographer, Building pictures, Property images
Real Estate Photography Guide
Architectural Photos – Building Pictures Guide – Built Environment Images
11 Feb 2019
Real Estate Photography Help
If you are a beginner in real estate photography industry, you probably can use some real estate photography tips to get started. Aiming to start your photography business from the ground up, you may face some difficulties while learning all the nuances of this demanded genre.
In my experience, these challenges can really throw you off balance. So, I've prepared some useful pieces of advice to help all inexperienced beginners improve their skills.
Property Photography Basic Tips
These real estate photo tips will prevent you from widespread failures. So, you can examine them to save your time and money, create a fine reputation and attract more satisfied clients.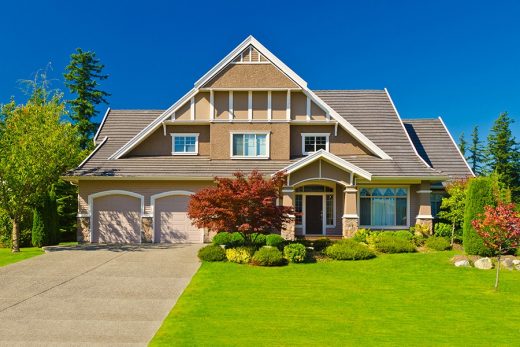 Tip 1. Pay your attention to 3D photography
The best way to stand out from competitors is to follow modern trends. 3D real estate photography is one of them. It's your chance to offer your client's something unique.
Tip 2. Be careful while creating a portfolio
It's essential to ask permission before publishing your works online or featuring them in a portfolio. If you and the building's owner reach a compromise, you will be able to use the shots without any problems.
https://www.youtube.com/watch?v=C2KUyYuMoaM
Tip 3. Don't forget about a detailed contract
Several years ago, I was hired to take real estate photos. I agreed without discussing any details. As the result, I had to spend 4 hours cleaning and preparing the house. This case taught me how important it is to clarify all aspects of the work, from time to services beforehand. One of the best tips for real estate photography is to sign a contract with your clients.
Tip 4. Set clear rules of payment and cancellation
These rules depend on your style of work. As for me, I allow clients to cancel the agreement without penalty for more than 2 working days before the assigned date. In another case, require a 50% advance payment for the next visit.
Tip 5. Don't ignore insurance
There is always a risk of breaking something or spoiling furniture by accident. So, you should be sure that your insurance can cover those expenses.
Exterior Photography Tips
Tip 1. Spend time on finding the best angle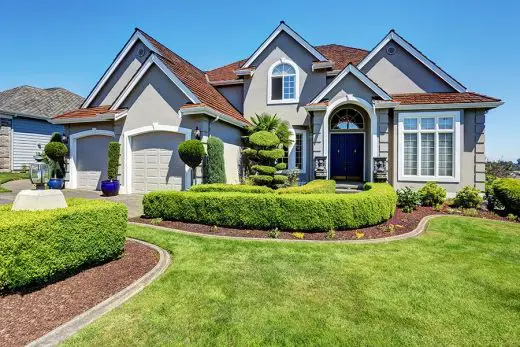 You shouldn't photograph all sides of the building. It's better to choose the most flattering angle and focus on it. Many experienced photographers try to take pictures both in the morning and in the evening.
Tip 2. You can find the location using Google Earth
I enjoy this simple trick that allows seeing when I should arrange my visit. Using this service, you can see whether the building faces the sunrise or sunset. It's important for outdoor photo shoots if you are mindful about natural real estate photography lighting.
Tip 3. Check the weather conditions
No matter how modern and expensive the house is, ordinary rain or mist can easily ruin all your efforts.
Tip 4. Use the illumination
Houses without lights look dull. If you aim to receive a dramatic photograph, don't forget to turn on all exterior lights.
Tip 5. The distance makes difference
I think that there are 2 best positions for shooting. The first one is in the middle of the street and the second one is across the road. You must be exceptionally careful in the latter case.
Interior Photography Tips
Tip 1. Stage interiors and get rid of clutter
The real estate photos look more attractive when the rooms are spacious and not messy.
Tip 2. Experiment with Colors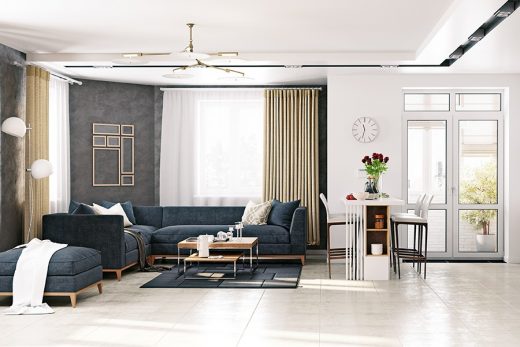 Many beginners ask for the techniques that can help bring their pictures to life. Adding a pop of color, like a vase with flowers or a colorful cushion is one of the most effective tips for real estate photography.
Tip 3. Pay attention to angles
Choose another angle or direction of your shooting, if you aren't satisfied with the images that you receive.
Tip 4. Take advantage of daylight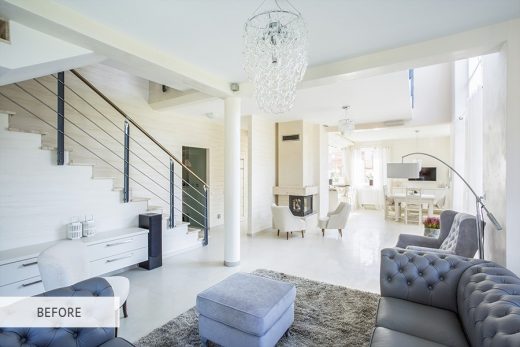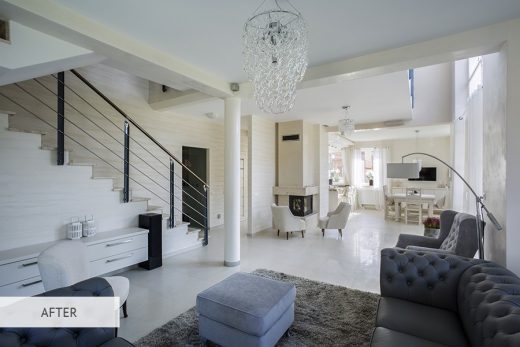 Natural lighting is more preferable, than using flashes. If you want to achieve more accurate contrast in the shots, change the position of curtains.
Tip 5. Get rid of outdated furniture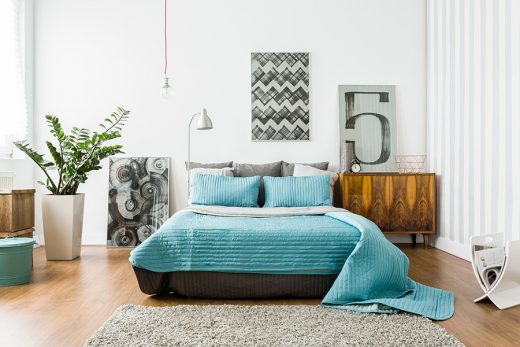 No matter how much the client likes their old furniture or decorations, they can spoil the entire view.
Real Estate Photo Editing Tips
Image editing is very helpful for me as a professional photographer. I use popular photo editing softwares as Lightroom (color correction) and Photoshop (removing objects, adding clouds/grass) to correct some mistakes and provide my clients with perfect results.
Tip 1. Use RAW format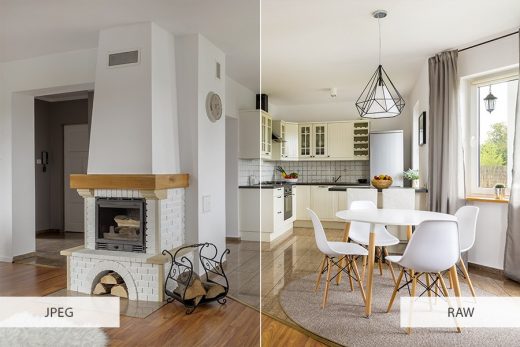 It's the favorite way of shooting for professionals who often turn to deep photo editing. Of course, such files take up much space, but the flexibility they offer is worth it according to the pros at real estate photo editing company Homiesfoto.
Tip 2. Fix distortions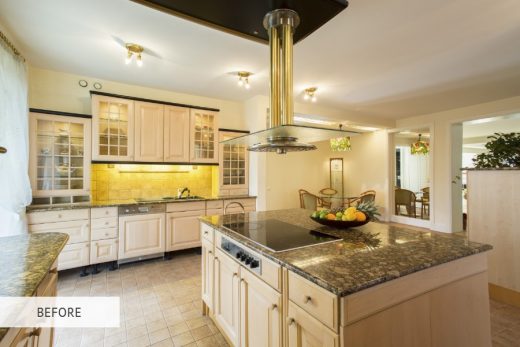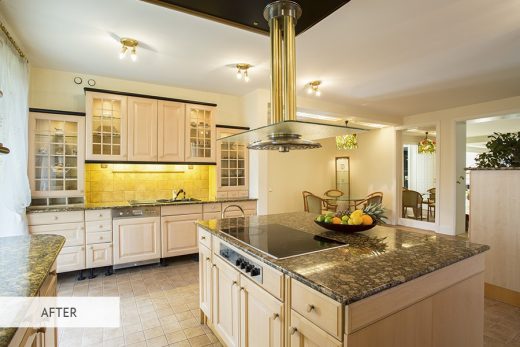 Be sure that all vertical lines, including shelves, walls, curtains, are absolutely straight. It's necessary to make pictures stable-looking with the vertical correction.
Tip 3. Try taking HDR pictures
HDR real estate photography is quite a famous technique that perfectly works for shooting landscapes, cityscapes or architectural images. It isn't very difficult, because there are lots of HDR real estate photography tips on the web.
Tip 4. Crop
https://www.youtube.com/watch?v=ZL0c4tZ16CQ
If you want to delete extra details and make the composition look better, just crop the photograph.
Tip 5. Apply Presets
Use Lightroom presets for quick and simple photo editing. They open a great space for creative experiments, save the photographer's time and effort.
H2: Real Estate Photography Equipment
Using proper real estate photography equipment is crucial for your professional success. It may be difficult to choose all necessary devices, so this list will help you.
Full-frame digital camera
If you want to deliver high-level professional photo services, you need to buy a camera with big sensors. It will help you take pictures of better quality and capture more space in your shots.
A tripod
The tripod is needed for taking shots at slower shutter speeds in low light conditions to avoid blurriness and camera shake.
Lens filters
Different filters perform several important functions. They can reduce glare, eliminate reflections, make the colors more saturated etc.
Wide-angle lens
I enjoy taking pictures that are deep and detailed. So, I prefer this type of lens, of 16-35 mm for my full frame camera. In case you own a cropped sensor model, opt for 10-20 or 12-24 mm.
Drone
Drones can literally take your real estate photos to the next level. Prior to shooting with them, I recommend you to install the specific FAA's application to be aware of actual updates concerning airspace zones.
Memory Cards
Any prudent photographer carries one or two cards just in case.
External flash units
Additional illumination can be very useful for professional lighting. The integrated camera flash isn't powerful enough.
Batteries
I suggest that you bring an extra battery to a photo session to be on the safe side.
A light meter
This gear indicates the correct amount of exposure for a particular shot.
H2: Camera Settings for Real Estate Photography
You can't find one variant of the best real estate photography camera settings. They depend on a particular situation and your purposes. But I'll list those that usually work for me.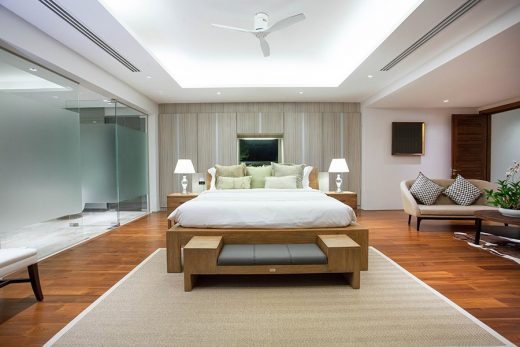 ISO. Adjusting this setting higher than 400 is a bad idea.
Aperture. The widely opened lens provides more light for the camera. Set this parameter between F/8 and F/11. For detail images, use the highest possible aperture.
Shutter speed. I usually set this parameter from 1/60 to ½ a second.
I hope that the deep knowledge in this sphere made my article interesting and detailed.
Use these tips for real estate photography and they will help you boost your knowledge about the common professional tricks, as well as get more positive reviews about your work.
H2: Types of Real Estate Photography – Guide
You should know that there are 3 main styles of modern real estate photography. They are Residential, Architectural and Commercial.
Residential Photographs for Real Estate
This specific genre includes professional photographing of apartments, town-homes, houses, as well as high-priced properties. Depending on the location, you can get from $120 to $420 for a single photo shoot.  According to surveys, the residential shooting usually brings more than 85% of the money that a photographer earns. It's obvious why it's so profitable. It's obligatory to have a great portfolio with works in this style. Talking about the USA, real estate photographers include in this price from up to 20 professionally edited pictures. In this case, you will cooperate with local realtors.
Architectural Photography for Real Estate
The second type of real estate photography isn't as well-paid – be ready that such activity won't bring more than 5% of your total income Photographers, who work in this style, try to create high-quality content and sell it to paid photo stock websites or magazines. If you want to try your hand in this sphere, remember that your goal is to show the whole composition of the building, draw attention to its beauty and peculiarities.
One of the most important real estate photo tips is that you can't post images for architectural photography without the permission of the house's owner. Be mindful about this, if you don't want to break the law.
Commercial Real Estate Photography
This style is becoming very popular due to the development of marketing and advertising. Photographers that work in the commercial style are taking pictures for business purposes. Among their clients are ad agencies, owners, administrators, and managers of hotels, bars, restaurants, or cafes. A top-quality commercial photo can cost up to $300, but the competition is really high.
Comments for the Real Estate Photo Tips Guide page are welcome
Property Photographers
Real Estate Photographers
Architectural Design
Contemporary Architecture
London Architecture Links – chronological list
Website: Architectural Photography
Comments / photos for the Real Estate Photo Tips Information page welcome