Trusted Mosaic Pattern Advice, House Tiling Enhacement Tips, Property Art Improvement
Mosaic patterns that designers usually consider guide
16 Oct 2019
Designing a space is never complete unless you can give it the right finishing touches to create the perfect interior that displays the best of mosaic art. Mosaic art is one of the most creative options for interior designers. It is evident from the widespread use of Mosaicist architectural mosaics that can make spaces look splendid. Choosing the appropriate mosaic mural can help to recreate the most exotic creations of master artists that add a unique dimension to the place and enhances its aesthetic many times. To create a statement of your own that upholds your tastes, then the most versatile way is to use custom mosaic patterns.
Mosaic patterns are once again in vogue after making resurgence over the past few years, and there are many options out there. Choosing the right pattern for your space is critical to creating the desired effects.
You must be ready to break the rules to create your distinctive style that reflects your personality and defies conventional trends.  Your creativity only limits the endless options of style and design in mosaic art. There are infinite colors and styles that you can create with this art form. You can create an unlimited variety of mosaic designs with a wide range of techniques and mediums. Here are some options that you can try out:
Mosaic patterns help guide
Abstract mosaic patterns
A three-dimensional abstract mosaic artwork is the most common and versatile way of making your interior space looks flamboyant. Abstract designs allow you to work with an open mind as you can choose any color palette from bold to pastels and anything in between. Repeating simple designs and motifs to make the compositions catch the eye can go to the extent when the pattern itself becomes the subject of the art by surpassing the simple role of a tool for rendering figures. Abstract mosaic designs suit public places the most, and you can use it in parks, swimming pools, and spas.
Gingerbread mosaic patterns
Gingerbread mosaic designs can amply light up the walls of your patio, entrance, and backyard. You can also see these patterns installed on the floors of outdoor decorative projects. The beauty of the patterns is that it creates a luxury statement despite its rustic appeal, which can make even an ordinary space look quite beautiful. If you have a wide entrance or an expansive backyard with walls on any side, it can be an ideal location for installing gingerbread mosaic patterns.
Floral mosaic patterns
Interior designers usually stay away from making bold statements with mosaic designs. They prefer to respect the interest and passions of homeowners by maintaining a softer tone that mirrors their tastes and style. Installing mosaic art inside homes is an excellent way of bringing the outdoors inside for those who are very fond of outdoors. Choosing some traditional flower theme or an abstract floral design can make your indoors dazzle.
Realistic mosaic patterns that depict some Mona Lisa like portrait is also an option. You can do the same with any other photo or art piece by converting it into mosaic art.
Comments for this Mosaic patterns that designers usually consider advice article are welcome please
Building Articles
MDK Headquarters Building in Alicante
Design: Fran Silvestre Arquitectos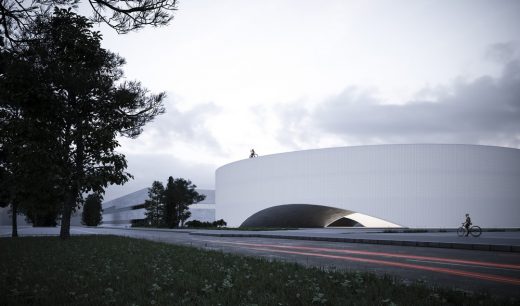 image courtesy of architects
Comments / photos for the Mosaic patterns that designers usually consider page welcome