Disability Access Design Manhattan, Mobility, Renzo Piano New York Building, Architects
Morgan Library and Museum Access Design : Architecture
Library and Museum in New York City – article by Joel Solkoff, 20 May 2013
May 20, 2013
Disability Access at the Morgan Library and Museum
Disability architecture
Background on designing disability access for Renzo Piano's first project in New York City
Morgan Library and Museum Access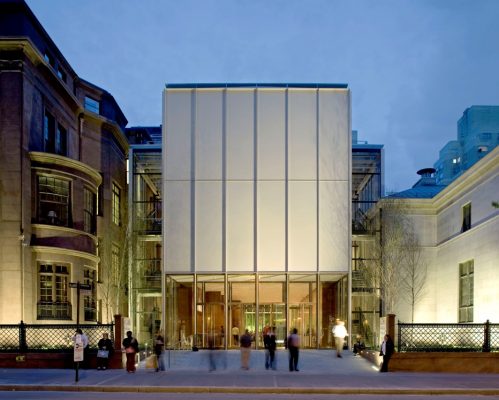 photo by Michel Denancé, provided by permission of the Morgan Library and Museum
This photograph shows the Renzo Piano façade of the Morgan Library and Museum, the architect's first New York City project where disability access was a major priority. The Morgan is arguably the most influential art and cultural collection in the United States.
Last month, I had the privilege of visiting the Morgan, riding the specially designed wheel chair ramp while preparing to visit Memorial Sloan Kettering Cancer Center for treatment for kidney cancer diagnosed two weeks previously—requiring sophisticated treatment not available in my hometown 257 miles away.


photo by Kathy Forer
Piano's seamless complex combines the old and the new. The Madison Avenue entrance leads to a spacious Atrium. From there the wheelchair lift took me on a five-foot ride straight up to the 1906 McKim Mead and White library. (Below is the previous entrance on 36th Street).


photo by Joel Solkoff
There, in the old library, made vastly more pleasurable by enhanced lighting, was the following manuscript Wolfgang Amadeus Mozart wrote in 1786, complete with a curiously endearing smudge mark. In the movie Amadeus, Salieri talks about Mozart's first drafts being perfect as if dictated by God:


photo by Anthony Troncale provided by permission of the Morgan Library and Museum
Kidney cancer is my third experience with cancer. When I was treated with radiation, Mozart's music helped me get through the experience as I describe on my site www.joelsolkoff.com. For each of us, there is something that makes it possible to transcend—to endure suffering or be lifted from the mundane. For me, on that day in April as I feared death, seeing Mozart's handwritten score to the Cherubino's aria from The Marriage of Figaro provided me with tranquility (a form of therapy if you prefer).
I am writing for you architects or your patrons planning for an art or cultural project. My purpose is to describe how the Morgan created its disability access. These features make it possible for others to replicate the kind of transformative experience Piano and the Morgan make possible. This will involve a discussion of how and why the architects chose the wheel chair ramps, glass elevators, and lifts.. Renzo Piano Building Workshop worked with Beyer Blinder Belle. This New York architectural firm is noted for its distinguished work on historical projects such as the Ellis Island complex (where my father entered the United States as an immigrant shortly before World War I).
My trip to the Morgan last month was my first since I had visited the collection in 1971 when I worked nearby as a writer of educational materials. I frequently sneaking out of the office and the demands to rewrite and rewrite again, to visit the McKim Meade and White library and gaze at the illuminated manuscripts. I have the experience of having seen the Morgan before Piano completed his work in 2006. I remember when I was able to walk. Physical access was not an issue I paid any attention to at all.
++++
"'It's a miracle, I'm telling you,' claimed Renzo Piano, 'nothing less than a miracle,'" writes Brian Regan, co-author of the lavishly illustrated book The Making of the Morgan, From Charles McKim to Renzo Piano.
Regan continues, "We had walked, in early 2005, through the future Madison Avenue entrance and into the fully formed, but not entirely enclosed, central court.
'…Brian, think about it: Only a few years ago these were thoughts and plans, and now they're becoming real. How can that not be a miracle?' In wonder, he added, 'Ever since I was a boy, I thought a building site was a miracle. I'll die thinking that.'"
After leaving New York, I had a 45 minute exclusive interview with Brian Regan, Deputy Director of the Morgan, who worked directly with Renzo Piano on the renovation.


photo by Joel Solkoff
Not included in Regan's otherwise comprehensive account of the renovation are the details on disability features including:
• The ramp leading to the entrance
• The use of buttons instead of automatic doors at the main entrance and into the library (after riding the lift)
• The choice of a guard-operated lift rather than a ramp or an elevator
• The maintenance issues involved
• The astonishingly beautiful, spacious glass elevators providing access to exhibits, music performance, and educational facilities
++++
Access is a word that has a more comprehensive meaning to me than simply discussions about ramps. Specific examples are useful in helping to understand and solve larger problems. Deputy Director Regan and the staff have been sending me books and emails (many with beautiful photographs attached).
I began this morning with the hope of reaching a satisfactory conclusion, but it would be a shame to rush the pleasure and challenges I intend to share with the architectural, engineering, and construction community. Now that the sun has set, it is time, dear reader, and for you and me to have a drink (real or metaphorical) and look forward to more.
Adrian Welch, my editor in Scotland, says that more Renzo Piano is worth the wait. Next I will describe the challenges Renzo Piano and his colleagues faced in making the Morgan physically accessible. There is my exclusive interview with Deputy Regan on ramps and the like (providing you with detailed lessons learned) which Regan would prefer to supplement with additional material for which he has made a list and is checking it twice. Then, there are the hard questions.
For example, my transformative visit to the Morgan cost $15, a price tag that caused me to think twice before entering. [Admission is free on Fridays from 7 p.m. to 9 p.m.] I am not comforted by the thought that the Frick, with its beautiful statue of the goddess Diana, is $10 more expensive where once it—like the Morgan—was free. The problem of the cost of experiencing art throughout the world has become as much of an access issue as the availability of ramps. Morgan's Deputy Director Regan has agreed to help me obtain a better understanding of the financial barriers to art.
–Joel Solkoff
Joel Solkoff – regular guest editor at e-architect
International Architectural Designs
J.P. Morgan Library and Museum Building, New York City, USA
J.P. Morgan Library and Museum Building : architecture article by Joel Solkoff. 13 Jul 2013
Disability Access Design – article by Joel Solkoff : Feb 2013



photo : Joel Solkoff
Disability Access Architecture – article by Joel Solkoff : Mar 2013



photo from Joel Solkoff
USA Property Articles
American Building Developments
Website: Architectural Walking Tours
Comments / photos for the Morgan Library and Museum Disability Access Design – Renzo Piano New York City Building Article page welcome