Museum of Old and New Art Hobart, Tasmanian Building, Australian Design
MONA Tasmania : Museum of Old and New Art, Hobart
MONA, Australia – article for e-architect by Lindsay Johnston
10 Jul 2012
Museum of Old and New Art in Hobart
MONA Tasmania
Architect: Nonda Katsalidis, Fender Katsalidis, Melbourne
Article for e-architect by Lindsay Johnston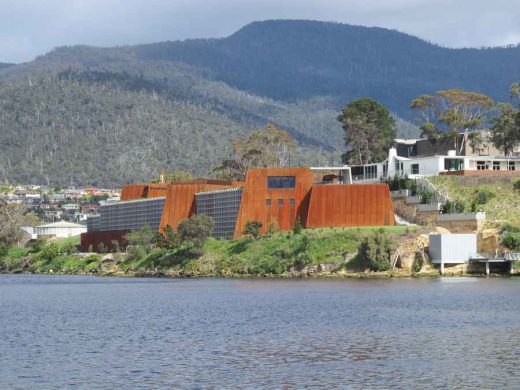 photos : Lindsay Johnston
Australian architect Glenn Murcutt often says – "it is not about doing extraordinary things, it is about doing ordinary things extraordinarily well". Client David Walsh, architect Nonda Katsalidis and their team have done something really extraordinary, and have done it extraordinarily well.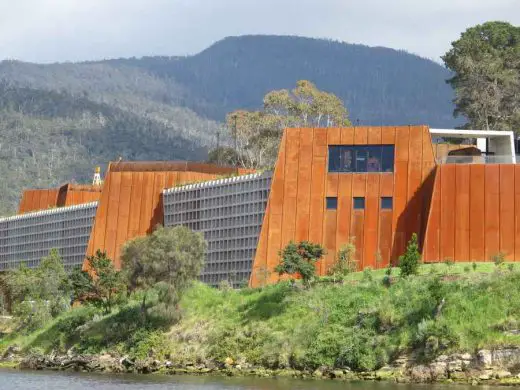 Opened in January 2011, the new Museum of Old and New Art (MONA) is a stunning intervention on a superb headland site overlooking the Derwent River near Hobart, the capital city of Tasmania. Conceived and funded by a private client David Walsh to house his private art collection.
Walsh is reputed to have made his wealth through judicious gambling applying his mathematical genius. His nominated themes for the exhibits are "sex and death", the pursuit of one and avoidance of the other, he says, are the two most fundamental human endeavours.
In Australia, the term 'larrikin' is used to describe part of the national character that shows rebellious disdain for authority, and this characteristic has emerged repeatedly informing Australian contemporary art, music, popular and youth culture and politics – a healthy reaction to conservative bourgeois society. MONA seems to be at once altruistic and self-indulgent. Walsh, a definiteive 'larrikin', who has described himself as a "rich wanker", is otherwise described as a "supernerd". He is certainly a challenger of all norms, exhibits include a wall of sculptured vaginas.
In the MONA building there is an ambiguous convergence of divergence, an unlocking of physical and spiritual orthogonality, refined crudeness, sophisticated levity, tasteful obscenity, rebellious sensitivity, respectful profanity, all counter propositions to the hegemonies – what hegemonies? – all hegemonies. Destined for celebrity status this project is worthy of close scrutiny, not possible in a few words and pictures – it needs to be visited.
Beach house at St. Andrews ; Eureka Tower in Melbourne:




photos : Lindsay Johnston
The ambiguities come from the creative dynamic between David Walsh, as client, and Nonda Katsalidis, a Greek Australian architect, highly regarded by his peers, with an impressive portfolio of sophisticated previous projects which include his 'shipping container' beach house at St. Andrews (1991), many Melbourne apartment developments and the 300 metre tall Eureka Tower in Melbourne (2006), at one time the world's tallest residential tower.
The site area is 3.5 hectares, on which exists a significant early modern house by architect Roy Grounds, who designed the National Gallery of Victoria in Melbourne. Access to the museum is from the water or by land, there is 6500 sq.m of exhibition space on three levels, 9,500 sq.m total, at a construction cost AUS$80 million (£53 million). The galleries are cut into sandstone rock, excavated under and entry through the existing Roy Grounds house.
Inside is a cavernous Piranese fantasy, exposed rock faces, 'corten' steel stairs, suspended catwalks, waffle slab concrete floors, recycled hardwood flooring from old wool stores. Outside is a rusting fortress with vegetation on the roof and steps cascading to the water. Fantastic – as Tzvetan Todorov would define it – 'the hesitation of characters and readers when presented with questions of reality'.


photo : Lindsay Johnston
Lindsay Johnston
Lindsay Johnston is Convenor of the Architecture Foundation Australia and principal organiser of the annual Glenn Murcutt International Master Class
www.ozetecture.org


photo © Anthony Browell
Lindsay Johnston is Director of the Architecture Foundation Australia and former Dean of Architecture and Design and Head of the School of Architecture at the University of Newcastle, Australia. He is convener of the annual Glenn Murcutt International Architecture Master Class, curator of the exhibition 'Glenn Murcutt – Architecture for Place' currently touring Europe, and has recently published the book 'Under the Edge – the architecture of Peter Stutchbury'.
Glenn Murcutt with Lindsay Johnston (left):



photo from Lindsay Johnston
Museum of Old and New Art in Hobart : WAF Awards Shortlist 2012
Location: RMIT University, Melbourne, Victoria, Australia
Australian Architecture
Another recent article for e-architect by Lindsay Johnston:
Glenn Murcutt Wisdom of Elders
Glen Murcutt



photo : Wojtek Przywecki 2007
Glen Murcutt
Peter Stutchbury Architecture



photos : Michael Nicholson
Peter Stutchbury Architecture
Leplastrier and Stutchbury Lecture



photo : Michael Nicholson
Leplastrier and Stutchbury Lecture
Glenn Murcutt Master Class 2011


photo : Lindsay Johnston
Glenn Murcutt Master Class
Architecture Articles – Selection
Comments / photos for the Museum of Old and New Art in Hobart – MONA Tasmaniapage welcome