Trusted Luxurious Bedroom Design Advice, Real Estate Enhacement Tips, Property Improvement
Luxurious Bedroom Design Tips to make your bedroom look elegant
14 Oct 2019
Imagine that you've already got the bedroom that you've always dreamed of. It's classy, sophisticated, and filled with special touches like a mattress foundation that make your room feel like a 5-star resort ripped straight from the latest home decor magazine pages.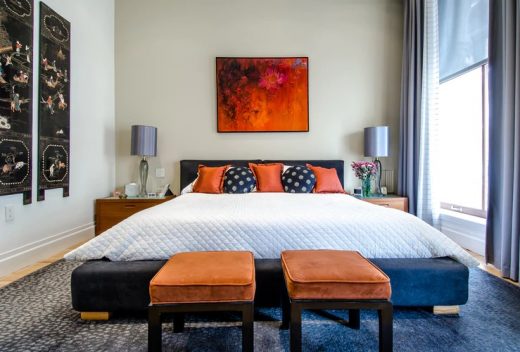 image courtesy of article provider
With a classy color palette and elegant bed linens, your dream bedroom is trendy and effortless. Also, knowing when are latex mattresses best used can help you create a chic bedroom you're not going to want to leave.
9 Luxurious Bedroom Design Tips
Here are nine tips on how to make your bedroom look elegant:
Consider Your Color Palette
Although it may sound simple, when it comes to decorating, color is one of the hardest choices. But, if you're searching for an exquisite color scheme, different shades can give your bedroom a quick luxe.
Color choice is a crucial element in the design of the bedroom.
A monochromatic color palette will not only look elegant; it creates a soothing environment by using the different tones and shades from one color.
Another aesthetically pleasing alternative is an analogous palette. It consists of hues adjacent to each other on the color wheel, which can create a dramatic effect.
If you want to use two neutrals like white and beige or gray and ivory, add one accent color such as soft steel blue.
Layer Pillows
If you're only updating your bedroom with one tweak, it should be the way pillows are arranged. A bed must have a set of appropriately stacked accent functional pillows when you sleep at night. It should be lying propped against the bedhead, overlaid in height with decorative pillows.
The pillows' color to be the icing on the cake, so to speak, take the accent color from space's total color palette to create your room's focal point.
Bonus tip: One general rule is that sleeping pillow and custom pillow should not take more than a third of the total length of the bed. Having more than that can make your bed look cluttered.
Invest in Bed Linens
There's nothing that shows elegance like luxurious bed linens. To give your space the atmosphere of a 5-star hotel or dreamy Italian villa, choose from Egyptian cotton, satin, silk, or bedding. Though, if you like the look and feel of silk or Egyptian cotton, you may want to stick to easy-care, sturdy cotton blends if you have kids and pets around the house.
Don't forget the pillows of the bed and duvet insert. Natural down, for pure beauty, is the best choice. But, with inexpensive, synthetic hypoallergenic fill, you can do just one well. Either way, for a good night's sleep, the comfort factor is very significant. Buy the best pillows and luxury that you can find for the master suite. When it comes to guest blankets, pillows, and bed linens, you can skimp a little because they are not used each night.
Style Clutter
Maintaining a clutter-free bedroom can feel like an impossible task. Luckily, organized clutter is today's design trends. The key is to know how to differentiate between good and bad clutter. The good mess is piles of books and journals, wall-resting paintings, and bedside table trays full of items. The bad mess is filthy on-floor sheets, unopened documents, and tangled cords.
Deal with better messes by arranging key areas such as a bookcase and by making the most of secret space, handling unwanted messes. If you are cramped for space, don't forget a bed frame higher up from the floor so that you can use the room below for storage bins. Disguise the region with a bed skirt to match every space in textured fabrics such as chambray or linen.
Style the Nightstand
Furnishing a bedroom is a skill, and you have to adopt the "less is better" mantra. Overfilling nightstands with useless items is a common problem. This area can be overdone quickly. In a moment, so many accessories could transform into clutter.
Some essential items that connect into the color palette will elevate a room instantly. Nightstands don't need that much, but if you want a clock, a plate to throw your jewelry in, or some other personal belongings that you must have bedside. Then, choose those that are beautiful and worth spending the night with. The function should always be in style
Invest in Window Treatments
Window treatments will enhance your dream bedroom's atmosphere. Choose crafted grass shades or wood blinds as a natural touch to coastal or exotic retreat. To help lessen the rough edges, layer curtains over your blinds, shades, or drapes.
Stick to luxury fabrics such as organic silk, linen, cotton, and velvet when it comes to window treatments. Dress your windows in large silk taffeta or classic Dupioni for the peak of lavishness. Always make sure your windows are dressed. It will maintain the trendy and well-decorated look of your home.
Find the Focal Point
Every bedroom requires a focus. Highlight some beautiful linens with a bed that makes a claim unforgettable. You may guarantee that your bed will be the heart and soul of your elegant sanctuary. Whether your choice is an intricately carved sleigh chair or a velvet-tufted headboard, these items can level up your bedroom.
The artwork is meant to evoke emotion and motivate it. That's why art can be the focal point in the home. Nothing attracts more attention than a lovely print or picture. To puff up your bedroom, choose an art piece, or maybe a wall sculpture.
Try painting a darker hue or even a different color on a wall. It will create visual appeal, and having a central focus is an inexpensive way. Paint your bed frame wall or display wall showing a local artwork collection. An accent wall can make the proportions of your unusual bedroom seem less uncomfortable.
Create a Multipurpose space
Indeed, a bedroom's primary function is to be a sleeping sanctuary, but multipurpose is the best space. Rearranging furniture and adding decoration from other rooms in the house is a simple, low-cost way to tweak your bedroom. The one thing some people tend to forget about has a chair in some matching fabric wrapped in a comfortable throw pillow.
Even if your space is not very big, a thin, comfortable chair adds to your room's sense of amplitude and getaway. If your living room has a state chair that is never used, try to create a reading area by moving it to your bedroom with a discreet side table. And, mixing and matching furniture is perfect. Vintage, new, or anything in between can be the accent seat. You can think of it for your room as a work of art.
Redistribute Artwork
It's also reasonable that we sometimes hang our favorite pieces in the house's social spaces, like the living room. If there's no art in your bedroom, you're letting space down. Don't forget to place some of your favorite art pieces in your bedroom.
Since it's a private space, it doesn't mean that you're only supposed to show the best pieces in the lounge where visitors see it. Instead, reallocate the artworks in the house and place one statement piece put above your bed for a maximum impact.
Architectural Designs
Building Articles
Make Your Bedroom More Comfortable
Comments / photos for the Luxurious Bedroom Design: Tips to make your bedroom look elegant page welcome