Life in New York: inspiring apartments and houses guide, NYC property design influence, Manhattan homes advice
Life in New York: inspiring apartments and houses in NYC
Feb 10, 2021
New York City is home to a wealth of masterpieces of art in architecture and building design. In this city, you can admire every centimeter: there are unique towers, skyscrapers, apartments, penthouses, lofts everywhere … You can list it for a very long time.
In this article will describe the most famous houses of this city. The buildings differ from each other, some are made in vintage style, and some are the embodiment of modern interior design in architecture.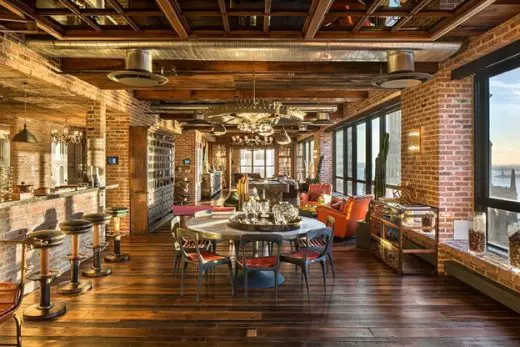 Life in New York apartments and houses
Antique chambers on Setai Wall Street
Personal, exclusive, and inherently exceptional penthouse owned by Alex Birkenstock, located on the 30th floor of a building on Setai Wall Street, is truly one of a kind. It is filled to capacity with antiques and other rare home decor items that have been collected over the years from different parts of the world. Brick walls and metal pipes add a unique look to the setting.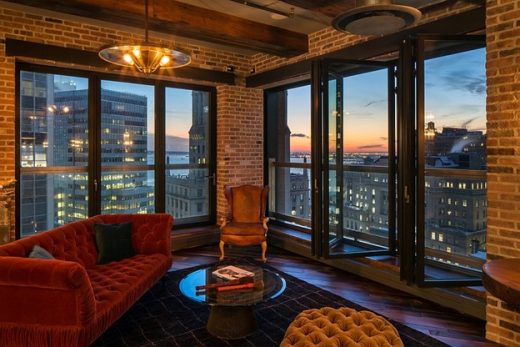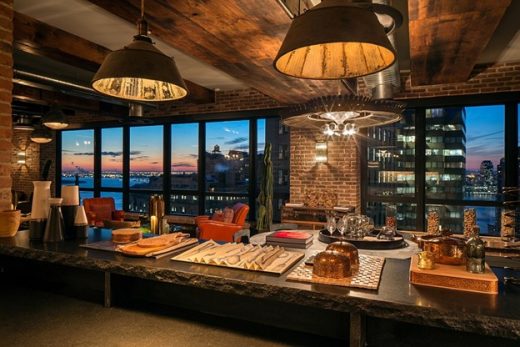 If this interior and approach to the design inspired you, you should first know some details about the antique furniture in the modern ambiance.
Antiques should not be confused with the concept of vintage or retro, as we are talking about historical objects from past eras, preceding the culture of the twentieth century.
Items can be classified as antiques if they:
at least are 100 years old
are identified with rare
associated with a specific historical era or events that reflect fashion trends of a particular time
to reproduce this is not possible or very problematic
were not put into mass production
represent artistic or other cultural value
made of expensive noble materials: wood, paper, precious and semi-precious stones, copper, gold, bone and others.
Modern interior with antique charm
It is a rare object, the shape and purpose of which has been created today, that can rival an antique. Now people do not see the point in making richly decorated interior items, which take a lot of time and effort, and often machines do all the work. At the same time, we still admire the extraordinary luxury and uniqueness of antique items, wanting to get them for personal use.
If you succeed, you should learn how to properly use antiques in the space of a living room, often high-tech.
It should be noted that the juxtaposition of high technology and antique items looks very strange and even blasphemous. An antique chair or bench next to a classical musical instrument (piano, guitar, table or violin shelf) will look much more organic.
An originally carved stool in an oriental style or, for example, a wrought-iron chandelier with many arms, a low tea table with inlay is the best addition for modern upholstered furniture of a simple form.
People acquire antique authentic things fully aware of their extraordinary value, and it would be more correct to use such objects for the sake of stylish design and confirmation of the status and taste of the owners of the house.
You can complement an antique chest of drawers with a couple of table lamps and framed family photos, hang a mirror or a painting over it, store dining dishes inside. But you should never use this item for storing food and other things inappropriate here.
If you can't afford yourself a real antique furniture piece, you can go to homey design store and choose one modern furniture piece in the traditional style which appearance is inspired by the antique designs.
Luxurious loft SOHO
Looking inside the famous SOHO Loft? The design of his space is known all over the world. This is definitely New York's calling card. It is still an endless source of ideas for decorating any modern home. Just look at this black and white carpet with a wavy pattern!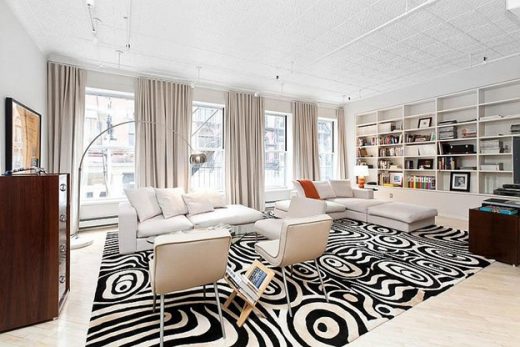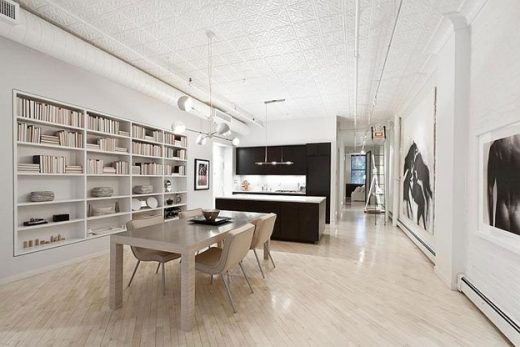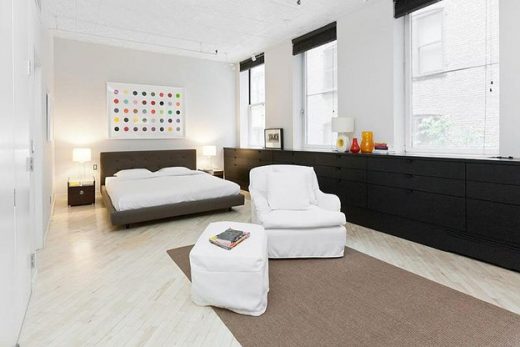 Loft style was created in New York, so this design approach is one of the most essential ones for this city. To recreate it in your apartment you should know its features.
Features of the loft-style
The first and foremost feature of a real loft is that it is located in an originally non-residential building, the industrial past of which must certainly be emphasized. Hence such attention to the preserved industrial attributes in the former workshops and warehouses. In a modern loft, they usually play the role of a kind of art object that conveys the history of the style.
An integral part of the loft is the industrial atmosphere of the living space, which is created by rough brickwork, open communications, metal pipes, fittings, and untreated plaster. Industrial objects such as cast iron batteries, pipes, or clearly factory equipment are welcome. Open communications and overt constructive elements are perceived as a special chic, emphasizing belonging to this style.
The basis of the loft-style is a free and open plan, which excludes the presence of massive internal walls. Partitions have only toilets, bathrooms, and utility rooms. The rest of the dwelling should be fully visible, creating the feeling of a large open space with visually delineated functional areas. Zoning is carried out exclusively with the help of color, furnishings, lighting, and the use of materials of different textures. Bedrooms are usually made on the second level overlooking the main floor, where the living room, dining room, and kitchen are located.
Concrete instead of brick
One or two raw walls are enough to maintain the loft-style, usually load-bearing walls. It is desirable that they have a pristine industrial appearance: rough, with areas of raw concrete, brickwork, or galvanized iron. Other interior walls can be plastered.
In modern apartments, it is allowed to stylize the walls to resemble open brickwork using textured plaster with an emphasized rough texture, as well as cladding with a wooden board or plywood sheets, which can be painted with white or gray matte paint. In rare cases, but in no case on load-bearing walls, wallpaper imitating brick or old masonry is allowed.
Colorful house in Brazilian style
Many New Yorkers come from different cities around the world, and they change the face of this metropolis in their own way. So it happened with the home of the couple Cristiane Peixoto and Marcus Silberman. To remember their roots forever, they built a magnificent rooftop garden and gave the interior the cheerful color of Rio. What happened in the end, dear readers can be seen in the photo.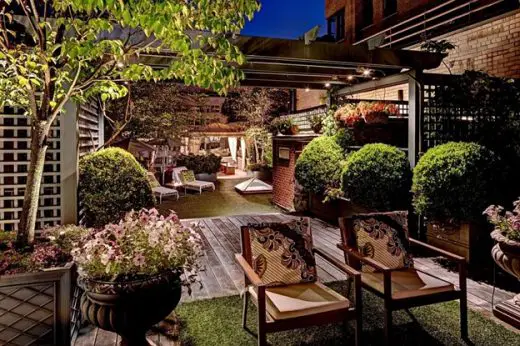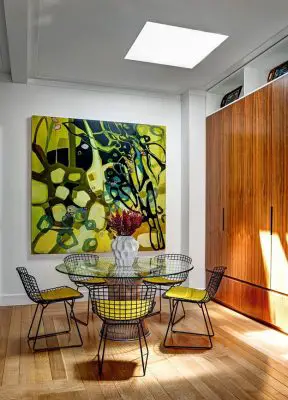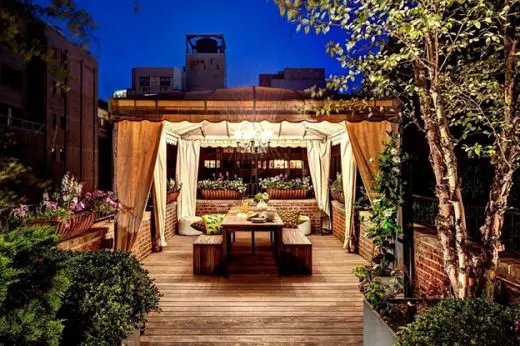 If you want to add to your interior sunny Brazilian spirit, you should pay attention to the following aspects.
Juicy shades and bold combinations
The Brazilian style is distinguished by bright shades, which should not be feared and can be safely used as the main color. In this case, the priority is azure blue, orange, coral red, warm pear, and juicy green shades.
Do not forget about the numerous indoor plants (the more the better). For example, palm, dracaena, and other green flowers combined with tropical prints and bright carnival accents will look very harmonious.
Natural materials and ethnic blotches
The Brazilian interior uses natural materials combined with a hi-tech style. This creates a distinct style that captures the character of the metropolis, generously seasoned with tropical accents and ethnic elements.
For example, the most common decoration material in Brazil is stone, from which furniture, special tiles for floors and walls, and various decorative elements are made. Natural wood products are also very popular. National Brazilian design is generally closely related to the production of furniture made of pau-brazil, valuable mahogany.
Free space and comfort
Brazilian people are not afraid to leave free space and do not try to fill every corner of their apartment with furniture or accessories. On the contrary! The more light and freedom, the better.
By the way, this interior has a sense of proportion and taste, restraint in decor, and the ability to handle natural materials. And concrete walls, for example, became relevant before they were recognized as a fashion trend by designers from other countries.
Eclectic Prince Street Loft
In search of a special balance between modern and eclectic styles, the owners of Prince Street Loft have created a special world. Brick walls, metal pipes, and unfinished surfaces of the apartment seem to be the skeleton of the house. Simple yet elegant, the dwelling is a kind of refuge in the urban jungle.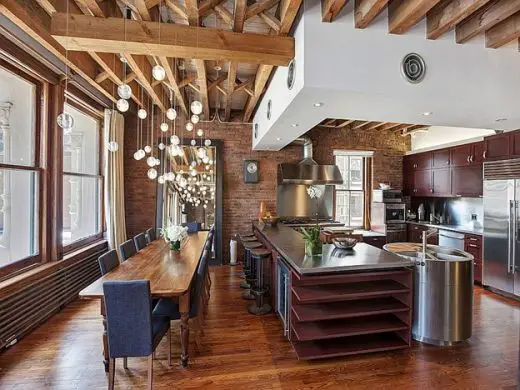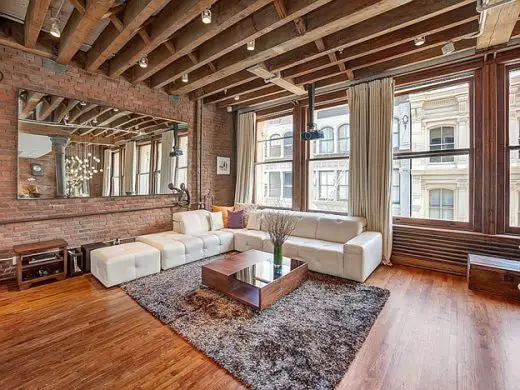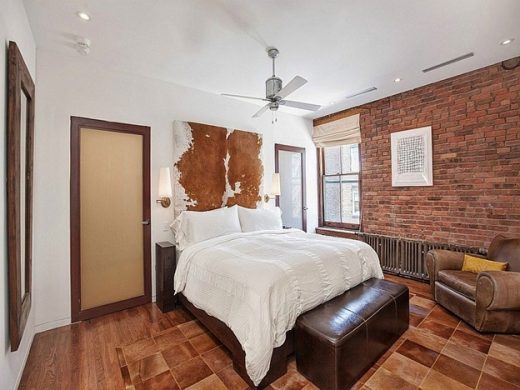 Eclectic style is one of the most difficult ones, but if you will follow these rules, you may approach this Prince Street Loft apartment perfection.
First rule: eclecticism in the interior is a combination of furniture of two or three different styles, united by color, texture, or architectural solution.
Second rule: the main distinguishing feature of eclecticism is freedom and the absence of cliches, the combination of all objects into a single ensemble. The forms and styles of buildings in eclecticism are tied to the function of the building.
Third rule: rounded corners and strict vertical lines are distinctive properties of the style.
Fourth rule: the interior must contain decorative elements. When forming such an interior, you need to pay attention to the fact that furniture of different styles is combined in color and texture, and the decorations complement the overall picture.
Fifth rule: eclectic interior design has a full palette of colors. It is good to use shades and midtones for walls, floors, and ceilings.
Comments on this guide to Life in New York: inspiring apartments and houses article are welcome.
Manhattan Architectural Designs
New York Architecture Designs – chronological list
New York City Architecture Designs – key NYC real estate selection:
277 Fifth Avenue, NoMad, NYC
Architects: Rafael Viñoly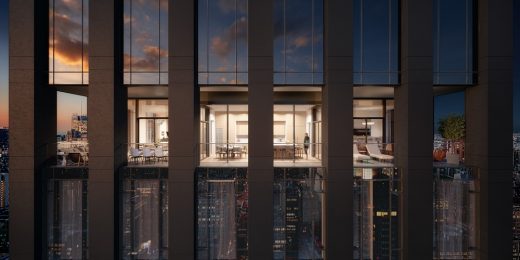 rendering : THREE MARKS
277 Fifth Avenue Building
550 Madison, NYC
Architects: Snøhetta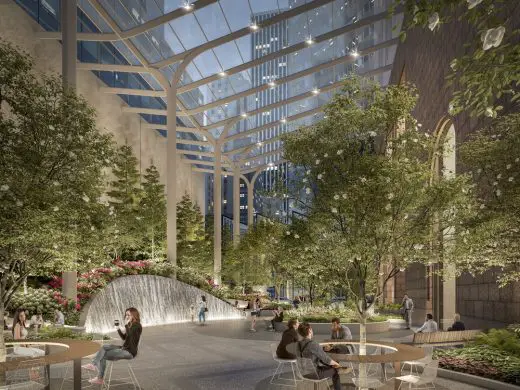 photo © Snøhetta and MOARE
550 Madison in New York City
Home Articles
Residential Architecture
Comments / photos for the Life in New York: inspiring apartments and houses advice page welcome