Bi-fold Foors, Laminate, Pocket, Sliding, House Renovation, Home Construction Project
Internal Doors Selection: Home Style
Home Style Trends – Architectural Interior Design Article
28 Aug 2018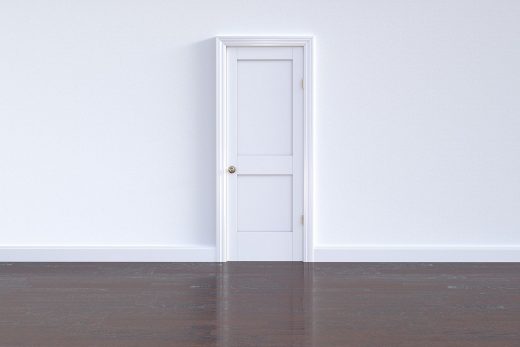 Selecting Internal Doors
How To Choose The Right Internal Doors To Transform Your Space
When approached by a client requiring a home renovation or a home construction project, we often focus much of our contribution to the project on the structural remodel from an architecture perspective.
We explore the integration of the modern into the historic: the installation of bi-fold doors where once a brick wall blocked a stunning view; the transformation of essential utilities and internal networking.
However, we often leave the choices to our clients when it comes to the dressing of a new space – and, perhaps, we're overlooking the potential of internal doors to contribute architecturally rather than just aesthetically.
Doors represent flow and privacy but also contribute to a range of other factors such as insulation for heat and sound, as well as what they infer about the surrounding space.
We've explored the trends in interior doors for 2018.
Laminate doors
Laminate is a choice where a restrictive budget is a consideration. A laminate door can offer more a consistent finish than solid wood, so can be a good choice if unifying the look of an entire space.
Laminate doors offer consistency of appearance throughout the building, so can be a great option for zoning.
Pocket (or sliding) doors
Hinged doors can interrupt the energetic flow of a space while rendering valuable square-footage useless. Where you've designed every square-inch for usability, it can often pay to incorporate pocket doors. They offer a sleek, modern look, making particular sense in kitchens and bathrooms in apartments or within restrictive areas.
In many new builds where space is at a premium, tucking the door into a cavity can maximise the liveable space.
Solid woods
The most popular solid wood doors in 2018 in both home construction and home renovation for the consumer market are oak and walnut.
Oak symbolises towering strength and wisdom. The Celts, Greeks, and Romans revered the oak – its Celtic translation referring to durability, nobility, constancy, and purity.
Oak holds a significance in Celtic civilisation as a means to accessing an "ethereal plane of higher-thought" by "opening the oak door".
Other symbolic meanings refer to oak as:
Life
Wisdom
Strength
Family
Loyalty
Heritage
Honour
Power
Moreover, the oak tree's significant height makes it a lightning collector, affording the tree a powerful, life-affirming quality.
Walnut is popular for interior doors because of its unique and distinctive grain. For lovers of "bespoke" items, walnut offers a completely individual finish that suggests hand-craft, often demanding a higher price.
The walnut tree symbolises wisdom, intelligence, inspiration, and knowledge. The nut of the tree is thought to resemble the shape of the human brain, so there's no surprise that walnut wood is synonymous with mental aptitude and the intellect.
As such, walnut can be a great choice for interior doors where the space should stimulate creativity, such as a home office.
Walnut wood is exceptionally hard, making it a robust choice for interior doors which are likely to see a lot of traffic.
Door designs
Panelled doors continue to remain at the forefront of favour, with mixed media coming a close second. Solid oak doors with two, length-wise panels remain a popular classic; with frosted, glazed panels for those areas of the home with no external windows.
The recessed panel has sustained its prominence in contemporary architecture projects – the most popular of which is has three recessed panels; again, with frosted glass panels to release even more light into dark hallways and landings.
Raised panels have become popular but tend to be more expensive, so are recommended for projects with fewer budget constraints.
Hollow vs Solid Timber doors
If budgets are prohibitive, hollow doors offer a good combination between cost and versatility of design. Of course, hollow doors are less robust than solid wood doors, but there's a wide variety of excellent veneers that can help elevate a space.
Solid timber doors offer strength and endurance; less likely to warp due to changing weather conditions. Solid doors have a more satisfying weight, and they offer greater thermal- and sound insulation.
Frameless doors
Frameless doors offer a modern look and have become popular in contemporary homes. Frameless pieces have an invisible frame and shadow gap, and are particularly in favour where the door is intended to blend into the fabric of the house.
However, frameless doors need to fit seamlessly into the wall so should be part of the plan of new home construction to ensure that the junction between the door and the wall is perfect, requiring an architrave to conceal untidy edges.
Should the upstairs and downstairs be the same?
The vast majority of clients who are working to a budget consider the downstairs doors to be of a higher priority in terms of quality. Many clients are keen to create the "wow" factor from the entrance to the home, while most visitors are unlikely ever to visit the upstairs (especially if there's a downstairs toilet).
Bi-fold doors
Bi-folds are incredibly versatile, affording a whole new look to an entire wall.
Because external bi-fold doors usually open into a garden, they offer an aspect that invites the home to informally extend into the outside, bringing with it a flood of natural light.
Bi-folds have become popular for interiors in recent years, especially in large spaces designed for open-plan or zoned living,
where the layout can change depending on the day-to-day use of the room. This type of flexible living is prevalent in modern apartments that need to maximise every square inch of floor space.
Aluminium
Aluminium is traditionally considered thermally inefficient because of its effective conductivity. However, modern aluminium doors and frames are thermally broken, containing a high level of insulation to minimise heat conduction.
Aluminium offers strength and a modern sheen that's particularly desirable in minimalist spaces.
When starting a home construction project from scratch, we're able to maintain control over materials used both inside and outside. Interior doors can transform a space to either integrate or complement the architectural design.
Building Articles
Windward House in Gloucestershire, Gloucestershire, Southwest England
Design: Alison Brooks Architects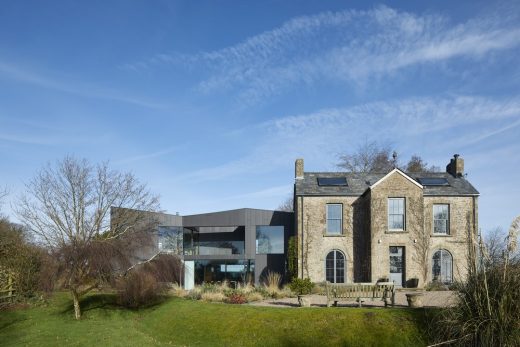 photo © Paul Riddle
Windward House, Gloucestershire
Comments / photos for the Internal Doors Selection page welcome