Health and Wellbeing in Buildings, Saint-Gobain Design, Homeowners Survey
Health and Wellbeing in Buildings
Integrating Sustainability in Architecture Design – Architectural Article by Saint-Gobain
16 Jun 2017
Health and Wellbeing in Building Design
Health and Wellbeing in Buildings
HEALTH AND WELLBEING TO DRIVE ARCHITECTURE GROWTH
Although health and wellbeing in buildings has been moving up in the architects' agenda, the UK is still behind many European countries when it comes to integrating sustainability in the building design equation. Stacey Temprell, Habitat Marketing Director at Saint-Gobain UK and Ireland, discusses how architects can be a step ahead and respond to the growing demand for sustainable buildings by incorporating occupant comfort, health and wellbeing into design.
A recent survey, commissioned by Saint-Gobain UK & Ireland, showed that 90% of British homeowners are concerned about the impact their homes have on their health and wellbeing, while 29% would be willing to pay more for a home that doesn't compromise their health.
Health and Wellbeing Report: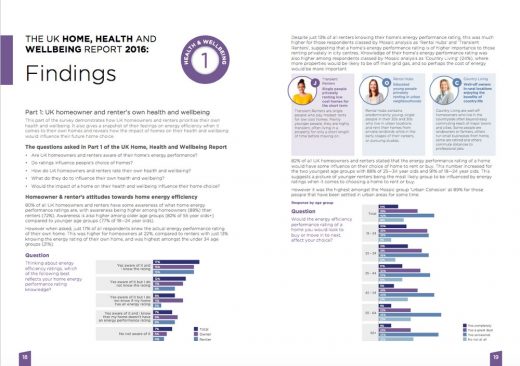 These conclusions prove to be as positive as challenging for the construction industry. First, they confirm that the demand for improved living spaces exists, but they also invite a change in the way we approach building design to make sure we incorporate occupant comfort, health and wellbeing, together with energy efficiency and sustainability.
The demand for improved living spaces exists and can only be met if aspects such as occupant comfort, health and wellbeing, are considered in the design equation, together with energy efficiency and sustainability.
Stacey Temprell, Habitat Marketing Director at Saint-Gobain UK and Ireland: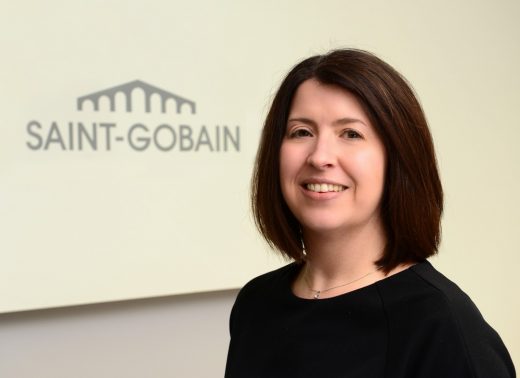 The industry needs to prioritise building products and standards that promote the general health and wellbeing of the building's occupants, as well as the building's efficiency and sustainability.
This can be achieved by promoting holistic building approaches and providing effective solutions to some of the most common problems in the home, which can have serious impacts on occupant's health and wellbeing, such as poor indoor air quality, access to natural light, poor thermal quality, and inadequate acoustics.
Although it might seem a daunting prospect to meet occupant demand such as this, building to these criteria is neither too hard nor impossible. The way to do it is to make it efficient at every possible level. For instance, to promote and maintain good thermal efficiency, insulation materials must be as effective as possible to keep buildings at a constant level of thermal comfort, without compromising visual or indoor air quality.
The Saint-Gobain Multi Comfort concept is an example of how these ambitions can be materialised. A whole building concept that surpasses existing Building Regulations, Multi Comfort incorporates the energy efficiency and thermal comfort requirements set by Passivhaus and includes standards for acoustic, indoor air and visual comfort to deliver the ultimate experience of comfort.
A Multi Comfort building optimises the senses: feel by providing optimum thermal comfort, see by ensuring excellent visual comfort, breathe through delivering outstanding indoor air comfort, and hear by offering acoustic comfort. Multi Comfort outlines set design criteria to achieve each and all of these four comfort parameters.
UK Health and Wellbeing Report: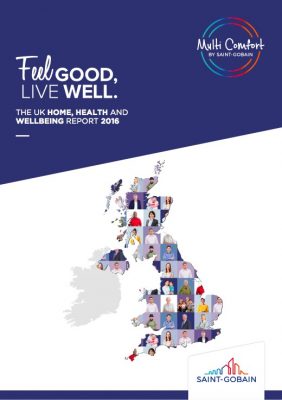 To design a Multi Comfort building, you need to set clear design goals and follow a sound design process. The most important thing to remember is that each of the elements of 'comfort' are closely interlinked, going beyond energy use, creating a whole building design that takes into account each individual element contributing to comfort.
Architects are more aware of building performance and the impact that our surroundings have on our health and wellbeing than ever before. At the same time, people are increasingly more interested and concerned with their health, wellbeing and the positive choices they can make to improve their lives, and buildings are a huge part of this.
The industry can no longer afford to act independently of the homeowner, as they are driving the demand for homes that benefit their health and wellbeing. We must learn to use our knowledge of comfortable buildings and apply it to the needs of the homeowner to make sure that homes are good for the environment and good for us, too.
To read more about the UK Home, Health and Wellbeing Report, click here.
To learn more about Multi Comfort go to https://www.multicomfort.co.uk.
Saint-Gobain
Saint-Gobain
Saint-Gobain designs, manufactures and distributes materials and solutions, which are key ingredients in the wellbeing of each of us and the future of all. They can be found everywhere in our living places and our daily life: in buildings, transportation, infrastructure and in many industrial applications. They provide comfort, performance and safety while addressing the challenges of sustainable construction, resource efficiency and climate change.
Saint-Gobain is present in 68 countries and employs over 170,000 people worldwide, including over 17,000 in the UK & Ireland. In 2016, Saint-Gobain achieved €39.1 billion in sales.
Saint-Gobain in the UK and Ireland includes some of the best-known and respected companies in the construction sector including: British Gypsum, Jewson, Graham, Weber, Isover, Celotex, Glassolutions, Saint-Gobain PAM, and Ecophon. Together they offer a range of high performance energy-saving products and solutions to help create great living places and improve daily life. For more information on Saint-Gobain, visit to www.saint-gobain.co.uk.
For an online portal that provides direct-to-consumer access to behavioral health services, including improving Health and Wellbeing in Buildings, click here.
Architectural Articles
Orthogonal Architecture by Richard Weston



photograph © Gonzalo Navarro
Heroic Architecture by Douglas Klahr



photograph : Nelson Garrido
Modernist Architecture by François Lévy



picture from TM
Globalisation Architecture by Trevor Tucker



photo © Nick Weall
Barclays Center Brooklyn by Dimple Soni



image © SHoP Architects
Comments / photos for the Health and Wellbeing in Building Design article page welcome