Trusted IB Students Higher Education in Scotland Advice, Permanent Studying Architecture Tips
Guide for IB Students Considering Higher Education in Scotland
29 Oct 2019
IB Diploma Higher Education in Scotland Advice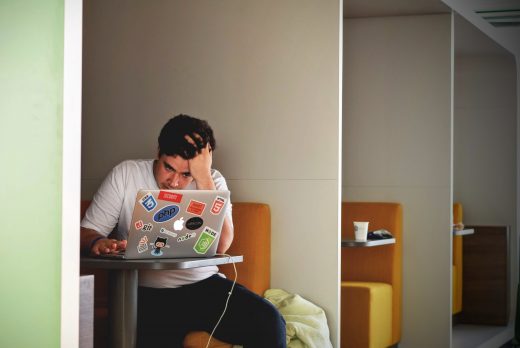 photo by Tim Gouw on Unsplash
Guide for IB Students Considering Higher Education in Scotland in the field of Architecture
IB diploma is a great opportunity to apply for the UK higher education institutions. It is recognized by all universities and offers a great choice of courses and programs to international students. If you are looking for opportunities with your IB diploma, the UK academic world is a way to go.
Scotland is a great place to study; many top-notch institutions are located here and welcome IB students. However, the academic life here is a bit different from other UK countries, as an undergraduate degree takes usually 4 years instead of 3. Some universities offer a sandwich year (usually the third year of college) that deals with practice in an actual working environment.
Studying Architecture in Scotland allows you to see some masterpieces and innovative designs as well as get respectable education. If you want to apply and enter Scottish university for Architecture, follow this simple guide.
Working on UCAS Application
UCAS is the Universities and Colleges Admissions Service, a unified system that is used to apply to UK universities. It is used for all higher education institutions and recognizes A-level students and IB students as well.
To enter a British university you need to place an application on the UCAS website. What does it include?
Filling the form and include 5 courses you are willing to take. You can include courses in one institution or from different ones. It increases chances to get to one of the programs;
Personal Statement. This is an important part to show your skills and how they apply to the courses and major you are looking for.
The IB school is responsible for uploading IB results as soon as they are published. However, your application can be accepted even before the final results. When the results will come they just need to be sufficient to the university's requirements.
UCAS has a useful timeline that shows all crucial dates and application periods. After you submit the application you wait for offers from institutions. When you receive some of them, you should mark one as primary interest and choose the second choice. The offer will be finalized as soon as IB results will be published.
Point out your skills and strength in a personal statement to make the best from your application. It is also good in preparation for interviews that some universities might require as part of the application process. Show a strong interest in Architecture and reference your works and projects to visualize it.
Universities Requirements for IB Students in Architecture
IB diploma prepares students to a higher educational level with a great part of motivation, self-work, and essays. It is a great benefit and it is essential to show how it is advantageous for the future major. Of course, taking an IB might be challenging because of the workload, but it does pay off. There are many resources to help with extended essay writing. The IB results matter because they need to be fulfilling to the universities' requirements for applicants.
Overall, the UK institutions are looking for students that take higher levels of IB in the subjects, related to the major they are applying for. So consider taking Design, Visual Arts, Math or Physics. However, the requirements may vary between institutions so it is good to learn exactly what Scottish universities are looking for.
As for the overall points of IB, the expectations of different institutions also vary. Here are some of them to compare:
University of Edinburgh – 40 points;
University of Dundee – 30 points;
Heriot-Watt University – 31 points;
The IB students are expected to show good results in higher-level studies, approximately 6 for each. However, each institution is different and has its demands.
IB applicants from countries where English is not a native language will usually need to pass international English language certification, like TOEFL or IELTS.
However, what should you do if your English is not perfect, and you may not be aware of the problems that are present in your text? Remember that the editing process is pretty tedious – you have to devote a lump of your time to find and fix errors, which is not the most enjoyable task in the world or you can take a look at grammar check websites and use it for your needs. Make your work shine in a couple of clicks.
Clearing as a Plan B
Even if you don't get an offer or your grades will be lower than it is expected, there is a chance to enter a British institution. The clearing is a process of applying to different programs that are similar to ones you've wanted to, but with lower requirements. After the IB and A-level students get their results many courses still have vacancies to apply too. It can be the same college or the other one.
It is a great plan B option if you don't get an offer you've wanted. After all, about 14% of UK students entered via Clearing in 2018 and were happy about it.
You can apply to the Clearing in the results day. UCAS website has a "track" feature that will show whether you are eligible for it and give you a clearing number. Just have all the documents ready. You are also automatically entering it when applying after June 30.
This is a great way to find exciting opportunities and enter great majors that you've might not know about.
Guide for IB Students Conclusion
Entering Scottish universities for Architecture is an amazing opportunity for IB students. To make everything right one should prepare documents, apply at UCAS website on time, and write a strong personal statement. It is also nice to research universities' expectations for applicants in terms of grades. And there is always a clearing, plan b that one should consider just in case.
Comments on this Guide for IB Students Considering Higher Education in Scotland advice article are welcome.
Building Articles
Joan & Edgar Booth Theatre and the College of Fine Arts Production Center, Boston University, Brookline, MA, USA
Design: Elkus Manfredi Architects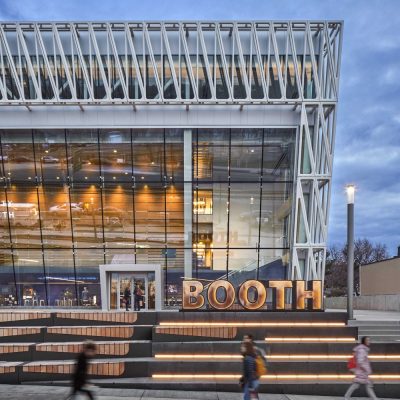 photo © Robert Benson
Joan & Edgar Booth Theatre and the College of Fine Arts Production Center Boston Building
Comments / photos for the Guide for IB Students Considering Higher Education in Scotland page welcome