Enhance your home's interior architecture with a ceiling fan, Building cooling, House airflow circulation
Enhance your Home's Interior with a Ceiling Fan
5 Jan 2022
Are you looking for a way to improve the interior design of your home while simultaneously adding some other amenities, such as additional lighting? Maybe you want to improve airflow and energy efficiency in your home. Regardless of your desired goals, ceiling fans can be just the thing to really enhance your home.
Reports of the ceiling fan being out of style are greatly exaggerated. If you're looking for a way to increase the look and function of your home, a good ceiling fan can certainly do the trick. In this article we'll look at a few ways a ceiling fan can enhance your home.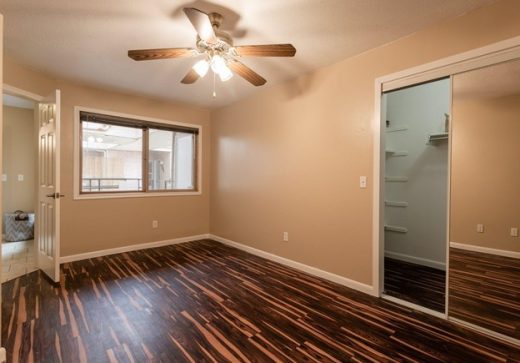 Enhance your Home's Interior with Ceiling Fans
Perks of a Ceiling Fan
Everyone loves a ceiling fan. They're an iconic aspect of many homes and serve some important functions in the room. Here are some of the best reasons to get a ceiling fan:
Better airflow and circulation in your home
They can fit in most spaces
Additional lighting for rooms
Remote control or smartphone control on some models
Adding some decorative flourishes to a room
Providing a new or only light source in a room
Tying a space together
Better energy efficiency due to not needing to run the heater or air conditioner all the time
A multitude of design and style possibilities
There are many other perks of installing one or more ceiling fans in your home and many unique options out there.
Adding Style To Your Home
Ceiling Fans are adept at adding some cool, unique style to your home. For instance, you could add a flush mount ceiling fan to your bedroom, add some recessed lighting to it, and you have a functional and elegant looking addition to the room. This can work with other styles as well. Perhaps you want to take a more modern, streamlined approach and add a modern fan with some kind of unique design. This could be something like a sphere or a cage around the light. Or you could go completely lights free. The choice is yours.
For something a little bit less contemporary and offering a more rustic / nostalgic feel, why not go for the old standby farmhouse fan that combines a sleek, transitional modern design with The rustic wooden ceiling fan designs the whole? Whatever your preference, there's definitely an elegant ceiling fan out there that's perfect for you.
Materials
So, what are ceiling fans made from that make them so amazing? They're constructed from high-quality materials! Fans and motors are made to very exact specifications. Some fans are used in PCS motors (permanent split capacitor motors), which are powerful AC motors used in many other applications.
A PCS motor uses single phase power to drive the operation of a device or appliance, making it more efficient. Some fans are made with steel, aluminum, and other sturdy materials. The blades themselves might be made with hardwood or from acrylic materials, MDF, or even plastic. Other features will usually have a metallic or glass construction as well, such as light shades or cages.
Modern Design
Among the many wonderful facets of ceiling fans are the number of distinctive styles and designs available. Most people are already quite familiar with traditional ceiling fans or the wood-toned rustic style ceiling fans.
Modern designs are usually single color schemes (monochromatic), characterized by clean lines/transitions, use natural materials in their construction, and ultimately just appear simple, even if they're inherently more elegant. They're a popular choice because they invoke a contemporary and distinct feeling.  Modern designs in ceiling fans supply ample design possibilities and give you plenty to work with when using them to decorate or to add some form and function to your home.
Number of Blades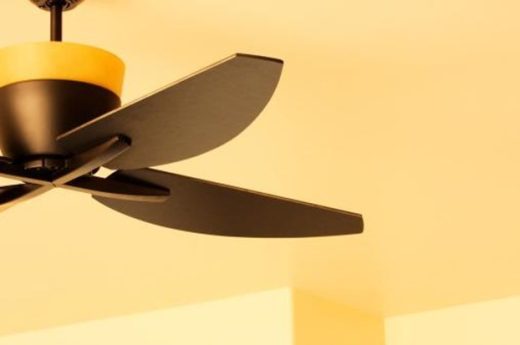 Most ceiling fans will come with anywhere from three to five blades. If you're wondering why the number of blades matters, the rationale is simple: as the number of blades increases, so too does the amount of air circulation. More blades also tend to make a fan run quieter, which can be of great help depending on the room and its location.
The blade sweep is the diameter of the circle the blades create as they spin. Knowing your blade sweep before installation is critical, because you don't want to install a fan that's too large for your area! To determine blade sweep, measure from the center of the fan itself to the tip of one of the blades. Now you have to do a little bit of math (but it's ok to use a calculator). Multiply that result by two. Then multiply your new result by pi, or 3.14. The result is your blade sweep. Be sure to measure your room's square footage to ensure a good fit, and don't forget to enjoy your new ceiling fan!
Comments on this Enhance your Home's Interior Architecture with a Ceiling Fan article are welcome.
Ceiling Fans – Air Conditioners
Ceiling Fans Posts
Ducted vs Split Systems for Home Aircon
Ceiling fan placement tips for funky rooms
Enhance your Home's Architecture with a Ceiling Fan
Buildings
Residential Architecture Articles
Comments / photos for the Enhance your Home's Interior with a Ceiling Fan page welcome