Sydney Exhibition Centre Building, Architecture Development Australia, Architects
Darling Harbour Redevelopment, Sydney
City Centre Proposals, New South Wales, Australia – article by Kim Jones
28 Jan 2013
Darling Harbour Buildings, Sydney
New South Wales, Australia
Design: Cox, Richardson, Taylor and Partners
The Incorporation of the Public Realm
Article by Kim Jones
A mature and self‐confident city builds on its existing legacy. It doesn't need to continually erase its heritage, whether recent or ancient, always desperately striving for the shiny and the new. Of course the physical fabric of a city is in a continual state of change; buildings are replaced, adapted, extended and reconfigured.
Generally, vernacular buildings accommodating dwellings, retail or workplaces change the most, while public buildings housing institutional uses are more permanent. Less frequently, new streets and other public spaces are carved out.
Occasionally and distressingly, the public realm is reclaimed for private advantage. On the whole, however, great cities retain or adapt the best of their buildings to contribute towards a legible narrative of their history and it is this narrative that endows richness and a unique character.
Think of Rome or London or Barcelona. By such a measure, Sydney falls far short of being a great city. It has one of the finest natural settings of any city in the world, yet with a few notable exceptions it has failed to grasp the opportunity to enhance that setting.
Sydney Exhibition Centre: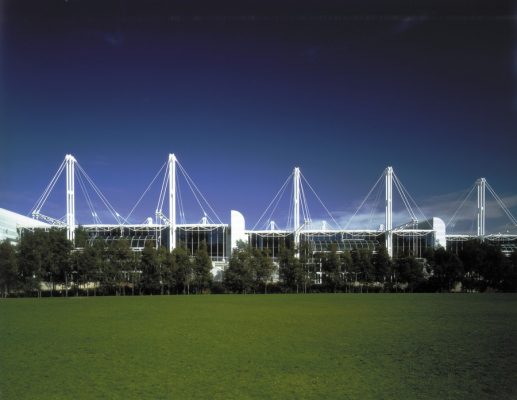 photo : Patrick Bingham-Hall
There are some who claim that Sydney is not old enough to have a heritage worthy of preservation, not understanding that by such reasoning nothing would ever be retained. But heritage is not about age; it is about quality and about culture. Few would disagree that the Opera House is one of the most important examples of our built heritage, yet it is not that old.
When the beautiful sandstone buildings of Sydney's Central Business District were demolished in the nineteen‐sixties and seventies, they had gracefully aged for less than a century, but most were razed to be replaced, with a few notable exceptions, by characterless office blocks.
During the same era, many of Sydney's public laneways were lost to private development and fifteen exquisite cross‐block arcades were demolished. A decade later, while the city debated the possibility of removing the Cahill Expressway, western vistas and potential linkages along the cross‐streets to Darling Harbour were lost in a tangle of new expressways and indifferent architecture.
Sydney Convention Centre – Original Architect John Andrews: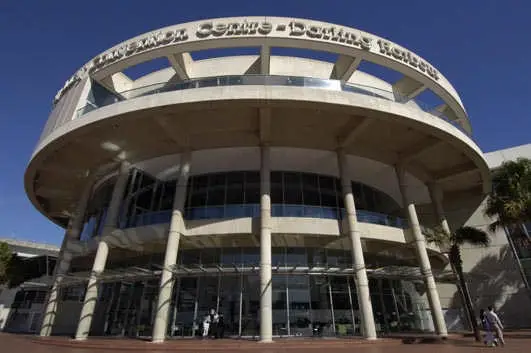 photo : Danny Kildare
However, it is not only the failure to recognise architectural quality in the built environment, but rather the ongoing pattern of knocking things down to start again with a clean slate, which lies at the heart of our urban immaturity. Perhaps the need to obliterate what has come before is a sign of a deeper insecurity; the same fragile self image that motivates us to continually try and prove ourselves to the rest of the world.
The latest effort from behemoth developer Lend Lease could have some positive urban benefits, but they appear to be eclipsed by an impoverished environmental and social agenda. If their proposal for Barangaroo courted controversy, the success of subsequent negotiations on that project has nonetheless emboldened the megalomaniac developer to launch a takeover bid for another entire city precinct. Lend Lease has a vision for Haymarket and the western flank of Darling Harbour.
The physical representation of that vision was recently made public with montage images and a slick video. However, I suspect that the real "vision" in the corporate minds of those driving the project is the prospect of a big, fat profit at the expense of the NSW public. Infrastructure NSW is their willing accomplice.
An organisation that demonstrates scant urban sensibility and an absence of aesthetic judgement, it nevertheless knows how to count – counting is its speciality. It would no doubt be quite pleased that Lend Lease, who also knows how to count, have done their sums and come up with something very big. Predictably, Lend Lease has harnessed the services of prominent architects to slap a slim veneer of architectural quality over their vision of undifferentiated quantity.
Darling Harbour Redevelopment – Masterplan + ICC Hotels
Design: OMA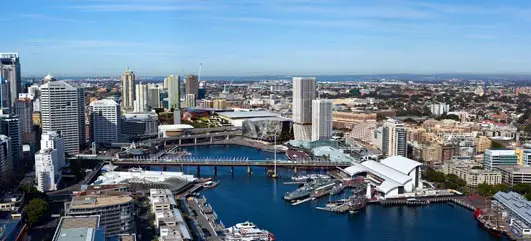 image : OMA
Darling Harbour Redevelopment – 13 Dec 2012
In an age of dwindling resources, it does seem an act of extreme profligacy to demolish a 25,000 square metre functional, column‐free exhibition centre, that could easily be extended to the west, only to replace it with a multi‐level building full of the columns that turn it into second rate exhibition space. The demolition of the Convention Centre and 15,000‐seat Entertainment Centre, which could handle the larger conventions, compounds this wastefulness.
The existing Exhibition Centre, with its poetic roof structure bestowing a festive character so well aligned to its function, yet also reminiscent of the masts of the wool clippers that docked at Darling Harbour in the 19th Century, is eminently fitted to its context. Likewise the Convention Centre, its pivotal, robust form anchoring the sweep of the Western Distributor.
These are two excellent works of architecture by two of the finest Australian architects of the last 50 years. Intervention in Darling Harbour would be better directed towards refining the best of the existing buildings to suit emerging requirements and improving the linkages to Ultimo and the city, rather than a wholesale redevelopment strategy.
Despite significant media coverage, it is interesting to observe that there has been so little opposition to this vast and wasteful undertaking, from either the public or the architectural profession. Surprisingly, there has even been a gushing endorsement from Clover Moore, a politician who loves to parade her green credentials, yet seems oblivious to the environmental irresponsibility of such a development. It would appear that she can ignore even the most unsustainable strategy if it is "good for the city", whatever that means.
This form of destination urbanism, with its focus on large developer interventions and object‐based planning, is an unsound and outdated methodology that has failed to produce satisfactory outcomes anywhere in the world. Successful urban interventions are understood to be founded on the subtle extension and integration of the public domain; correcting mistakes and improving the accessibility and connectivity of the public spatial network.
HASSELL + Populous win Sydney's new Convention, Exhibition and Entertainment Precinct design project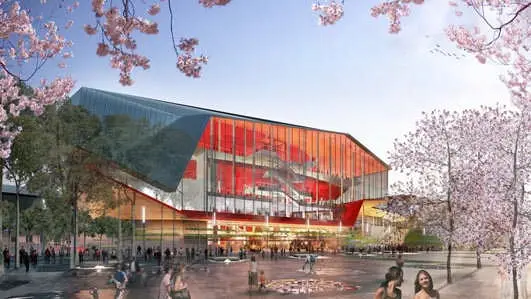 image : HASSELL + Populous
SICEEP Darling Harbour – 18 Dec 2012
However, there is a more sinister aspect to this corporate manipulation of our urban environment. The citizens of NSW are being duped in perpetuity, for short term political and economic gain. We are allowing Lend Lease to demolish public buildings on public land; buildings that we paid for, that were designed to last much longer than their brief 25 years – buildings that could be extended or adapted.
The developer is likely to replace them with buildings that are designed and built to have a useful life equal to the term of their lease and no longer, because a more permanent building fabric would not be as cheap and would therefore affect the bottom line.
Lend Lease will make their profit and the government will help bolster that profit with extra payments. Then, in one generation, the buildings will be handed back to the public as rundown, costly hulks with no future except another corporate demolition deal. We are all paying the developer for the privilege of transforming our public environment into a corporate environment.


photo : Patrick Bingham-Hall
Article by Kim Jones, 14th January 2013, received from Cox Richardson
SICEEP Sydney Darling Harbour Redevelopment – Dec 2016
Location: Darling Harbour, Sydney, NSW, Australia
NSW Architecture
Darling Quarter
Design: Francis-Jones Morehen Thorp
Darling Quarter Sydney
Australian Architecture Designs
Australia Architecture Designs – chronological list
Comments / photos for the Darling Harbour Redevelopment – Sydney City Centre Proposals page welcome