Chinese Urban Planning, Masterplans in China, Building New Cities, Landscape
Chinese City Planning : Architecture Masterplans in China
Chinese Architecture Masterplans – Article by Dimple Soni
30 Oct 2012
Chinese City Building
In China, Cities are born Great
China is implementing its urbanization strategies in full swing, bolstering its economic growth and rapid industrialization. To accommodate the swarm of rural population migrating to cities, brand new large-scale residential cities are being constructed from scratch.
There's a surge of planning eco-cities – programmed to be sustainable – to tackle the challenges of over-crowded cities, drenched with threatening pollution, congested infrastructure, jammed traffic and excessive energy consumption that deteriorate the quality of life in existing urban configurations.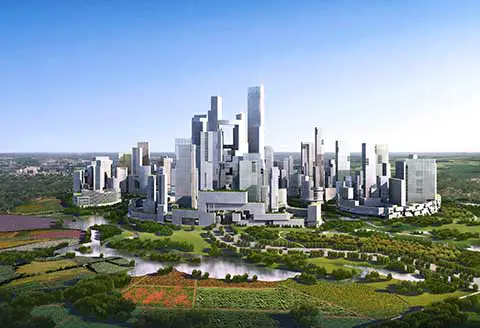 image © Adrian Smith + Gordon Gill Architecture
Chengdu, the capital city of Southwest China's Sichuan Province – a thriving investment and development destination – has gained additional momentum due to newly planned Tianfu District Great City in its close rural proximity. The master plan of Great City is designed by Chicago based architects Adrian Smith + Gordon Gill (AS+GG) and will be developed by Beijing Vantone Real Estate Co., Ltd.
The blueprint of the Great City on 800-acres site area – 350-acres urbanized area+480 acres buffer landscape – will be home to 80,000 people. The city would create ample employment opportunities for its inhabitants. The scheme consists of residential, commercial, business and medical campus.
The Great City is designed to be low on energy consumption, water usage, landfill waste creation and carbon emission by incorporating green building concepts and renewable energy technology. It is intended to model as self-sustaining, environmental sensitive city for rest of China and will be developed over eight years, with the work on-site commencing from this fall itself.
The master plan of the Great City resembles a slice of a jumbo pizza, having green topping of fresh broccoli florets with a neat circle of grated white cheese.


image © Adrian Smith + Gordon Gill Architecture
The city is a compact, but orderly, conglomeration of numerous vertical towers – varied in height but homogeneous in appearance, having similar color and texture. The verticality of the towers descends from center to the periphery, with the placement of tallest towers in the center and relatively shorter towers towards the circumference.
The peripheral landscape is integrated with the city and includes natural topography of the existing farmland, consisting of undulated valleys and water bodies. A car-free environment has been envisaged by creating pathways that would encourage walking instead of using automobiles. The circular plan shortens the distance to the Great City center, where regional transit hub has been placed, which would connect the city with Chengdu and other neighboring areas through mass transit.
Though in the past, China's experiments with ambitious eco-city projects like Dongtan – planned for island of Chongmming off Shanghai – and Huangbaiyu – in Benxi, Liaoning – have foundered, projects like the Great City and Sino-Singapore Tianjin Eco-city– 30 square kilometer development, that will house 350,000 people, near Beijing – seems to hold immense promise for green living.
Year 2020 is crucial for China's urban future as the Great City and the Tianjin Eco-city, will be completed by then. Will these cities be truly sustainable? Will they serve the people as intended – with low carbon emission, being energy and resource efficient, being low in consumption and being socially harmonious? Will they relate to their users and complement their needs then? Let's cross our fingers. The spaceship earth has been long exploited.
Chengdu Tianfu Great City, China
Adrian Smith + Gordon Gill Architecture



picture © AS+GG
Dimple Soni – regular Guest Editor at e-architect



image from Dimple Soni
Comments for the Chinese City Planning – Architecture Masterplans in China page welcome: info(at)e-architect.com
Another article about Planning Chinese Cities on e-architect:
Chinese Architectural Development
Recent Chinese Building Designs
'Sliced Porosity Block'
Design: Steven Holl Architects
Chengdu Building Complex
Bank of Chéngdu Headquarters
Nikken Sekkei
Bank of Chéngdu Headquarters
Linked Hybrid
Design: Steven Holl Architects
Linked Hybrid
AS+GG Building Design in China
A recent Chinese building design by Adrian Smith + Gordon Gill Architecture on e-architect:
Qintai Center, Wuhan, east China
Qintai Center – 2 Oct 2012
Comments / photos for the Chinese City Planning & Architecture Masterplans – Urban Planning China – Abu Dhabi Property Development page welcome