Charles River Associates Office Design, CRA Commercial Refurbishments, US Real Estate, Property
Charles River Associates Office Design
New Workplaces for international consulting firm Charles River Associates, USA – by Elkus Manfredi Architects
January 27, 2020
Charles River Associates Offices
Design: Elkus Manfredi Architects
Charles River Associates
Working closely with the CEO and employees of international consulting firm Charles River Associates, Elkus Manfredi Architects transforms the company's headquarters and three offices to express the firm's culture, support the performance of its exceptional staff, and attract the world's top talent
Headquarters: Boston, Massachusetts
Offices in: Washington, D.C.; New York, New York; Chicago, Illinois
CRA Boston Headquarters – kitchen: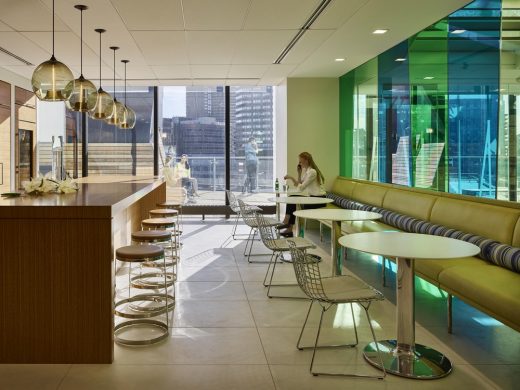 photograph © Frank Oudeman
THE FIRM
Charles River Associates (CRA) is a leading global consulting firm offering economic, financial, and strategic expertise to law firms, corporations, accounting firms, and governments around the world. CRA's corporate headquarters are located in Boston; there are 12 additional offices across North America and six additional offices in Europe. With proven skills in complex cases and exceptional strength in analytics, CRA provides litigation and regulatory support, business strategy and planning, market and demand forecasting, policy analysis, and risk management consulting. The firm's success stems from the outstanding capabilities of its consultants, many of whom are recognized as experts in their respective fields.
CRA Chicago offices interior – reception desk: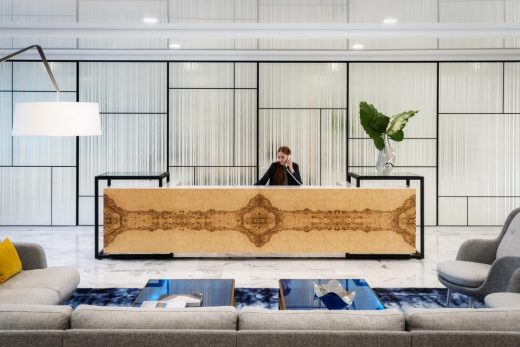 photograph © Andrew Bordwin
PROJECT OVERVIEW
In 2012, CRA's CEO Paul Maleh understood the impact a great workspace could have on performance and staff satisfaction, and had a vision of creating a workplace that would attract and retain the world's best talent. At that time, CRA's Boston office occupied a 30-year-old space on three separate floors in one of the country's most iconic office towers, the John Hancock tower designed in 1976 by Henry Cobb of the firm I.M. Pei & Partners. The workplace did not adequately support CRA's 21st-century work processes and technology.
CRA selected Elkus Manfredi Architects to design new headquarters offices within the same building. The charge was to create a contiguous, technology-infused work environment on two interconnecting floors with a distinctive, sophisticated, and inspiring presence.
CRA New York City offices interior design: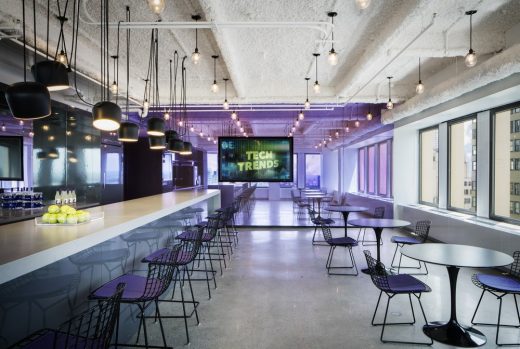 photograph © Andrew Bordwin
Elkus Manfredi led the workplace consulting and design process, which involved in-depth dialogue among designers and CRA's employees from all levels of the corporate structure. Based upon information gathered from this process, the Elkus Manfredi design team developed a new workspace that supports open communication and teamwork, demonstrating the creativity and principles of connectivity that are the essence of CRA.
Important fundamental concepts that emerged from the discussion and exploration process with CRA employees included co-locating junior and senior staff to create more opportunities for interaction and maximize knowledge-sharing. Due to the nature of CRA's work, acoustical privacy was also critical in the design of individual and group work areas. The design team created small neighborhoods of workstations within departments, appropriately sized each office and workstation, and provided generous conference and team spaces.
Following the design of its new Boston headquarters office, CRA asked Elkus Manfredi to redesign its Washington, D.C., New York City, and Chicago offices.
CRA Boston Headquarters Elevator Lobby to Reception:


photograph © Frank Oudeman
DESIGN RELEVANCE
While trends at the time were dictating predominantly open workspaces, CRA's CEO intimately understood his workforce and firm culture. Instead of following the trend, he asked for a balance of private spaces for the quiet, focused, heads-down work that CRA consultants are often engaged in, while also creating inviting and inspiring gathering areas for the relaxation, refreshment, and spontaneous exchange that is equally crucial to peak staff performance. More formal conference and team rooms are available in a wide variety of sizes that support the specific collaboration needs of CRA consultants. At the same time, real estate efficiencies were realized by right-sizing private offices and workstations in order to provide the most room for the public gathering areas.
DESIGN CHALLENGES
 Create an inviting, sophisticated, inspiring work environment in each office that spoke to the individual characteristics of the location while utilizing the same metrics for all offices.
 Understand the unique culture of CRA and design a space that drives cross-fertilization of ideas while supporting focused work.
 Encourage interaction and maximize knowledge-sharing among employees with open communal spaces and closed private workspaces that still feel accessible.
 Accommodate different work processes with multiple generations of workers.
 Move to reduced-size and single-size offices and workstations to increase collaboration and community spaces while achieving high-density real estate efficiencies.
 Develop of a new kit of parts for the new ways of working that could transfer to the other CRA offices around the world.
 Create a design aesthetic that would stand the test of time.
About Charles River Associates (CRA)
Charles River Associates® is a leading global consulting firm specializing in economic, financial, and management consulting services. CRA advises clients on economic and financial matters pertaining to litigation and regulatory proceedings, and guides corporations through critical business strategy and performance-related issues. Since 1965, clients have engaged CRA for its unique combination of functional expertise and industry knowledge, and for its objective solutions to complex problems. Headquartered in Boston, CRA has offices throughout the world. Detailed information about Charles River Associates, a trademark of CRA International, Inc., is available at www.crai.com. Follow us on LinkedIn, Twitter, and Facebook.
About Elkus Manfredi Architects
Elkus Manfredi Architects is focused on creating dynamic, connected, sustainable environments, from the smallest workplace to urban neighborhoods around the world. The firm provides a synergistic combination of services—from architecture and interior architecture, to master planning and urban design. With a 30+ year legacy of design distinction, the firm is recognized for its work with corporate, life sciences, higher education, hospitality, residential and retail-entertainment clients. Across disciplines and the diversity of projects, Elkus Manfredi is driven to design vibrant, connected environments that enhance the quality of life and creates common ground that brings people and communities together.
Charles River Associates Offices in the USA
LOCATION-SPECIFIC DESIGN DETAILS
Charles River Associates Boston Headquarters, Massachusetts, USA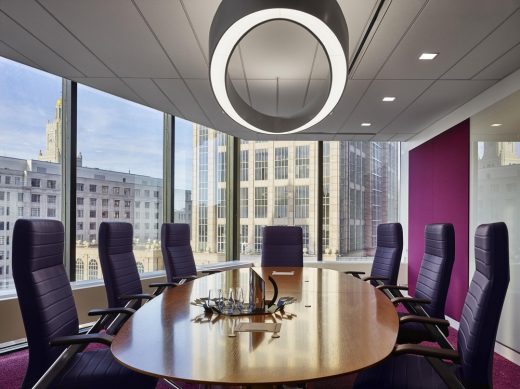 photograph © Frank Oudeman
Charles River Associates Boston Headquarters
Charles River Associates New York City Office, 1411 Broadway, New York City, NY, USA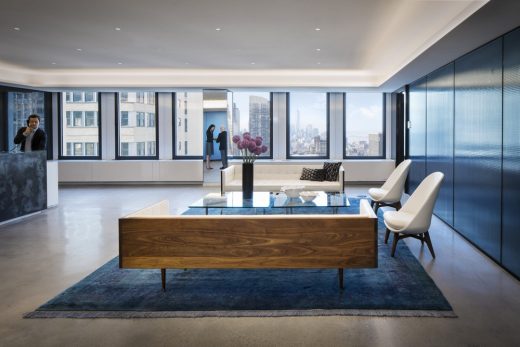 photograph © Andrew Bordwin
Charles River Associates New York City Office
Charles River Associates Washington, D.C. Offices, 1201 F St NW #800, Washington, D.C., USA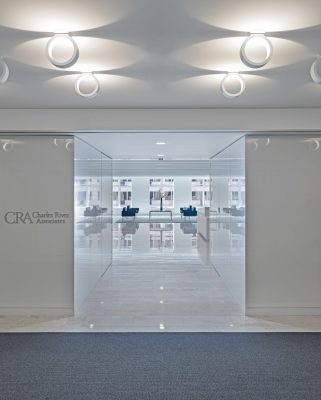 photograph © Jasper Sanidad
Charles River Associates Washington, D.C. Offices
Charles River Associates Chicago Office, One South Wacker Drive, Chicago, Illinois, USA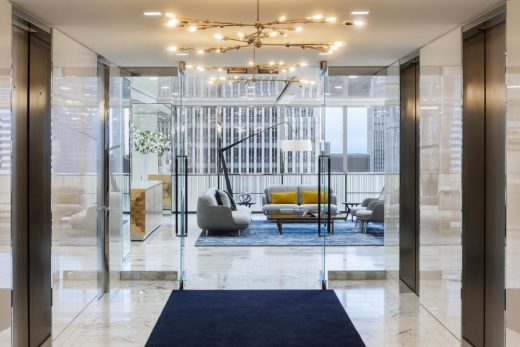 photograph © Andrew Bordwin
Charles River Associates Chicago Office
Elkus Manfredi Architects
Elkus Manfredi Architects – Selected Designs
The Modern, Fort Lee, New Jersey, USA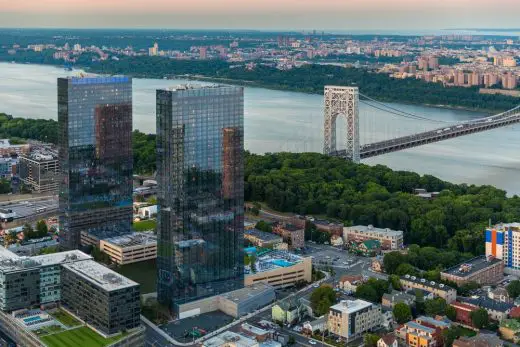 photograph © Evan Joseph
The Modern at Fort Lee, NJ
Joan & Edgar Booth Theatre and the College of Fine Arts Production Center, Boston University, 820 Commonwealth Avenue, Brookline, Massachusetts, USA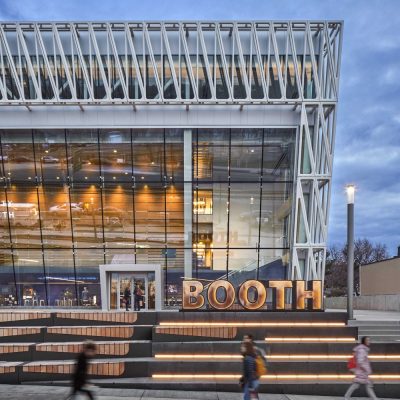 photo © Robert Benson
Joan & Edgar Booth Theatre and the College of Fine Arts Production Center Boston University Building
MassDOT Research and Materials Lab is LEED Gold Certified, MA, USA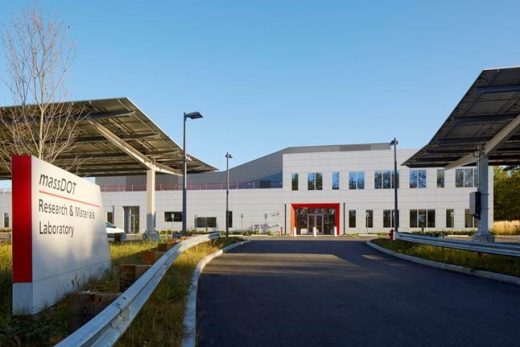 photograph : Bruce T Martin
MassDOT Research and Materials Lab
Woodlawn Residential Commons, University of Chicago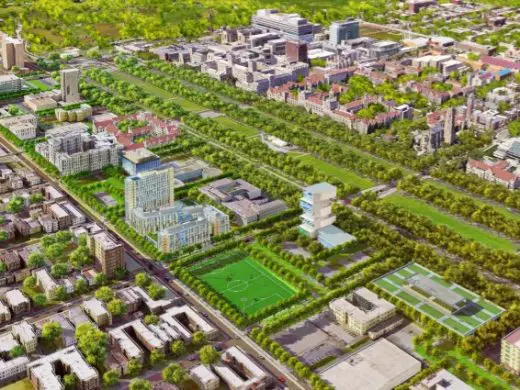 image © Elkus Manfredi Architects
Woodlawn Residential Commons, University of Chicago
Office Architecture Design
Comments / photos for the Charles River Associates Office Design page welcome